One of the reasons many knives in the market are expensive is the steel they use in manufacturing.
So, when making budget-friendly knives, manufacturers try to find affordable steel that performs well.
One of these steel recipes is 1095 steel, a low-end Allo Spring Steel.
It has high in carbon, which makes it very hard.
Harder knives offer better edge retention, so a 1095 steel knife won't need to be sharpened as much.
However, while the steel has enough chromium for good tensile strength, it does lack corrosion resistance.
When using a knife with 1095 steel, it's best to take extra good care of it.
If you've been trying to learn more about this great knife steel, you've come to the right place.
In this 1095 steel review, we dive deep into the properties of this recipe and whether it's a good material for your next knife.
Read on to learn more.
Related:
What Is 1095 Steel?
As an old type of high carbon steel from the 10XX series, the 1095 is commonly used for knives and blades.
But why is it named 1095, you may ask? Well, the digits in its name have their meaning.
The first two digits represent the primary elements used in it ( 1 implies "Carbon" and 0 indicates "nothing else"), while 95 means 0.95% main elements (0.95% carbon).
1095 is a well-known material.
It is more flexible and harder to break than conventional carbon steel, such as 1080, 1070, 1060, and 1055.
Metal 1095 has a carbon content of between 0.90 and 1.03 percent.
It is the primary material for making folding knives and kitchen knives
One of the great features is its ability to keep a sharp edge.
When well heat treated, this high carbon 1095 and O-1 tool steel can produce sharp blades.
This steel-made knife has extremely low resistance to corrosion as it has no Chromium in its mixture.
It is a consumer tilt steel, so it will rust quickly.
It needs excellent maintenance to avoid rust.
In return, it has great hardness, so it will wear out more slowly.
Although not the biggest, it is excellent for dealing with external conditions.
Material
Carbon is the main alloying component that occurs in Carbon Materials.
In addition, it contains 1.2% Manganese and 0.4% Silicon, Nickel, Copper, Aluminum, and Molybdenum.
Therefore, metal-carbon 1095 is very flexible, strong, and has high hardness.
The accompanying chart shows the Chemical Composition of 1095.
| | |
| --- | --- |
| Component | Content (%) |
| Manganese, Mn | 0.30 – 0.50 |
| Phosphorous, P | ≤ 0.040 |
| Sulfur, S | ≤ 0.050 |
| Carbon, C | 0.90 – 1.03 |
| Iron, Fe | 98.38 – 98.8 |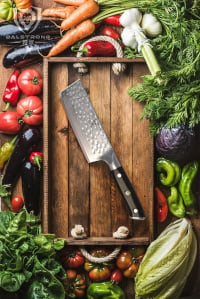 Want FREE Knives?
We give these knives a quick twirl and review, and then we pass them on to a few lucky home chefs!
By subscribing, you agree to get emails from me, Ryan Leavitt. I'll respect your privacy and you can unsubscribe any time.
Hardness
Certified Rockwell 55 C hardness, it will be tempered when reaching 700 -1300°F (372 – 705°C).
It will be completely tempered at 1650°F (899°C) and trailed by gradually cold with the furnace.
When receiving heat treatment, the 1095 Carbon will solidify.
Carbon Steel 1095 usually utilizes the traditional method to produce.
It will have more strength than the usual low carbon metal.
Its carbon is solidified at 1650°F (899°C).
It is then extinguished in oil, along with different treatment methods, to keep up the metal durability.
Properties
Being a carbon type of steel, it is most often used in the development of various knives.
It consists of 95% Carbon that hardens Metal 1095 and reduces wear.
Once well processed, its edges are easily sharpened.
Let's take a look at its mechanical properties:
| | | |
| --- | --- | --- |
| Properties | Imperial | Metric |
| Yield strength | 78300 psi | 525 MPa |
| Rigidity strength | 99400 psi | 685 MPa |
| Mass modulus (steel normal ) | 20300 ksi | 140 GPa |
| Shear modulus (steel normal) | 11600 ksi | GPa 80.0 |
1095 steel incorporates Carbon, so it has a high degree of wear.
Due to its low Manganese content, it is not as strong as other Steels.
The function of Manganese is to harden Steel.
However, when Manganese is used in specific levels, it also makes the steel more flexible and supple.
How Good Is It?
1095 is a popular type of steel; you can easily find it on the market.
In addition, it is also simple for heat treatment, with good toughness, great hardness, and good edge retention.
At the same time, it's not expensive, which is very suitable for those on a tight budget.
When using it for making knives, it creates an incredible edge.
Other steels will rust easily when not used regularly.
However, that is not the case with 1095.
Rust is no big deal when you use oil or something to shield 1095 Steel from prolonged exposure to the environment.
What Is Its Equivalent?
The Steel 1095 Equivalent is DIN 17350.
It has Equivalent certified as JIS G4401, ISO 4957 EN, and DIN 17222.
Moreover, it's Equivalent to cold moved Metal for spring strips such as Carbon Steels Tool 1298 GB/T.
There is an exceptionally indistinguishable Chemical Composition in this composite.
It has great Edge Retention, Great Hardness, extraordinary Wear Obstruction, and less Corrosion Resistance.
How Does It Compare?
In this part, we will compare our Metal and different Steel.-1084 in terms of four standards: Toughness, Sharpness Ease, Corrosion Resistance, and Edge Retention.
We utilize the grade and mark 1 – 10.
| | | |
| --- | --- | --- |
| | 1084 | 1095 |
| Sturdiness | 8 out of 10 | 8 out of 10 |
| Corrosion Resistance | 3 out of 10 | 3 out of 10 |
| Sharpness Simplicity | 7 out of 10 | 7 out of 10 |
| Edge Retention | 4 out of 10 | 3 out of 10 |
Conclusion
The 1095 Steel could be ideal for blades, for example, those found all through military functions.
It would likewise work very well for imitation swords and cutting edges, just as blades.
Although different types of steel have their own merits and are proficient for different utensils, the 1095 metal still does wonders for different kitchen utensils.
We hope that after reading our article on the topic "How Good Is 1095 Steel?", you now have an in-depth insight about it.
Thank you for your time!
Ryan Leavitt
Hi my name is Ryan Leavitt a Marine Corps Veteran and currently an over the road trucker (Long Haul). I am no expert chef but am enjoying preparing my own meals on the road and testing all the different knives.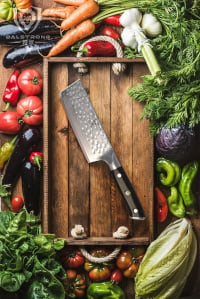 Want FREE Knives?
We give these knives a quick twirl and review, and then we pass them on to a few lucky home chefs!
By subscribing, you agree to get emails from me, Ryan Leavitt. I'll respect your privacy and you can unsubscribe any time.