So, what exactly is 4116 stainless steel?
This is fine-grained stainless steel, manufactured by ThyssenKrupp of Germany. With the widespread use in the manufacture of kitchen utensils and medical equipment, it becomes a meta-material in knife machining.
Thanks to Carbon and Chromium's balance, it has high corrosion resistance and consistent bearing capacity.
Besides, the high hardness of steel gives it the advantage to maintain an edge.
Another significant advantage of the 4116 steel is its inexpensive production, allowing you to get the quality product at a reasonable price.
Related:
Main Chemical Composition
0.55% Carbon: Enhances the hardness and increases wear resistance
15% Chromium: Increases the oxidation resistance, making the knife more durable
1% Manganese: Supports for knife strength, ductility, and hardness
1% Silicon: Oxidizing agent during machining
0.04% Phosphorus: This makes it easy to process and increases durability
0.03% Sulfur: Improves machinability. However, it will affect the blade's resistance to corrosion
0.8% Molybdenum: Assists in machinability and durability for knives
0.15% Vanadium: Creates abrasion resistance and hardness
Is It Suitable For Making Knives?
This is absolutely an excellent material to make a good knife at a low price. This steel has good corrosion resistance, making it suitable for frequently humid environments (like kitchen knives).
The knives made of it have good abrasion resistance, so it is very sharp and easy to re-sharpen the tip when needed. As a result, blades can be made for a variety of purposes.
In addition, the edge retention, hardness, and ductility of the material are all excellent, which create tool durability and save equipment costs. So, it's understandable why more and more restaurants are using it as a raw material for their knives.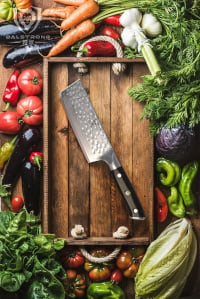 Want FREE Knives?
We give these knives a quick twirl and review, and then we pass them on to a few lucky home chefs!
By subscribing, you agree to get emails from me, Ryan Leavitt. I'll respect your privacy and you can unsubscribe any time.
Notable Blades Made From 4116 Stainless Steel
MOSFiATA Super Sharp
This knife has an outer titanium layer coated, which is scratch-resistant and fingerprint-free. It is used for everyday kitchen tasks such as cutting, slicing and chopping various ingredients. MOSFiATA Super Sharp is also suitable for use in professional cooking environments such as in restaurants.
The blade is sharp, making it easy to control the cuts. In particular, it is also one of the hand-sharpened knives by experienced artisans, so you can rest assured about the blade's durability.
In terms of safety, the grip has three nails, increasing durability and safety for users. You also don't have to worry when slicing thin slices because it has an absolute safety guard for your fingers.
There's also an auxiliary tool sharpener, which ensures your knives are always sharp and ready to use when you need them. It also comes in a luxurious black box, so it's perfect as a gift for our loved ones.
Kai Luna Chef's Knife
Kai Luna Chef's Knife is manufactured by Kai, one of the famous knife manufacturers in Japan. This product's blade has high wear resistance, strength, and rigidity in terms of material. It is perfect for preparing foods in your kitchen as well as in professional cooking environments.
The 16-degree tilting blade makes it easier to adjust the food's thickness while assisting the dish's shape to make it more beautiful.
On the outside is a molded plastic handle with a soft coating to help users control the knife more easily.
Cold Steel Peace Maker
This tool is only 11″ in length, so it is suitable for external use. This will be an ideal knife for hunters or those involved in the military. Also, for those who like outdoor camping activities, this knife is a great option as it will not take up a lot of space on the go.
The knife can be easily hidden in the boot, so you can carry it with you. And it's also easy and quick to take it out when needed. The V-Grind shape allows you to pass the knife through thick materials easily. Therefore, you can use knives for many different purposes, such as hunting, fishing, self-defense in emergencies. The sturdy grip is also designed for use with both hands for quick response in various situations.
Conclusion
Knives made from this material have many advantages: affordable, durable, sturdy, good abrasion resistance. They can be used for a variety of purposes: from cooking to hunting outdoors or for self-defense.
Compared to knives made of other materials, 4116 steel knives are much more versatile. They would perfectly suit many families in professional cooking environments and many different conditions at a relatively low cost.
We hope the 4116 stainless steel knife review section above has provided you with more useful information. From there, it somewhat reduces the confusion for you when choosing a knife for home use.
Thanks for your time!
Ryan Leavitt
Hi my name is Ryan Leavitt a Marine Corps Veteran and currently an over the road trucker (Long Haul). I am no expert chef but am enjoying preparing my own meals on the road and testing all the different knives.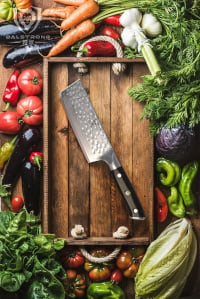 Want FREE Knives?
We give these knives a quick twirl and review, and then we pass them on to a few lucky home chefs!
By subscribing, you agree to get emails from me, Ryan Leavitt. I'll respect your privacy and you can unsubscribe any time.