If you've been researching knife steels, you already know that high-carbon steels are preferable for any blade.
440A steel is one of the most used materials by knife manufacturers, as it is known for being very strong and durable.
This recipe is part of the 440 steel family, and it has the lowest carbon content in the family.
While this makes the steel a bit softer, it also gives it better machinability and makes it easier to sharpen.
This is high-quality steel that is a great choice for any knife.
But one of the defining features of 440A is that it isn't as expensive as other high-end steel recipes out there.
Knowing the features of knife steel is critical for any enthusiast.
And if you want to learn more about 44A steel, you've come to the right place.
In this 440A steel review, we take a close look at the properties of this material and whether or not it's the right material for your knife.
Read on to learn more.
Related:
Chemical elements
To understand it clearly, you should first answer the question of its chemical composition. So, what are the strengths and other features of 440A that come from?
CARBON – 0.75%: Carbon is added to increase its hardness and corrosion properties. However, the high amount of it will deteriorate the strength. 440A has the least amount of carbon in the 440 series of steel. Therefore, it is the highest stainless.
CHROMIUM – 18%: Chromium helps to enhance tensile strength. The key function of this element is that it improves the edge reliability of the edge. Besides, chromium is corrosion-resistant and water-resistant.
NICKEL – 0.6%: Boost the toughness
MANGANESE 0.75%: Improve the hardness; the high amount of it will increase brittleness.
SILICON – 0.1% : For hardness and strength.
PHOSPHORUS – 0.04%: Improve hardness and strength like Silicon.
SULFUR – 0.03%: This element will improve its machinability. However, it will also decrease the strength.
MOLYBDENUM – 0.09%: Similar to Sulfur, Molybdenum is added to increase the machinability of steel. Besides, it also helps to boost strength.
How is it made?
The first step is to anneal it. In this stage, it is heated at 850-900 degrees C. Then, it is slowly cooled to 600 degrees C in the furnace.
Next, it is hardened by increasing the temperature to 1010-1065 degrees celsius; warmed oil is used to quench the hot steel. After the hardening, it is tempered at 150-370 degrees C. Lower temperature makes it harder.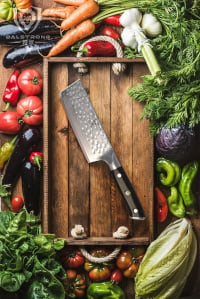 Want FREE Knives?
We give these knives a quick twirl and review, and then we pass them on to a few lucky home chefs!
By subscribing, you agree to get emails from me, Ryan Leavitt. I'll respect your privacy and you can unsubscribe any time.
Material properties
Hardness: The number one factor when evaluating one steel is hardness. With 440A, the hardness fluctuates between 55 HRC and 58 HRC.
Edge Retention: With a high hardness up to 58 HRC, it has good edge retention that can handle hard substances.
Ease of sharpness: In spite of hard and stainless steel, sharpening the blades is quite easy.
Corrosion resistance: With 18% Chromium in it, it has a higher rate than other types of steel. That's why 440 is among the best corrosion-resistant steel.
Wear Resistance: 440A composition is 40% Carbon, which gives it also good wear resistance but not the best. This amount is enough for normal use, such as camping, outdoor, and kitchen use.
Machinability: Speaking of machinability, all 440 sheets of steel are easy to process.
Toughness: Due to the high rate of Nickel and Chromium, it has quite good toughness. However, it is not the best, just at an acceptable level for mid-end steel.
Can it be used for making knives?
Absolutely yes. It is perfect to manufacture knives. With the great corrosion resistance and hardness up to 58HRC, it is excellent for kitchen knives. Besides, it can be used to make camping knives.
The downside is that it is not suitable for harsh usage with high intensity as cheap steel. Because the wear corrosion is not good, it is not perfect to be a hunting blade.
Great knives made of it
This is a pocket knife made of steel 440A from the brand Puma. As you can see in the picture, the knife has an eye-catching, sleek design, and a hole runs along with the knife. Made from 440A steel that is extremely corrosion-resistant, the knife is perfect for outdoor activities like camping.
Another highlight of this knife is that the handle made from ABS is extremely attractive.
Comparisons
Located in the same low-end segment, with the same low prices of the same chemical components, the 420HC and 425M have characteristics most closely resembling the 440A.
We use a scale from one to ten to evaluate four factors: Toughness, corrosion resistance, sharpness, edge retention.
Vs. 420HC
420HC has corrosion resistance and hardness equal to 440A at 6 points.
In terms of edge retention, both have low edge retention. In detail, 440A is at 1/10 low, losing 1 point for 420HC. In contrast, the ease of sharpness of 440A is close to the highest point (9/10), 2 points higher than 420Hc.
Vs. 440C
440c steel has much better edge retention than 440A (2.5 / 10). However, it's quite hard to sharpen at the level 7/10 when compared to 440A 6/10.
Both have approximately the same hardness and corrosion resistance.
In A Nutshell
To sum up, through our 440A stainless steel review, you can see that 440A is low-end steel with the perfect corrosion resistance. It can be used to manufacture knives that could be used both indoor and outdoor. Although the edge retention is low, it is completely acceptable for the price.
Thank you for your time!
Ryan Leavitt
Hi my name is Ryan Leavitt a Marine Corps Veteran and currently an over the road trucker (Long Haul). I am no expert chef but am enjoying preparing my own meals on the road and testing all the different knives.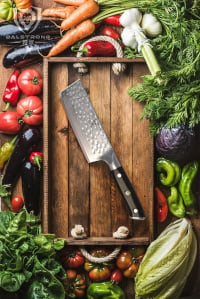 Want FREE Knives?
We give these knives a quick twirl and review, and then we pass them on to a few lucky home chefs!
By subscribing, you agree to get emails from me, Ryan Leavitt. I'll respect your privacy and you can unsubscribe any time.