When crafting a knife, finding the right steel recipe is key to constructing a durable, sharp, and functional blade.
And one of the most popular steel recipes for knife makers is 5Cr15MoV.
If you collect kitchen knives, there's a high chance that at least one of them utilizes this steel, especially considering that it is one of the most well-known and accessible choices out there.
5Cr15MoV is known for being low-end stainless steel that is very affordable and offers proper corrosion resistance.
While it is on the lower-end of the spectrum, it has a high carbon content, which makes it more brittle but also offers great edge retention when used in a blade.
If you've been looking to learn more about 5Cr15MoV, you've come to the right place.
In this 5Cr15MoV review, we take a deep dive into this steel recipe to help you decide if this is the right one for you.
Keep reading to learn more.
Related:
Composition

0,5% of Carbon and 0,10% of Vanadium: These tiny amounts help to enhance stiffness and abrasion resistance of knives; however, a great amount of carbon will reduce their strength.
15% of Chromium: For tensile strength and edge maintenance, it promotes wear-resistance and anti-abrasion.
0,6% of Molybdenum: This percentage ensures good machining capability and consistency.
0,40% of Manganese: This substance makes a considerable contribution to the hardness and brittleness of knives.
From all the proportions of these chemical compositions, we could jump to the conclusion that this material is a good mixture of few metals and high carbon.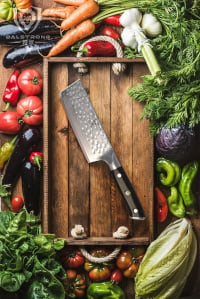 Want FREE Knives?
We give these knives a quick twirl and review, and then we pass them on to a few lucky home chefs!
By subscribing, you agree to get emails from me, Ryan Leavitt. I'll respect your privacy and you can unsubscribe any time.
Properties
Edge Retention: This is possibly the most vital factor.
To the best of our knowledge, it tends to score less than all the more high-priced steel.
Containing a reasonable amount of carbon and a comparatively low proportion of vanadium, 5Cr15MoV does not have too many durable carbides to maintain a sharp edge over a long period.
Amazingly, the shortage of super-hard carbides permits it to deal with many heavy tasks that might chip the harder steels' edge.
Hardness: The hardness can generally change, relying on heat treatment applied to the blade/knife.
Manufacturers often solidify 5Cr15MoV to around 52-56 HRC, while others have done it up to 58 HRC.
Toughness: One of the elements that 5Cr15MoV can reassure you is its overall toughness.
Even though 5Cr15MoV is not ultra-hard stainless steel, it can bend slightly with an excellent withstanding of outside and lateral pressure.
This property may bring about some breakages of many stronger and less solid steels.
Overall, the edge stability is pretty reliable, but it is not inclined to edge rolling or damage.
Anticorrosion: You might acknowledge the incredible popularity of 5Cr15MoV for kitchen and fixed blade knives, right? One of the primary explanations for this publicity is its good ability to resist corrosion.
Because the alloy comprises 15% of Chromium along with the additional molybdenum, they support most knives made of stainless steel to evade oxidation or staining in everyday use.
Sharpening: It is straightforward for users to sharpen.
Especially this is an ideal steel for whetting beginners or those who are tired of getting a razor-sharp edge on more rigid steel.
Alongside this superior capability, it can gain an incredibly high level of sharpness.
This strongpoint helps apprentices or novice sharpeners easily get a sharp-shaved 5Cr15MoV steel.
Thus, this is terrific knife steel for new chefs/knife owners or those who are learning to sharpen their knives.
Should You Use It?
Now, if you have no idea how to select the best 5Cr15MoV knives, we will help you out through some purchase instructions or buying tips for this kind of goods.
Don't opt for a too weighty knife because its heavyweight will easily give rise to hand fatigue after a period of use.
Moreover, using this type of knife, you may find it difficult to proceed with some long-lasting cutting tasks.
Remember that the size and weight of a knife genuinely make a significant difference.
Whether you are a chef, expert, amateur chef, or a new kitchen user, you need to check the knife's blade.
An easy-to-sharp and suitable-sized blade is always the best choice.
Bear in mind your financial statements.
In the event that your budget is adequate, you can choose some expensive knives for yourself.
Nevertheless, if you are on a tight budget, many affordable knives made of this material are highly recommended.
FAQ's
What is the best grade of stainless steel for knives?
To create knives with proper edge retention, the martensitic and ferritic grades require sufficiently high carbon levels so that the steel could achieve high stiffness.
What are the best 5Cr15MoV knives?
Here is the list of the four best knives:
STEINBR܃KE Chef Knife 8 inch
SHAN ZU Lightweight Kitchen Santoku Knife 8 Inch
Gerber Freeman Guide Fixed Blade Knife
SOG Small Fixed Blade Knife
Is 5Cr15MoV Good For Knives?
Well, it depends on which sorts of knives.
It's a decent type of steel for kitchen knives because of reliable wear resistance and easy sharpening.
Nonetheless, on the off chance that you expect to use the steel for an EDC knife or other uses (such as chasing, hiking, camping), we won't recommend it.
As told before, it is not a super strong knife, then it can't keep an edge for too long, which is reasonable for its affordable price.
Final Verdict
What is 5Cr15MoV stainless steel? After our long but detailed article, now you are totally able to understand or embrace most of the basic information of this material, aren't you?
If you have any questions, just leave a comment in the box below, and we will reply to you as soon as possible.
Thanks a lot!
Ryan Leavitt
Hi my name is Ryan Leavitt a Marine Corps Veteran and currently an over the road trucker (Long Haul). I am no expert chef but am enjoying preparing my own meals on the road and testing all the different knives.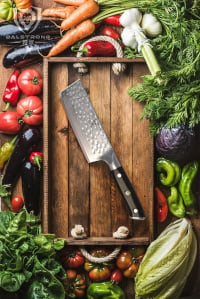 Want FREE Knives?
We give these knives a quick twirl and review, and then we pass them on to a few lucky home chefs!
By subscribing, you agree to get emails from me, Ryan Leavitt. I'll respect your privacy and you can unsubscribe any time.