If you've spent any time researching the different types of knives, you probably know that manufacturers use many different steel recipes.
And in recent years, 9CR18MOV steel has been one of the most popular choices for manufacturers.
9CR18MOV is a high-end Chinese steel that has a fair amount of carbon but is still considered stainless.
With great corrosion resistance and edge retention, it is one of the best knife steels out there.
The 9CR18MOV steel recipe is comparable to 440C as they have similar chemical compositions and properties.
This steel is primarily used for tools that need great corrosion resistance.
That's why it can be found in surgical blades, stainless steel knives, and kitchen cutlery.
But is this the right steel for your knife?
It's critical for you to know all the properties of a steel recipe before choosing your blade.
In this 9CR18MOV Steel Review, we take a deep dive into the features, benefits, and properties of this steel.
Read on to learn more.
Related: Types of knife steel (ultimate guide)
What Is 9CR18MOV Steel?
Produced in China, 9CR18MOV is a high-end material that is voted the steel of choice by many knife makers worldwide. Its reputation is largely attributed to the metal composition (high in carbon and Chromium) used to create the alloy.
It is to produce parts resisting extreme abrasion and work in corrosive environments. Stainless steel cutters, mechanical cutting equipment, surgical blades, or high-wear components are all included.
Thanks to the alloy's properties, the knives made of 9CR18MOV can offer customers a wide array of excellent features as well as be applied in loads of applications. So, what properties does it have?
9CR18MOV Steel Review
Hardness
Hardness represents the ability to withstand deformation when the product gets exposed to hard applications or goes under stress. The hardness of the blade is also seen as the strength and is estimated on a Rockwell C (HRC) scale.
Producers can apply a broad range of various heat treatments to each type. To be precise, the heat treatment has a dramatic impact on its properties. Therefore, manufacturers select the treatment temperature depending upon the expected hardness. This technique is common in gauge plate production as well.
During this phase, the carbon content mainly contributes to hardening the steel, implying that the higher the carbon, the harder the material.
9CR18MOV performs an amazing hardness owing to 0.95% of Carbon. This alloy's Rockwell Hardness varies from 58 to 60 HRC. The presence of 0.8% silicon and 1.3% Molybdenum also promotes the steel's strength and wear resistance.
Wear Resistance
Cutlery manufacturers take advantage of wear resistance to evaluate a steel sort's capability of resisting triggers posed by abrasive and sticky wear. Its wear resistance has a strong connection with hardness yet is remarkably impacted by specific chemical reactions in itself.
With 18% of Chromium and 0.12% of Vanadium, the 9CR18MOV alloy delivers an immensely refined grain, resulting in an exceptional wear resistance property.
Corrosion Resistance
A firm corrosion resistance assists the cutter in resisting corrosion caused by external factors, like humidity, or salt.
Stainless steel is an ideal knife material because of its corrosion resistance. Our 9CR18MOV offers an incredible corrosion resistance property with 18% chromium. Therefore, you can expect rust-free knives when using this material.
Toughness
The toughness demonstrates its ability to withstand damage such as breaking or crumbling when enduring abrupt impact or pressure. As you know, chipping is the cutters' worst adversary and tremendously arduous to fix.
Actually, a steel genre hardly ever perfects in the three elements mentioned above. Coming with excellent corrosion resistance and hardness, this Chinese material is expected to function at a poor toughness.
Nevertheless, the alloy still features a relatively good toughness and can put up with low-mid pressure thanks to the incorporation of 0.8% Manganese and 0.6% Nickel.
Edge Retention
Users can look at the edge retention property to see how long the knife can remain sharp after long-term use. In a sense, edge retention is a measure of combined edge wear and stain resistance.
As said, the metal has a high carbon and Vanadium content, which helps in abrasion withstanding. Thus, the 9CR18MOV stainless steel has sturdy, workable hardness with perfect edge retention properties.
Sharpness
The 9CR18MOV stands out for its firm finish. However, the harder the alloy, the more difficult it to sharpen it. Users who are not used to sharpening blades may find it enormously hard to maintain their sharpness.
Don't worry! Today, the advancement of honing tools and techniques and many modern sharpening solutions are increasing. They can be of great assistance in achieving a sharp cutlery edge on nearly every high-quality blade.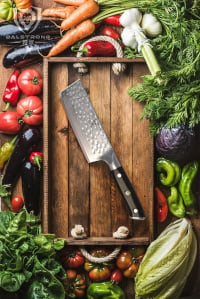 Want FREE Knives?
We give these knives a quick twirl and review, and then we pass them on to a few lucky home chefs!
By subscribing, you agree to get emails from me, Ryan Leavitt. I'll respect your privacy and you can unsubscribe any time.
Is 9CR18MOV Good For Knives?
Undoubtedly, the Chinese 9CR18MOV is a truly good knife material. It has succeeded in every aspect and performed so marvelously that buyers can't miss out on it.
The title "best blade steel" is not just about optimizing every attribute performance and pushing each one to the highest. The challenge is to create a balanced ratio of toughness or hardness.
The manufacturers have promoted superbly firm steel but still safe from chips. Nonetheless, should you desire to find a knife for predator hunting, being on the prowl, or camping, the 9CR18MOV is not highly recommended. The steel's decent toughness is not effective enough for these tactical purposes.
Furthermore, a knife can be quite stiff and you may find it difficult to keep its edges.
When using, consumers can dispel worries about blunt edges as long as they are properly clean and care for the knife. This implies that these knives can be perfect for everybody, from casual housewives to high-end chefs.
Wrapping up
We hope our review gives you a hand to make a proper purchasing choice for you. Apparently, it is a thumbs-up to choose this excellent stainless blade steel for adopting in the knife industry.
If there is something about 9CR18MOV you're still lost at sea with, please leave a comment below for more useful advice!
Ryan Leavitt
Hi my name is Ryan Leavitt a Marine Corps Veteran and currently an over the road trucker (Long Haul). I am no expert chef but am enjoying preparing my own meals on the road and testing all the different knives.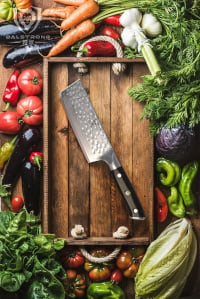 Want FREE Knives?
We give these knives a quick twirl and review, and then we pass them on to a few lucky home chefs!
By subscribing, you agree to get emails from me, Ryan Leavitt. I'll respect your privacy and you can unsubscribe any time.