While they may be a fairly new brand, Misen has been making waves in the culinary community.
Their knives are known to be incredibly sharp right out of the box and made with close attention to detail.
But since they are young and there isn't too much information about their production process available, a lot of people ask, "Are Misen knives good?".
The short answer is, for the price they're sold at, Misen knives are very good.
They can compete with models that are twice their price and would make a great fit in a variety of kitchens.
And in this article, we'll be comparing the brand to other top brands in today's market to see how they hold up.
Read on to learn more.
Misen Vs Cutco
See Misen's best products | See Cutco's best products
On the surface level, Misen and Cutco seem very similar.
Both knives are sold directly through the company, either through their website or in the case of Cutco, door-to-door salespeople.
But despite their similarities, the brand delivers very different knives.
For starters, Misen models are made out of Japanese AUS-8 steel while Cutco models use 440A grade steel.
Both are great options for kitchen cutlery, but Misen knives will have more carbon than Cutco ones, which makes them a bit more durable.
On top of that, their blades are sharpened to a much finer edge, which makes them sharper out of the box.
Misen has a 60-day trial period with their blades, where you can send them back within 60 days if you are unsatisfied, while Cutco's guarantee is a lifetime one, which gives the customers the option to send their knives back for a replacement whenever they want, for whatever reason.
And while Cutco might have the better guarantee and warranty deal, most reviews and customers have pointed that Cutco knives aren't that high-quality, so if you're willing to forgo the lifetime guarantee of Cutco for higher-quality kitchen cutlery, then Misen might be the way to go.
Made In Knives Vs Misen
While both of these brands are usually compared because of their cookware, in this article, we're comparing their knives and kitchen cutlery.
Off the bat, Misen has more cutlery options as compared to Made In, as they have five different knife styles and three different sets as opposed to Made In's four styles and two sets.
However, Made In gives you the option of engraving the blade, which adds a touch of personality that you can't get with Misen.
On top of that, Made In blades are forged in construction, while Misen ones are stamped.
Generally, forged blades are the better option as they are considered more durable than stamped models.
That being said, Misen blades are considered to be made with higher-quality steel, which is a fair trade-off as their knife steel offers more edge retention and durability.
Misen is also the more affordable brand between the two, but both brands offer affordable prices for high-quality cutlery.
Made In has a more stable reputation in the culinary world and is even seen in some Michelin-starred restaurants, so if you don't mind spending a little bit more money, Made In would be the better option between the two.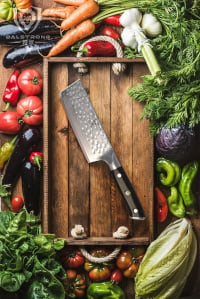 Want FREE Knives?
We give these knives a quick twirl and review, and then we pass them on to a few lucky home chefs!
By subscribing, you agree to get emails from me, Ryan Leavitt. I'll respect your privacy and you can unsubscribe any time.
Misen Knife Vs Victorinox
See Misen's best products | See Victorinox's best products
The Misen brand can find trace its roots back to a Kickstarter campaign back in 2018, and from there the brand has grown substantially into one of the top budget kitchen cutlery brands you can find on today's market.
Victorinox, on the other hand, is a family-owned company that can be traced back all the way to 1884, and in that time, they have established themselves as a socially responsible brand known for their high-quality and innovative products.
Just like Misen, the Victorinox Fibrox knives (the brand's most popular model), are stamped blades.
The difference is, Misen uses AUS-8 while Victorinox knives use lightweight and premium European steel.
So while Misen blades will hold their edge a bit longer, Victorinox models will be lighter and easier to use, which makes them more suitable for chefs who work long-haul shifts and don't want to get too fatigued.
Victorinox blades follow a more traditional Western knife design, while Misen combines both Western and Japanese influences to make blades that have the best of both worlds.
The better design of the two will mostly depend on the user's preference, but if you're a bigger fan of modern knives that have a unique twist on the traditional design, then you might be better suited to go for Misen knives.
However, if you would prefer getting a model from an established company that uses more traditional concepts in their blades, Victorinox would be the better option.
Misen Vs Tojiro
See Misen's best products | See Tojiro's best products
While Tojiro isn't exactly that well-known, they are considered a very high-quality brand by the culinary community.
They are known for making Japanese-style kitchen cutlery and are available at a very affordable price.
Because of this, the brand is usually compared to Misen, and while they do share some similarities, the products they release are very different.
Tojiro knives are great basic kitchen knives that you can easily use to build a functional tool kit for your kitchen.
While they take most of their inspiration from Japanese design, they do incorporate some Western features that will make them easy to use regardless of what knife style you are most used to.
This can be seen very clearly in the chef's knife, which has a very slight curve on the edge to allow you to utilize a back and forth rocking motion when cutting.
And while Tojiro knives make look like fairly basic pieces, when in use, they can perform about as well as any professional knife out there, which makes them a great option for home cooks who want to take their knife collection up a notch.
Misen knives are similar to Tojiro ones in the way that they combine Western and Japanese influences, but when compared head to head, Tojiro would be the better option.
While they are generally of the same quality and stay in the same price range, users tend to prefer Tojiro knives because they feel much more natural in the hand.
That being said, this will differ greatly depending on who you ask, as when knives are of a similar build and price, the only separating factor is usually a person's own preferences.
Misen Vs Dalstrong
See Misen's best products | See Dalstrong's best products
Dalstrong is one of those newcomer brands that took the market by storm when they were released.
This is because their knives truly stood out among the pack.
Aside from being very affordable compared to a lot of other brands that make Japanese-style knives, their blades looked, felt, and performed in a unique way.
The Dalstrong brand offers a very wide variety of knives, giving customers a lot of different models to choose from.
But by far their most popular models are the ones that have Damascus steel.
Not only are these blades sharper and hold their edge better than others, but they also have a very unique pattern on their face, which is something that a lot of people praised when Dalstrong knives began to rise in popularity.
That being said, Dalstrong models are generally more expensive than Misen ones.
And while Misen blades tend to lack some of the extra design features of Dalstrong models, they are made out of high-quality steel and sharpened to a very fine edge, which allows them to be just as sharp as more expensive knives right out of the box.
On top of that, not everyone enjoys the Damascus pattern on Dalstrong models, so if you prefer simple and plain knives and are looking to save some money, Misen would be your best bet.
But if you enjoy intricate and unique patterns on your blades, and you've been looking to build a set of Japanese-style knives, then Dalstrong would be a great choice for you.
Misen Vs Henckels
See Misen's best products | See Henckels' best products
Henckels is one of the most established brands for kitchen cutlery in the culinary world.
And with their rich history of providing chefs and cooks all around the world with high-quality knives comes a reputation that they have to uphold.
Since they started to be used by some of the top chefs in the world today, Henckel knives are considered top-notch, and without a doubt, they are.
While the quality still varies from model to model, most of the blades made by this brand are forged out of high-quality steel, have comfortable and ergonomic handles, and are very sharp right out of the box.
But all these features come with a price, quite literally.
Henckels blades are fairly expensive, and they would simply be impractical for a lot of people to invest in.
Misen, on the other hand, doesn't make blades as high-quality as Henckels, but they are more affordable by a big margin.
So if you've been looking to save money, then Misen is the way to go, but for those of you who are willing to invest in a high-quality blade for your kitchen, then Henckels is one of the top brands out there.
Kamikoto Vs Misen
See Misen's best products | See Kamikoto' best products
There are a lot of brands out there that make Japanese-style chef knives but actually manufacture their blades in China.
Kamikoto and Misen are two brands that do just that.
But don't mistaken, just because they are made in China it doesn't mean that they are low quality.
In fact, chefs and cooks alike have all been surprised whenever they grab hold of a blade made by one of these brands as they are very sharp, have quality construction, and feel natural in the hand.
That being said, these brands do share a fair amount of differences.
For one, Kamikoto blades tend to be more expensive than Misen ones and have a more traditional design.
This might work well for chefs who are used to working with Japanese knives, but if you're new to them, it might be tough to use at first.
This is because they have a flatter edge, which allows you to slice with more precision, but since they aren't curved, you can't use a back and forth rocking motion when chopping.
On the other hand, Misen blades are made in a way that combines Western and Japanese styles.
So they still have some of the aspects of a Japanese knife, but the blade is slightly curved, which allows for a rocking motion.
So if you're more used to Western chef knives and want to save some money, then we recommended going for the Misen brand.
However, if you're willing to spend a bit more for more traditional and still highly functional Japanese knives, then Kamikoto would be the way to go.
Misen Vs Shun
See Misen's best products | See Shun' best products
The last comparison on this list has us taking a look at the Shun brand.
Shun is a favorite in the culinary world as they make knives that are very sharp, very durable, and combine Western and Japanese designs.
They are similar to Misen, but Shun is considered the more premium brand.
Shun offers a wider range of selections, generally has sharper knives, and they even have options made with Damascus steel!
Misen blades, on the other hand, are stamped in construction, so while they might be very sharp, they won't be as durable as Shun knives and won't have as unique a look.
That being said, they are still the more affordable brand, which makes them ideal for chefs on a budget.
But if you're really on the hunt for quality and are willing to shell out some money, then we highly recommend the Shun brand for you.
Conclusion
And this is where our comparisons come to an end.
In this article, we compared Misen to a whole host of different brands, ranging from top-of-the-line and professional names to brands more suitable for the home kitchen.
And the short of it all is, while Misen knives are the highest-quality products out on the market today, they can definitely hold their own against brands that are much more expensive and premium.
So if you're a beginner, culinary student, or a home cook looking for quality knives at an affordable price, you won't go wrong if you choose Misen.
But at the end of the day, the right knife depends on your own needs and preferences in the kitchen, and once you find a blade that can meet those needs, no one can tell you that you don't have the best knife for you.
Ryan Leavitt
Hi my name is Ryan Leavitt a Marine Corps Veteran and currently an over the road trucker (Long Haul). I am no expert chef but am enjoying preparing my own meals on the road and testing all the different knives.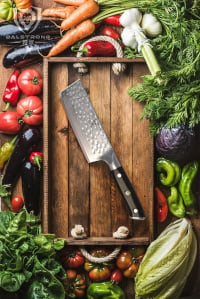 Want FREE Knives?
We give these knives a quick twirl and review, and then we pass them on to a few lucky home chefs!
By subscribing, you agree to get emails from me, Ryan Leavitt. I'll respect your privacy and you can unsubscribe any time.