Did you know?
This Augymer is a good knife that takes away the need to have many different types of cutting tools in your kitchen.
It's a multipurpose, highly efficient, and robust cutlery that works on all kinds of vegetables, fruits, and meats.
Read my review to the end to learn more about the product, and why you should have it in your kitchen.
Pros:
Tough high-carbon Japanese steel that resists breakage
Durable hardwood handle that's also slip-resistant
An ultra-sharp edge that doesn't lose sharpness easily
8-inch length to ensure it cuts big sized foods with ease
Ergonomically designed wooden handle for enhanced comfort and palm safety
Cons:
The wooden handle doesn't clean as easily as a metal or plastic one
We earn a commission if you make a purchase, at no additional cost to you.
A Comfortable Rounded Handle
The shape of this knife's handle enhances the level of comfort you get when using it.
It's ergonomic, reducing the fatigue that comes with gripping the handle for extended periods of time.
Your wrist and palm will not hurt or go numb from pressing on the handle.
It's a feature that comes to your rescue during heavy work that involves cutting lots of hard foods.
It also helps if you're a chef and your job involves long hours working in the kitchen.
The handle is made to fit any size of hands comfortably.
See more: Good chef knives from top brands
High-Strength Japanese Steel Blade
The Japanese high-carbon steel that makes the blade of this knife is known for its sturdiness.
It allows you to work with tough foods without worry.
Cutting into foods such as butternut squash won't give you any trouble or end up damaging the blade.
The product also features an edge that's easy to make sharp.
With a sharpening steel rod or ceramic material, it only takes you a minute or two to restore sharpness.
Better still, you do not need to hone it in between your cutting tasks.
The edge retains sharpness for long enough to allow you uninterrupted food preparation.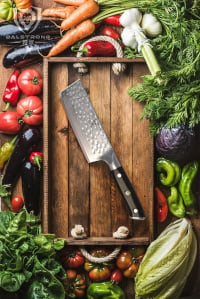 Want FREE Knives?
We give these knives a quick twirl and review, and then we pass them on to a few lucky home chefs!
By subscribing, you agree to get emails from me, Ryan Leavitt. I'll respect your privacy and you can unsubscribe any time.
Long-Lasting Hardwood Handle
This knife combines the durability and non-slip qualities of hardwood.
You will not have the handle leave your grip repeatedly to cause you frustration, as can be the case with metallic handles.
It doesn't even matter if your hands are wet; you will still maintain a firm grip to make your cutting tasks more comfortable and safe.
Hardwood can also be durable if you take good care of it, so this one from Augymer offers you a long-lasting knife for all your kitchen needs.
Easy-to-Clean, Corrosion-Resistant Blade
Cleaning this knife is as simple as wiping it with a dampened piece of cloth.
The steel is stain resistant which makes maintaining the product hassle-free.
During times when you have to wash it, it's an equally easy process.
The blade also resists corrosion.
This means it doesn't lose its sharp edge easily or wear out as a result of the corrosive nature of acidic foods.
Both the blade and the edge will remain intact for a long time, making the cutlery a cost-effective investment in the long run.
Excellent Balance
This knife sits well in your hand, giving you a solid feel.
The weight of the blade balances that of the handle to make moving this cutlery easy and cuts powerful.
With the distributed weight, you will find the Augymer quite efficient.
It also features a bolstered handle.
The construction not only makes the knife safe to work with but also provides for weight balance to make it easy to use.
Protective Sheath for Safe Storage
The product comes with a plastic sheath that offers the blade protection from damage.
By storing it in the sheath, you also protect yourself and anyone else using the kitchen from accidents.
FAQ's
Is the handle made of real wood?
Yes, it is.
Where is the knife made?
It's made in Japan.
How should I sharpen it?
You can use any regular knife sharpener for this task.
And it's really easy to do so as well.
Is the knife forged or stamped?
Yes, it's factory forged.
Is this knife full tang?
It's a full-tang knife, FYI.
Conclusion
If you're looking for a knife that's versatile enough to do all kinds of cutting work, this model fits that perfectly.
With a blade made from extra-strong Japanese steel, this model is robust enough to be driven into any type of food in your kitchen.
Its length is just the ideal one to work efficiently without compromising on cutting accuracy.
To give this Augymer a touch of novelty and glamour, it comes packaged in a gift-like box.
It would make an excellent knife to gift a loved one, or that culinary friend, on their special day.
Not forgetting that it makes a great knife for your own cooking tasks. So go ahead, and gift yourself one.
[toc]
Ryan Leavitt
Hi my name is Ryan Leavitt a Marine Corps Veteran and currently an over the road trucker (Long Haul). I am no expert chef but am enjoying preparing my own meals on the road and testing all the different knives.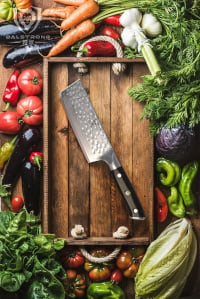 Want FREE Knives?
We give these knives a quick twirl and review, and then we pass them on to a few lucky home chefs!
By subscribing, you agree to get emails from me, Ryan Leavitt. I'll respect your privacy and you can unsubscribe any time.