When shopping for knives, it's critical to know what steel was used for the blade.
The steel used for a knife is one of its most important features.
And this rings true whether you're shopping for a kitchen knife or survival knife.
Many modern knife manufacturers and brands have called AUS8 one of the top steel recipes out there.
Originally developed in Japan, the AUS8 steel recipe is known for its great corrosion resistance.
This steel is also very easy to sharpen to a razor edge, but since it doesn't have as much carbon as other recipes, it won't hold its edge for that long.
AUS8 is used by tons of knife manufacturers in the business today.
Visit any knife shop, and you'll probably find more than one model in there that is made with AUS8 steel.
There are many different pros and cons to owning an AUS8 steel knife, and we dive into them in this AUS8 steel review.
Read on to learn more.
Related: Types of knife steel (ultimate guide)
Composition
0.75% of Carbon: gives one-of-a-kind quality of an added edge retention, and enhances the hardness and corrosion resistance, but reduces the overall strengths if it has a high amount of Carbon.
14.5 % of Chromium: greatly contributes to an increase in toughness, hardness, tensile strength alongside improving the ability of resistance to wear, rust, and abrasion. Users can attain the desired results thanks to its dependability added by Chromium besides its strength of attaining a razor-sharp edge and enduring under high and long pressure of work.
0.5% of Manganese: helps add tensile strength and increase wear resistance besides improving its hardening and grinding ability.
1% of Silicon: reinforces tensile strength that is one able to withstand maximum stress.
0.04% of Phosphorus: builds up the overall strength it.
0.03% of Sulfur: strengthens the machinability.
0.3% of Molybdenum: provides it with good abilities of welding and enduring corrosion and wear. The increased lattice strain in it releases the augmented energy needed to ruin the blade, helping it become more durable and less susceptible to such impairment.
0.25% of Vanadium: makes it easier to sharpen and innovates the quality stainless steel in gaining more tensile strength and imperviousness to damages.
0.5% of Nickel: helps steady its austenite structure and contributes to the commendable ability of welding and toughness but decreases the feature of corrosion resistance even if it contains a high amount of Manganese.
Properties
Edge Retention: thanks to a high amount of Carbon, it exceptionally exhibits edge retention, making it comparable to premium material ranks.
Corrosion Resistance: 14.5% of Chromium provides a high degree of corrosion resistance. However, take care of the knife if you tend to use it in a humid condition.
Wear Resistance: 0.75% of Carbon and 0.3% of Molybdenum grants this material an excellent wear resistance ability.
Sharpness: 0.25% of Vanadium gives it an impressive sharpness property compared to the other sharpening tools.
Machinability: Sulfur and Molybdenum offer the finest machinability. This feature requires little power to perform the cutting and quickly achieves a good finish.
Toughness: the Chromium and Nickel in it contributes to its toughness that it deforms without fracturing.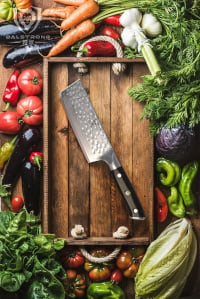 Want FREE Knives?
We give these knives a quick twirl and review, and then we pass them on to a few lucky home chefs!
By subscribing, you agree to get emails from me, Ryan Leavitt. I'll respect your privacy and you can unsubscribe any time.
Pros
Easy to sharpen
Features rust, wear, abrasion, corrosion resistance
Exhibits the edge retention
Withstands high pressure
Resilient
Has machinability
Cons
Dull when being out in an oxygen environment for a long time
Features dependability, meaning that its quality depends on the daily use and tempering techniques performed by different manufacturers
Who Should Use This?
The knife companies and knife makers can count on this steel for its superior composition to create various types of blades that are easy to handle and good at enduring high abuse.
Those who purchase this material to produce their specialty knives can take advantage of its first-rate properties, and it will take buyers aback at how satisfyingly it performs.
With its excellent qualities exhibited in dependability and toughness, homemakers can even buy it for their machetes to efficiently cut trees and plants.
Frequently Asked Questions
#1. What Is The Hardness of Aus 8?
It scores 59 for its hardness (HRC).
#2. Is Aus 8 Good For Knives?
Considered a mid-entry face, it has various admirable features, including edge retention, corrosion resistance, wear resistance, sharpness, machinability, and toughness. Therefore, it undoubtedly becomes an ideal part of constructing your razor-sharp knives.
#3. Which Knives That Commonly Use This Steel Type?
The SOG Knife company often chooses this type for its manufacturing. Besides, Cold Steel creates SRK series made from Aus 8 as well. The Ontario Knife Company released its RAT Model 1 folding knife into the market, attracting a great sales volume thanks to the material the company has been using.
Another knife company name, Columbia River Knife and Tool, places its trust in this material to create their popular Van Hoy series. Lastly, some Gerber knives also choose this mid-range steel for production.
#4. How It Scored on Tests?
It had an extremely positive score on an edge-retention test, and the highlight is its sharpen-ability.
According to Spyderco Knife company, its Calypso Jr. model with the blades made from this steel type required five strikes into a ceramic rod and ten ones into a butcher's steel to attain a fully sharpened finish.
Compared to the other high-end steels, like D2 or VG-10, the performance of this steel is far faster.
Based on another edge-retention test, its 59 HRC feature grants outperformance of its rivals such as 154-CM, 400C, and VG-10 steels.
Final Verdict
Generally speaking, Aus 8 is an excellent option for knife makers and knife companies to make use of and produce quality razor-sharp products. It is not totally resistant to corrosion, so remember to take care of it.
Ryan Leavitt
Hi my name is Ryan Leavitt a Marine Corps Veteran and currently an over the road trucker (Long Haul). I am no expert chef but am enjoying preparing my own meals on the road and testing all the different knives.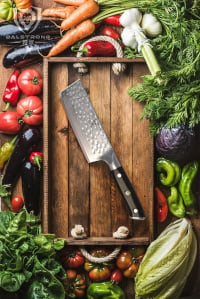 Want FREE Knives?
We give these knives a quick twirl and review, and then we pass them on to a few lucky home chefs!
By subscribing, you agree to get emails from me, Ryan Leavitt. I'll respect your privacy and you can unsubscribe any time.