Did you know?
The Berghoff Chef knife is a stainless steel blade with a non-stick ceramic coating that runs from the handle to the tip of the cutting edge.
The knife features fancy design elements that set it apart from other knives in the kitchen.
This one-piece knife is solid and strong for cutting through a variety of food items.
Pros:
Non-stick blade and handle
Solid construction hence strong
Excellent edge retention
Comfortable and firm grip
Lightweight hence easy to hold
Cons:
The black finish on the blade looks dull
We earn a commission if you make a purchase, at no additional cost to you.
Related:
High-quality construction
Berghoff is known for its unique design concepts and strategies. Ideally, the brand focuses on constructing knives that are designed to last for long without losing their uniqueness, resilience, and sharpness.
This Titanium ceramic-coated knife by the brand features a one-piece construction that allows for effortless and consistent cutting.
The sharp-pointed tip of the cutting edge allows for easy tearing of foods such as meat when preparing steak slices or even quartering a chicken.
The ceramic coating not only allows for clean and smooth cuts but also helps in keeping the cutting edge sharper for longer durations. This makes the blade versatile for different common cutting tasks in the kitchen.
Well balanced knife
One of the aspects that often make it hard to control a knife is balance. For blades that are not well balanced, you will need to exert more pressure when cutting.
However, for this chef knife by Berghoff, you need not worry about control as the blade is well balanced and features a heavy bolster. This provides a perfect balance that in turn gives increased control.
The 7.5 inches blade length in the knife makes it ideal for slicing, chopping, and dicing a variety of food items including meat, fruits, and vegetables.
Ideally, the blade is designed for multi-purpose use in the kitchen and as such, you can use it with all food items without worrying that the blade will get discolored or stained. The coating on the blade cushions it against staining, discoloration, and corrosion.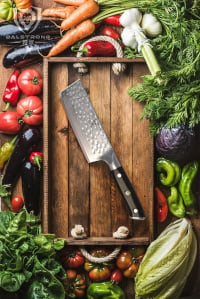 Want FREE Knives?
We give these knives a quick twirl and review, and then we pass them on to a few lucky home chefs!
By subscribing, you agree to get emails from me, Ryan Leavitt. I'll respect your privacy and you can unsubscribe any time.
Flexible handle design
Berghoff just like other top brands invests heavily in making the best and most comfortable handles in their blades. The handle in this kitchen knife focuses heavily on a functional approach as well as on aesthetics.
As such, it not only looks good but it is also comfortable for convenient and fatigue-free holding. It is worth noting that the ceramic coating on the handle protects it from scratching or damage due to moisture.
The flexibility of the ergonomic handle makes it possible for both right and left-handed people to hold the handle in a firm and secure grip with great ease.
If you are constantly preparing food in the kitchen especially if you are a budding professional chef, you will find the handle very helpful and convenient.
These knives come with two handle options to choose from; matching black or contrasting ash wood options.
Guaranteed performance
This Berghoff Chef Knife features an ultra-sharp edge. This edge cuts easily with minimal effort and excellent control.
Consequently, the high performance of the blade ensures that you do not need to press down excessively on the food you are cutting.
What is more amazing about the performance of the blade is that the blade is pre-sharpened at the factory. Therefore, the blade comes ready to use right from the box.
The coating on the blade not only ensures that food does not get stuck on the blade but also minimizes drag thereby allowing to maintain clean and smooth cuts. This comes in handy when you are preparing steak slices or vegetable sheets.
Customer feedback
Over the years, the popularity and reputation of Berghoff knives have grown far and wide.
True to this, most chefs are now preferring this chef knife to other brands in the market. A great majority of chefs and cooks who have used the knife note that it is super comfortable and excellently balanced.
Others note that the coating makes the knife look great and makes fine cuts.
The durability and reliability of the chef knife are yet other aspects that chefs love most about this blade. According to most people who have used the knife, its sharpness lasts for long without requiring any extensive sharpening.
They say that with regular honing, the blade can even last for six months without sharpening.
The ease of holding and control of the blade for precise cutting is yet another attribute that most chefs and cooks love about the knife. Even beginners have it that the blade is easier for them to use compared to other chef knives.
Conclusion
This Berghoff kitchen knife is designed for use in a typical kitchen setting. The blade is designed to hold well against wear and tear and other damaging effects in the kitchen.
Therefore, this is a knife that will give you reliable service throughout its life. With this knife, you will not require any other chef knife in your kitchen for the foreseeable future.
Ryan Leavitt
Hi my name is Ryan Leavitt a Marine Corps Veteran and currently an over the road trucker (Long Haul). I am no expert chef but am enjoying preparing my own meals on the road and testing all the different knives.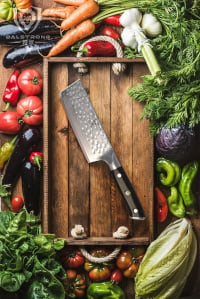 Want FREE Knives?
We give these knives a quick twirl and review, and then we pass them on to a few lucky home chefs!
By subscribing, you agree to get emails from me, Ryan Leavitt. I'll respect your privacy and you can unsubscribe any time.