Time to find the new best carving knife for your kitchen?
Because you can't slice meat with your knife anymore?
But the problem is, there are a lot of choices out there on the market.
And if you don't know what to look for, you might waste your time and money.
That's why I've compiled a list of great products here to save you time and effort.
Just take a look at my comparison table below, then read my product reviews.
And I'm sure you will find what you're searching for soon.
Top-rated Carving Knives for Your Kitchen (Updated List)
Amazon product
* Featured Product *
We earn a commission if you make a purchase, at no additional cost to you.
See also:
Slicing vs Carving Knives
Unknown to most people, while slicing and carving knives are used interchangeably, they bear distinctive differences.
For starters, this type of knife is designed for making beautiful slices for meats like beef, ham, and poultry.
The blade measures 8-10 inches in length and comes with a straight and sharp edge.
The blade is full at the handle but gets narrower towards the tip.
The shape provides for precise cutting as well as slicing through bones and cartilages.
The best thing about the blade is that it makes even cutting thickness.
Most people use the knife for slicing meat but it is best suited for bone carving in pork, ham, turkey, and chicken.
A slicing knife, on the other hand, has a longer blade.
The blade measures 12-14 inches but the width is consistent all through.
The knife features a Granton edge which makes slicing ultra-thin and comfortable.
This knife is perfect for slicing the boneless beef roast, turkey & roast chicken, and pork tenderloin.
Additionally, you can also use the blade for slicing sandwiches and other soft food items.
It also has a ridged blade that provides better control while the more flexible blade in a slicing knife allows for cutting thinner roast slices.
Other great collections: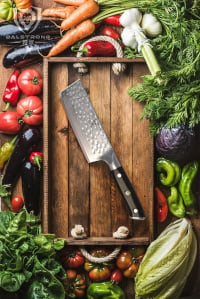 Want FREE Knives?
We give these knives a quick twirl and review, and then we pass them on to a few lucky home chefs!
By subscribing, you agree to get emails from me, Ryan Leavitt. I'll respect your privacy and you can unsubscribe any time.
How to Choose the Best Carving Knife For Your Kitchen
Finding the best carving knife is not that easy.
If you buy the wrong one, that might lead to the utmost frustration whenever you want to slice some meat.
But if you buy the right mode, that would make you enjoy cooking a lot more.
So, what exactly are the things you need to keep in mind when buying?
Let's take a look.
Stamped or forged model?
Stamped blades are lighter than the forged ones.
This is because stamped models are usually cut from fattened steel sheets with the edges being polished and ground.
Forged blades, on the other hand, are made by melting and molding hot steel.
And then subjecting them to varying heating & cooling treatments to build resilience and hardness.
Since these products are mostly used for cutting through the meat (which may be tougher than standard food items), it is advisable to buy forged ones.
The weight
When buying carving knives, what you will need the most are accuracy and precision.
As such, weight is a crucial consideration as it will determine how easily you can handle the knife.
The ideal weight to settle for depends on personal preferences.
As there are people who are comfortable with using heavy cutters while others prefer light ones.
In line with this, you need to know the weight that is perfect for your hands.
However, irrespective of the weight of preference, you should make sure that you only purchase evenly balanced models.
That way, you will need less effort and make your work a lot easier.
Consider the handle
The handle needs to be solid, well joined, and easy to clean.
The need for the solidness of this part is necessary.
Because it is the part where you will exert pressure when carving the meat.
The joint between the handle and the blade should be strong and without any gap whatsoever.
This not only helps in enhancing the strength of the knife but also helps in removing the likelihood of meat portions been trapped.
If the meat is trapped, it can lead to the breeding of bacteria when the meat decays.
Not good, right?
So make sure you pay attention to the handle of the knife.
What the handle is made of
If you really want to bring home the best carving knife for your kitchen, then this would be an important point to keep in mind.
Most handles are made of plastic, wood, or toughened resins.
Wood and plastic handles are not excellent choices as they become brittle in time.
Thereby making the blade weak.
What is worse is that brittle handles can also cause injuries.
Especially when cleaning the meat from bones and other hard body parts.
Toughened resins are the best materials.
Because they are able to resist wear and tear for a long time.
And they can remain in pristine conditions throughout the lifespan of the knife.
Width and smoothness of the blade
When buying, your chosen model should be relatively wide and equally smooth.
Additionally, the tip of the blade should be sharply pointed to cut through tough meat types.
The width plays an important role in enhancing the strength and firmness of the cutter.
Blade smoothness allows for easy sharpening as well.
Especially when carvers become blunt faster than any other type of knife.
Avoid purchasing the ones with narrow blades as they are susceptible to breaking or bending with time.
And finally, it is crucial to ensure that you maintain the knife in the best conditions possible.
Ensure that you clean it thoroughly after every use to ensure that there are no meat portions left.
Additionally, sharpen it regularly to maintain its sharpness.
A good quality knife will cost more.
But it will be a worthy investment, trust me.
That's why I highly recommend you take a look at my chosen models above for more info.
Other great knife collections:
Top 10 Product Reviews
Mairico Premium 11 inch Steel Slicing Knife (Best Overall)
We earn a commission if you make a purchase, at no additional cost to you.
This is the best carving knife in my opinion.
It has an 11-inch product from the renowned Mairico brand.
This premium product has the following interesting features:
Versatile – This 11-inch cutting blade is designed to work well with various meats like a roast, smoked salmon, ham, turkey, pork loins, brisket, etc. This is mainly facilitated by its 11-inch length. In addition, it can be utilized for slicing vegetables and fruits.
Ergonomic – The product features a secure grip and a weight distribution that is well-balanced. All of these promote comfort and safety.
Performance – It has a sharp blade for precise cuts.
Quality – This knife is made from premium stainless steel.
Our scores:
Sharpness: 9/10
Handling: 9/10
Ease of maintenance: 9/10
Pros:
Budget-friendly
Razor-sharp blade
Professional design
Can be used for many types of meat
Cons:
Might be too sharp for beginners!
Interesting food slicers:
Dalstrong Granton Edge 12 inch Slicing Shogun Series (Best Design)
Amazon product
The Dalstrong brand has released yet another superb knife to style up the kitchens of their consumers.
This 12-inch blade has a number of interesting features, these include the following:
Performance – The edge of this 12-inch product is very sharp for precision cutting. It is hand-finished at an 8-12° degree angle on either side. Its corrosion resistance, flexible robust. The extra length is designed for large meat cuts such as sides of salmon, turkey, ham, roasts, briskets, etc.
Versatile – It can also be used to prepare layer cakes, to slice bread loaves, vegetables, and big fruits.
Durability – This unit has a super steel cutting core with a high Rockwell hardness. It is the high carbon content that gives it longevity and exceptional strength.
Handle – Its G-10 handle is ultra-premium making it impervious to moisture, cold, and heat. It has an ergonomic design for enhanced comfort, agility, and hand control.
Our scores:
Sharpness: 8.5/10
Handling: 8.5/10
Ease of maintenance: 8/10
Pros:
Corrosion resistance
Can be used for cake and bread
Premium G-10 handle
Cons:
The handle might be a bit small for some
Dalstrong Shogun Series 9 inch Slicing Set (Best for Comfortability)
Amazon product
Another good choice for you.
The set has main features comprise of the following:
Handle – This 9-inch slicer set is fitted with a top-quality G-10 handle that is not affected by cold, heat, and moisture. It is ergonomic for comfort, agility, and control.
Performance – This knife set has a hand-finished edge that is staggered at an angle of 8-12 degrees on both sides. Its full tang promotes robustness. And the edge is flexible, does not corrode, and robust. The 9-inch length helps in dealing with turkey, ham, roasts, briskets, etc. Furthermore, it is well balanced and precisely tapered to eliminate surface resistance.
Strength – Its Japanese super steel cutting core has a high Rockwell hardness for optimum edge retention and top performance. The product derives its strength from high carbon steel.
Shape – The blade is narrow so that it can easily follow bone contours and access hard-to-reach areas.
Our scores:
Sharpness: 9/10
Handling: 8/10
Ease of maintenance: 8/10
Pros:
Hand-finished to provide a razor-sharp edge
Premium Japanese steel construction
G-10 handle that can resist heat, cold, and moisture
Cons:
Dalstrong Granton Edge 12 inch Slicing Gladiator Series (Best for Usability)
Amazon product
This cutting blade from the Gladiator series has some unique features that you will love:
Aesthetics – It is hand polished to achieve a beautiful satin finish.
Performance – This 12-inch knife is made of high-carbon German steel, has a full tang, and is incredibly sharp. It employs a flexible blade technology to simplify butterflying, trimming, skinning, filleting, preparing and de-boning of meats.
Design – This model has a brilliant design that is made of premium materials with a high-quality feel.
Versatile – It is extra-long i.e. 12-inches to make it ideal for cutting and slicing layer cakes and bread loaves, preparing vegetables and large fruits as well as carving ham and roasts.
Handle – This cutting blade is fitted with a black pakka wood handle that is triple-riveted and has a grip for maneuverability and comfort.
Our scores:
Sharpness: 8.5/10
Handling: 8.5/10
Ease of maintenance: 8/10
Pros:
Exceptional design
Sturdy full-tang construction
Ergonomic G-10 handle
Cons:
Might not be that good for large gammons or beef
Other knife collections:
Victorinox Fibrox Pro 12 inch Slicing With Granton Edge (Best for Beginners)
We earn a commission if you make a purchase, at no additional cost to you.
The Victorinox brand is renowned globally for its exquisite knives and this product is no exception.
And this 12-inch model is designed with a number of useful features as outlined below:
Versatile – It can be used to slice sandwiches, cakes, fish, ham, roasts, etc. This is facilitated by the long blade that cuts soft and firm foods.
Performance – The stainless steel blade has a high-carbon content for enhanced flexibility.
Quality – This product is made using lightweight European steel of very high quality.
Ergonomics – It has a comfortable grip that feels very secure even when wet or greasy.
Our scores:
Sharpness: 9/10
Handling: 8/10
Ease of maintenance: 8.5/10
Pros:
Granton blade design to minimize food stickiness
Very sharp edge
Non-slip fibrox pro handle
Cons:
Mercer Culinary Millennia 14 inch Slicer (Best Ergonomic)
Amazon product
The Mercer Culinary brand has produced this 14-inch knife that has both looks and functionality.
Superior quality – This Mercer Culinary 14 inch slicer is created with top-quality Japanese steel that is capable of resisting discoloration, corrosion, and rust.
Performance – Chopping and cutting using this product are very easy because of its razor-sharp edge.
Handle – The handle is ergonomically designed, it features polypropylene to provide durability and Santoprene for comfort since Santoprene is a very popular choice. Furthermore, it has textured finger points for better grip and slip-resistance.
Maintenance – Its razor-sharp edge is quite easy to maintain and allows for rapid sharpening.
Our scores:
Sharpness: 8/10
Handling: 9/10
Ease of maintenance: 8/10
Pros:
Ergonomic Santoprene handle
Slip resistance
Superb quality Japanese steel
Razor-sharp Granton edge
Cons:
The blade might be a bit thin and can bow at times
Mercer Culinary Renaissance 10 inch Slicer (Most Versatile)
Amazon product
This 10-inch cutting device from Mercer Culinary is definitely something you should check out thanks to its great features:
Ergonomics – It has a rounded spine to allow for a comfortable grip. The product has a Delrin handle that is triple-riveted.
Maintenance – The product features a shortened bolster that exposes a full edge for easier sharpening.
Performance – It features a full tang to promote superior balance and this runs the entire length of the blade.
Durability – This model has a high carbon content and is made from top-quality German cutlery steel that is resistant to discoloration, corrosion, and rust.
Furthermore, the edge of this 10-inch slicer is taper-ground for increased efficiency, sharpness, easy honing, and additional stability.
Our scores:
Sharpness: 8.5/10
Handling: 9/10
Ease of maintenance: 8.5/10
Pros:
Triple-riveted for extra durability
Great balance
Made with stain-resistant German steel
Cons:
Related:
Cangshan N1 Series 61758 Set (High-end Choice)
Amazon product
The Cangshan brand presents this steel forged set of two. It comprises several interesting features that include the following:
Design – This set has an amazing design that exhibits precision and balance.
Aesthetics – The knives look very beautiful with every angle and curve feeling comfortable.
High quality – Excellent construction materials are what constitute a good knife. High-alloy German steel is used to make this one for high durability and hardness.
Performance – Its cutting functions have the precision for a refined tactile and responsive experience.
Our scores:
Sharpness: 9/10
Handling: 8.5/10
Ease of maintenance: 9/10
Pros:
Premium design
Full-tang construction for maximum durability
Comes in a set of 2
Great edge retention
Cons:
Top Chef by Master Cutlery 2-Piece Set (Best for Control)
Amazon product
This is a 2-piece cutting set by Master Cutlery. The main features of this handy product are as follows:
Stainless steel – It is ice-tempered and hollow ground to minimize sticking. This also promotes maintenance.
Handle – This set is completely steel with bolsters that are polished and seamlessly bonded for aesthetic appeal.
Cleaning – The product can be hand-washed thus easy to clean.
Performance – It is sharp and heavy for precision cutting.
Our scores:
Sharpness: 8.5/10
Handling: 8.5/10
Ease of maintenance: 8/10
Pros:
Special design to reduce stickiness
Full steel comfortable handle
Comes in a set of 2
Cons:
The fork is not that good
TOR Kitchenware (currently unavailable)
This is a German-patented product from high-quality TOR kitchenware.
The features that make this knife so desirable are:
Handle – It has a rosewood handle that is secured to the fork base and stainless-steel blade by rivets.
Gift box – The product is housed inside a beautiful gift box made of rosewood. This can act as storage.
Durability – It is made from stainless steel that is corrosion-resistant.
Versatile – It can easily slice through an array of meats and poultry.
Related:
Forged or Stamped Blades?
The remarkable difference in price between stamped and forged blades makes people assume that forged knives are superior in quality since they are more expensive.
And to some extent, this can be true but it is not always the case.
These two blade types have unique differences hence the need to know the blade that will work best for you.
For starters, forged knives have a bolster while the stamped ones have no bolster.
Other notable differences between these blades include forged blades being heavy, thick, less flexible, and durable while the stamped ones are more flexible, lightweight, have a thin blade, and are less durable when cutting firm/hard materials.
It is advisable to choose a blade on the basis of how comfortable the blade is as well as its efficiency when cutting.
That said, forged blades often feel weighty but well balanced while the forged ones have a lighter feel and are easier to handle and use for some chefs.
Since forged knives are harder they have better blade retention than the stamped knives.
Ideally, the easiest way to know the blade that is perfect for you is by understanding your needs and what you are looking for in the blade of preference.
What Length Will You Need?
When buying, blade length is an important consideration when shopping for a knife.
This is because the blade size in the knife range from 8 inches to 14 inches.
It is worth noting that unless you find the best blade length, using the knife can be tricky and uncomfortable.
Too short blades are unable to cut through large meat pieces while too long blades can be unwieldy and awkward to use.
The secret to identifying the best blade length for you is by settling on a size that is longer than your biggest roast.
This makes it possible to use the blade for extra-large briskets.
14-inch blades are recommendable for commercial setups while 10-inch blades are a perfect choice for a domestic kitchen.
Other great knives you should know about:
Handles & Edge Design
Handle materials are often a reflection of the overall type of construction in the blade.
Stamped blades feature lightweight thermoplastic polymer handles that keep the blades agile and airy.
The polymers provide an ergonomic comfort as well as a nonslip grip and are easy to contour.
Forged blades on the other hand feature polymer handle with a greater density for accommodating a full tang.
There are other common handle materials such as wood, steel, and epoxy & resin composites.
Always settle for a handle with sufficient texture for preventing slippage.
The handle of choice should also offer deep finger guards for preventing contact with the cutting edge.
Edge design is yet another aspect worth considering when shopping.
It is important to note that the design of the edge has a great influence on the quality of the cut.
The best edge design is one that is long, thin, and has a shallow profile.
This is a secondary feature that helps in reducing drag.
For slicers, there are a variety of edge designs including dimples, Granton divots, Cullens, fluting, and hollow edge designs.
The dimples in these designs create air pockets that are efficient in releasing food as well as reducing friction.
This, in turn, provides for uniform cut portions.
Slicing Tips
Slicing meat is a simple task that does not need you to possess any special skills.
The first thing you should do when you want to carve meat is to prepare the meat chunk.
Allow the beef roast to rest for 10-15 minutes so that the juices can be reabsorbed into the roast beef.
After resting, place the roast chunk on a cutting board.
Ensure that the knife is sharp and hold it at a similar angle for every slice.
Hold the roast in a fixed position using a meat fork and carve the beef across the grain.
You can cut your meat slices into any preferred thickness but for tougher cuts, carve the meat into thin slices.
Always remove skewers, strings, netting, or elastic bands from the meat before starting the process.
This helps in ensuring that no strings or other foreign materials in rolled meat are served to your guests.
If you are cleaning around a bone, cut horizontal slices to prevent the blade from cutting into the blade thereby becoming blunt.
The ideal meat thickness should be about ¼ inch/ 5mm as the best flavors stand out in thicker slices.
Related:
FAQ's
What is the difference between a carving and a slicing knife?
The primary use of a slicing knife is cutting thin meat slices as well as slicing vegetables and fruits.
A carving knife, on the other hand, is used for slicing dense meats.
The blade is slicing knives is longer.
Carving knives feature thick, ridged blades with curved pointed tips that allow for easy disjointing of meat from the bone.
Slicing knives can either have pointed or blunt tips.
What is the best knife for turkey?
The ideal blade for use in carving a turkey is a knife that is specifically designed for boning poultry.
The blade of choice should feature an angular design that is efficient in breaking the bird down into different sections.
The blade should have a 4mm -6mm thickness near the handle and the tip having a 1.5mm – 2mm thickness at the tip.
Thinner blades often perform better when cleaning poultry since their bones are soft. Such a blade does little or no damage at all to poultry meat.
What is this type of knife also called?
It is also called a carver. Other people also refer to the blade as a boning knife.
The naming of the blade is done on the basis of its uses.
Since the knife is primarily used for carving meat, hence its name; a carver.
Are cordless carving knives any good?
Cordless carving knives are increasingly becoming popular in present times.
These blades are a favorite choice for most commercial chefs due to their ease of use.
With these knives, you do not need any force when carving or even slicing meat.
The blades are also quite efficient since they are electrically operated.
With an electric carving knife, you can be guaranteed to make perfect and smooth cuts.
Another fascinating aspect about these blades is that they feature an automatic back and forth movement.
What is the difference between a chef knife and a carving knife?
For starters, chef knives are multi-purpose blades that are designed for use in undertaking different tasks in the kitchen while carving knives are more of specialty blades than multi-purpose ones.
The blade of chef knives is usually slightly curved in a characteristic design to allow for a rocking motion for finely chopping herbs and other food items.
The blade in carving knives is straight but with a pointed tip.
The sharp blade in chef knives is broad and versatile to handle numerous tasks in the kitchen.
The blade often narrows towards the tip of the blade for the purpose of carving meat from bones.
How do you sharpen a carving knife?
Just like other knives, carving blades become blunt with time due to consistent use or even cutting against hard surfaces like countertops.
Once a blade becomes blunt, the next thing you should do is sharpen it.
You can use a flat stone, leather strop, or an automated sharpener to sharpen your carving blade.
When using a flat stone or leather strop to sharpen the knife, ensure that you hold the blade at an angle (preferably 25-30 degrees) as you move it over the stone.
Ensure that you sharpen the blade evenly on both sides to make the sharpening uniform.
An automated sharpener is quite easy to use as you only need to place the blade inside the sharpener and power it on.
What can you use a carving knife for?
The primary use of a carver is carving ham, large beef meats, poultry, and other meat choices.
Since these blades are considerably thinner than chef's knives, they make it easy to cut more precise slices.
You can also use the blade to fillet large fish.
In the US and Europe, the knives are used for slicing large meat roasts such as turkey during Thanksgiving or slicing an occasional Sunday roast.
Due to the versatility of these blades, they can also be used for other meat-related tasks in the kitchen.
For instance, they can be used for slicing vegetables and fruits as well as in preparing ingredients.
Can you use a bread knife here?
The answer to this question is yes and no.
Yes because the long serrated blade in bread can cut through meat with ease thereby making fine meat slices.
And, no because the knife is not designed for meat carving and hence will get damaged when carving hard meat such as roast beef.
Additionally, since the tip of a bread blade is not pointed, removing meat from bones can be quite a task.
Always use a knife for its recommended and intended purpose only.
How do you carve a turkey like a pro?
Turkeys are everyone's favorite birds during Thanksgiving across the US.
The secret to enjoying this poultry meat is understanding how to carve it like a pro.
When carving a turkey, you will need a large cutting board that has a groove for collecting all the juices.
You will also need a secondary cutting board and a platter.
When curving turkeys, always follow the natural lines, separations, and bones.
This will make it easy for you to carve the turkey and make fine meat slices.
The first thing you should do is remove the thigh/drumstick by slipping the knife between the leg and breast to remove the thigh and drumstick.
The next thing you should do is remove the breast by cutting along the mid breast bone.
You should then remove the wings by cutting through the joint that joins the wings to the backbone.
After disassembling the turkey, you should then carve it in fine meat slices with the desired thickness.
How does an electric carving knife work?
It has two long serrated blades attached together.
The blades move in a back and forth motion hence cutting through meat.
After plugging the knife into a power source, the blades move lengthways continuously thereby providing a sawing action.
You just need to place the knife on the meat type you want to carve such as turkey or beef meat.
Should you also use a fork?
A carving fork has two long tines, a projection for resting the thumb and the forefinger, and a handle.
The fork is designed for use in holding the meat in place when carving.
This fork makes it easy to make fine and smooth meat cuts and slices.
The long tines dig deep into the meat so as to keep large meat pieces stable when carving.
There are limitless options and choices of carving knives in the market currently.
Research online and seek references from seasoned chefs and people who have experience in these knives when choosing the ultimate blade depending on your needs.
Conclusion
Carving knives are some of the most important pieces in any kitchen.
That's why we make sure to regularly update our list of the top carving knives on the market today.
Every day, there are new models and knives being released on the market that deserve your attention.
And if you need a truly high-quality carving knife for your kitchen, we highly recommend the Dalstrong Gladiator Series Carving Knife.
While this blade is expensive, it is made with very close attention to detail, making it a premium piece of kitchen cutlery.
But for chefs looking for a simpler carving knife for slicing cooked meat, our recommendation is the Mairico Ultimate Carving knife as it can handle a wide variety of food such as roasts, meat, fruits, vegetables.
And for home cooks that need a carving tool on a budget, then we highly recommend the Mercer Culinary Genesis Millenia Carving knife.
It's a budget blade, so don't expect some of the other premium features you'll find on other models, but it is more than capable of slicing just about any meal you cook in your kitchen that requires carving.
[toc]
Ryan Leavitt
Hi my name is Ryan Leavitt a Marine Corps Veteran and currently an over the road trucker (Long Haul). I am no expert chef but am enjoying preparing my own meals on the road and testing all the different knives.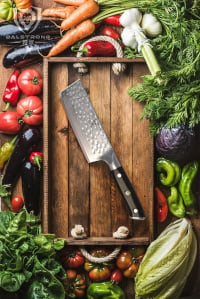 Want FREE Knives?
We give these knives a quick twirl and review, and then we pass them on to a few lucky home chefs!
By subscribing, you agree to get emails from me, Ryan Leavitt. I'll respect your privacy and you can unsubscribe any time.