Are you looking for the best ceramic knife sharpeners your money can buy?
Got confused because there are just too many options out there?
Don't worry.
Because I've done the legwork and gathered here for you the top-rated products you'd love to know about.
Just take a look at them below, and I'm sure you will soon find what you want.
But first, let's talk about…
Is Ceramic Good For Sharpening Knives?
Yes.
It makes one of the best sharpening materials for knives and other cutting equipment.
It is slightly less abrasive than diamond sharpening steel and hence it produces fine edges that are ultra-sharp.
Do Ceramic Knife Sharpeners Wear Out?
Ceramic knife sharpeners never wear out.
However, the sharpening surface gets clogged with metallic particles and knife chippings due to continuous use.
To unclog the surface, you will only require cleaning the surface using a scouring pad.
However, there are sharpeners such as whetstones and other stone sharpeners that wear out due to continuous use over time.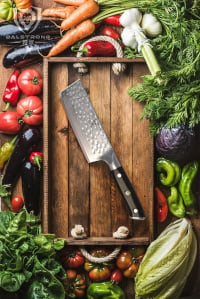 Want FREE Knives?
We give these knives a quick twirl and review, and then we pass them on to a few lucky home chefs!
By subscribing, you agree to get emails from me, Ryan Leavitt. I'll respect your privacy and you can unsubscribe any time.
Best Ceramic Knife Sharpeners (Updated List)
We earn a commission if you make a purchase, at no additional cost to you.
* Featured Product *
We earn a commission if you make a purchase, at no additional cost to you.
Related:
Types of knife sharpeners
Electric knife sharpeners
Serrated knife sharpeners
Sharpening steel
Sharpening stones for kitchen knives
Hunting knife sharpeners
Pocket knife sharpeners
Different Types of Ceramic Knife Sharpeners
Like other sharpeners, ceramic knife sharpeners feature different shapes, sizes and are of different types.
Usually, these sharpeners are made using alumina ceramic; which is a different material than the one used in ceramic teapots and cups.
The most popular types of these sharpeners are V-sharpeners and sharpening rods.
V-Sharpeners
V-sharpener ranks as one of the most common sharpening tools especially due to its increased ease of use and flexibility.
Ideally, V- ceramic sharpeners are part of most people's kitchen knife sets.
However, if you are not well versed in using these sharpeners, you should avoid them completely.
This is because wrong handling of the sharpener by applying uneven pressure can damage your ceramic blade.
When sharpening your blade using a V-sharpener, ensure that you place the sharpener securely on a flat surface and ensure that you only apply a light even pressure.
Some of the key benefits of this sharpener include enhanced mobility, can be used for repairing chipped blades, require little to no special skills to operate, and are very quick in sharpening ceramic blades.
Ceramic Rods
Ceramic sharpening rods come either as single rods or in sets of two rods.
Those that come as single rods are handheld while those that are designed as a set are placed at 30-40 degrees and cross each other at the base.
The secret to using ceramic rods efficiently to sharpen your ceramic knife is by holding the bright at the best/right angle.
Some of the benefits are:
Low maintenance required to keep them in perfect condition
Very effective for ultra-blade sharpness after you understand how they are used and can sharpen blades of any size and shape.
However, these rods cannot be used for repairing damaged knives. In addition to this, the rods can break if dropped hence the need for better care and handling.
Reviews of the Top Rated Products
Kitchellence (Best Overall)
We earn a commission if you make a purchase, at no additional cost to you.
This unit features a 3-slot system that has revolutionized the art and concept of knife sharpening.
It is designed for use by everyone; both right-handed and left-handed people alike.
The tool is perfect for repairing, restoring, and polishing blades to their factory sharpness and condition.
The best thing about this one is that it helps in straightening damaged blades thereby enhancing the life of the blades.
When you purchase this quality product, you also get a pair of cut-resistant gloves for protecting your hands from cuts when using it.
The handle is also easy to hold and grip without straining your hand muscles in any way.
Our scores:
Ease of use: 9/10
Effectiveness: 9/10
Ease of maintenance: 9.5/10
Pros:
Cheap price
Standard 3-slot system for quick and effective sharpening
Includes a cut-resistant glove
Cons:
The repair function might not work that well
Fubosi (2nd Runner-up)
We earn a commission if you make a purchase, at no additional cost to you.
For people with an all-round kitchen sharpener for ceramic, fruit, kitchen, boning, pocket, chef, and folding knives, this Fubosi knife sharpener is the ultimate sharpener to purchase.
With an ergonomic and soft handle made from high-grade ABS plastic, it is easy and comfortable to hold in the hands.
The non-slip base provides sufficient stability and firmness and hence does not slip when in use.
The head is also detachable for easy cleaning with water to remove the debris left.
Additionally, the 3-stage system allows for efficient sharpening whereby the first stage involves improving dull blades, the second stage for ceramic blades, and the third stage for polishing blades.
Our scores:
Ease of use: 8.5/10
Effectiveness: 8.5/10
Ease of maintenance: 9/10
Pros:
Ergonomic handle
Non-slip base
Effective 3-stage sharpening system
Cons:
Might not be suitable for ceramic knives
Work Sharp (Best for Professionals)
We earn a commission if you make a purchase, at no additional cost to you.
Work Sharp has for a long time being a popular brand for the best quality kitchen sharpeners.
The WSGSS model is built with an ergonomic design and uses a unique pivot-response technology that allows for sharpening both straight and curved edges.
The technology enables the diamond plates to follow the blade's edge profile thereby ensuring consistent results throughout the edge of the blade.
The ceramic field hone in the blade enables the blade to sharpen recurve blades, fishhooks, serrated knives, and stows.
The precision angle guides establish the best and optimum guiding angles for smooth operation.
These guiding anglers can be flipped from 17 degrees to 20 degrees.
Our scores:
Ease of use: 8/10
Effectiveness: 9.5/10
Ease of maintenance: 8.5/10
Pros:
Innovative sharpening design
In-built precision angle guides
American-made
Cons:
Priority Chef (Best for Beginners)
We earn a commission if you make a purchase, at no additional cost to you.
The Priority Chef PCKN is a great choice for both professional and amateur chefs.
Featuring a stylish and ergonomic design, it is highly efficient and reliable for even the dullest blades and knives.
This 2-stage sharpener enables you to sharpen and polish & hone the blade simultaneously.
Since it is easy to use, you do not need to possess any special skills or knowledge when using it.
Over the years, Priority Chef PCKN has been a popular brand that specializes in developing the best quality sharpener.
In line with this spirit, this model is designed uniquely to provide 100% sharpening capability even for the dullest and excessively blunt blades.
Our scores:
Ease of use: 8.5/10
Effectiveness: 8.5/10
Ease of maintenance: 9/10
Pros:
Minimalist design that is easy to understand and use
Good 2-stage sharpening system
Cheap
Cons:
The instructions might be confusing at times
Zulay (Best for Fine-tuning)
We earn a commission if you make a purchase, at no additional cost to you.
This manual stainless steel sharpener is effective, easy to use, and safe with a coarse slot for reviving damaged and dull knives.
The ceramic slot is used for honing and polishing knives to the perfect angle.
Additionally, the non-slip base maintains the unit in a steady position when in use.
As such, it becomes easy to use without posing any risk of injury to the hands or any other body part.
Despite it being manual, it has a smooth-running sharpening system and hence does not require too much energy.
The durable and long-lasting construction enhances the lifespan of the product such that you can use it for a long time without it wearing out or becoming faulty within a short time.
Our scores:
Ease of use: 8.5/10
Effectiveness: 9/10
Ease of maintenance: 8/10
Pros:
Dirt-cheap price
Can work with many types of knives and scissors
Multiple color choices
Cons:
Its longevity is questionable
Buying Guide
These knife sharpeners come in handy when your ceramic blades become dull and blunt.
Ceramic blades require sharpening using special sharpeners that are specially designed for these blades.
When shopping for these sharpeners, there are a few pointers worth noting so that you settle on a sharpener that will be of great use and help to you.
These pointers are such as:
Budget
Like any other sharpener in the market, these knife sharpeners are priced differently.
There are some that will only set you back a few dollars (especially ceramic rods) while others cost tens of dollars.
With a budget, it becomes easy to identify the sharpener that is within your financial reach.
Size of the sharpener
Size comes into play in consideration of the size of your ceramic blade.
Since these knives are just like other blades, they also come in varying sizes.
This necessitates the need to consider the size of the sharpener that is right for your blade.
However, it is crucial to note that size has no significant effect on the efficiency of a sharpener other than the convenience of use.
The size of the sharpener actually matters when it comes to storing and packing the sharpener together with your knife-set.
Always settle for a sharpener that you can easily store in a kitchen drawer.
Grit level
Regardless of your preferred sharpener, it is necessary to note that all sharpeners come with varying grit levels.
Most rods are double-sided while electric sharpeners usually come with two or more settings.
The grit level in a sharpener determines the extent of dullness in ceramic blades that you can sharpen with a particular sharpen.
For blades that are extensively dull, a coarse grit is the best choice. Fine grit is ideal for honing ceramic blades.
How fast is the sharpener?
How much time do you want to spare when sharpening your ceramic blade?
Do you want to spend only a few seconds or do not mind using a couple of minutes when sharpening your knife?
These are personal preference questions that will determine the ideal sharpener for you.
If you want a fast sharpener, then an electric ceramic knife sharpener is your ultimate choice.
On the other hand, if you do not mind the sharpening time, then a manual sharpener like a ceramic rod.
FAQ's
What is the best way to sharpen ceramic knives?
The best and most efficient way of sharpening it is by using an electric knife sharpener.
These sharpeners, particularly those with diamond abrasives are the best since they remove nicks on the blade quite easily.
However, it is worth noting that it is not all-electric sharpeners are designed for sharpening them.
Therefore, you need to opt for those that are specially designed for these blades.
Do they break easily?
Ceramic is a considerably brittle material and hence is prone to breaking easily than steel.
Therefore, they may break if the blade is flexed or twisted excessively.
However, these knives do not break easily but even so, it is worth noting that these blades should not be classified as "all-purpose" kitchen knives.
As such, they should not be used for complex tasks such as boning or chopping large meat carcasses.
Can you put them in the dishwasher?
While it is undoubtedly true that they are dishwasher safe, it is not a good idea to put them or any other type of knife in a dishwasher.
Any utensil or cutlery you put inside a dishwasher gets bumped against each other.
For knives, this bumping can be quite destructive and will most likely damage the edges of the knife.
Instead, it is advisable that when you want to clean your ceramic knife, you can simply use warm water, soap/detergent, and a soft towel.
Which is better, diamond or ceramic knife sharpener?
It goes without saying that the diamond is a harder and stronger material than ceramic.
Similarly, diamond sharpeners are practically better than knife sharpeners.
However, in terms of efficiency, ceramic sharpeners are better since they do not eat away too much steel like diamond sharpers do.
In addition to this, ceramic sharpeners are ideal for polishing and honing finished edges.
For new ceramic blades or those that are extremely dull, diamond sharpeners are the best choice to use.
Do knife sharpeners get dull?
It is not possible for knife sharpeners to get dull.
This is because the sharpeners have rough surfaces that 'eat' the edge of a knife to sharpen it.
Good quality sharpeners can be used for a long time without getting dull or wearing out.
There are sharpeners that have the capability of lasting up to a decade with proper care and maintenance.
However, if you do not take good care of the sharpener or use it in any other way other than that which is provided for by the manufacturer, it may not last for long.
Do they have metal in them?
Ideally, they do not have metal in their blades as they are made from 100% material.
However, it is possible for these knives to have metal in their handles.
The material in these knives is not the typical material you will find in your coffee mug.
Instead, it is zirconium oxide, also called zirconia which is harder than carbon steel or stainless steel.
The material used for making knives does not absorb smell or rust, thereby making the blade ideal for daily kitchen tasks.
How do you clean a ceramic knife sharpener?
Cleaning depends on the type of sharpener.
For ceramic rods, you can easily clean them using honing oil, dishwashing soap, or warm water.
Honing oil when applied on these rods helps in removing the debris or metal particles that may have clogged the pores of the rod.
Likewise, you can use soap and warm water together with a soft towel to gently scrub the surface of the rod.
For electric ceramic sharpeners, you can consider using a toothbrush or paper towel to brush off the gathered particles on the grinding wheel.
You should never use water or detergent with electric sharpeners.
The best place to shop and purchase ceramic knife sharpeners is on the internet.
This gives you an opportunity to search for the best quality sharpeners while comparing prices for affordability.
You also get to know more about the quality, reliability, and efficiency of each sharpener that can easily be assessed from the reviews left by previous buyers.
Conclusion
One of the best tools for any chef and home cook is a ceramic knife sharpener.
However, finding the right one for your kitchen can be pretty tough.
That's why we've updated our list of the best ceramic knife sharpeners so that you can easily find the right model for your kitchen.
For chefs that need an all-around sharpening tool, we recommend the KITCHELLENCE 4-in-1 Accessories.
It has a 3-stage knife sharpener built-in and comes with a sharpening glove for added safety, giving chefs all they need to sharpen and maintain their blades.
If you need a model that is more heavy-duty, then we recommend the Stone Castle Cutlery Kitchen Sharpeners that also comes with a 3-stage sharpener you can use to hone, polish, and sharpen your knives.
And for chefs on a tight budget, you can't go wrong with the Arkansas Sharpeners Superstick Ceramic Rod that you can use to hone your knives before use, which helps maintain a knife's razor-sharp edge.
Further reading:
Knife Sharpening Tricks: 10 Steps (with Pictures)
55 Experts Share Their Number One Knife Sharpening Tips
[toc]
Ryan Leavitt
Hi my name is Ryan Leavitt a Marine Corps Veteran and currently an over the road trucker (Long Haul). I am no expert chef but am enjoying preparing my own meals on the road and testing all the different knives.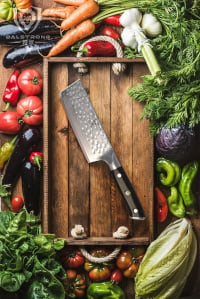 Want FREE Knives?
We give these knives a quick twirl and review, and then we pass them on to a few lucky home chefs!
By subscribing, you agree to get emails from me, Ryan Leavitt. I'll respect your privacy and you can unsubscribe any time.