Still looking for the best cleavers out there?
Because you can't chop meat and bones anymore with your current chopper?
Then it's time to look at the following models and pick one up for your kitchen.
These cleavers are not only reliable, but they're also affordable as well.
So, if you're still searching for a new one, I strongly recommend taking a look at my comparison table and product reviews below.
I know they will give you the information needed to make a good decision.
Now, let's begin.
And don't forget to tell me which one would you choose.
* Featured Product *
We earn a commission if you make a purchase, at no additional cost to you.
Related:
What are Meat Cleavers Used For?
Ideally, meat cleavers are designed for cutting through and chopping massive chunks of meat.
Additionally, the blades also split up large soft bone pieces and bones as well as other dense bones.
The versatility of these blades also makes them ideal for routine kitchen practices such as sectioning chickens and slicing through poultry bones.
In commercial applications such as in restaurants, chefs also use them for slicing hard vegetables such as butternut and squash.
In Asia, people use cleavers for cracking open coconuts.
A cleaver is also ideal for smashing food items like garlic and lemongrass as well as tenderizing cutlets.
See also:
Reviews of the Top 9 Best Cleavers for Your Money
Zelite Infinity Comfort-Pro Heavy Chopper (Best Overall)
We earn a commission if you make a purchase, at no additional cost to you.
This is a top-notch cleaver from the Comfort-Pro line from Zelite Infinity that will elevate your culinary skills.
Its notable features are as follows:
Performance – This 7-inch knife is equipped with an 18-20 degree edge to guarantee the user a long-lasting performance.
Comfort – The product has a big black handle that is forged rounded, has an ideal forward balance, and a rare tapered bolster to offer optimum control and robustness.
High quality – It is constructed of top-notch German steel that does not wear out, dent or rust. The Rockwell hardness value of 56 makes it hard and tough.
Versatile – This cleaver can be used for deboning, slicing, chopping, and cutting chicken, coconut, vegetable, and light bones.
Our scores:
Sharpness: 9/10
Handling: 9/10
Ease of maintenance: 9/10
Pros:
Razor-sharp edge
A versatile choice for lots of different tasks
Premium German steel core
Full-tang ergonomic handle
Excellent packaging
Cons:
Might be a bit heavy for some
Other great collections:
Spevorix Heavy Stainless Steel Chopper (Best for Beginners)
We earn a commission if you make a purchase, at no additional cost to you.
Spevorix has produced a stainless-steel butcher knife that redefines efficiency.
This good cleaver has several interesting features:
Construction material – This product is made using a stainless steel blade that is rich in carbon. This makes it both hard and sharp.
Technology – The edge of this cleaver is sharpened to an angle of 13-15 degrees on either side. The blade is slip-resistant for safety, it is tapered to enhance performance and minimize slicing resistance.
Handle – It is fitted with a Pakkawood handle for ergonomic handling and added comfort.
Our scores:
Sharpness: 8.5/10
Handling: 8/10
Ease of maintenance: 8.5/10
Pros:
Comfortable handle
Full-tang sturdy construction
Special design reduces hand fatigue
Cons:
Interesting food slicers:
'The Ravager' (Best for Professionals)
We earn a commission if you make a purchase, at no additional cost to you.
A really impressive contender on this list of the best cleavers.
The Gladiator line from Dalstrong has released a superb 9-inch cleaver that will spruce your kitchen in many ways.
The features that make this good knife stand out are the following:
Aesthetics – This product is a result of exemplary workmanship thus has stunning design elements and is made with the most attractive materials.
Performance – It has an efficient edge that is razor-sharp and is made of German steel (high carbon). The angle of polishing is 18-degree on either side and its 9-inch length gives it great performance to cook with. It has a decent Rockwell hardness of 55.
Versatile – The cleaver can be used on small bones, fish, meats, fruits, etc.
Design – It exhibits a quality feel and has a luxurious black pakkawood handle with a suitable grip due to its thickness.
Safety – The tall blade height facilitates safety by providing good knuckle resistance.
Our scores:
Sharpness: 9/10
Handling: 8/10
Ease of maintenance: 8/10
Pros:
Heavy-duty choice, perfect for professionals
Excellent design that impresses
56+ Rockwell hardness for maximum durability
Comfortable G10 Garolite handle
Cons:
Other knife collections:
Dalstrong Gladiator Series (Best for Multi-purpose)
We earn a commission if you make a purchase, at no additional cost to you.
Another product from the world-famous line of Dalstrong.
This 7-inch cleaver has the following to offer:
Durability – It is rated with a Rockwell hardness of 55 making it hard and durable.
Performance – The knife is tapered to reduce slicing resistance while increasing the degree of flexibility.
Safety – The length of its blade provides adequate knuckle resistance for safety purposes.
Versatile – The cleaver can be used on different meats and vegetables.
Handle – The handle consists of black pakkawood fitted with a grip and is triple-riveted for reinforcement.
Our scores:
Sharpness: 8.5/10
Handling: 8/10
Ease of maintenance: 8/10
Pros:
Luxury ABS polymer handle
Special design that promotes comfort and maneuverability
Premium materials used for improved hardness
Cons:
The handle might be a bit small
Godmorn 7-inch Chopper (Best Chinese Cleaver)
We earn a commission if you make a purchase, at no additional cost to you.
This is a 7-inch multipurpose Chinese chef knife that can be used at home or in restaurants.
Its features include the following:
Cleaning – This cleaver is dishwasher safe, but it can also be hand-washed.
Design – It adopts a single-piece design that is easy to maintain due to a lack of screws, wood parts, and plastics.
Handle – The handle is made of ABS material that is impervious to moisture, cold, and heat.
Ergonomics – It has a handle that fits well in the hand to allow for a comfortable grip for chopping, cutting, and slicing.
Durability – The knife is made of steel with high carbon content for maximum longevity.
Our scores:
Sharpness: 8/10
Handling: 8/10
Ease of maintenance: 8.5/10
Pros:
Premium Germany steel for added strength
Versatile use
Improvements in durability and toughness
Cons:
Might be a bit small for some
Other great knife collections:
J.A. Henckels International Classic (Higher-end Choice)
We earn a commission if you make a purchase, at no additional cost to you.
This is yet another unique meat cleaver from the ZWILLING J.A. Henckels brand that promises fun in the kitchen.
The full gear features include:
Multipurpose – This heavy-duty model is capable of chopping through bones and joints.
Cleaning – It can be cleaned in a dishwasher.
Handle – This cleaver has a traditional and ergonomic triple-rivet handle to provide comfort and balance.
Performance – The blade that is satin-finished is good for making precision cuts and can be honed to allow for prolonged sharpness.
Quality – It is manufactured from German stainless steel of premium quality.
Construction – The cleaver is fully forged steel to offer durability and allows for a seamless transition from handle to blade.
Our scores:
Sharpness: 8.5/10
Handling: 8.5/10
Ease of maintenance: 8/10
Pros:
Fully forged construction offers great durability
Razor-sharp edge
Traditional triple-rivet handle for comfort and balance
Cons:
Related:
Sky Light 7-inch Chinese Cleaver (Budget Choice)
We earn a commission if you make a purchase, at no additional cost to you.
This is a 7-inch butcher knife that is from the Sky Light brand.
The features include the following:
Handle – It is ergonomic with a good protective bolster and triple rivets for reinforcement. The handle is non-slip to reduce fatigue, aches, and finger numbness, this also contributes to enhanced comfort and safety.
Performance – The cleaver has a very sharp edge to make the best cuts, it exhibits an angle of 17-degrees for easy cutting. This also makes sharpening the edge much easier.
Multi-functional – It can perform most kitchen tasks such as mincing, dicing, slicing, chopping, etc. Its heavy weight is what allows for this.
Durability – This blade is manufactured using stainless steel of great quality thus is stain resistant, rust-resistant, wear-resistant, and durable.
Our scores:
Sharpness: 9/10
Handling: 8/10
Ease of maintenance: 8/10
Pros:
Very budget-friendly
One-piece solid structure for added product longevity
Good wear resistance
Cons:
Wallop Rock 7.5-inch Chopper (Best for Home Kitchen)
We earn a commission if you make a purchase, at no additional cost to you.
This is an ergonomic clever from the Wallop brand that is bound to change your cooking experiences.
The salient features associated with this cleaver are:
Handle – It is ergonomically designed to be non-slip and luxurious. WENGE wood is the material used to keep moisture out for good. The handle is very easy to grip for extra comfort during cooking.
Materials – This 7.5-inch clever combines High-carbon GERMAN DIN and a Japanese Damascus blade. These ensure good edge holding, reliable performance, and rust-resistant.
Multipurpose – The knife can be used for numerous purposes like peeling off fish, cleaving and slicing beef, and mincing pork.
Our scores:
Sharpness: 8/10
Handling: 8/10
Ease of maintenance: 8/10
Pros:
Ergonomic non-slip Wenge wood handle
Sharp edge
Comes with a beautiful gift box
Cons:
ISSIKI
We earn a commission if you make a purchase, at no additional cost to you.
ISSIKI Cutlery is proud to release its multi-purpose 7-inch butcher knife to the market because it has a lot to offer consumers.
The beneficial features of this product are:
Comfort – The handle exhibits an ergonomic shape that provides the user with both a firm grip as well as stability regardless of whether it is dry or wet. Its lightweight also helps in decreasing wrist strain.
Durability – Its pakkawood handle is a material that is resistant to humidity and very durable.
Efficiency – The stainless steel on this cleaver has good edge retention and resistance to rust. This promotes easy cleaning and the sharp edge cuts food with minimal effort.
Multipurpose – The tasks you can perform with this cleaver are many as it can scale fish, cut meat and bone, etc.
Other great knives to consider: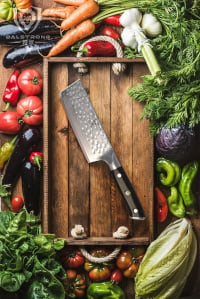 Want FREE Knives?
We give these knives a quick twirl and review, and then we pass them on to a few lucky home chefs!
By subscribing, you agree to get emails from me, Ryan Leavitt. I'll respect your privacy and you can unsubscribe any time.
How to Buy the Best Cleaver That Meets Your Requirements
The best thing about a cleaver is that its entire length is used for cutting.
The blunt top edge is perfect for pounding and tenderizing meat while the sharp edge cuts and chops the meat.
You can use it to smash ginger, garlic.
And also for transferring meat and other food items from a cutting board to the cooking dish.
I love this type of knife.
But in order to bring home a good one, you should keep in mind the following pointers.
Choose the right blade material
And it's high carbon stainless steel.
Your preferred butcher knife should be rust-resistant.
Because more often than not, you will be using it on moist surfaces.
That's why stainless steel is the ideal choice here.
Plus, the added carbon will make it even tougher.
On the other hand, choppers that rust over time are less durable and often wear out at a fast pace.
What is worse is that the corrosion on the blades can affect the taste of meat and other food items that you may use the blade to cut.
So, watch out for that.
Choose your handle wisely
A firm handle is very important.
Because the efficiency of your blade depends on it.
The best handle types are made from strong rubber with special treatments.
This type of material is heat resistant and is soft to hold in the hands.
There are some butcher knives that come with wooden handles also.
But they are not fully resistant to heat and can cause blisters on the hands if not held securely and firmly.
The handle should not be too large as well.
Because they may be uncomfortable for you to hold in your hands.
Instead, the perfect handle should be medium-sized for a firm and easy holding.
Related:
The weight
A lightweight blade is perfect for precision and speed.
Whereas heavy blades require more effort when cutting and cleaving meat.
However, you should only settle on a blade whose weight is perfect for you.
And it depends on the kind of meat and food items you intend to cook.
For instance, if you want to chop and crush hard food items, then a heavy butcher knife is the ideal choice for you.
On the other hand, if you will be cutting soft food items and meat, then you should settle on a lightweight model.
The cutting edge
The key aspects here are smoothness and thickness.
The best blade should be smooth and shiny without any metal pitting sign.
In addition to this, the blade should be easy to sharpen again since the sharpness of the blade wears out with continued use.
The cutting edge of the blade should run the entire length of the knife.
This presents users with a long cutting surface that is beneficial when cutting foods like meat or dicing through items like carrots and other hard groceries.
Focus on quality
There are different qualities of choppers with some being of high quality while others are substandard.
High-quality cleavers are not only efficient and reliable but are also durable.
As such, they can last for a long time without wearing out.
On the other hand, low-quality cleavers not only get blunt fast.
But you will also find that their handles are susceptible to breaking when smashing hard foods.
That's why I highly recommend you spend a few more dollars to get a good model instead of a bad one.
And finally, always keep your cleaver sharp and clean to enhance its durability.
Wash it thoroughly with plenty of water and rinse them after every use.
This ensures that the blade is able to retain its sharpness for a long time even without frequent sharpening.
After every use, always keep it in a safe place where it does not pose any injurious risks to the people around the kitchen, especially children.
Related:
FAQ's
Why there is usually a hole in the knife?
The hole in a meat cleaver is designed for hanging the blade on a wall or on any other vertical surface.
Unlike standard knives and blades that are easy to store in a drawer or knife blocks, cleavers are massive and heavy hence not possible to fit in usual kitchen drawers.
With the hole on the cleaver, you can conveniently hang the blade on a nail or hook somewhere that the blade won't take too much space.
Usually, a meat cleaver is only used for separating large carcasses into smaller parts that are easier to handle.
Therefore, you will need to keep it in a safe place so that it does not get into your and inflict cuts and other injuries.
What brands should you buy from?
The brand of the knife is everything when it comes to meat cleavers.
The brand of choice will determine the quality and reliability of the cleaver you will purchase.
These blades come with the same shape and nearly similar weight, hence the difference in them is most notable in the material used and the handle.
The best meat cleaver should last long while still intact and with reasonable sharpness.
The top cleaver makers in the market currently include Dexter Russel, Sky Light, Shun Classic, Dalstrong, Utopia, Spevorix, Sato, and Epica among other brands.
The ideal blade should feature excellent edge retention, made from high carbon stainless steel, and have an ergonomic handle.
How big is it?
Despite the cleavers in the market being designed and made by different brands, these blades have an average length of 7.5"-10.5" and a blade length not exceeding 6 inches.
The blade height in cleavers is about 3 inches or thereabout.
The length and height of these blades are crucial factors since they affect the overall efficacy and dexterity of the blade.
Length plays a pivotal role in cleaving large items while height helps in keeping the blade on a straight cutting plane as well for sufficient knuckle clearance.
Short blades easily get stuck in massive food items like meat carcasses.
Why do Chinese chefs use these cutters?
Chinese chefs are known to be experimental when it comes to preparing meals and cooking.
Cleavers used by these chefs feature thick, heavy, and solid blades that are similar to the cleavers used in the western world.
The chefs use the cleavers for cleaning pork ribs, beef, and poultry bones.
Chinese chefs also use cleavers to tear through dense connective joint tissues.
What is more to note about the cleavers used by these chefs is that they are multi-purpose.
Their use is not limited to large meat pieces and hard food items.
The chefs also use the blades for scooping food items such as spices.
Should it be razor-sharp?
Unlike other knives and kitchen blades, meat cleavers do not need to possess razor sharpness for their edges.
If you are keen on doing a lot of chopping, then an ultra-sharp edge will fold thereby ruining your cutting.
Since cleavers feature large thick blades, they do not need to be sharpened intensely and hence you can use a 300 grit whetstone.
Most times, you will need to use a lot of force when using cleavers.
For instance, when working through massive meat carcasses and bones, you will require exerting force so that the blade cuts through with ease.
Sharpening the cleaver symmetrically helps in attaining a uniform bevel width thereby increasing the durability of the cleaver.
What is the difference between a butcher knife and a cleaver?
Even though a cleaver and butcher knife is used for nearly the same tasks, they have glaring differences.
For starters, butcher knives are similar to standard chef's knives in size.
On the other hand, cleavers are massive blades that are heavier and larger than butcher blades.
Additionally, butcher cutters are general utility blades used for stripping, splitting, and cutting meat.
Butchers use cleavers for dealing with massive meats such as a full cow and crushing bones.
A butcher knife features a light and thin blade to allow for precision cutting.
The blade in meat cleavers is large, wide, and massive.
Butcher catchers have small-sized handles that are easy to grip in the hands.
The handle in cleavers is large and heavier.
How should you sharpen it?
The success of sharpening a meat cleaver is dependent on the style of the cutter.
These blades are considerably different and thus sharpening techniques vary distinctively.
It is advisable to use a 300 grit (Japanese) whetstone as the blades do not need extensive sharpening.
Sharpen the blade from its heel towards the tip while holding the blade at an angle.
Repeat this motion for the other side of the blade for uniform sharpness.
The ideal sharpening angle is 25-35 degrees for each side. The angle of preference depends on the degree of bluntness in the blade.
For blades that are excessively blunt, you should use an angle that provides for an extensive sharpening allowance.
After sharpening, ensure that you wipe the blade and rinse it off to remove any metal particles on the edge.
You can also use an electric grinding stone as it makes the sharpening process easier and more efficient.
You will need to follow the same procedure as when using a whetstone.
Who invented the meat cleaver?
The history of meat cleavers dates back over a million years ago when the first meat cleaver was invented.
The invention of the first-ever meat cleaver was done GengShuai, an ancient Chinese welder.
He is popular for being an inventor of practically useless items with the exception of the cleaver.
Ancient cleavers were made from rocks and wood.
However, over the years, with the onset of modern skills, iron and steel became the common materials for blades and cutters.
While the original concept of meat cleavers remains the same to this day, there have been great changes adopted to make the blades more stylish and functional.
What is the difference between a vegetable cleaver and a meat cleaver?
A vegetable cleaver just like its name suggests is used for cutting/slicing/ chopping different types of vegetables.
The cleavers can also be used for crushing ginger and garlic as well as transferring ingredients to a cooking pan.
Additionally, the cleavers are also ideal for splitting soft chicken bones and cutting pineapple and other fruits.
Meat cleavers, on the other hand, are specially designed for cutting, crushing large meats and hard bones.
The best thing about these cleavers is that unlike vegetable cleavers, their use is unlimited.
This is because you can use meat cutters with all types of meat as well as vegetables.
As such, it makes more economic sense to prefer a meat cleaver to a vegetable one.
How do you hold a cleaver?
Understanding how a cleaver is the first step in determining how efficiently you will use the blade.
With cleavers, there are two ways of gripping the handle.
The first grip involves holding the handle at the closest position to the blade while ensuring that you place the thumb where the handle meets the blade then curl the rest of the fingers at the opposite side of the cleaver handle.
In the other grip, your focus should be on the blade.
Grip the handle at the point where it meets the blade but the thumb should be placed on either of the blade's side while the index finger is placed on the opposite side.
This is for the purpose of ensuring that you distribute pressure between your index finger and the thumb.
This grip provides chefs with added control.
What brand knives do butchers use?
Just like other knives, there are lots of brands of butcher knives.
Some of the brands are synonymous with high-end knives while some brands are known for poor-quality blades.
This is why it is necessary to research a brand that is practical depending on your uses as a butcher.
Some of the leading butcher knife brands in the market presently include Global Heavyweight, UltraSourceCimeter, Rada Cutlery, Victorinox, Ontario Knife Company, and Update International among other brands.
These brands have blades that are exclusively designed for undertaking tasks in typical butcheries.
These are reliable blades that enable butchers to do tasks such as meat carving, boning, trimming & sectioning meat, and breaking through cartilage.
What is a vegetable cleaver?
The best and most accurate description of a vegetable cleaver/blade is a massive, multi-functional knife whose functions range from delicately chopping cilantro to cracking open shellfish among other tasks.
The design of the cleaver makes it a multi-purpose blade that can be used with soft meat types, vegetables, and different fruits.
The blade in a vegetable blade is shorter than that of a meat cleaver.
Vegetable cleavers are thinner, lighter, and come with a honed edge just like that of regular kitchen knives.
You can also use the cleaver with fish and chicken among other meat types.
After buying your ultimate cleaver, you should exercise care when handling and using the cleaver.
This is because cleavers can inflict serious injuries if mishandled or stored carelessly.
Conclusion
In our updated list, we've compiled the best cleavers for your kitchen.
Chefs who are in need of a premium cleaver in their kitchen that can chop through bones and other hard materials would definitely enjoy the Dalstrong Obliterator Meat Cleaver.
It's designed for heavy use, made with premium materials, and manufactured with close attention to detail, allowing chefs to use the blade for the heaviest of kitchen tasks.
If you're in need of a cleaver designed with Japanese influences, then we recommend the Kyoku Daimyo Cleaver, as it has a Damascus steel construction with a VG10 Core.
These features make it incredibly durable and a great pick for just about any chef out there.
But if you are looking to save money and get a budget-friendly cleaver, then you can't go wrong with the iMarku Professional Stainless Steel Cleaver.
While it's available at an affordable price, the manufacturers made to that this knife is up to par with some of the top premium models out there.
[toc]
Ryan Leavitt
Hi my name is Ryan Leavitt a Marine Corps Veteran and currently an over the road trucker (Long Haul). I am no expert chef but am enjoying preparing my own meals on the road and testing all the different knives.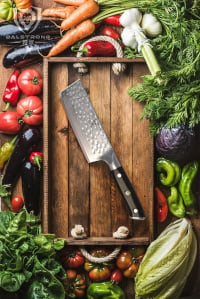 Want FREE Knives?
We give these knives a quick twirl and review, and then we pass them on to a few lucky home chefs!
By subscribing, you agree to get emails from me, Ryan Leavitt. I'll respect your privacy and you can unsubscribe any time.