You know what?
Deba knives come in handy in the kitchen when you want to make ultra-thin slices when preparing your meals.
These knives are often lightweight and have a flexible blade that slides through fish & meat easily without damaging the whole thing.
The blade size ranges from 6"-8" and hence they are not favorable for excessively large fishes.
You will often find Japanese chefs use these knives when they're in the kitchen.
But if you also want to bring home one, then I highly recommend you take a look at my list below.
Best Deba Knives For Your Kitchen (Updated List)
We earn a commission if you make a purchase, at no additional cost to you.
* Featured Product *
We earn a commission if you make a purchase, at no additional cost to you.
Related:
Types of Japanese knives
Top-rated gyuto knives your money can buy
My favorite list of Japanese steak knife sets
Japanese nakiri vegetable knives – What are the top choices?
Sushi & sashimi knives – Top 7 products
The only utility knives you should know about
What is a Deba Knife Used For?
It is specially designed for cutting fish. It can also be used for slicing/cutting poultry and meat.
The blades are ideal for heavy cutting tasks but shouldn't be used for cutting thick bones.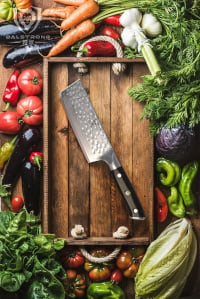 Want FREE Knives?
We give these knives a quick twirl and review, and then we pass them on to a few lucky home chefs!
By subscribing, you agree to get emails from me, Ryan Leavitt. I'll respect your privacy and you can unsubscribe any time.
What Size is it?
The standard length ranges from 16-17cm but there are some whose lengths range between 10cm and 21cm.
How to Choose a Good Deba Knife for Your Kitchen
Deba knives are arguably the finest type of knives and blades you can buy for your kitchen. Generally, these blades boast considerably tougher steel compared to the standard chef and kitchen knives. When you are shopping for these blades, there are few pointers that you should note. These include:
Consider the quality of steel
The steel used in making a blade determines several attributes including edge retention, ease of sharpening, resistance to corrosion and rusting, and overall durability of the knife. For instance, high-carbon steel is easy to sharpen and retains its sharpness for a long time. It is also quite durable thereby making it a perfect choice for Deba knives.
Handle
The handle is yet another important consideration that you should make when shopping for a Deba knife. The handle determines the comfort and convenience of using the blade. Additionally, it also determines how safe the blade is as well as how easy it is to control the blade for precise slicing.
Brands
You should also consider the brand of the Deba knife you want to purchase. This is because there are brands that are popular for being poor quality and substandard. Such brands fall apart easily and hence do not give you value for money. Therefore, you must limit your search to high-end brands that are synonymous with producing high-quality Deba knives.
Budget
Having a budget will make it easy for you to identify the Deba knives that are perfect for you. This is because, with a budget, it becomes easy for you to limit your search to blades that are within your affordability. This also saves you the trouble of over-spending thereby saving you from financial setbacks.
Related: What is a deba knife used for?
Review of the Best Deba Knives for Your Money
Mercer Culinary Asian Collection (Editor's Choice)
We earn a commission if you make a purchase, at no additional cost to you.
If you are looking for the ultimate knife for making paper-thin slices, you should look no further than at this knife. This knife is perfect for filleting all kinds of fish, cubing/slicing meats, and slicing vegetables into thin sheets.
NSF Certified
The NSF certification on this Mercer Culinary blade acts as a guarantee that the blade meets all the set standards on safety, reliability, quality, and performance. As such, this is a blade that you can use for both your home kitchen or in a commercial kitchen and still enjoy the utmost performance. The non-slip Santoprene handle in the knife is comfortable and perfectly balanced.
Premium German Steel
The ultra-sharp blade is made using high-carbon German steel. This stainless steel resists discoloration, corrosion, and rust. The steel blade glides effortlessly and easily through a variety of meat types and vegetables. This not only makes food preparation efficient but also more enjoyable.
Our scores:
Sharpness: 9.5/10
Handling: 9.5/10
Ease of maintenance: 9/10
Pros:
Superior quality steel construction
Designed for multi-purpose use on meat and vegetables
Perfectly balanced for precision and control
Comfortable non-slip handle
NSF certified
Cons:
Not dishwasher friendly
Kai Wasabi (2nd Runner-up)
We earn a commission if you make a purchase, at no additional cost to you.
Kai knives are built for a typical kitchen to last for long without requiring any replacement or falling apart. The Kai 6715D features a razor-sharp edge thereby offering performance and elegance. The most intriguing aspect is that it features a single-bevel Japanese design and a double-bevel European shape.
High quality steel construction
Kai uses Daido (1K6) high-carbon steel in construction. This stainless steel is popular for its superb edge retention, ease of sharpening, and anti-corrosion properties. As such, you can use the blade on different food types including acidic ingredients without worrying that the blade will be discolored or stained. The blade has an attractive bead-blasted finish.
Ergonomic handle
The D-shaped handle is ergonomically designed for easy and convenient holding and a stable grip. The handle is made using premium quality Pakkawood that is impervious to heat and is also not affected by moisture. The handle is designed for a perfect and stable grip so that you can make smooth and consistent slices.
Our scores:
Sharpness: 9/10
Handling: 9/10
Ease of maintenance: 9/10
Pros:
Ideal for multi-purpose use in the kitchen
Stain and corrosion-resistant blade
Comfortable handle
Hand sharped for scalpel-like sharpness
The blade holds well against wear and tear
Cons:
Not ideal for cutting through hard bones
Yoshihiro Hongasumi (Best for Experts)
We earn a commission if you make a purchase, at no additional cost to you.
Yoshihiro Hongasumi blades are crafted with unique skills by expert artisans who are well versed and experienced in blade making. The Blue Steel Fish Fillet knife by this brand boasts extraordinary craftsmanship, functionality, and performance. It is ideal for filleting a whole fish as well as cutting through cartilage as well as fish bones.
Handcrafted using traditional techniques
Yoshihiro Hongasumi blades are handcrafted in Japan by pro bladesmiths using traditional techniques. It features a Shinogi (flat grind) on the front blade side, Urasuki (a concave grind), and Uroshi (a flat rim) on the back. This combination provides for smooth and clean cuts such that the blade does not cause any damage to the cells. Additionally, the combination also enhances strength.
Designed for multi-purpose use in the kitchen
It is not limited to fileting fish only. Instead, it is also designed for cutting through the head and bones of the whole fish. In addition to this, the knife can also be used for slicing beef and chicken. However, you should not use a knife with hard bones as this will damage the cutting edge. The Deba comes with a saya- a wooden sheath for storing the knife when not in use.
Our scores:
Sharpness: 9/10
Handling: 9.5/10
Ease of maintenance: 8.5/10
Pros:
Handcrafted for performance and functionality
Multi-purpose blade with a variety of uses in the kitchen
A sharp edge that cuts through food easily
Octagonal handle that is comfortable to hold
Superior build quality
Cons:
The blade is not stain-resistant
KEEMAKE (Most Versatile)
We earn a commission if you make a purchase, at no additional cost to you.
If you are looking for a lightweight Deba knife that is specially designed for making ultra-thin slices while preparing your favorite meal in the kitchen, this 6.5" KEEMAKE Fish Fillet knife is the ultimate choice for you. The best thing about this blade is that it is multi-purpose and hence ideal for filleting fish and other cutting tasks in the kitchen. The sharp cutting edge will slide through different types of fishes without getting stained or discolored.
Straight round handle
The handle is made using high-density G-10 material. The handle has excellent anti-slip properties and ergonomic size. As such, it is not only comfortable to hold but also conforms well to the cook's palm for a comfortable and stable grip. What is more amazing about the handle is that it is impervious to heat and does not crack in either cold or hot temperatures.
Ultra-sharp edge and matte strip
The single-bevel edge is extremely sharp with a 12-15 degrees cutting angle. For purposes of quick food release, there is an extra-matte sandblasting strip on the cutting edge. Due to the strength and resilience of the knife, the 5.5mm thick blade with 2 layers of HRC 58 steel breaks fish bones easily and also doubles as a cleaver.
Our scores:
Sharpness: 8.5/10
Handling: 9.5/10
Ease of maintenance: 8/10
Pros:
Hard and durable blade
Superior design and overall construction
Comfortable and secure handle
Non-stick blade with food release properties
Resistant to corrosion, rust, and discoloring
Cons:
Right-sided bevel hence can only be used by right-handed chefs
Dalstrong Deba Knife – Shogun Series (Best for Sharpness)
We earn a commission if you make a purchase, at no additional cost to you.
It is not a secret that Dalstrong has over the years become a force to reckon with in the global knife industry. The brand prioritizes the quality and performance of its blades. The Dalstrong Shogun Series S Deba knife boasts an iconic design featuring premium quality materials. It combines exceptional craftsmanship with an awe-inspiring design.
Reliable performance
This Dalstrong knife comes with a ruthlessly sharp blade with a single-bevel edge. The blade is hand-finished at 15-degrees to a mirror polish through the ancient 3 step Honbazuke method. The method guarantees the sharpness of the blade so that it can last a long time without the blade becoming dull or excessively blunt.
High-quality steel
The Japanese AUS-10V steel boasts a Rockwell hardness of 62+ for cutting resilience. What is more about the steel is that there are up to 67 premium high-carbon steel layers in the blade. These layers provide for durability, stain resistance, and strength. The blade is polished with non-stick properties for smooth cuts as well as reducing friction and drag.
Our scores:
Sharpness: 9.5/10
Handling: 8.5/10
Ease of maintenance: 8.5/10
Pros:
Ergonomic octagon-shaped handle
Ultra-sharp edge
Well balanced and lightweight
Comes with a sheath for safe storage
Nitrogen cooled blade for hardness and strength
Cons:
The knife can easily inflict cut injuries if mishandled
Frequently Asked Questions
How do you sharpen a Deba knife?
The sharpening technique depends on the sharpener you are using.
Ideally, sharpening Deba is similar to sharpening other standard kitchen knives. When using a whetstone, you only need to choose the ideal sharpening angle and gently move the blade over the sharpener.
For electric sharpeners, you only need to place the blade on the sharpening slot and power on the sharpener.
How much should you pay for a good one?
The price varies from one brand to the other. Some brands cost a few dollars while others cost as much as a few hundred dollars.
There is no exact amount of money that qualifies to be the ideal price for a good knife. However, you should only spend on a knife that gives you value for your money.
What knife brands have good Deba knives?
Some of the top brands include Dalstrong, Kai Wasabi, Global, Mercer Culinary, Shun Classic, Yoshihiro, and KEEMAKE.
Conclusion
If you need to make thin slices of fish and meat in your kitchen, you probably need a Deba knife.
The Deba is a traditional Japanese knife primarily used for cutting fish, meat, and poultry.
It has a thin and flexible blade that allows chefs to get in between the skin and meat, making paper-thin precise slices.
Our top pick in this list is the Dalstrong Ronin Series Deba Knife.
Its Damascus construction, razor-sharp edge, and ergonomic wa handle make it the ideal choice for most chefs and cooks.
Many chefs also enjoy using the Mercer Culinary Asian Series Deba Knife, as it has an incredibly sharp blade with a single edge that makes it ideal for chefs who enjoy traditional Japanese knives.
And for those on a budget, we highly recommend the iMarku Deba Knife.
Despite its affordable price, this blade remains one of the top picks in the market with an incredibly sharp edge and ergonomic design.
Further reading:
Eat It Raw: How to Prepare Sushi and Sashimi
[toc]
Ryan Leavitt
Hi my name is Ryan Leavitt a Marine Corps Veteran and currently an over the road trucker (Long Haul). I am no expert chef but am enjoying preparing my own meals on the road and testing all the different knives.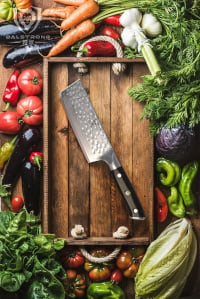 Want FREE Knives?
We give these knives a quick twirl and review, and then we pass them on to a few lucky home chefs!
By subscribing, you agree to get emails from me, Ryan Leavitt. I'll respect your privacy and you can unsubscribe any time.