You know what?
Finding the best electric knife sharpener is not hard if you know what to look for.
And that's exactly what I have for you today.
If you're still searching for a money-worthy sharpener, I highly recommend you take a look at my personal favorite list below.
The products I have on that list would definitely make you feel great.
But first, let's clear this up.
Are electric knife sharpeners bad for knives?
The answer is no.
Electric knife sharpeners are not bad for knives.
However, using these sharpeners requires you to have a high sense of responsibility.
This is because sharpening your blade regularly with the sharpeners can increase the rate at which the knife is wearing out.
What's more important to note about these sharpeners is that cheap models tend to eat away too much of a knife's edge.
That's why you should pay attention to the following models that will definitely be money-worthy deals.
Best Electric Knife Sharpeners (Updated List)
We earn a commission if you make a purchase, at no additional cost to you.
Related: Types of knife sharpeners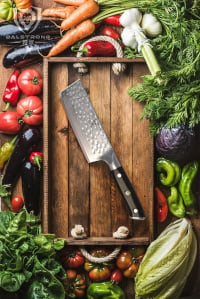 Want FREE Knives?
We give these knives a quick twirl and review, and then we pass them on to a few lucky home chefs!
By subscribing, you agree to get emails from me, Ryan Leavitt. I'll respect your privacy and you can unsubscribe any time.
Electric Knife Sharpeners vs Whetstones
Electric knife sharpeners and whetstones are all used for the same purpose; sharpening blades and knives.
However, their modes of operation are distinctively different and unique.
For starters, electric sharpeners are power-operated while whetstones are manual.
Once you plug an electric sharpener into a power source, you only need to turn it on and place your blade in the sharpening rod for it to be sharpened.
On the other hand, for a whetstone, you just need to oil it or soak it in water for ten minutes then glide the blade over the stone to sharpen.
It is a lot easier to sharpen a blade with an electric sharpener than with a whetstone.
This is because electric sharpeners are not labor-intensive like whetstones.
However, electric sharpeners are limited in that they can only be used in places with electricity.
For a whetstone, you can use it anywhere even in the bush.
Whetstones are more cost-effective than electric sharpeners since they do not require any running or maintenance costs.
They (whetstones) are easier to store since they are not large in size like most electric sharpeners.
How to Choose the Best Electric Knife Sharpener for Your Kitchen
Electric sharpeners are effective tools for sharpening knives and other knives you use when preparing meals in the kitchen.
These sharpeners come in handy when you want to sharpen excessively dull knives or those that have stayed for a long time without being used.
These sharpeners are incredibly quick in sharpening knives and will get the edge sharp in few seconds.
Which are the factors worth considering when looking forward to buying electric sharpeners:
Good performance
Performance is a crucial aspect when it comes to electric knife sharpeners.
This is because unlike manual sharpeners, the reliability and efficiency of the electric ones depend solely on their performance.
Since there are lots of sharpeners for sale in the market, sharpeners that feature high-performance motors produce sufficient sharpening powers that are ideal for sharpening even the dullest blades.
This results in a smooth edge that doesn't have nicks or scratches.
Adjustable angle guides
If you want an electric sharpener that you can use with multiple blades and knives, then you should look for a model that features an adjustable angle guide.
This guiding angle should be adjustable to varying degrees like 15-20 degrees, to allow you to use the sharpener for different types of blades.
Most knives and blades used in a typical kitchen require a 20 degrees angle when sharpening.
Material
An electric sharpener should last for a long time before it starts to breakdown or falls apart.
This is why the material used in the design and consequent construction of these sharpeners should be a major consideration.
Sharpeners that are constructed using diamonds are a perfect choice since diamond is a hard and durable material.
Since the recent past, most manufacturers have been using diamonds in their sharpeners.
As such, it is quite easy to get a diamond sharpener that is relatively affordable.
Safety features
It goes without saying that knife sharpening can be quite dangerous and risky.
Electric sharpeners are a lot riskier since they are powered by electricity.
Due to this, it is important that you only settle on electric sharpeners that have sufficient safety features.
For starters, you should only consider sharpeners that feature rails or slots for guiding the knife into the sharpening disk or belt.
The slots are very important in making sure you will get the sharpest knives possible after using them.
Additionally, there shouldn't be any visible moving parts in the sharpener.
Instead, they should be concealed within the sharpener.
Warranty
It goes without saying that the cost of electric sharpeners is incomparable to any other type of sharpener in the market, especially manual sharpeners.
Therefore, you should only invest in sharpeners that come with the best warranty covers.
These covers guarantee that you will receive compensation or replacement in the event that the sharpener breakdown.
A 12-24 months warranty period is decent enough for any electric sharpener.
Size
The size of sharpeners to settle for depends on the available space in your kitchen.
It is necessary to note that these sharpeners vary in size with some being small while others are considerably big.
A sharpener that will fit in your available space or even occupies a lesser space is the best choice for you.
However, for a commercial setting such as a restaurant, a large sharpener with multiple sharpening slots is a great investment.
Those special slots will make your life a lot easier!
Reviews of the 5 Top Rated Products
Chef'sChoice (15) Trizor XV Edge Select Knife Sharpener (Best Overall)
We earn a commission if you make a purchase, at no additional cost to you.
If you are looking to convert your kitchen knife from an ordinary blade to a professional chef knife, this electric knife sharpener by Chef'sChoice would be the ideal option to purchase.
It boasts flexible spring guides that allow for automatic adjustment and positioning of the blade.
The 3-stage system in the product provides optimum versatility whereby the first and second stages are for sharpening and honing the blade while the third stage polishes and prolongs the life of serrations.
It is designed for effortless work for both straight and serrated knives to restore factory sharpness for you.
Since this unit is power efficient and has a high performance, you don't have to worry about the operational and maintenance costs as they are minimal.
Our scores:
Ease of use: 9/10
Effectiveness: 9.5/10
Ease of maintenance: 8.5/10
Pros
Easy to operate
Optimal 3-stage design
Can work with serrated knives as well
Cons
Work Sharp Kitchen E5 Knife Sharpener (2nd Best)
We earn a commission if you make a purchase, at no additional cost to you.
This one-of-a-kind model uses flexible belts to sharpen knives to factor grade degrees.
This model features a 3-stage system that is designed to shape and hone knives with only a button push.
The best thing about this is that it also works with serrated knives as well.
What is more amazing is that it does not leave any debris or litter after work.
With inbuilt positioning guides, you don't have to worry about how to position the knives as the guide automatically positions them for you.
The product uses high-end technology to guarantee safety for you when using it.
Our scores:
Ease of use: 9/10
Effectiveness: 8.5/10
Ease of maintenance: 9/10
Pros
Effective sharpening belt system
Built-in positioning guides
Can automatically shut down
Cons
LINKYO Electric Sharpening System (Best for Beginners)
We earn a commission if you make a purchase, at no additional cost to you.
For people looking for a quick and safe system to purchase, this model might the one to purchase.
The system enables you to use minimal effort to sharpen like a pro.
The automatic positioning guide holds and maintains the blade in the best position possible.
Additionally, the heavy-duty suction cup base provides stability and firmness when in use.
The 2-stage model ensures efficient work whenever you need it.
The first stage reshapes the angle and rejuvenates the edge.
The second stage provides a finish to the whole process by polishing and honing the edge.
Our scores:
Ease of use: 8.5/10
Effectiveness: 8.5/10
Ease of maintenance: 9/10
Pros
Affordable
Ease to operate
Effective sharpening
Cons
Might take off a bit too much of the knife material
Presto 08800 EverSharp Knife Sharpener (Budget Choice)
We earn a commission if you make a purchase, at no additional cost to you.
This easy-to-use electric sharpener features a two-stage system that revitalizes dull knives with great ease and efficiency.
The most fascinating aspect here is that there is no room for guesswork as the precision guides position the knife at the best and ideal angle for you to work on.
Using this tool, you are able to create razor-sharp edges within split seconds.
This incredible unit is power efficient and does not require any detailed skills to use and operate.
The two-stage operation concept sharpens and hones knives simultaneously thereby retains factory sharpness in the knives.
Our scores:
Ease of use: 8.5/10
Effectiveness: 8/10
Ease of maintenance: 8.5/10
Pros
Speedy process
Very budget-friendly
Power-efficient
Cons
Might not be powerful enough for some heavy-duty tasks
Grocery Art 2 Stage Kitchen Multi-Angle Knife Sharpener (Currently Unavailable)
This 2 stage tool is designed for reshaping a wide range of knives including utility, hunting, screwdrivers, and scissors among other cutting knives.
The best thing about this one is that it saves you a great deal of money, as you do not need to buy multiple tools for your different cutleries.
It is professionally designed and developed to polish and hone simultaneously.
As such, it does not only bring sharpness to your knives but also impart new life to the knife.
It is easy to use and does not require you to possess any special skills either.
When it comes to power, performance, reliability, and dependability, this unit is a serious contender.
Helpful Kitchen Tips to Maintain Your Knife Sharpener
Using your electric knife sharpener appropriately and maintaining it accordingly are some of the best ways of guaranteeing its durability and reliability.
Here are a few tips on how to maintain the sharpener:
Read the manufacturer's guide before operating the sharpener
It is paramount that you read and understand the user guide provided by the manufacturer before you start using the sharpener.
This equips you with all the necessary knowledge you need to know on the dos and don'ts of using the sharpener.
Never disregard the user guide as it would mean the difference between efficiency and a total breakdown of the guide.
Never use any lubricants or water with the sharpener
Since this sharpener is powered by electricity, using water or other lubricants may lead to short-circuiting or even electrocution.
When cleaning the sharpener, you should disconnect it from the power supply and use a moist cotton towel to wipe off dirt or dust.
Keep away from children's reach
Just like other electronics, always ensure that you keep the electric sharpener away from children.
You should not allow kids to mess or play around with the sharpener as this poses a risk of injury or even electrocution due to naked power cables.
Avoid using sharpeners with damaged cords and power cables
People always try fixing damaged and worn-out power cables in electric sharpeners by using masking tapes.
However, this is quite risky as such cables can make you prone to electrocution and can even trigger electric fires.
You can take such as a sharpener to a technician for professional repair.
Always ensure that you use the electric sharpener for only the blades that manufacturers provide.
Do not use it for sharpening scissors or serrated blades unless the manufacturer provides for use with such blades.
FAQ's
Is Chef's Choice popular around the world?
Yes, Chef's Choice is definitely a globally recognized brand.
Are Chef's Choice products the best in the long run?
In my opinion, yes.
Chef's Choice is well known for manufacturing some of the most reliable products to date.
And you will mostly get the best bang for your bucks when investing in a new product from Chef's Choice.
How about Wusthof?
Wusthof is a very good choice.
And you can rest assured that your chosen Wusthof sharpener would last a long time.
Plus, Wusthof also has one of the best customer policies out there, so nothing to worry about.
What is a sharpening angle?
A sharpening angle refers to the angle at which the blade is inclined when sharpening a knife.
This is because you cannot place the blade at a right angle or perpendicular to the sharpening surface.
This angle is usually half the cutting edge angle since sharpening is done on both sides.
The sharpening angle differs from one blade to the other.
And it's affected by aspects such as size, length, the extent of dullness in the blade, and intended use.
Usually, each knife comes with a range of angles within which it can be sharpened.
Sharpening, grinding, and honing – What option is the best one?
These options are not the same but are closely related.
The first two are the same and refer to removing material from a knife to sharpen the edge.
Honing refers to straightening out an edge that has already been sharpened.
Honing helps in creating precision surfaces of knife blades or other metal workpieces.
Honing stones are used for honing and are similar to grinding wheels.
How often should a knife blade be sharpened? Especially after you've used it for many different recipes?
For regular domestic uses at home, a knife should be sharpened not more than twice every month.
However, you should hone the edge every fortnight or after a maximum of 5 uses.
Honing helps in reinforcing the sharpness of an edge.
You may also need to sharpen your blade more regularly depending on the food items you are using the knife to cut.
For instance, if you use your blade for chopping and slicing hard fruits, then you may have to sharpen the knife after every two uses.
When buying an electric knife sharpener, how much should I pay for a new model?
The prices of electric knives vary depending on factors such as model, brand, features, and size among other aspects.
Ideally, the cheapest of these sharpeners averages about $20 with the most expensive ones costing hundreds of dollars.
For use in your home kitchen, it is not necessary that you spend tens or hundreds of dollars.
This is because you can still find solid high-end electric sharpeners that cost under $50.
When considering the cost of electric sharpeners, it is also important that you consider the running costs to be incurred.
Should you wash a knife after sharpening?
Yes, it is necessary to clean your knife after sharpening, which is however not similar to honing.
Cleaning helps in removing metal particles and other foreign objects that may have attached to the edge of the blade especially when using stone sharpeners.
The easiest way to clean a knife after sharpening is by wiping it off with a moist cotton towel or under a tap with cold running water.
However, you should not place the knife in a dishwasher.
How do you sharpen a knife with an electric knife sharpener?
Electric sharpeners are undoubtedly the easiest and most efficient sharpener to use.
Usually, these sharpeners feature 2-3 grinding wheels that have varying coarseness/grit levels.
When sharpening your blade, you should always start with the coarsest sharpening stone then proceed to the finer ones.
The first thing you should do is place your knife in the sharpening slot provided in the sharpener.
The sharpener automatically sets the sharpening angle.
You should then pass the blade slowly through two times on every side.
Repeat the same process with the finer sharpening stones.
The next thing you should do is rinse the blade and dry it with a towel.
How long does it take to sharpen a knife?
Since electric sharpeners are very efficient compared to other types of sharpeners, it takes only 30 seconds to sharpen a knife.
However, this sharpening time may be more or less depending on the type of blade in the knife.
For instance, high-end heat-treated steel blades may take longer to sharpen than standard steel blades.
Additionally, the degree of dullness in the blade also determines the length of time needed to sharpen.
Can you make a santoku knife sharper with an electric sharpener?
Yes, but this requires you to be extremely careful to prevent any damage to the edge.
For santoku knives with Granton edges, you should consider using 15 degrees sharpening angle rather than the usual 20-degree angle.
These sharpeners are a bit tricky since they lack subtlety and hence can easily damage these edges.
Is it best to sharpen serrated knives with this type of knife sharpener?
Yes.
However, sharpening serrated blades using electric sharpeners is not as straightforward as when sharpening the usual kitchen blades.
This is because you need to understand the sharpening angles in a more detailed and comprehensive manner.
Secondly, choosing the ideal electric sharpener for these blades is a huge task.
If you choose a sharpener that is not designed for sharpening blades with serrations, then it is highly likely that you will destroy both the knife and the sharpener.
How good is this type of knife sharpener?
Electric knife sharpeners are incredibly efficient, powerful, and reliable when it comes to sharpening kitchen knives and blades.
These sharpeners are quick and swift in their work such that they take only split seconds to sharpen blades without any defects or flaws whatsoever.
When using this sharpener, you don't need to worry about bending, denting, or broken edges.
How do you clean this kind of knife sharpener?
When cleaning an electric knife sharpener, it is not a must to use water or detergents.
Instead, for the exteriors, you can carefully rub using a damp cloth.
Much of the dirt on a sharpener's exterior will mostly be dust that has collected over time.
Additionally, metal dust particles will collect and accumulate underneath the grinding wheels and plastic body.
Remove this plastic body to remove the collected dust.
You can also use a blower to blow off the dust in the sharpening slots and other areas you cannot access physically.
When cleaning these sharpeners, it is always important that you disconnect the sharpener from the power source.
This is especially when cleaning the grinding wheels or even the connecting belt in the sharpener.
Conclusion
Having a sharp blade in your kitchen goes a long way in making the food preparation and consequent cooking an easy and exciting experience.
Dull knives are not only challenging to use but also pose a safety hazard in the kitchen.
This is because the blades can easily slip from the hand when excessive force is applied when cutting.
This is why investing in an electric knife sharpener is a great idea for your kitchen.
These sharpeners will take only split seconds to sharpen the knife so that you can get back to your food preparation process within no time.
Currently, our top pick is the Chef'sChoice Trizor XV EdgeSelect.
This is a premium knife sharpener that sharpened your knives in three stages, making it easy for home cooks and hobbyists to get a professional-grade edge on any of their blades.
Another great pick is the Presto 08800 EverSharp, as it is easy to use, has a great design, and is available at a very affordable price.
But if you're on the hunt for the best budget option out there, you can't go wrong with the Narcissus Knife Sharpener, a simple two-stage sharpener that makes sharpening easy for most chefs.
While it can't handle serrated blades, it's still a great choice for chefs who want a simple, quality knife sharpener on a budget.
[toc]
Ryan Leavitt
Hi my name is Ryan Leavitt a Marine Corps Veteran and currently an over the road trucker (Long Haul). I am no expert chef but am enjoying preparing my own meals on the road and testing all the different knives.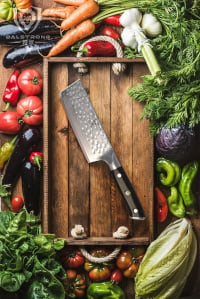 Want FREE Knives?
We give these knives a quick twirl and review, and then we pass them on to a few lucky home chefs!
By subscribing, you agree to get emails from me, Ryan Leavitt. I'll respect your privacy and you can unsubscribe any time.