You know what?
Slicing cooked meat is easy if you've got the technique down pat.
But most people aren't professional chefs so that's easy for them to mess up a nicely cooked pork roast, beef brisket, or baked turkey.
Many did breathe a deep sigh of relief when electric slicers were invented. And lucky you, we've got some of the best brands which are just as good as those you'd find in delis but won't break the bank.
Let's take a look at the best meat slicers for your kitchen below.
Top 7 Best Meat Slicers For Home Use
We earn a commission if you make a purchase, at no additional cost to you.
Related slicer collections:
Why Should You Buy A Meat Slicer?
A meat slicer is a vital preparation machine in any commercial or residential kitchen. With its multifunction nature, no wonder why this heavy-duty sliding machine has been widely used in commercial shops and butcher shops for such a long time.
Not only does it allow you to shorten half of your prepping time when slicing meats, but it can also be used to serve many other purposes such as cutting thin slices of fruit, vegetables, hard cheeses, and even bread.
So having known all the good things it has to offer, why not getting one of them right now to optimize your cooking experience at home? I'm sure it will become your best buddy in the kitchen soon.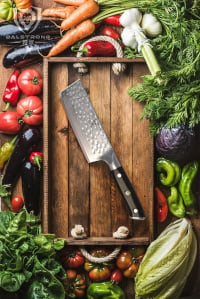 Want FREE Knives?
We give these knives a quick twirl and review, and then we pass them on to a few lucky home chefs!
By subscribing, you agree to get emails from me, Ryan Leavitt. I'll respect your privacy and you can unsubscribe any time.
What Should You Consider Before Buying?
The Material
What material your meat slicer is constructed of is one of the main factors determining the product's longevity and durability.
Generally, products made of aluminum and stainless steel material are much more long-lasting than plastic ones. Moreover, the high-quality outer coating can also protect the slicer's blade from corrosion and oxidation.
The Motor Power
This factor works specifically for electric meat slicers because the manual one requires human labor to activate the blade.
In any electric slicer, the motor power controls the core strength of the blade. The blade equipped with a higher-powered motor can cut through more robust objects such as frozen meat or hard cheese.
If you only purchase a slicer to slice up beef jerky, raw meat, vegetables, or bread now and then, it's quite overkilled to choose the high-powered motor slicers. Any slicer that operates on a 100-150W motor is already the perfect option for you.
The Clean-up Process
As we all know, meat slicers have a quite complicated construction, and the size is super huge compared to other kitchen tools. Because of that, the cleaning process requires a lot more effort than usual.
To save yourself sometimes when it comes to cleaning up, it's advisable to look for any slicer that has a detachable blade as well as a food carriage tray.
The Price
For the average consumer, there are three main price groups. The range will be from $50 to $90 for the cheap models, midrange from $90 to $200, and the high-end model from $200 to $1000.
For at-home purposes, there is no need to purchase the high-end model. The products in the midrange category are already sufficient enough for any household kitchen.
But you shouldn't let yourself be talked into purchasing cheap and low-quality products. It might work for a little while, but it won't do you any good in the long run.
The Blade Size
The blade size is another factor that you should put into consideration. The size of the blade can vary from 8 to 14 inches depends on which kind of slicer you are using: light-duty model or heavy-duty model.
The large-sized blade can significantly shorten the slicing times. Besides that, the wider the blade, the simpler it will be to tackle intimidating objects such as frozen meats.
Product Reviews
Best Electric Slicer – Maxi-Matic Elite (Editor's Choice)
We earn a commission if you make a purchase, at no additional cost to you.
As we all know, using a manual slicer is such a time-consuming and labor-intensive method.
You need to directly change the movement of the blade for it to work properly. But with an electric slicer, you just need to press the on-off switch, and the machine will do the rest.
For a long time, the Maxi-Matic has gained the absolute trust of home users because of the prominent features it provides as an electric slicer. So if you are looking for a high-quality electric slicer for home use, this one definitely worths a try.
It is operated on a 180W motor, which is a relatively high number for an average slicer. A typical electric slicer operation depends mostly on the efficiency of the motor, so this 180W motor-based machine can do such a great job at slicing food with high speed and precision.
Our scores:
Ease of use: 9.5/10
Handling: 9/10
Ease of maintenance: 9/10
Pros:
Die-cast platinum, Ultra-Sharp stainless steel blade
Easy to remove
Adjustable slice thickness
Sturdy, non-slip construction
1-year warranty
Cons:
Bottom Line: This product is considered the best electric slicer for home users, and you can purchase it at such a budget-friendly price.
Best Material – BESTWOOD Slicer (2nd Best)
We earn a commission if you make a purchase, at no additional cost to you.
This BESTWOOD slicer has been a well-liked cutter for a while now, and after testing this product out for ourselves, we have finally understood the hype around it.
With the 10-inch blade constructed of premium chromium-plated carbon steel, it allows you to speed up the slicing process a good deal. Also, the chromium coating helps to extend the lifespan as well as prevent the blade from later corrosion.
Moreover, this product has a straightforward design, which is suitable for even beginners who have no previous experience in using meat slicers whatsoever. Because of its versatility and efficiency, this machine can also be used as a commercial choice in restaurants, butcher shoppers.
Our scores:
Ease of use: 9/10
Handling: 8.5/10
Ease of maintenance: 9/10
Pros:
Long-lasting sharp blade
240W-powered motor
Noise and vibration reduction
Durable
Cons:
Loud noise
Heavyweight machine
Not budget-friendly
Bottom Line: A powerful, professional-grade slicer that is suitable for both home use and commercial use. Even if you are a novice user, this product is still totally manageable.
Chef'sChoice 609A000 (Best for Jerky)
We earn a commission if you make a purchase, at no additional cost to you.
With the Chef'sChoice 609A000, the best for jerky, slicing at home has never been more natural. This tool ticks all the boxes of what features reliable slicers should have.
The blade's optimum design is the main reason we picked this product as the best candidate for slicing your homemade jerky. This 7-inch stainless steel blade is a high-quality non-serrated blade, which allows the jerky to be sliced much thinner than the serrated one.
In addition to that, Chef'sChoice 609A000 operates on a gear-driven torque 100W motor, which is the most potent motor in controlling the thickness of the jerky. It can slice beef jerky as well as large roasts, hard cheeses, bread with the precise thickness ranging from 0 to approximately 3 or 4-inch slices.
Our scores:
Ease of use: 8.5/10
Handling: 8.5/10
Ease of maintenance: 8/10
Pros:
Durable
Easy to assemble and remove
Comes with a tilted large-capacity food carriage
Intermittent on/off switch
Cons:
Short-lived plastic gear
Small-sized blade
Bottom Line: Chef'sChoice 609A000 is the perfect option for at-home cookers who want to simplify the meat slicing process to the maximum.
Continental Electric Meat Slicer (Budget Choice)
We earn a commission if you make a purchase, at no additional cost to you.
The Continental slicer provides you with every essential feature of an ideal at-home choice at a price that half as much as most of the other slicers on offer these days.
This 180W motor-based machine is an ideal choice for any at-home kitchen space. With its small size and lightweight, you can easily move it from place to place without having it taken much space in your kitchen.
Besides that, thanks to the compact design of this product, you can easily remove the blade for cleaning with just a simple twist of the center locking bolt.
This slicer also features a thickness adjuster knob, which allows you to change the sliced pieces' width to your preferred size.
Our scores:
Ease of use: 8.5/10
Handling: 8/10
Ease of maintenance: 8/10
Pros:
Safe blade
Die-cast aluminum, stainless steel material
Light-weighted
2-year warranty
Cons:
Fragile on-off switch button
The meat could easily be stuck in screw holes
Bottom Line: A reasonable, budget-friendly product for home users. It is probably the best deal for the lowest price that you can find right now.
Chef'sChoice 615A000 (Best for Control)
We earn a commission if you make a purchase, at no additional cost to you.
The Chef's Choice 615A000 is a polished-up version of the Chef's Choice 609A000. As an upgrade product, it has significantly improved the shortcomings of the previous model while retaining all the key features that made the brand widely loved in the first place.
The 615A000 model is one or two inches wider, and the thud is slightly bigger than the older one. Besides, the 615A000 has a closed base that can serve as a stabilizer for the footing of the machine. It also comes with an extra lock button on the side to position the carriage of food in place when unused.
Moreover, the 615A000 model runs on a higher watt motor (120W), so it helps the cutting process to work efficiently in a much smoother manner.
It has all the essential features of a premium commercial slicer and does its job better than most other at-home slicers in the market these days.
Our scores:
Ease of use: 8.5/10
Handling: 9.5/10
Ease of maintenance: 8/10
Pros:
Easy-to-clean design
Multipurpose 7-inch blade
Stainless steel material
Budget-friendly
Low-noise machine
Cons:
Bottom Line: The well-solution price for the excellent product from a reputable brand. It's the ultimate product specifically designed for home use purposes that every household kitchen should have.
CUSIMAX Electric Food Slicer (Best Belt-driven Slicer)
We earn a commission if you make a purchase, at no additional cost to you.
Another one that is well-deserved to be on this list is the CUSIMAX Electric Food Slicer. It is the ultimate all-in-one machine that you can use for various food items.
This product adopted the most advanced belt-driven technology for the slicer's blade. Compared to the gear-driven machine, the blade structure of the CUSIMAX slicer is more effective and comfortable to operate.
Besides that, the design of this machine is made for the most trouble-free cleaning process. To clean up the stuck pieces of meats, you just need to simply remove the blade and clean the inside.
Additionally, this food slicer is completely dishwasher-safe, so you can throw the blade inside the dishwasher without worrying that the water might damage the machine.
Our scores:
Ease of use: 8/10
Handling: 8.5/10
Ease of maintenance: 8/10
Pros:
Powerful 200W motor
Food carriage included
Non-slip feet
Cons:
Not suitable for slicing frozen meat
Undetachable food carriage
Bottom Line: Although this one is not the best one out there, it is still a reliable and well-built product that you should definitely give a shot.
KWS MS-10NT (Best For Frozen Meat)
We earn a commission if you make a purchase, at no additional cost to you.
As the bulk of frozen meat that just came out of the freezer is extremely hard, it is the most challenging task for any slicer to cut into pieces. Therefore, slicing frozen meat with the wrong slicer can seriously damage the machine's blades.
To avoid that, it would be best if you invested in a model with high motor power, ranging from 200W to 400W.
This is mainly why we listed this KWS MRS-10NT as the best one among the others when it comes to slicing frozen foods. This semi-automatic slicer is well-equipped with a 320W motor, which will surely turn the cutting process into an effortless job.
Besides that, the slicer's motor is made of high-quality copper, which increases the blade's durability and resistance to the ice's hardness.
Our scores:
Ease of use: 8.5/10
Handling: 8/10
Ease of maintenance: 8/10
Pros:
Huge-sized blade (10 inches)
Anti-rust blade
Durable
Easy cleanup
Cons:
High-priced slicer
Heavyweight
Bottom Line: The price might be a little costly. However, if you want to find the best meat slicer for frozen meat, this product is still the right way to go.
FAQ's
What is the best meat slicer for home use?
There are various kinds of meat slicers that work perfectly at a household kitchen, and while each has its strengths, we have picked out the most reliable products based on our thorough tests and evaluation.
And out of all the excellent products that we have listed above, we ranked the Chef'sChoice 615A000 as the best for home use.
With all the first-rate and outstanding features that this product offers, it is available at a surprisingly affordable price.
How much should I expect to pay?
The price can vary from cheap ($50-$90), midrange (90$-200$), and premium $200-$1000), depending on the features and designs of the products.
How thick can a meat slicer cut?
It depends a lot on which kind of product you are using. For instance, a manual slicer can cut the meat from 0,02 inch to 0,6 inch, while an electric one can cut from 0,02 inch to 1 inch.
Can you sharpen the blade?
To know whether your slicing blade needs to be sharpened, firstly, you need to check out what kind of your slicer is. You only need to sharpen the blade that isn't constructed with a built-in sharpener.
On the other hand, if the blades have already been equipped with a sharpener, there is no need for you to sharpen the meat slicer blade. It will automatically sharpen the blade when needed.
Can you slice bread with it?
Yes, you definitely can. An average choice on the market these days can slice bread effortlessly without any damage or failure. Besides that, it can also cut many more types of foods such as vegetables, cheese.
Can it cut frozen meat?
Yes, a meat slicer will be able to cut frozen meat. However, a specific kind is required to do this because cutting through frozen food is not an easy task to do.
Normally, you will need a heavy-duty one that has a large-sized blade. With electric meat slicers, the power of the motor should be at least 250W for the machine to do the job efficiently.
Can meat slicers cut raw meat?
Even though your meat slicer can slice raw meat, it is not highly recommended. But if you still want to, make sure the raw flesh is still in good condition and can stand firmly under the blade.
How do you use a jerky slicer?
You can use the jerky slicer in the same way you use any other meat slicers. Those are a few necessary steps:
– Place the piece of jerky on the carriage
– Adjust the thickness using the adjuster knob
– Turn the switch to "On"
– Move the carriage tray to get the sliced jerky pieces
– Turn off the slicer when you are done
Is it cheaper to slice your own meat?
Yes, it absolutely is! Purchasing meat slicers to cut your own meat at home is the best investment that you can make.
An average model can last you for a long time, and you will surely save yourself a bunch of money by not having to buy goods from stores again.
Can a meat slicer cut the cheese?
Yes, it can definitely cut cheese. A single meat slicer can cut more than just meat. More specifically, it can cut anything that a usual mandoline can handle. Additionally, cutting foods with meat slicers can also be much more precise and time-saving.
Final Words
After being bombarded with a whole bunch of new information, it might be hard for you to figure things out straight away. Just take your time to let everything sink in before making the final choice.
However, it should not be a big deal, especially when you already have our best meat slicers for home use review to lead you in the right direction.
Elite Gourmet has a great multi-purpose deli slicer that can make thin slivers of salami and edam and thick cuts of freshly baked bread! It's practically a professional sandwich maker for under a hundred bucks – a great buy for a lot of home cooks!
If you're looking for something a bit heavy duty, but still for home use, go for Chef's Choice. Just a little over $100, the whole item is made of stainless steel and comes with a receiving tray under the rotating blade.
Those who are willing to shell out a bit more can choose BESWOOD premium deli slicer which can be used for commercial purposes. This chrome-plated high carbon steel is more compact than conventional deli slicing machines so home cooks can still take this in their kitchens.
Besides referencing the detailed product reviews, it would be best if you also took the time to read the buying guide and the questions related to the product. Even though they might seem insignificant, they can directly contribute to the value of the product.
Now good luck to you and, hopefully, you will find the most suitable meat slicer for you soon!
Further reading:
This Is the Easiest Way to Thinly Slice Raw Meat
The Essential Secrets for Perfectly Slicing Meat
[toc]
Ryan Leavitt
Hi my name is Ryan Leavitt a Marine Corps Veteran and currently an over the road trucker (Long Haul). I am no expert chef but am enjoying preparing my own meals on the road and testing all the different knives.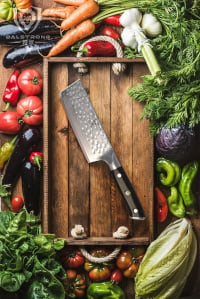 Want FREE Knives?
We give these knives a quick twirl and review, and then we pass them on to a few lucky home chefs!
By subscribing, you agree to get emails from me, Ryan Leavitt. I'll respect your privacy and you can unsubscribe any time.