Are you still looking for the best fillet knives for your own needs?
Then you've come to the right place.
Fillet knives are almost a must-have tool if your favorite dishes are all related to fish.
In fact, you would find it really hard to de-bone and slice through your fishes with other knives, even the chef knife.
I really understand that.
So, what I have for you today is a list of really good products that will surely satisfy you when it comes to filleting.
Take a look at them, and tell me which one would you pick up.
Best Fillet Knives For Fishing (Updated List)
We earn a commission if you make a purchase, at no additional cost to you.
* A Serious Contender *
We earn a commission if you make a purchase, at no additional cost to you.
Related:
Types of kitchen knives & their uses
A great collection of Santoku knives
Top-rated Japanese chef knives you should know
Best chef knives for under $150
Best Japanese kitchen knife sets
Best chef knife rolls & bags
What is the Best Size for a Fillet Knife?
Typically, filleting blades range between 5 to 11 inches in size.
This length provides for easy movement underneath the skin as well as along the backbone.
Ideally, the choice of the ultimate size of the blade to invest in depends on the species of fish that you will be filleting.
This is because the efficiency and applicability of these blades are subject to the species you are filleting.
For instance, 6-inch blades are optimum for species like bluegills.
A 7.5-inch fillet knife is perfect for small fishes while 9-inch blades are ideal for larger fish like pike and salmon.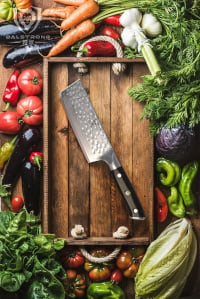 Want FREE Knives?
We give these knives a quick twirl and review, and then we pass them on to a few lucky home chefs!
By subscribing, you agree to get emails from me, Ryan Leavitt. I'll respect your privacy and you can unsubscribe any time.
How to Buy A Good One?
When preparing your latest fish catch on the shore or even fixing a sumptuous meal, having the right knife will make your work pretty easy.
It goes without saying that a butcher's blade or other kinds of blades will get the work done albeit with a few challenges.
However, the only knife that will make the work easy, safe, and efficient is a high-end knife.
These blades are constructed flexibly for easy maneuverability to skin fins, bones, and entrails from fish fillets.
Some of the things worth noting when shopping for these blades include:
Material
The blade material has a direct impact on the quality and overall durability of the knife.
This is because a knife is only good as long as its blade is in pristine condition.
Top-quality ceramic is arguably the best blade material but it is usually quite expensive.
There are other blade materials including stainless steel, carbon steel, high-carbon stainless steel, and forged blades.
Stainless steel is common as it is easy to sharpen, affordable, and durable.
A carbon steel blade is easy to sharpen and its edge retains its sharpness for a long time but relatively expensive.
High-carbon steel is an exceptionally durable material that makes it perfect for commercial use.
Related fillet knife collections:
For walleyes
For crappies
For trouts
For bass fishes
For redfishes
What is a fillet knife used for?
Price
The blades cost differently depending on quality, construction, and brand among other aspects.
This is why it is necessary to have a budget so that you know the type of blade that is affordable to you.
It is worth noting that kitchen knives cost as little as $20 but there are also brands that cost in excess of hundreds of dollars.
Therefore, by having a budget, it becomes easy to identify the right brand for you; one that will give you value for your hard-earned cash.
Handle
The right blade should feel comfortable and firm in the hands.
A quality blade feels right and light in your hand as it is usually well balanced to avoid over-exertion.
This makes it easy to use such a knife for long without straining your muscles.
The blade of choice should have a comfortable handle and should be ergonomically designed for excellent control.
Wood, plastic, and laminate are the common materials used to make the handles in these knives.
However, wood is the best material since it is easy to maintain and fairly heavy hence it's easier to control.
Flexibility
Another important trait that a good blade must have.
Since filleting is usually a little complex and not straightforward like chopping meat, you need to ensure that you only settle for a flexible blade that won't break.
A filleting knife should allow for easy maneuvering around the meat without any difficulties or challenges whatsoever.
However, it is necessary to avoid flimsy knives as these will break easily.
A flexible blade will make it easy for you to cut through soft fillet meats like fish.
Related fillet knife collections:
Tojiro knife review
Zwilling knife review
Miyabi knives review
Under $50
For flounders
For tunas
For perch fishes
Blade length
Blade length is mostly a personal preference but even so, there are certain specifics that you need to consider when choosing the best blade length.
These blades come in varying lengths with each length being suited for specific types and sizes of fillets.
Generally, the choice for the ultimate blade length depends on the type of fish you will be mostly filleting.
There are three categories of blade lengths including short, medium, and long blades.
Short blades allow for easy control and maneuverability and are ideal for small size fish species.
Medium size blades range between 7 and 7.5 inches.
Blades longer than 8 inches are considered long and are suitable for big fish sizes such as supersize salmon, broad-shouldered pike, and other large fish species.
These blades give the chef leverage and power when filleting.
Ease of use
The only way a filleting blade can be useful and reliable to you is if it is easy to handle and use.
The practical approach of a knife refers to the ease of handling and cutting.
Therefore, you need to ensure that the blade of choice is easy to use when skinning and cutting during a fish filleting process.
There are even some blades that come with detailed guides on using these knives.
Check the grip of the blade of choice so that you are able to enjoy a firm grip to protect yourself against the likelihood of the handle slipping.
The right grip provides for the knife's efficiency and usability when filleting.
Filleting is quite an amazing and fascinating task when accomplished with the right knife.
It is also a learning experience that budding chefs can rely on to hone their filleting and overall cooking skills.
Other great knife collections:
Top 5 gyuto knives
Top 5 Japanese steak knife sets
Top 5 nakiri vegetable knives
Top 7 sushi & sushimi knives
Top 10 utility knives
Top 5 deba knives
Reviews of the Top-Rated Products
KastKing 5 inch (Best Overall)
We earn a commission if you make a purchase, at no additional cost to you.
If you are looking for a good fillet knife with razor sharpness and enhanced durability, then you should look no further than this model from KastKing.
The beautiful black finish enhances the appearance while at the same time ensuring that the product is resistant to corrosion and rust.
The super polymer grip is non-slip thereby providing users with a firm and secure grip when filleting meat.
It comes with a protective sheath for ensuring that the blade is safely secured when not in use to eliminate the risk of injury.
These products are perfect for multi-purpose use including ideal for outdoor activities like fishing.
Our scores:
Sharpness: 9.5/10
Handling: 9.5/10
Ease of maintenance: 9.5/10
Pros:
Razor-sharp edge for easy filleting
Strong knife construction
Safe and protective sheath
Good packaging
Cons:
The plastic might get slippery at times
Dalstrong Shogun Series 6 inch Knife (Higher-end Choice)
We earn a commission if you make a purchase, at no additional cost to you.
This is definitely the best fillet knife for a fisherman by my standards!
Over the years, Dalstrong has done one thing exceptionally well.
They employed great creativity and combined that with outstanding artisanship and cutting-edge technology to produce the best products in the market.
This product is 6 inches in length and has a good grip.
And it's one of the best and finely manufactured knives.
Boasting peak performance and unrivaled reliability, this model has a ruthlessly sharp edge that is able to do a lot of precious works for you.
The knife is strong.
And as such not susceptible to breaking even when used on the hardest meat types.
The best thing about this one is that the handle is resistant to heat and is not damaged by moisture or cold weather.
Our scores:
Sharpness: 9.5/10
Handling: 9.5/10
Ease of maintenance: 9/10
Pros:
Great design
Good maneuverability
Very sharp edge
Comes with a sheath
Cons:
Other fillet knife collections:
Electric fillet knives for fishes
Knife sharpeners for fillet knives
For saltwater fishes
For salmons
For catfishes
Dalstrong Gladiator Series 6 inch (Best for Reduced Stickiness)
We earn a commission if you make a purchase, at no additional cost to you.
This fillet knife from the Gladiator Series of Dalstrong is another good choice.
It's carefully and precisely constructed for filleting, trimming, skinning, de-boning, and de-scaling.
The narrow and slightly curved blade provides users with moderate flex.
Thereby offering easy maneuverability around joints, skins, and bones.
Its full-tang design is incredibly razor-sharp.
That means you don't need much effort when slicing through meat.
You can see the premium materials used to provide a quality feel thereby making this one easy to use.
The edge is hand sharpened to approximately 14-16" on each side.
And by doing so, it provides the balance between resilience and sharpness.
The oval-shaped divots on each side are professionally engineered for creating air pockets and minimizing suction of food thereby providing for easy slicing.
Our scores:
Sharpness: 9/10
Handling: 9/10
Ease of maintenance: 9/10
Pros:
Super sharp Granton edge for reduced stickiness
Full-tang construction for extra toughness
Easy to use and bring around
Cons:
The sheath might be problematic at times
Dalstrong Gladiator Series 7 inch Knife (Best for Precision Works)
We earn a commission if you make a purchase, at no additional cost to you.
Dalstrong is one of the most reputable brands on the market.
In line with this, the producer has ensured that all of their fillet knives are high quality and exceptionally dependable.
The 1.5 mm thickness of this particular blade stretching from the spine all through to the edge provides for easy maneuverability thereby allowing you to cut through the meat with utmost ease and flexibility.
It's 7 inches in knife size, so it will feel just right when you need it the most.
Since it prides itself in razor-like sharpness, you don't have to worry about cutting through hard meat types.
Its unique design features a satisfying heft and a triple-riveted handle with a comfortable and firm grip.
It also comes with an added chromium coating that provides excellent stain resistance and precise tempering for enhanced durability.
Our scores:
Sharpness: 9/10
Handling: 9.5/10
Ease of maintenance: 8.5/10
Pros:
Special design that offers great flexibility
Strong 1-piece construction
Premium materials that resist corrosion
Cons:
Might need to practice to get used to it
Other knife collections:
Top 10 chef knives on the market right now
Paring knives for busy home cooks
Sharp and reliable carving knives for daily uses
Reliable cleavers for heavy-duty cooking tasks
Great steak knife sets to surprise your friends
Top-rated bread knives for cutting bread with ease
Mercer Culinary (Budget Choice)
We earn a commission if you make a purchase, at no additional cost to you.
Boasting textured finger points on the handle for slip resistance, this fillet knife is one of the safest and most convenient ones to use.
The high-end Japanese steel used in designing the blade provides easy maintenance and allows for razor-sharpening of the edge.
The material is stainless, so you can rest assured that it will partner with you for a long time.
With this one, you can be guaranteed to get the most reliable performance and dependability throughout its lifespan.
Mercer Culinary products are well known for their reliability and unrivaled performance throughout their life.
This one is relatively affordable and as such, you need not worry about using much cash when purchasing or maintaining this blade.
The knife is easy to control and maneuver meat with little effort.
Our scores:
Sharpness: 8.5/10
Handling: 8/10
Ease of maintenance: 8.5/10
Pros:
Budget-friendly
Ergonomic handle
Slip resistance handle
Cons:
Might need time to get used to it
Related products:
Top-rated sharpeners for pocket knives
Top 10 hunting knife sharpeners for the money
Budget-friendly sharpening stones for daily uses
Reviews of the top-rated sharpening steel
Reliable and strong ceramic knife sharpeners
Specialized sharpeners for serrated blades
Top 10 electric sharpeners for your knives
Frequently Asked Questions
What is the best fillet knife in the world for fishermen?
If you're still unsure about which one to pick up, I highly recommend you check out the Victorinox – 47602 Swiss Army knife.
If that one can't satisfy you, nothing else can!
It's one of the highest-rated knives ever to purchase by many customers all around the world.
Check it out.
What is a fillet knife used for?
It is specifically styled and designed for cutting fish as well as removing bones when preparing fish for cooking.
The knife gives good control which consequently aids in filleting.
The blade belongs to the boning knives' category and boasts of incredible flexibility.
The trailing point blade is ideal for skinning and slicing.
Large serrated fillet blades are used for cutting tuna and other large fish species that are otherwise impossible to cut using small size blades.
Can you clean a fish without a fillet knife?
Yes.
However, there is no guarantee that you will get smoothly cut and boned fillets.
The only way you can fillet a fish without the specific blade designed for the task is by using a flexible blade.
This is because such a blade will allow for excellent maneuverability for skinning bones, fins, and entrails from fish fillets.
What are the 2 most common knives used in fin fillet preparation?
Fish like other meat types require preparation before cooking.
In fish, the parts you need to remove include scales, fins, and the digestive tract.
For the fins, you need to remove all of them with the inclusion of the tail if necessary.
The best cutting tool for this task is the utility knife or even kitchen scissors.
You may also use a paring knife, especially for small size fish species.
The best thing about these blades is that they reduce the risk of damage to the fillet.
Do I need a fillet knife?
The most definite answers to this question are yes and no.
Yes, because if you are keen on having a nice looking fillet that is neatly organized and prepared, then you need a fillet knife.
However, if you are not keen on the quality of your fillet, then you can use any standard kitchen blade.
The greatest downside to using any blade you find in the kitchen is because you risk damaging and crumpling your fillet.
Whichever the case, the ideal blade for filleting fish should be flexible to enable you to maneuver easily around the fillet.
How do I clean a salmon?
The first thing to do when filleting a salmon is removing the entrails by opening the bellow after rinsing the fish in cold water, preferably running water.
Using a fillet knife, open the belly by inserting the knife in the anus or make a vent anywhere along the bellow and cut towards the head and stop between the gills.
Using the fillet knife, remove the kidney and all other internal organs.
Cut the head off too.
Remove the bones on the fish meat that remains after removing the entrails and head.
Remove the ribs by inserting the knife beneath the first two or three ribs.
While angling the blade towards the thick fish part, work the blade underneath the ribs.
Do not cut excessively deep beneath the ribs as you will lose a lot of meat.
After removing all the bones and any fatty tissues, rinse the fillet in cold water (not running) and then proceed to cook the fish.
How do you sharpen it?
There are two ways of sharpening a fillet knife.
The first one is by using an electric sharpener.
In this option, you only need to place the knife into the sharpener and power it on.
The mode of operation of these sharpeners depends on the brand and model of the sharpener.
Most of these sharpeners have two stages; one for sharpening and the other for honing the blade.
The other mode of sharpening these blades is by use of a manually operated sharpener such as a sharpening stone.
Whetstones are the best sharpening stones since they provide excellent control as you slide the blade at an angle range of 18-21 degrees over the stone.
This angle helps in preventing damage to the edge of the blade.
You can also use a sharpening rod especially when out fishing and do not have access to a sharpening stone.
What is the sharpener for this type of knife?
The ultimate sharpener for any knife is an electric sharpener.
This is because the sharpener is not only easy and effortless to use but also ensures consistent and excellent sharpening.
Other sharpeners like a whetstone and a sharpening rod are also ideal but not as effortless to use as the electric sharpener.
How do you fillet a big fish?
Big fish are a little more complex to fillet compared to small fish.
When filleting a big fish, there are certain steps that you need to follow.
For starters, you need to bleed the fish out by making a shallow incision using a knife or scissors underneath the fish gills.
Snap the head back so that you can break its spinal cord.
The next thing you should do is descaling the fish using the backside of a knife.
Proceed to remove the fins.
Once you are done with the scales and fins, cut the stomach open and remove its guts.
From the tail, ensure that you run the knife consistently towards its head and remove the guts while wearing gloves.
Rinse the fish using cold water.
Chop off the fish's head using a sharp utility knife.
The next thing you should is de-bone the fish by cutting beneath the bones and then remove the pin bone.
You can make smooth fillet cuts of desirable size.
What are the easiest ones to clean?
Generally, small fish species are easier to fillet as compared to the big ones.
Panfish, trout, and walleye are incredibly easy to fillet.
This is because their small-sized bodies are easy to maneuver around when filleting.
Do you have to scale first before filleting?
Unless you love eating scales, which is an undoubtedly odd thing to do, you should scale the fish first before you start filleting it.
How do you clean a fillet knife?
There is no specific way of cleaning a fillet knife.
Instead, these knives are cleaned normally like you would for any other knife.
The only thing worth noting is that you should not wash these blades in a dishwasher.
Wash the knife manually in running water while scrubbing gently using a washing towel soaked in soap.
Wash the edge gently to prevent the likelihood of suffering injuries.
After it is clean, you should then rinse it and wipe off excess water using a dry towel.
Conclusion
Filleting a fish is not as hard as most people presume.
With the right knife, you can easily fillet fish even without previous experience.
The easiest way to ensure that you fillet a fish accordingly is by doing the whole process step by step.
Always ensure that the blade of choice is sufficiently sharp for smooth and accurate cuts.
For most chefs, the Bubba Li-On Cordless electric fillet knife is the best one on the market.
It features a non-slip handle and an incredibly sharp blade that can easily get in between the meat and skin of fish and just about any meat out there.
However, there are also some butchers who prefer using the KastKing fillet knife because of its innovative features and striking design.
When using this knife, you'll easily be able to get the job done in style.
But if you're working on a tight budget but still need a quality tool for filleting fish and meat, we highly recommend the Rhinoreto Fillet Knife.
It's one of the top budget options on the market today, featuring an ergonomic handle and razor-sharp blade.
To really find the right fillet knife for your kitchen, you have to dive deep into the features and benefits of the different options on the market.
[toc]
Ryan Leavitt
Hi my name is Ryan Leavitt a Marine Corps Veteran and currently an over the road trucker (Long Haul). I am no expert chef but am enjoying preparing my own meals on the road and testing all the different knives.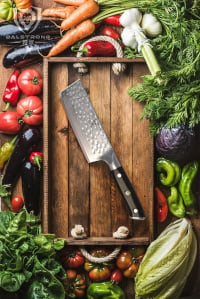 Want FREE Knives?
We give these knives a quick twirl and review, and then we pass them on to a few lucky home chefs!
By subscribing, you agree to get emails from me, Ryan Leavitt. I'll respect your privacy and you can unsubscribe any time.