You know what?
It goes without question that the best fillet knife for saltwater fishes has many advantages.
Such kinds have been in use for decades to promote efficient filleting.
The right product remains effective due to unrivaled durability and flexibility.
And in this review, we will be sharing critical elements of fillet knives.
It can be a fulfilling experience to locate the right fillet knife.
A good knife should meet your expectations.
Since you will be operating in a saltwater environment, use a corrosion-free blade.
We will be unveiling 7 different products with unique characteristics.
Let's take a look.
Best Fillet Knives For Salt Water Fishes (Updated List)
We earn a commission if you make a purchase, at no additional cost to you.
* A Serious Contender *
We earn a commission if you make a purchase, at no additional cost to you.
Related fillet knife collections:
How to Safely Sharpen the Blades When They Get Dull
Keeping your knife razor-sharp promotes efficiency. The flexibility of the edge poses a challenge while honing it.
So, keep the following tips in mind.
Remove the Guard Clip First
Whenever you are sharpening slim knives, a guard clip becomes an obstruction. It can restrict the blade from contacting the sharpening stone effectively.
Set the Sharpening angle to range from 18 to 21 degrees
If you lay the blade on a table at a low angle, it becomes tedious. It also consumes more time, which can lead to a soft edge. The most accurate way is to sharpen it at a particular angle. In the process, you achieve a razor-sharp edge.
Sharpen the Blade on a table
You should sharpen using a sharpening stone. The stone should run on top of the blade table. Such a technique enables one to get an appropriate angle. Such prevents blade bending during the honing process.
Slow Down
Avoid doing it hurriedly to complete the work. Use a slow pace to sharpen the fillet knife for steady holding on the table. Also, a slow pace allows the sharpening stone to cut better and remain clean afterward.
Polish the Edge
Ensure your product has a smooth edge. You can get a better cutting performance as you maintain a polished edge. A sharp knife ensures that it cuts the fillets perfectly.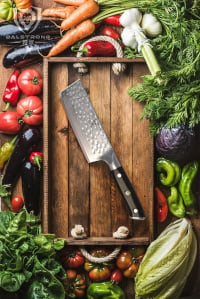 Want FREE Knives?
We give these knives a quick twirl and review, and then we pass them on to a few lucky home chefs!
By subscribing, you agree to get emails from me, Ryan Leavitt. I'll respect your privacy and you can unsubscribe any time.
Buying Guide
The best knife for saltwater fish is a vital tool for an exceptional filleting experience. However, many get tempted by low-hanging fruits which do not guarantee quality. You can end such agony using the following elements. They can assist you in differentiating each product from the next before making a decision.
Blade
One should look for a product that has a rust-resistant blade for added durability. The most commonly used materials are high carbon steel or real stainless steel. You should consider a larger edge if you are handling large fish. A small blade is suitable for small-sized fish.
Also, consider blade sharpness and thickness to better performance. Some people prefer flexible blades, while others settle for stiffer ones.
Electrical or Manual
The best electric fillet knife for fish cuts quickly hence needs little effort. On the downside, they are bulkier, large, and require a source or power. Additionally, such products are costly and need more expertise.
On the contrary, manually operated knives are affordable. They are easy to use by allowing precision cutting.
Handle
The state of the handle is crucial to your filleting experience. The right design is to have a slip-resistance handle. Such a handle provides better performance in a wet environment. The shape of the handle is critical for better resting of your index finger.
The older version has wood handles. For added grip, the newer versions use rubber and different types of plastics.
Sharpness
On the hardness scale, many fillet knives have high-50s. Medium levels allow the blade to maintain an edge. Thinner blades allow knives to remain flexible when removing the skin from the meat.
Cost
You should assign a reasonable budget when selecting the best knife for saltwater. Expensive knives command more care to keep the investment. Ensure you perform extensive research on pricing to get a high-quality one.
Reviews of the Best Products
KastKing (Editor's Choice)
We earn a commission if you make a purchase, at no additional cost to you.
KastKing Fillet is a great-looking knife featuring steel blades. Such knives maintain a strong edge suitable for different applications. Some of the remarkable uses are steaking large game fish or filleting all fish sizes.
This 9-inch brand enjoys some flexibility. It follows the natural contours of the fillets, and the design makes it ideal for more delicate cuts. Since this product has a high life expectancy, it provides years of service.
Another useful feature of this product is slip resistance and comfort. The super polymer handle ensures a comfortable grip for extensive usage. Cleaning these handles is a breeze to give them a fresh look.
Safety reigns supreme to the designer. It has a durable and lightweight sheath for protecting the blade. In the same vein, it keeps the user safe in between tasks.
Finally, this product has open slots in the sheath to allow water to drain effortlessly. As such, the blade remains sharp and dry, making this a really good choice.
Our scores:
Sharpness: 9.5/10
Handling: 9/10
Ease of maintenance: 9/10
Pros
Supports multiple uses
Durable and protective sheath
Ultra-sharp performance
Slip-resistant design
Reasonable prices
Cons
Bubba (2nd Runner-up)
We earn a commission if you make a purchase, at no additional cost to you.
With this Bubba knife, you will enjoy an outstanding grip thanks to the non-slip grip handle. Such a feature makes it to provide ultimate control for added security.
Bubba has a decent blade from 8Cr13MoV stainless steel construction. Such is the highest grade in the market as it is both corrosion and rust-resistant. The user involves less effort when cutting meat without loss.
This product has a non-slip handle, which is great for a comfortable grip. For further safety, finger guards protect your index and thumb fingers. It is a reliable product for fillets of all sizes of fish.
Bubba features an extra sharp tip for effortless cutting. Carrying it around is hands-free, courtesy of a sheath that has a belt loop. Its bright color improves visibility in dark conditions. The cool aspect is that this product is affordable.
Our scores:
Sharpness: 9/10
Handling: 8.5/10
Ease of maintenance: 8.5/10
Pros
Corrosion and rust-resistant blade
Non-slip safety grip
Good flex and sharp blade
Awesome high-visibility
Safety guards for protection
Cons
Dexter P94812 (Best for Extended Use)
We earn a commission if you make a purchase, at no additional cost to you.
Dexter fillet knife has been the favorite kitchenware for both anglers and chefs. It can cut a large bunch of fish without sharpening it frequently. Furthermore, it holds an edge for an extended period.
One distinctive aspect is the use of a high-carbon steel blade. This durable blade is also stain-free to offer an impressive look. For easy edge maintenance, the designer made the blades have hollow ground.
Its handle comes from Polypropylene materials that promote an excellent grip. The product remains comfortable in your hand as you hold it over a long period. Since it is dishwasher safe, the handle will not get ruined.
This one comes in the right dimensions for easy maneuverability. Its popularity revolves around high quality and affordability. You can buy a few such knives to keep in the boat for use.
Our scores:
Sharpness: 8.5/10
Handling: 8.5/10
Ease of maintenance: 9/10
Pros
Durable high-carbon steel blade
Easy edge maintenance
Slip-resistant handle
Flexible blade tip
Dishwasher safe
Cons
The handle detaches from a blade.
Becomes blunt quickly
Rapala (Best for High Performance)
We earn a commission if you make a purchase, at no additional cost to you.
Rapala Fish Knife is a durable product for incredible performance. This knife has a stainless steel construction.
It holds a sharp edge extensively. The full tang design allows the blade to stretch from the tip to the handle.
The handle has a vanished birch, which promotes grip. All the users have an option to enjoy comfort while holding it for cutting tasks. The finger guard protects the user from unintended accidents hence safe.
Another exciting aspect is the inclusion of a sharpener. You can update the level of sharpness as long as you find it appropriate. Maintaining a shaper edge improves your fishing experience with outstanding performance.
Safety is what defines this product, thanks to the sheath. The sheath fits well to offer protection as you travel with the knife. The product has pocket-friendly prices.
Our scores:
Sharpness: 8.5/10
Handling: 9.5/10
Ease of maintenance: 8/10
Pros
The package includes a blade sharpener
Long-lasting cutting edge
Ultra-cutting performance
Flexible blade tip
Non-slip handle
Cons
Kershaw (Best for Design)
We earn a commission if you make a purchase, at no additional cost to you.
Kershaw happens to be a durable filet knife. The product enjoys a stainless steel construction.
This corrosion and a rust-resistant brand have an ABS sheath for protection when not in use. For safe storage, the designer developed a belt holster.
The handle has a co-polymer construction that features a soft texture. As such, the handle promotes comfort while using it always. Interestingly, this fillet knife has neon green accents. Such a design assists in easier identification in a marine environment.
This one can be an excellent choice for filleting fish. Some of the perfect examples are salmon, tilapia, tuna, and catfish. One can store it in tackle boxes, boat backpacks, or belts when not in action.
This product has softer blade steel that bends without breaking. You can involve it to slice through a fish body easily. Its prices are affordable, accompanied by a limited lifetime warranty.
Our scores:
Sharpness: 8.5/10
Handling: 8.5/10
Ease of maintenance: 8.5/10
Pros
Good cutting edge and flex
Lightweight and maneuverable
Good grip for comfort
High visibility in a dark environment
Finger guard for safety
Cons
Needs frequent sharpening
Morakniv Fishing (Best for Versatility)
We earn a commission if you make a purchase, at no additional cost to you.
Morakniv fish fillet knife is a great product that stands out on versatility. It is available in either 3.5 inches or 6.1-inch blades. A high-friction handle ensures that you get a maintained grip as you clean the fish.
Preferably, a 6.1-inch blade is suitable for most fishes. It also comes with a slotted plastic sheath for protection, which is easy to clean. The handle has two belt clips: clip-on or belt loop.
This product has 12C27 stainless steel, which is popular for its razor sharpness. Furthermore, the blade has exceptional toughness and excellent corrosion resistance. More importantly, this product is dishwasher compliant.
If you desire to own a beautiful blade, then Morakniv is for you. This blade benefits from a quick tune-up. This mid-range fish fillet knife offers incredible performance when put to task.
Our scores:
Sharpness: 8.5/10
Handling: 9/10
Ease of maintenance: 8.5/10
Pros
A high-friction handle promotes grip
Versatile design for all fish types
Razor-sharp for great performance
Corrosion-resistant blade
Protective plastic sheath
Cons
Mercer Culinary (Best for Tough Construction)
We earn a commission if you make a purchase, at no additional cost to you.
Mercer can be a great option for value. The blade has a high carbon stainless steel construction that is corrosion-resistant. This high-quality blade holds up well in most conditions effectively.
This thin blade has a nice flex with a curved point for a more excellent performance.
It is an issue of preference if you want a straight blade. The ergonomic handle enjoys Santoprene materials for added comfort.
Moreover, the handle has textured finger points to offer slip resistance and grip. Again, it has a protective finger guard to enhance safety.
Typically, this brand is for hand wash only to promote good surface care.
The blade has easy maintenance options. Not to mention, it allows rapid sharpening to make it razor-sharp. This product complies with NSF standards, therefore safe to use for filleting fish. The attached prices are reasonable with a limited lifetime warranty.
Our scores:
Sharpness: 8.5/10
Handling: 8.5/10
Ease of maintenance: 9/10
Pros
Ergonomic handle for added comfort
Extremely sharp steel blade
Easy blade maintenance
Protective finger guard
Rust-free blade
Cons
How to Fillet a Saltwater Fish
Before you cook the fish fillet, you must remove its skin and bones. Here is when fillet knives come in handy. Fillet knives have long and thin blades that are sharp for enjoyable fish filleting. Follow this step by step instructions on how you can fillet your fish successfully.
Begin by washing any lime on your knife or hands to prevent slipping. It is a safe practice to place your hands behind the blade. Additionally, one should supervise young anglers if they are learning how to fillet.
Lay the fillet on its side over a flat surface. Filleting needs to cut the fish behind pectoral fins and gills and not on the rib cage only. Neither removing the head nor scaling is necessary.
Without removing the head, turn your blade toward a tail and cut along the rib's top. You can use the fish's backbone to guide your action. You can now turn your fish over as you repeat steps two and three.
Insert your knife blade near the rib bones as you slice the whole rib section away. Then insert the knife blade at about half an inch from the tail. Grip this tail part firmly and put your blade between the meat and the skin at an angle.
Using a little pressure with a sawing motion, cut against the skin. At this point, you will remove the fillet from the skin successfully.
Finally, wash every fillet in cold water. Pat dry it with a clean paper towel or cloth. At last, your fillet is ready for freezing or cooking. You can use a suitable recipe for cooking these fillets to your satisfaction.
FAQ's
What knife can I use to fillet the fish?
We recommend a durable knife that features a high-quality blade. Furthermore, it should have an ergonomic handle. Such a design adds comfort while performing your tasks.
What is the appropriate size for the best knife for saltwater?
For saltwater fillet tasks, a 9-inch knife is ideal. It is a powerful blade that cuts around bones without wasting any meat.
What do I keep in mind when choosing a fillet knife?
Look for one that has a thin and durable blade. It should come in the right length with a sharp edge.
Are bubba blades worth the hype?
Such is great for value as you use it for fish processing. This brand remains razor-sharp to slice through bones effortlessly.
What is the right level is of sharpness for your fillet fish knife?
The edge bevel should range from 12 to 15 degrees. As such, it offers good resistance to dulling.
How do I test the sharpness of the knife?
You can use the fingernail trick. Your product is reasonably sharp if it bites your fingernail without pressure.
How long will my fillet finger knife remain sharp?
It all depends on your work intensity. Eight weeks can be ideal for an average home chef. Otherwise, the concept is always to maintain a sharp knife.
Can one ruin a fillet knife by sharpening it?
Knives come from metal, making it impossible to ruin them. Occasional sharpening cannot cause it to be brittle either. Still, sharpening cannot make the blade to remain in an unusable form.
Can one make a fillet knife dull by cutting paper with it?
Soft paper and newspaper can shorten the lifespan of your knife. When you cut such stuff more often, then your knife can become dull.
What is the right knife-edge angle?
The convenient angle to cover most knives lies between 17 to 20-degree angles. Such can cut well and remain ever durable.
Conclusion
Knives for freshwater fish are different from those caught in the ocean.
Aside from the fact that saltwater fish tends to be bigger than its counterpart in rivers and lakes, the brine tends to rust the steel of certain blades.
We're also sharing some of the best filleters out there.
KastKing makes professional-level but affordable knives for boning and filleting saltwater fish. Made of G4116 steel, it's sharp, durable, and more importantly, flexible.
Bubba, a brand that specifically makes tools for prepping fish, came up with the 9-inch flexible knife with the recognizable and well-designed orange non-slip handle.
Known for incredibly cheap yet high-quality butcher knives, Dexter Russell is also the go-to for fishermen and fishmongers. Their 7-inch filleter with the contoured white handle has become a huge favorite because it is extremely pliable.
Further reading:
How to Fillet Fish Like a Fishing Pro
[toc]
Ryan Leavitt
Hi my name is Ryan Leavitt a Marine Corps Veteran and currently an over the road trucker (Long Haul). I am no expert chef but am enjoying preparing my own meals on the road and testing all the different knives.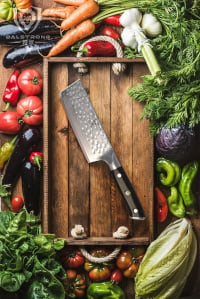 Want FREE Knives?
We give these knives a quick twirl and review, and then we pass them on to a few lucky home chefs!
By subscribing, you agree to get emails from me, Ryan Leavitt. I'll respect your privacy and you can unsubscribe any time.