Gyuto knives are popular for being all-purpose blades and are known for their ability to slice through beef and other types of meats.
They double as versatile blades that fit several duties and tasks in the kitchen.
You will often find that they are shorter and thinner than chef's knives, but feature extremely durable steel that holds its edge longer than chef's knives.
The Gyuto is arguably one of the few Japanese Knives that have become popular all over the world.
And in this short guide, I will share with you my favorite list when it comes to this type of cutlery.
Best Gyuto Knives for Your Money (Updated List)
We earn a commission if you make a purchase, at no additional cost to you.
* A Serious Contender *
We earn a commission if you make a purchase, at no additional cost to you.
Related:
Types of Japanese knives
Best Japanese steak knife sets
Best Japanese vegetable knives
Best sushi knives
Best utility knives
Best deba knives
Why You Need the Best Gyuto Knives in Your Kitchen
There are lots of reasons why you need the best Gyuto blades in your kitchen but the greatest of them all is that these knives are all-purpose blades.
As such, the knives can be used for a wide variety of cutting tasks in the kitchen including mincing, dicing, and chopping. For chefs and cooks who do not own a complete knife set, Gyuto knives will come in handy when preparing meals in the kitchen.
Since Gyuto knives are made by professional and expertly skilled artisans, these knives are incredibly sharp. Therefore, with these blades, you do not need to worry about sharpness as the blades retain their edges for long no matter the brand or manufacturer.
What is more amazing about these blades is that they do not come with an additional expense of professional sharpening. This is because you can easily sharpen these knives using readily available sharpeners like whetstones and sharpening steel rods.
Gyuto knives are easy to care for and maintain. This is mostly because the blades are made using premium quality materials. In addition to this, the superior designs used in these blades also make the knives suitable for cutting tasks in the kitchen. As such, their rate of wear and tear is considerably low compared to other types of knives.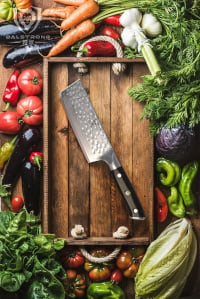 Want FREE Knives?
We give these knives a quick twirl and review, and then we pass them on to a few lucky home chefs!
By subscribing, you agree to get emails from me, Ryan Leavitt. I'll respect your privacy and you can unsubscribe any time.
How to Pick Up Great Gyuto Knives
Before investing in any Gyuto knife or any other blade thereof, there are several factors you should put into consideration. This will make it easy for you to identify the right blade for you depending on your needs. These aspects include:
Price
Affordability should be your priority. Some knife brands in the market are overpriced since their quality does not match the amount of money they are sold. Always consider the quality of the knife and match it with the price to assess whether the Gyuto knife of choice offers you value for money.
Sharpness and edge retention
Knife brands and models vary from each other in terms of their sharpness and edge retention capabilities. Depending on your intended use of the blade of preference, you should settle on a blade whose degree of sharpness will be ideal for you. It is worth noting that high-quality steel often comes with excellent edge retention. Therefore, blades with premium quality steel edges will retain their sharpness for a long time.
Material
The material of the blade is yet another crucial consideration when shopping for the best Gyuto knife. Most Gyuto knives are made from VG10 or SG2 stainless steel. Both of these steel materials are incredibly stable and durable. As such, they last for long while still ensuring that their performance and efficiency remain the same throughout the blade's life. However, they vary in slicing performance.
Brand and make
There are brands and makes that are known to be efficient, durable, and dependable. Some brands are poor in quality and often fall apart and break down after only a few months of use. Therefore, it is crucial that you only settle on brands that are popular for their solidness, efficiency, and performance.
Other resources:
What is a Gyuto knife used for?
Gyuto vs Deba
Gyuto vs Mioroshi Deba
Gyuto vs Nakiri
Gyuto vs Wa Gyuto
Gyuto vs Yo Deba
Gyuto vs chef knife
Reviews of the Best Gyuto Chef Knives for Your Money
Findking Dynasty (Editor's Choice)
We earn a commission if you make a purchase, at no additional cost to you.
Findking Dynasty has a solid reputation for designing and constructing high-quality knives and other cutting gear. This 8-inch knife is constructed from great steel with an HRC 60+ Rockwell Hardness. Consequently, the blade is solid and sufficiently robust for cutting through different meat types, fruits, and vegetables as well as other food items.
Expertly Designed
It is designed to highlight the beauty and elegance of Eastern chef's blades. As such, the design of this blade is done professionally while paying attention to the comfort and efficiency of a typical chef. This 8" knife has a clad dimple that provides for easy release of food pieces when dicing or slicing. The blade is well balanced for convenient use, especially during a rock chopping motion. This translates to precise cuts as well as minimal wear and tear.
Dynasty Series Handle
The handle of this blade is expertly designed and crafted from high-quality African rosewood. The deep brown color of the handle compliments the beauty and appearance of the blade. Additionally, the ergonomic design adopted in the hand guarantees the comfort and firmness of the user. It is worth noting that the stability of the handle makes it easy to make full blade manipulation for your desired cuts and slices.
Our scores:
Sharpness: 9.5/10
Handling: 9.5/10
Ease of maintenance: 9/10
Pros:
Well balanced blade and handle
Robust and resilient steel blade
Multi-purpose blade
Flexible and maneuverable blade
Rustic look
Cons:
The blade may be too long to maneuver for beginners
Tojiro DP (2nd Best Choice)
We earn a commission if you make a purchase, at no additional cost to you.
The Tijiro DP Gyutou is a great choice for chefs and looking for reliable and dependable Gyuto knives for their kitchens. With an 8.2" blade, the knife is designed and constructed with stainless steel that is resistant to both corrosion and stains. As such, you can use the blade on any meat, fruits, and vegetables without worrying that the cutting edge may become stained.
Excellent edge retention
Like other premium quality chef knives with high-end stainless-steel edges, this Tojiro DP blade boasts excellent edge retention. The blade is easy to sharpen and hone using sharpeners like whetstone, sharpening rods, and electric sharpeners. As such, you will not incur any costs related to having the blade professionally sharpened. The blade also cleans easily since it is non-stick to food pieces and juices.
Designed for every chef and cook
If you are looking for a Gyuto blade that everyone in the house can use, then the Tojiro DP knife is the ultimate choice for you. This is because the blade is designed for both right and left-handed people. In addition to this, it features an even edge that allows for easy cutting and slicing from both angles. What is more amazing about the blade is that the knife is 1.7 inches wide and hence can easily slice through massive fruits, vegetables, and deep meats.
Our scores:
Sharpness: 9/10
Handling: 9/10
Ease of maintenance: 9/10
Pros:
Good value for money
Excellent versatility and maneuverability
Corrosion-resistant steel blade
Ideal for both right and left handled people
Easy to sharpen with good edge retention
Cons:
Some chefs may find the short and bulky handle uncomfortable
Yoshihiro (Best for Design)
We earn a commission if you make a purchase, at no additional cost to you.
This Yoshihiro blade features a 3-layer construction that provides exceptional hardness, robustness, and durability. The mahogany handle in the blade is one of the reasons why you will fall in love with the blade. It is gentle and comfortable to hold and does not cause any fatigue to the wrist.
Versatile blade
The design and construction of this Yoshihiro blade make it a versatile knife that is perfect for different tasks including slicing, dicing, and chopping fruits and vegetables. The flexible blade of the knife also makes the knife ideal for carving roast chicken. The full mahogany handle in the blade is not only comfortable but also well balanced hence allowing better control and handling of the knife.
16 Layer Hammered Steel
The 16-layer hammered Damascus Steel in the blade is known for its solidness, hardness, and robustness. The steel blades possess incredible strength that allows the edge to cut through food types with different levels of hardness with great ease and precision. Additionally, the blade's hammered texture helps in eliminating friction as well as preventing food pieces and juices from sticking on the blade.
Our scores:
Sharpness: 9/10
Handling: 8.5/10
Ease of maintenance: 8.5/10
Pros:
A hammered texture that prevents food from sticking on the blade
Comes with a curved blade for increased functionality of cutting through different foods
Comes with a protective sheath
Strong and durable blade
Comfortable and non-slip handle
Cons:
Considerably expensive than other Gyutos in the market.
Yoshihiro (VG-10 46 Layers) (Versatile Choice)
We earn a commission if you make a purchase, at no additional cost to you.
The Yoshihiro VG-10 Gyuto Japanese Knife combines performance, extraordinary value, and beauty thereby becoming a perennial leading seller over the years. This Gyuto blade features 46 layers of hammered Damascus steel for best durability, efficiency, and robustness. The knife comes with a protective Saya wooden sheath for enhancing the appearance of the blade and storage when not in use.
Traditional Gyuto Style
This high-end Japanese knife features a traditional Gyuto style that is popular for versatility and solidness. The knife has a curved blade that features an extended tip that allows quick chopping when cutting, meat, poultry, fish and vegetables. The curved shape of the blade enables the cutting edge to rock in a smooth back and forth motion for clean and smooth cuts. The blade's hammered texture minimizes friction and consequently prevents food from getting stuck onto the blade.
Ergonomic Octagonal WA-Handle
The design is complemented and reinforced by a traditional Japanese style WA Octagonal handle that is handcrafted for uniqueness and perfection. The handle ergonomically welds onto the palm for a firm grip and seamless use. What is more, about the handle is that it is lightweight like the rest of the blade for control and precision.
Our scores:
Sharpness: 8.5/10
Handling: 9.5/10
Ease of maintenance: 8/10
Pros:
Lightweight and ergonomic handle that is comfortable
Non-stick blade and cutting edge
46 layers of hammered steel for strength and solidness
Curved blade for multi-purpose use
Easy control for precision and accuracy
Cons:
Designed for handwash only as it is not dishwasher recommended
F&D Gyuto 8 Knife (Best for Beginners)
We earn a commission if you make a purchase, at no additional cost to you.
This model is ideal for use in both home and commercial kitchens. The blade is resilient and as such, it can withstand the impact of daily wear and tear in a commercial kitchen setting. The overall structure and design of the knife are done by experts to create an impressive modern look while combining Japanese technology and German steel.
High-Carbon German Steel Blade
This F&D knife is made using high-quality carbon German Steel material. This German steel is not only easy to sharpen but is also stain and corrosion-resistant and retains its edge for long. The blade is made using advanced Japanese technology that enhances the reliability and durability of the knife throughout its life. The blade retains its strength and clarity for a long time even after extensive use.
Ultra-Sharp Edge
Since the most important part of a knife is its cutting edge, this Gyuto by F&D features an ultra-sharp cutting edge. This makes the cutting, slicing, and chopping processes easy and effortless when using this blade. This sharpness coupled with the blade's length and thickness allows you to use the knife as a meat knife, bread knife, fish knife, and a blade for slicing vegetables, cheese, and fruits.
Our scores:
Sharpness: 8.5/10
Handling: 8.5/10
Ease of maintenance: 8/10
Pros:
Multi-purpose blade for different tasks in the kitchen
Easy to sharpen using standard sharpeners
Excellent build quality
Ergonomic handle that is comfortable to hold
Excellent resistance to staining, wear and tear, and corrosion
Cons:
May be complex to handle for beginners
Related guides:
Can You Slice A Rock With A Sword Or Katana?
Can A Knife Be Too Sharp?
Can You Slice With A Rapier?
Can You Slice With A Spear?
Does Cutting Sandpaper Really Sharpen Scissors?
Can You Over Sharpen A Knife?
Different Types of Gyuto Knives
Gyuto knives come in four types. These include:
Gyuto SG2 Steel Vs. Gyuto VG1O Steel
SG2 high carbon steel is a powder metallurgy stainless-steel type that has the capability of holding a low-angle edge very well. This type of steel is popular for its extra-hardness which accounts for the steel's excellent edge retention. Due to its unique properties, this steel is also commonly referred to as Super Steel.
SG2 also features extra vanadium that gives it increased wear resistance. This, in turn, allows for easy sharpening and care for the steel. Blades made from this type of steel are known to last for long.
VG10 is also a high-carbon type of stainless steel and has a performance that is not too different from that of SG2 steel. However, the hardness of VG10 is lesser compared to that of SG2 steel. The Rockwell hardness of VG10 is about 60-62 while that of SG2 can reach 64.
Chef Knife vs. Gyuto Knife
Ideally, the Gyuto and Chef's knives are similar in that the Gyuto is a Japanese version of a Western chef knife. The shape and use of these knives are quite similar and as much as it is hard to differentiate the two, it is crucial to note that since Gyuto knives are more susceptible to bending and chipping, you should not use them for tasks such as boning chicken.
If you are wondering about which type of knife to choose between the two, it is necessary to know that either of the blades is efficient and reliable for normal kitchen tasks. If you want a whole and full cutlery collection, you should consider getting both blades.
Frequently Asked Questions
What is a Gyuto knife used for?
It is used for several tasks in the kitchen including thrust-cutting and chopping vegetables, making fine meat cuts using the tip of the blade, slicing different meat types, and quartering chicken.
Are Gyuto knives good?
Good is an understatement here! This is because these blades are designed by pro bladesmiths who are well versed and experienced in blade making. These are blades that you will use in your kitchen for years without becoming faulty or breaking apart.
What size is best?
Gyuto knives typically come with a length range of 180mm-300mm. However, there are some whose lengths are up to 360mm. 180mm-240mm.
They are ideal for home cooks while those over 260mm long are perfect for professional chefs and serious amateurs.
Why are Japanese knives so good?
The main reason why Japanese knives are good is that they use the best quality materials combined with excellent craftsmanship. As such, these blades are designed to withstand the wear and tear that comes with consistent use in the kitchen.
How much does such a knife often cost?
Generally, Gyuto knives are pricier compared to other types of knives. The starting price of these knives is around $50 but some brands are quite expensive and cost a couple of hundred dollars.
Conclusion
For chefs and cooks who are keen on owning versatile and multi-functional blades for their daily use in the kitchen, Gyuto knives are the perfect choice for them. Ideally, these are blades that every cook whether a professional cook or not should consider adding to their knife collection.
Our favorite pick right now is the Tojiro DP Gyuto.
This is a simple knife made with high-quality materials and incredible craftsmanship, which makes it very easy for chefs to use in the kitchen.
But for chefs who want something with a more traditional design, we recommend the Findking-Dynasty Gyuto with a wa handle.
This is a very traditional Japanese knife, so it might be hard for some chefs to get used to, but once you get the hang of it, you'll find that this knife is one of the sharpest and most functional blades in your kitchen.
And if you're looking for a Gyuto on a budget, you can't go wrong with the TUO Chef Knife.
With a modern design, razor-sharp blade, and a G10 full-tang handle, this knife has some of the best features and qualities in its price range.
[toc]
Ryan Leavitt
Hi my name is Ryan Leavitt a Marine Corps Veteran and currently an over the road trucker (Long Haul). I am no expert chef but am enjoying preparing my own meals on the road and testing all the different knives.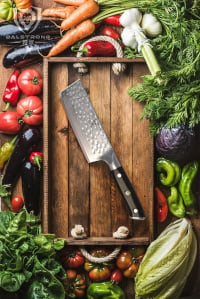 Want FREE Knives?
We give these knives a quick twirl and review, and then we pass them on to a few lucky home chefs!
By subscribing, you agree to get emails from me, Ryan Leavitt. I'll respect your privacy and you can unsubscribe any time.