Buying the best hunting knife sharpeners is not that hard.
But only if you know which options to look for.
And that's exactly what I have for you today.
If you're still searching for one, I highly recommend you take a look at my favorite list below.
I'm sure it will give you some really good suggestions.
But first, you should keep the following points in mind.
Best Hunting Knife Sharpeners (Updated List)
We earn a commission if you make a purchase, at no additional cost to you.
Related:
Types of knife sharpeners
Best electric knife sharpeners
Best serrated knife sharpeners
Best ceramic knife sharpeners
Best sharpening steel
Best sharpening stones
Best pocket knife sharpeners
Qualities Of A Good Sharpener For Hunting
A hunting knife sharpener only becomes useful and reliable if it meets your needs and preferences.
Due to this, there are certain qualities and parameters that are worth checking for in a hunting knife sharpener.
For starters, the best sharpener should be portable for easy transporting when going on a hunting excursion.
It should also be easy and simple to use.
A complex sharpener may end up being cumbersome to operate.
The best knife sharpeners should not pose any damage whatsoever to the blade.
Instead, it should prolong the life of the knife by repairing dents on the blade when sharpening.
Additionally, the sharpener should only eat away a small amount of the blade when sharpening and should not damage the edge of the hunting knife.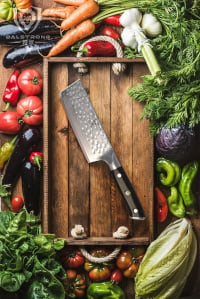 Want FREE Knives?
We give these knives a quick twirl and review, and then we pass them on to a few lucky home chefs!
By subscribing, you agree to get emails from me, Ryan Leavitt. I'll respect your privacy and you can unsubscribe any time.
How to Choose the Best Hunting Knife Sharpener
When shopping for the best hunting knife sharpeners, it goes without saying that you will find sharpeners with different functionalities, features, shapes, and sizes.
These variations can make it hard to make the best choice especially if you are not well versed in knife sharpeners.
This guide will direct you on what to look for in the ideal sharpener for you.
Some of these tips are such as:
Type of sharpener
Hunting knife sharpeners come in three main categories; electric, manual and sharpening stones.
Each of these sharpeners differs greatly from the rest in terms of operation and use.
Electric sharpeners are the best of the three since they are easy to use as they are automated.
They use electricity.
The only downside to these sharpeners is that they are more expensive than the others.
Manual sharpeners and stone sharpeners are quite similar in that they require your effort to sharpen blades.
Manual sharpeners are however easier to use than stone sharpeners.
Both of these sharpeners are time and effort-consuming.
Size
Size is an important consideration here.
This is because the sharpener's size determines the kind of knives you can sharpen and hone with the sharpener.
Small and compact sharpeners are perfect for packing together with your gear but may limit you to only sharpen small and medium-sized blades.
Therefore, it is advisable to opt for a sharpener with the right size depending on your sharpening needs.
Blade angles
For excellent sharpening results, you will need a sharpener with a long-range of sharpening angles.
This gives you the freedom to choose an angle that is perfect for the specific edge and blade you want to sharpen or hone.
The sharpness will depend on the sharpening angle accommodated by the sharpener of choice.
Usually, the best sharpener should accommodate sharpening angles for other blades other than only for hunting knives.
This allowance will make it easy to use the sharpener with other types of blades.
Weight
Since you will most likely need to carry your sharpener when going on a hunting excursion, it is necessary to consider the weight of the sharpener.
A heavy and cumbersome sharpener will cause you problems when carrying your hunting luggage, especially on your back.
Instead, you should focus on the best solid and strong sharpener that is considerably light.
The shape of the blade
Before you set out to search for the best sharpener for you, it is important to consider the shape of your hunting blade.
This is because there are sharpeners especially electric sharpeners that do not work with certain shapes of blades.
As such, with a sharpener like that one, you may end up damaging both the sharpener and the blade.
Not all sharpeners are designed to work well with just about any size and style of blade.
The best sharpener comes with a guarantee of providing you with the best performance and reliability throughout its life.
This is a sharpener that will be expressly useful and efficient in sharpening your hunting knives.
Reviews of the 5 Top Rated Products
Work Sharp Ken Onion Edition (Editor's Choice)
We earn a commission if you make a purchase, at no additional cost to you.
With an adjustable guide, this sharpener produces precise sharp edge bevels ranging from 15-30 degrees.
Powered by a 120V motor with variable motor speed, it is designed to handle all necessary tasks including honing and grinding.
The improved cooling feature of the motor combined with the option of varying the motor speed makes it exceptionally powerful.
For purposes of better and well-defined contact with the serrations, the 6000 grit belt inside measures 0.5 inches thereby producing fast and precise results.
The multiple-position modules allow for precision work for different types of tools including stone and wood tools.
Our scores:
Ease of use: 8.5/10
Effectiveness: 9.5/10
Ease of maintenance: 8.5/10
Pros:
Multiple speed selects for optimal results
Professional-grade product
Can work with many types of knives
Cons:
Guoxuan 3-Stage (2nd Runner-up)
We earn a commission if you make a purchase, at no additional cost to you.
Specially made for sharpening even the dullest knives and blades.
This product from GUOXUAN features an innovative design and is made of the best quality material.
There is a non-slip cushion at the bottom part for a steady hold when you work with it.
And it provides stability and an ergonomic handle that provides a secure, comfortable, and easy grip.
It is perfect for a wide range of blades and knives.
Including chef knives, steak knives, tactical knives, and other types of blades.
This high-end model is not only easy to use but also safe for both right and left-handed people.
For purposes of added safety, it comes with a pair of cut-resistant gloves so that the risk of injury through cuts when using the blade is reduced to zero.
Our scores:
Ease of use: 9/10
Effectiveness: 8.5/10
Ease of maintenance: 9/10
Pros:
Dirt cheap price
Comes with a protective glove
Can work with many types of knives
Cons:
The materials used are not of the highest quality
Smith's 50185 Jiffy Pro (Best for Straight Edge Knives)
We earn a commission if you make a purchase, at no additional cost to you.
With a two-stage system, this product is one of the best options for straight edge knives.
The premium abrasive sharpener produces sharp and long-lasting cutting edges with just a few pulls on it.
There is a larger slot that is designed for accommodating game shears and scissors.
The preset angles will provide guaranteed results whenever you need them.
For people who like outdoor activities like hunting and fishing, this option is also a great tool to carry around due to its lightweight and compact mobility features.
The best thing here is that it is easy to hold securely and firmly in the hands.
Our scores:
Ease of use: 8.5/10
Effectiveness: 8.5/10
Ease of maintenance: 8.5/10
Pros:
Durable and strong
Easy to use and carry around
Cheap
Cons:
Might take away too much material from the blade
Sharp Pebble Premium Stone – 2 Side Grit (Best for Stability)
We earn a commission if you make a purchase, at no additional cost to you.
This Sharp Pebble is arguably the best whetstone in the market for all-round knife sharpening needs.
This two-sided top-quality stone comes with a bamboo base for securing the stone and an angling guide that works with all types of blades and knives.
The stone is highly durable and lasts long hence guaranteeing you reliable performance throughout its use.
This whetstone is considerably easy to use and does not require any special skills.
The most fascinating aspect about the blade is that the stone uses water instead of expensive specialized oils.
You can carry the stone for outdoor use when hunting or fishing among other outdoor activities.
Our scores:
Ease of use: 8/10
Effectiveness: 8.5/10
Ease of maintenance: 8.5/10
Pros:
Stable and effective
Can work with a lot of knife types
Premium materials
Cons:
Might not be as big as other premium stones
AKZIM 3-Stage Diamond Coated with Ceramic Rod (Currently unavailable)
For people looking for multi-functional sharpeners, this device might be the ultimate option to purchase.
Perfect for use with all types of kitchen and hunting knives, it boasts a unique 3-stage system.
The system has fine and coarse grinding slots and a scissors-grinding slot.
This reliable high-quality model features a non-slip grip bottom for stabilizing hence making it easy to secure the whole system in place.
Since it is designed for multi-functional use, it is ideal for revitalizing kitchen knives and hunting blades.
However, it is not preferred for serrated and ceramic knives and as such, so keep that in mind.
Sharpening by Hands?
Sharpening your hunting knife by hand requires you to possess better sharpening skills than you would if you were using an electric sharpener.
This is because while electric sharpeners come with sharpening slots for guiding you on sharpening angles while sharpening by hand, you will need to maintain this angle by yourself.
Maintaining a proper sharpening angle by hand to get razor sharpness is quite tricky and nearly impossible for inexperienced people.
When sharpening by hand especially on a stone sharpener, ensure that you incline the blade on an ideal angle that is not too steep.
An angle range of 15-25 degrees will work well with most hunting blades.
On What Factors Sharpness Mainly Depend?
The sharpness of a hunting blade depends on the sharpening angle between the sharpening stone and the knife's blade.
The smaller the sharpening angle is, the more efficient the sharpening will be, and hence the sharper the blade becomes.
Hunting knife sharpeners are unique in that they have different sharpening techniques; there is no sharpener that sharpens in the same as the other type of sharpener.
However, there is no specific angle that applies to all hunting knives.
This is because the blades in these knives differ in terms of length, thickness, and even degree of dullness.
Therefore, you should use the angle that will give the best sharpening results.
Sharpening Tips
Ensuring that the blade of your hunting knife remains in pristine condition at all times is quite easy and effortless provided you have the right equipment.
While choosing a sharpener is easy, maintaining your hunting blade requires you to be knowledgeable so as to enhance the durability and usability of the blades.
When you want to sharpen your hunting knife, it is necessary to ensure that the cutting edge is clean and dry.
Cleaning the blade helps in removing debris or any other foreign material on the edge that can interfere with the sharpening process.
When using a stone sharpener, ensure that you do not press down the blade too hard or even drag it roughly across the sharpening surface.
This can easily damage the blade by chipping it or causing extensive wear and tear on the edge.
Always maintain a continuous motion when sharpening the hunting blade.
Additionally, always remember that the ultimate goal is to get clean, sharp edges
The other thing worth noting is that you should always use a sharpener in line with the manufacturer's guidelines and provisions.
This is so that you not only get the best sharpening results but also that you do not damage either the sharpener or your hunting blade.
Manual vs Electric Sharpeners
It is not always an easy choice to decide on whether you will settle for an electric or manual hunting knife sharpeners.
When it comes to these two sharpeners, there are glaring differences that set them apart.
For starters, their modes of operation, features, handling, and efficiency are quite different.
For manual sharpeners, there are some hunters who prefer them to electric hunting blade sharpeners.
This is because they are of the thought that electric knife sharpeners are excessively aggressive with their sharpness.
As such, controlling speed and pressure is important for them.
The best thing about manual sharpeners is that you can use them anywhere.
Therefore, they are the best for use in a typical hunting expedition. They are also easy to store and pack thereby making them portable.
Electric sharpeners for hunting knives are unique in that they require the user to exert minimal effort and are also quick in sharpening blades. In addition to this, these sharpeners come with unlimited functionalities and features.
For instance, these sharpeners come with the option of sharpening all your hunting blades at the sharpening angle and degree provided for by the manufacturer.
Also, the sharpening slots in electric sharpeners are preset and hence you do not need to set the sharpening angle manually.
FAQ's
What knife sharpeners are good for hunters?
The best knife sharpener to use with your hunting knives is an electric knife sharpener.
These sharpeners are designed with unique efficiency, reliability, and functionality.
You can use any hunting knife with an electric sharpener and be guaranteed razor sharpness.
Additionally, the sharpeners are not labor or time-intensive like manual sharpeners.
What are some decent hunting knives to consider?
Just like for other types of knives, there are lots of brands and models of hunting knives in the market currently.
These knives differ from each other in terms of build quality, designs, blade length, weight, and shape among other aspects.
Due to this, it is always necessary that you only settle on the best hunting blade brands.
Some of these brands include; Buck, HavalonPiranta, ESEE, Benchmade, Gerber Strongman, and Ka-Bar Becker among other brands.
Are hunting knives illegal?
The legality or illegality of owning and using hunting knives depends on the territory you are in or your region of residence.
For instance, across the U.S, hunting knives are legal while in Australia, these knives may be considered illegal in situations where authorities may deem them as weapons especially when carrying them in a car.
The best way to confirm the legality of these blades is by considering the laws and provisions in your location.
These laws differ from one place to the other.
What is the best blade for deer hunting?
There are literally hundreds of deer hunting knives but not all of them are up to the task.
This is why you need to identify the best knife to use for deer hunting.
The Outdoor Edge RazorPro knife is the best overall knife for deer hunting as its classy design makes it ideal for multipurpose use.
You can use the knife for butchering, deboning, and skinning the dear.
It also retains its edge sharpness for a long time.
What is considered a hunting blade?
A knife designed for use in preparing game meat for cooking from butchering the animal, skinning it, deboning and cutting it up is considered to be a hunting knife.
These knives differ greatly from the usual kitchen and chef knives in terms of blade thickness and adaptability.
The blade in hunting knives is thicker and more solid than that in ordinary chef knives.
What is the best type of steel for a hunting knife?
Stainless steel is the best steel type for hunting blades.
This is because stainless steel features a high chromium presence which in turn protects the blade from the oxidation that is responsible for rusting and corrosion.
In addition to this, the steel does not flake away and hence the blade remains intact and in good condition throughout the knife's lifespan.
How long is a hunting knife?
For seasoned hunters, the ideal length of hunting knives ranges from 3-6 inches.
Blades that are longer than this range are usually hard to control when you want to perform precision cuts and hence you will most likely make unintended cuts.
On the other hand, knives that are shorter than 3 inches are usually hard to have a perfect and stable grip.
Additionally, with short blades, it becomes impossible to maintain leverage when you are making cuts.
What are hunting knives made of?
Ideally, hunting knives just like other knives have two main parts; the handle and the blade.
The blade in hunting knives is made from different variations of steel with the most common one being stainless steel.
The handle can either be made using wood, plastic, or a combination of wood and metallic rivets.
What is a gut hook blade used for?
The main purpose of a gut hook knife is for splitting the skin of the animal during gutting operations when hooking over the animal's skin in field dressing.
Once the skin has been hooked, you then pull it along sever it from the rest of the game animal.
These knives come in handy for inexperienced hunters who are not well versed in skinning game animals.
Conclusion
Like for other knives and blades, the best way of maintaining your hunting knife and enhancing its efficiency is by keeping it sharp and ready at all times.
Use an appropriate sharpener; one that provides the best sharpening while being effortless and easy to operate.
Also, always store your knife in a knife block or on a magnetic strip.
By far, our favorite pick is the SHARPAL 101N, as it's an affordable sharpener that comes with a bunch of other useful features.
The features include a whistle, fire starter, and even a tungsten blade that makes this model the perfect hunting companion!
However, if you're in need of something more simple and compact, then our recommendation is the Smith's Abrasives PP1, it has a diamond-coated rod that hunters can use to hone their knives quickly and easily.
And before we go on, we also want to give a shoutout to the Lansky PS-MED01.
This model is also dubbed the blade medic as it has just about all the features you need to restore a hunting knife back to its original glory.
The Lansky PS-MED101 sharpener can sharpen straight blades, serrated blades, and even has a honing rod that you can use to straighten the burr.
Further reading:
Hunting Seasons And Regulations
Knife Care Tips From The KnifeCenter
[toc]
Ryan Leavitt
Hi my name is Ryan Leavitt a Marine Corps Veteran and currently an over the road trucker (Long Haul). I am no expert chef but am enjoying preparing my own meals on the road and testing all the different knives.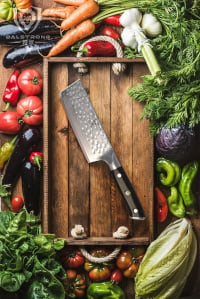 Want FREE Knives?
We give these knives a quick twirl and review, and then we pass them on to a few lucky home chefs!
By subscribing, you agree to get emails from me, Ryan Leavitt. I'll respect your privacy and you can unsubscribe any time.