You know what?
There is nothing more exciting than enjoying your favorite beef steak while using the best Japanese steak knives.
These blades not only allow you to slice the steak easily but also add a sense of uniqueness and decorate the table.
Ideally, these knives come with the right sharpness and design that allows for clean and smooth slices.
And today, I will show you my favorite list when it comes to these Japanese steak sets.
If you're still on the hunt for the right one for your family, take a quick look at my list below.
Best Japanese Steak Knife Sets (Updated List)
We earn a commission if you make a purchase, at no additional cost to you.
* A Serious Contender *
We earn a commission if you make a purchase, at no additional cost to you.
Related collections:
Why Should You Choose a Japanese Steak Knife Set?
These sets are synonymous with the superior build quality, quality finishing, and reliability.
Therefore, choosing these sets provides you with the best value for your money.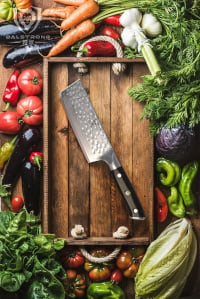 Want FREE Knives?
We give these knives a quick twirl and review, and then we pass them on to a few lucky home chefs!
By subscribing, you agree to get emails from me, Ryan Leavitt. I'll respect your privacy and you can unsubscribe any time.
Can You Sharpen a Serrated Steak Knife?
Even though serrated steak knives retain their sharpness for a long time, they also require sharpening at one point.
The easiest way to sharpen them is by using a sharpening steel rod or electric sharpeners that are designed for use with serrated blades.
How to Choose a Good One?
Japan is undoubtedly the land of rich cultural heritage and traditions that impact the rest of the world. The quality of the blades and knives designed and constructed in Japan is exceptional. Similarly, Japanese steak knives are some of the best in the world. There are a few things worth noting when shopping for these blades. These include:
Budget
These knives often don't come as cheap as most people presume. It goes without saying that since these blades feature top quality, it is obvious that their prices are considerably high too. This is why you need to have a budget so that you identify the best Japanese knife brand and model within your affordability.
Consider the type of steel
Ideally, they should feature high-end steel but there are two main steel types used in these blades; carbon steel and stainless steel. These two types of steel have distinctive differences in terms of edge retention, sharpness, and ease of taking care including other aspects. Stainless steel is ideal for average home cooks since it has better resistance to discoloration and rusting than carbon steel. Stainless steel is however hard to sharpen while carbon steel has better edge retention. It (carbon steel) requires better care and attention as it is more prone to rusting and discoloring.
Weight
These knives are ones that feel light in the hands. Such blades are easy to control especially if they have an ergonomic handle. Lightweight knives will not tire your hands even when you use them for long durations. However, you should ensure that the blade of choice is solid so that it cuts through steak easily and consistently in smooth cuts.
Check reviews online
The Internet is the best place to look for advice and guidance on the best steak knife in reference to the reviews left by previous buyers. Reviews provide you with the best first-hand information on the quality, build, and user experience of the blade of choice. With reviews, it becomes easy to identify the best brand whose blade will hold well against wear and tear.
Top-Rated Japanese Steak Knives Review
Kyoku Daimyo Series (Best Overall)
We earn a commission if you make a purchase, at no additional cost to you.
If you are looking for a steak knife set that is equally beautiful and functional, look no further than at the Kyoku Daimyo Series set. The best thing about the set is that it is not only functional and reliable but also beautiful. The set comes with a sheath and case for storing the blades safely and securely after every use.
Japanese Damascus steel
All Kyoku blades feature superior quality steel. True to this, the Daimyo Series knives are constructed using VG-10 Damascus steel that is popular for its hardness and solidness. Additionally, the steel is tempered to a high degree of hardness to ensure that the cutting edge is strong enough to hold well against wear and tear. What is more important about the steel in this set is that it does not crack even when exposed to extreme pressure.
Well-balanced blades and ergonomic handle
These ones feature well-balanced blades that have slightly curved edges that make the blades ideal for cutting through juicy gourmet steaks without interfering with the texture and flavor of the steak. The one-piece construction of the blade provides excellent control and durability. The G10 handle in the blades is ergonomic for a firm and comfortable grip when cutting.
Our scores:
Sharpness: 9.5/10
Handling: 9.5/10
Ease of maintenance: 9/10
Pros:
Ruthlessly sharp edges
Comfortable handle
One-piece construction for precise control and handling
The knife set comes with a sheath and case for each blade
Beautifully decorated handle
Cons:
The blades lack serrations
Shun Classic (4-Piece) (2nd Runner-up)
We earn a commission if you make a purchase, at no additional cost to you.
Shun Classic has over the years been a top brand when it comes to high-end blades. This is because the brand has consistently constructed top-quality knives that meet the needs of every chef and cook. This 4-piece set by the brand boasts solid construction and is designed to make dinners fun and more enjoyable.
Precise performance and reliability
These classic blades are designed to perform with precision thereby providing for smooth and accurate cuts. The reliability of these knives stretches to different meat types including beef, mutton, peak, and poultry among other types of steak. With these blades, you can comfortably add elegance to your dinner parties, lunch, brunch, and date nights.
Handcrafted in Japan
These blades are made using premium quality VG-MAX steel that features 68 Damascus cladding micro-layers. These layers provide for a lighter, thinner but solid blade with excellent precision and maximum control. People who are not experienced in using steak knives will find these ones easy to use and control.
Beautifully designed handles
Shun Classic does not leave anything to chance when it comes to designing high-end products. In line with this, the knives boast ebony Pakkawood handles that not only make the blades easy to hold but also add onto the décor aspect of the blades. The wood is easy to clean and care for, and also moisture resistant.
Our scores:
Sharpness: 8.5/10
Handling: 9/10
Ease of maintenance: 8.5/10
Pros:
High-end construction
Hand-crafted steel blade
Comfortable and secure handles
Excellent edge retention
Guaranteed quality and performance
Cons:
The blades are not serrated hence may not be ideal for extremely tough steak
Kyoku Samurai Series 5" Set (Premium Choice)
We earn a commission if you make a purchase, at no additional cost to you.
Kyoku Samurai is a popular brand when it comes to specialty knives such as steak blades. The 5-inch 4-piece set features an ultra-premium single-piece construction. The serrations in these blades allow for smooth and clean cuts through the steak.
Single piece construction
The silver series knives by Kyoku feature superior steel with ultra-premium hardness and cryogenically steel treatment for durability and resilience. The cutting edge is sufficiently strong and holds well against pressure as well as flexible for different meat types. The single-piece construction of the blade guarantees exceptional control and precision when cutting steak.
Uniquely finished handle
Featuring a classic hammered pattern, the handle is finely finished for a comfortable grip. The ergonomic handle is made from hollow contoured steel that maximizes comfort and provides for a secure grip so that the blade does not slip from the hands. What is more, the handle and blade is that they are corrosion and rust-resistant.
Our scores:
Sharpness: 9/10
Handling: 9/10
Ease of maintenance: 9/10
Pros:
Superior design and construction concept
Sharp serrated blades for smooth cuts
Ergonomic handle that is comfortable
Lightweight but solid
Durable and reliable
Cons:
All blades are serrated hence the set is limited to steak cutting only
Enso (HD 6-Piece) (Best Design)
We earn a commission if you make a purchase, at no additional cost to you.
Combining fantastic precision slicing and great looks, the Enso set is a blade collection that will impress and delight you. When you invest in this set, you get assurance that you have settled on the best quality knife set backed by an all-time life warranty.
Excellent edge retention
These blades are susceptible to becoming blunt more than any other knife type. However, with the Enso HD knife set, this needs not be an issue as the VG-10 steel in the blades is known for its excellent edge retention. With these blades, you may only need to hone them after every few uses. The steel has an HRC 61 hardness and hence can cut through any meat; soft or hard/tough.
Handcrafted for efficiency and precision
This 6 piece set is handcrafted by professional knife experts in Seki, Japan. This handcrafting is polishes and finishes the blade perfectly thereby ensuring that it is efficient and reliable. The most unique aspect about the blade is that it has a double bevel edge that favors both right & left-handed chefs.
Our scores:
Sharpness: 8.5/10
Handling: 9/10
Ease of maintenance: 8/10
Pros:
Black canvas Micarta ergonomic handle that is comfortable to hold
37-layer VG-10 stainless steel with excellent edge retention
Double bevel for both right and left-hand use
Best strength, balance, and durability
Easy to handwash
Cons:
Not dishwasher friendly
Ginsu Gourmet Chikara (Best for Restaurants)
We earn a commission if you make a purchase, at no additional cost to you.
Ginsu Gourmet boasts of an impressive history in designing and making the best high-end knives and other cutting equipment. In line with this, all their blades surpass industry standards thereby making the blades one of the best in the market. The Chikara Series is engineered for the best steak slicing and cutting convenience.
High-quality Japanese Stainless Steel
The cutting blade in this Chikara series is made from premium grade Japanese Stainless Steel that runs from the tang to tip. This in turn enhances the solidness of the blade for better cutting reliability and resilience. With this blade, you can approach any steak type with confidence and reassurance that the blade will make smooth and clean cuts.
Razor-sharp edges with excellent retention
The cutting edge in these blades arrives razor-sharp when new and retains the sharpness for long. This in turn translates to lower maintenance and convenience as you do not need to sharpen the blade after every meal. The blades are well-balanced to provide users with a perfect combination of power and control. The set features four forged 5" knives.
Our scores:
Sharpness: 9/10
Handling: 8.5/10
Ease of maintenance: 8.5/10
Pros:
Excellent edge retention
Comfortable handles hence no fatigue on the wrist
Easy to hone and sharpen
Multi-purpose blades are sharp and strong to cut through other food items
Non-stick blades hence give clean cuts
Cons:
Not dishwasher friendly
Frequently Asked Questions
How does a steak knife look like?
They often come in two types; serrated and straight edges. These knives are considerably shorter than most chef knives. Most of them are 5 inches long. There are knives with wood handles while others have metal handles.
How many of them do I need?
You need at most two knives at a time. One of the knives should have a serrated edge while the other should be a straight edge.
Can you use the knives for other things?
They have more than use as you can use them for cutting through other food types. For instance, they are perfect for slicing bread and cakes. On the other hand, you can use straight-edge ones for cutting through fruits and other soft food types.
Conclusion
Always invest in a Japanese steak knife that is reliable, has a good performance, and is designed to last. Such a knife will remain efficient throughout its life while requiring little maintenance other than normal care and attention. These Japan-made knives are designed to deliver more than you ask for in terms of reliability.
Our top pick today is the SHUN DMS-400 set that comes with four elegant dinner knives that will cut through just about any food you're serving.
On top of that, they also sport a Damascus steel construction that will definitely have all your dinner guests talking.
If you need more pieces in the set, our recommendation is the Enso HD 6-piece steak knife set.
Despite being an expensive collection, each knife is made with incredible craftsmanship and has a beautiful micarta handle that exudes class.
And for those in need of a budget set of Japanese steak knives, we recommend the Kyoku Non-Serrated Steak Knives set.
While this set is budget-friendly, each knife in the collection has a very sharp edge and ergonomic shape designed to easily cut through and slice cooked food.
Ryan Leavitt
Hi my name is Ryan Leavitt a Marine Corps Veteran and currently an over the road trucker (Long Haul). I am no expert chef but am enjoying preparing my own meals on the road and testing all the different knives.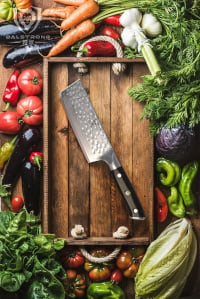 Want FREE Knives?
We give these knives a quick twirl and review, and then we pass them on to a few lucky home chefs!
By subscribing, you agree to get emails from me, Ryan Leavitt. I'll respect your privacy and you can unsubscribe any time.