Did you know?
Cakes require different cutting knives compared to other foods in the kitchen.
These knives come in two types; serrated and non-serrated.
Serrated knives are used for cutting less-dense cakes whose textures are harder on the outside and softer on the inside.
Non-serrated ones are perfect for cutting cakes with little texture difference between the inside and outside such as a cheesecake.
Best Knives to Cut Cake (Updated List)
We earn a commission if you make a purchase, at no additional cost to you.
Related:
What is a Cake Knife Called?
A cake knife is also referred to as a cake shovel, pie knife or cake slicer.
Some of these knives have serrated edges while others have straight edges.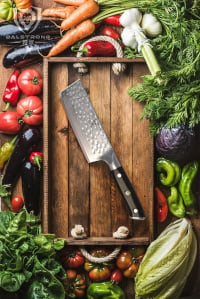 Want FREE Knives?
We give these knives a quick twirl and review, and then we pass them on to a few lucky home chefs!
By subscribing, you agree to get emails from me, Ryan Leavitt. I'll respect your privacy and you can unsubscribe any time.
Should You Cut a Cake When it is Hot or Cold?
It is advisable to cut after it has cooled completely so that it is firm and does not tear or crack.
Cutting while it is still hot makes it impossible to have smooth and clean cuts due to the tearing and cracking of the cake.
How to Choose a Good Knife for Cutting & Slicing Cake
Choosing the right cake knife will determine how easy it will be for you to make clean and smooth cuts using the knife.
Your choice of a knife will also determine how durable and reliable the knife will be in the long run.
Here are a few tips on identifying the right knife:
Consider length
It is always recommendable to opt for a blade that is a few inches longer than the food you intend to cut with the knife.
The ideal length to settle for is between 10 and 14 inches.
For home use, a 10" knife will work best for you but use in a commercial kitchen, 14 inches is an ideal choice.
It is worth noting that longer blades are more complex to control but with time, it becomes easy to control the blade for precise cuts.
Choose blade material
The material of the blade determines the number of aspects including sharpness and durability.
The best cake knives have high-carbon steel since this type of steel is sturdy, durable, retains sharpness for a long time, and is easy to sharpen.
However, this steel type is considerably expensive. Stainless steel is yet another excellent choice.
Consider the brand
You should also consider the brand of choice when it comes to cake knives.
This is because you should only limit your search to brands that are popular for designing high-end blades that are durable, efficient, and reliable.
Such brands usually come in handy in the kitchen due to their long-lasting construction.
Budget options
Shopping without a budget can be detrimental to your financial well-being.
You may end up spending a high amount of money and consequently incur financial constraints.
With a budget, it becomes easy to identify the best quality cake knife that is affordable to you.
This will, in turn, give you the best value for your hard-earned cash.
Best Cake Cutting Knives Review
Darnell Nehemiah (Editor's Choice)
We earn a commission if you make a purchase, at no additional cost to you.
The sturdiness and sharpness of this knife with a plastic handle are some of the main reasons why the knife is a favorite baking tool for most bakers.
The blade is perfect for layering, trimming, leveling, and serving cakes. The blade is long (10"/12") for easy cutting and slicing through different sizes.
Multi-purpose design
This Stainless-steel spatula features a multi-purpose design with a smooth surface for spreading butter, applying scribble, decorating fondant cakes, cutting, and applying cream on bread and cakes.
In addition to this, the serrated blade is sharp and hence can be used for slicing bread and portioning cakes.
The fine polishing on the steel blade makes the spatula resistant to corrosion, discoloration and scratching.
PP Plastic Handle
Unlike other spatulas that come with wooden handles that tend to get damaged by water, the handle in this spatula is made from solid PP plastic.
This plastic is not only resistant to damage by moisture/water but is also impervious to heat changes in the kitchen.
As such, the handle is comfortable to hold all the time; whether cold or hot.
Our scores:
Sharpness: 9/10
Handling: 9.5/10
Ease of maintenance: 9/10
Pros:
Plastic handle with a comfortable grip
Multi-functional teeth knife
High-quality steel that is resistant to corrosion and staining
High strength blade that is equally durable
Long blade for varying sizes
Cons:
Not dishwasher friendly
Chef Owl (2nd Runner-up)
We earn a commission if you make a purchase, at no additional cost to you.
The Professional Pie Server Set is an all-round stainless-steel set that includes a cutting spatula with a serving knife.
The set is ideal for serving pizza, cake, pies, lasagna, and desserts.
The flexible serving spatula digs into a variety of pies easily without crushing or damaging the pie.
The most amazing feature about this set is that the spatula and knife are dishwasher safe.
Sharp serrated edges
The edges of the pie server and cake knife in this set are serrated and extremely sharp.
These blades cut through pizza, pies, cake, and flatbread easily and effortlessly. You do not require to exert intense pressure or force when cutting with these edges.
What is more amazing about the edges is that they provide smooth and clean cuts. The flexible blades are easy to control for precise and accurate cutting.
Unique design and finish
The Professional Pie Server Set boasts of a high-end design that has an excellent beauty and décor aspect.
The beautiful mirrored metallic finish on the blades complements the elegance of the modern teal handle. This combination brings about an amazing appearance in the kitchen.
The distinctive blue color of the handles makes it easy for the blades to stand out from other blades in your knife collection.
Our scores:
Sharpness: 9/10
Handling: 9/10
Ease of maintenance: 8.5/10
Pros:
Flexible serving spatula
Sharp serrated blades
Beautiful design with an elegant finish
Dishwasher safe
Excellent control for precision and accuracy
Cons:
The sharp edges can easily inflict injuries if mishandled
Legerm (Best for Professionals)
The Straight Icing Spatula Stainless Steel Baking Set is the ideal cake decoration and frosting set for a professional cake specialist who bakes different sizes often.
The three spatulas in the set feature varying lengths (6",8" & 10") for decorating different cupcake sizes.
The spatulas do a clean, smooth, and even job whether you are decorating a small or large cupcake.
Ergonomic wooden handle
The wooden handle in this spatula set is ergonomically designed for easy and comfortable gripping when icing cupcakes.
The softwood feels nice in the hands and as such, you are not likely to get any blisters even when you use the spatulas for long sessions.
The lightweight handle has a hole for easy storage by hanging it on a nail or knife strip.
Durable stainless-steel blades
The flexible and durable stainless-steel blades in this icing spatula set are made from premium quality steel. This steel boasts of excellent durability, resistance to corrosion and rusting, and incredible resilience.
As such, the blades hold well against normal wear and tear thereby being efficient and dependable throughout their lives.
These blades are perfect for tasks such as icing desserts, carrying cakes & pizzas, frosting pastry, crepes, cookies & cupcakes, and cutting curds.
Our scores:
Sharpness: 8.5/10
Handling: 8.5/10
Ease of maintenance: 8.5/10
Pros:
Multi-purpose blades for use in the kitchen
Wooden handles with a perfect grip for optimal comfort and control
Flexible and highly durable steel blades
Comes with a storage hole on the handle
Compact spatula set with varying blade sizes
Cons:
The coating on the handle easily comes off when scratched
OXO (Best for Versatility)
We earn a commission if you make a purchase, at no additional cost to you.
If you are looking for an icing knife for icing and decorating your cupcakes, look no further than at the OXO 1248980 Good Grips Icing Knife.
The knife comes with an angled blade for keeping the countertop clean when icing cakes.
The best thing about this icing knife is that it is multi-purpose and can be used for other tasks around the kitchen such as applying butter on bread slices.
Flexible steel blade
The blade in this icing knife is stiff yet flexible for providing excellent control when icing the cake.
This flexibility also comes in handy when you are icing cakes with unique shapes that are impossible to ice using a standard kitchen knife.
The even edges in the blade allow for even coats thereby bringing about uniformity and evenness on the cake's surface.
Contoured handle with a firm grip
The soft handle of this icing knife is contoured for a comfortable and firm grip.
This in turn allows you to have the best control and precision when icing cupcakes or even smaller cakes. The handle is water-resistant and not affected by changes in heat.
Therefore, it is perfect for use in a normal kitchen setting or bakery where temperatures are high.
Our scores:
Sharpness: 8/10
Handling: 8.5/10
Ease of maintenance: 8/10
Pros:
Smooth blade edges that provide for even coats
Angled blade for keeping the countertop clean
Comfortable and firm grip
Flexible blade for better icing
Perfect size and shape for cupcake icing and decoration
Cons:
Not dishwasher friendly
Wilton (Best for Frosting)
We earn a commission if you make a purchase, at no additional cost to you.
The Wilton Icing Spatula is a massive cake blade designed for smoothing ice on a cake while ensuring that your fingers do not get in the icing.
Using a standard knife for frosting and applying ice on cakes not only creates uneven ice patches on the cake but also leads to wastage of the icing.
The long length of this spatula makes it possible to use the blade with varying sizes of cakes. As such, you can even use it for your home kitchen or even in a commercial bakery.
Ergonomic handle
Accuracy and precision are important aspects when it comes to frosting and icing cakes. This is why the 13-inch angled cake spatula by Wilton features an ergonomic handle.
This handle is comfortable to hold in the hands without straining or creating fatigue to the hands. The plastic handle is impervious to heat and resistant to moisture.
Therefore, it is built for use in a typical bakery with the spatula's durability and efficiency making it a great addition in any kitchen.
Stainless steel construction
The blade in the Wilton Icing Spatula is made using high-quality stainless steel. This type of steel is resistant to corrosion, rusting, and extreme wear and tear.
The 33-centimeter steel blade is easy to hand wash and also exhibits unique resistance to scratching and denting. As such, it remains in pristine condition throughout its life.
Our scores:
Sharpness: 8/10
Handling: 9/10
Ease of maintenance: 8/10
Pros:
Stainless steel construction
Long blade length for enhanced application
Resistant to heat and water/moisture
A comfortable ergonomic handle
Easy to handwash
Cons:
The plastic handle feels light and not solid
Frequently Asked Questions
Why does my cake fall apart when I cut it?
If yours falls apart when cutting or slicing it and you had used an all-purpose flour when baking, the high gluten content in the flour makes the cake moist and crumbly hence will fall apart when cutting.
How long is a cake knife?
Cake knives come in varying lengths. The average length of these blades is 10-14 inches. However, it is possible to get knives that are longer or shorter than this length range.
How does a cake slicer work?
It comprises a control platform, a knife, and a housing unit where you place the cake for slicing.
The knife is connected to the control platform and turns in a consistent motion over or through the cake for leveling and making even slices. The slicer comes with alignment tabs for varying the size of slices.
Conclusion
Baking a cake is only half of the battle.
To complete the process, chefs have to serve and slice the cake for eager diners.
And as you might already know, you need the right knife to be able to slice through cake properly.
In today's market, one of the best picks out there is the Chef Owl Professional Cake Server Set.
Along with a serrated cake knife, this set comes with a serrated spatula that you can use to slice and serve cakes, lasagna, and a wide variety of other dishes.
But if all you need is one simple knife to slice your cakes, then we recommend the Darnell Nehemia stainless steel cake knife.
While it has a very simple design, it can do the job really well, which is why many pastry chefs enjoy this knife.
And for those looking for a set that they can use for baking and decorating, we suggest the LEGERM Steel Baking Set as it has everything you need to slice, serve, and decorate your pastries.
Further reading:
[toc]
Ryan Leavitt
Hi my name is Ryan Leavitt a Marine Corps Veteran and currently an over the road trucker (Long Haul). I am no expert chef but am enjoying preparing my own meals on the road and testing all the different knives.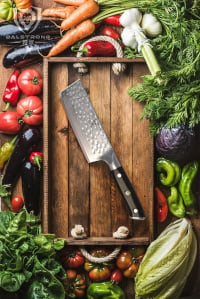 Want FREE Knives?
We give these knives a quick twirl and review, and then we pass them on to a few lucky home chefs!
By subscribing, you agree to get emails from me, Ryan Leavitt. I'll respect your privacy and you can unsubscribe any time.