Sweet potatoes are a great addition to a lot of dishes, and there are also a bunch of recipes that put this root crop in the forefront.
But since they are so tough and hard, prepping them properly can pose some problems.
That's why a lot of people have resorted to using mandoline slicers to cut and slice their sweet potatoes.
But choosing the right one can be pretty tough, especially if it's your first time looking for one.
So to make the choice easier for you, I've compiled a list of the best mandoline slicers for sweet potatoes on the market today!
Read on to learn more.
Best Mandoline Slicers For Sweet Potatoes (Updated List)
Amazon product
Related food slicers:
Is a Mandoline Slicer Worth It?
Yes, especially if you really want to get fine and consistently sliced vegetables.
That being said, these tools require some practice and getting used to.
So be ready for a slight learning curve when you get your first mandoline.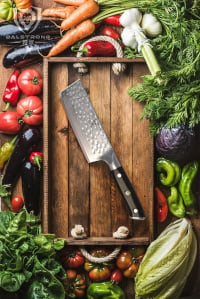 Want FREE Knives?
We give these knives a quick twirl and review, and then we pass them on to a few lucky home chefs!
By subscribing, you agree to get emails from me, Ryan Leavitt. I'll respect your privacy and you can unsubscribe any time.
How Do You Cut Sweet Potato Fries With A Mandoline?
This is pretty straightforward.
Once you decide the type of cut you want on your fries, choose the appropriate blade on mandoline, and carefully run the sweet potato through it.
Now, let's take a look at our candidates.
What To Look For When Buying
1. Safety
Let's face it, mandolines can be fairly dangerous.
There are so many stories of chefs or newbies accidentally nicking their fingers while using the tool, which is why a quality slicer would need to have the proper safety precautions.
One of the best features you can find on a mandoline is a food holder, which is like a handle that clips on to the food.
Having one of these will mean your fingers won't get too close to the blade, which can prevent kitchen accidents and mishaps.
2. Design
There are two main types of designs you'll have to choose from when buying slicers like this.
You can either get a flat handheld or a stand slicer.
Flat handheld models will allow you to have a bit more control and versatility, as you can rest the base on almost any surface in the kitchen.
Stand models, on the other hand, don't have that versatility, though they are much safer since they have built-in stands that can give you a lot more stability.
3. Blade Shape
There are three main blade shapes that you'll encounter with mandoline slicers.
These are straight blades, diagonal blades, and v-shaped blades.
Straight blades are those found on classic French mandolines, which is ideal for tough vegetables and skins and can crush softer ones.
Diagonal ones are usually found on Japanese models, these are relatively safer and can handle a better variety of ingredients.
The last of these styles is the V-shape, which is basically two diagonal blades that are considered some of the most versatile to have in the kitchen since they can handle a lot of different ingredients.
Product Reviews
Mueller Austria (Best Overall)
We earn a commission if you make a purchase, at no additional cost to you.
Kicking off our list is a product coming from Mueller.
It's a premium, durable, and very high-quality mandoline that would be a joy to have in any kitchen.
It has five ultra-sharp V-shaped blades, which are designed to be able to cut through tough ingredients with ease.
That's what makes this a great tool for slicing sweet potatoes since these are fairly hard vegetables to cut by hand.
It also comes with different attachments so you can cut a variety of ingredients any way you want.
Since it is so well-made, it can also handle soft ingredients like cheese and tomatoes just as easily.
It's also very easy to use since all you need to do to adjust the slicer is turn the knob.
That being said, the blades on this tool are very sharp, so make sure to take things slowly, especially if you haven't used one before.
On top of that, this is also a fairly expensive product, but considering how well-designed it is and how all the ingredients are premium and food-safe, it's easy to see why every penny is worth it with this slicer.
This is definitely not a model for beginners, but any professional chef, hobbyist, or serious cooks out there looking for a high-quality mandoline under $70 should put this product under consideration.
Our scores:
Ease of use: 9.5/10
Durability: 9/10
Ease of maintenance: 9/10
Pros:
Can cut through tough ingredients very easily
Well-designed
Easy to adjust
Ultra-sharp
Has different settings for different cutting styles
Cons:
Fairly expensive
Not designed for beginners
Fullstar (2nd Best)
We earn a commission if you make a purchase, at no additional cost to you.
The next item on this list is one of the best options for those looking for a slicer that can do a whole lot of kitchen tasks for them.
This slicer is technically an onion chopper, food chopper, spiralizer, mandoline, and a grater all at the same time.
And on top of that, it also comes with a catch tray that can do you a lot of good when it comes to keeping the kitchen neat and clean.
The blades on the slicer are made of stainless steel and are very sharp and durable, making them a great choice for slicing tough ingredients like sweet potatoes.
But as an added layer of safety, the tool comes with a protective glove and a fingerguard to avoid any unwanted accidents in the kitchen.
The spiralizer is also a great plus since it will allow you to do a whole lot of cool and unique things in the kitchen like make zoodles.
This product is available for less than $40, which makes it a very good budget option.
So if you've been on the hunt for a sharp, convenient, and highly functional tool that you can use in the kitchen and you don't want to bust the bank, this product might be the one for you.
Our scores:
Ease of use: 9/10
Durability: 8.5/10
Ease of maintenance: 8.5/10
Pros:
Relatively affordable
Can do a lot of different tasks
The sharp stainless steel blades cut through ingredients very easily
Comes with a catch tray
Comes with a protective glove and fingerguard
Cons:
The build quality could be better
The onion chopper takes some effort to use
Onadrive Store (Best for Versatility)
We earn a commission if you make a purchase, at no additional cost to you.
Next up, we have an adjustable stand mandoline slicer that works very well on tough vegetables and would be relatively easy for a beginner to use.
It has multiple settings, so if you want shredded, julienne, or sliced vegetables this tool will have you covered.
It's made with high-quality stainless steel blades and the stand will allow you to have a lot of stability when slicing or shredding.
It also comes with a safety pusher that can protect your hand when using the mandoline, which can be a great plus, especially for those who are new to the tool.
On top of all of that, it also conveniently folds up to be stored conveniently in your cupboard or any kitchen drawer.
A great choice for beginners who want a high-quality product.
Our scores:
Ease of use: 8.5/10
Durability: 8.5/10
Ease of maintenance: 8/10
Pros:
Can handle sweet potatoes very well
Can cut in a variety of ways
Very sharp
Safe to use
Easy to use
Cons:
Doesn't have a spiralizer
Fullstar Vegetable Grater (Best for Speed)
We earn a commission if you make a purchase, at no additional cost to you.
Wrapping up our list is another great budget pick from Fullstar.
It has a very sharp blade and a catch tray that you can conveniently use to keep your kitchen clean while prepping your food.
It's a product that was designed to be able to handle potatoes very well, so you don't have to worry about root crops not being able to be sliced on this mandoline.
All in all, if you've been looking for a safe, easy to use, and affordable slicer with a catch tray, then this might be your best pick.
Our scores:
Ease of use: 8.5/10
Durability: 8/10
Ease of maintenance: 8/10
Pros:
Great for a variety of ingredients
Handles potatoes very well
Comes with a catch tray
Safe to use
Comes with a drain basket
Cons:
Build quality could be a bit better
FAQ's
What Can I Use Instead Of A Mandoline Slicer?
If you don't have a slicer on hand, there's no need to worry as there are a bunch of different kitchen tools you can use to do slice evenly.
You can use a vegetable peeler, cheese planer, knife, or even a food processor!
Why Are Sweet Potatoes So Hard To Cut?
While they are full of nutrients and vitamins, sweet potatoes can be very tough, especially when raw.
Because of this, they can be fairly hard to cut, but that can easily be solved by using either a sharp knife and a smart strategy, or by using a tool like a mandoline slicer.
Can You Eat The Skin Of A Sweet Potato?
Yes, the skin of a sweet potato is actually loaded with nutrients and fibers, so they can actually help you maintain a healthy gut.
Why Are Mandolines So Dangerous?
This is because they have very sharp blades that come into close contact with the vegetables.
That's why a lot of care has to be taken when using a mandoline, and it's always best to go slowly and surely to reduce the risk of accidents.
Why Do You Soak Sweet Potatoes In Water?
Soaking sweet potatoes in water can help wash off extra starch, which can also help them get extra crispy when fried or baked.
Conclusion
There are two great ways to dish out sweet potatoes: deep fry them like chips and serve as a side or lay thin slices of them in a baking pan, cover with sweet cream, and bake.
Thinking of having these for dinner? You'll first need a mandolin so you can make those incredibly thin and even slices.
Mueller Austria has a slicer that comes with other blades for julienning, grating, chopping, and so many more. Made from surgical-grade 420 stainless steel and non-toxic ABS, this is said to be one of the best models out there under $50!
Another gadget under $50, Fullstar's mandolin has the same capabilities as Mueller Austria's plus a spiralizer. This also comes with a catching tray that can be slid under the slicer which makes the chore less messy.
Onadrive's multi-functional mandolin can do 18 different cuts but doesn't come with 18 different accessories. All you need to do is adjust the gears on the side to set the right tool on top and start slicing!
Further reading:
6 Surprising Health Benefits of Sweet Potatoes
50+ Savory Sweet Potato Recipes
[toc]
Ryan Leavitt
Hi my name is Ryan Leavitt a Marine Corps Veteran and currently an over the road trucker (Long Haul). I am no expert chef but am enjoying preparing my own meals on the road and testing all the different knives.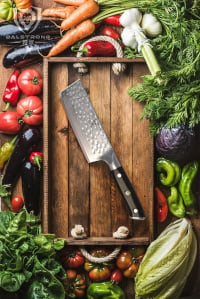 Want FREE Knives?
We give these knives a quick twirl and review, and then we pass them on to a few lucky home chefs!
By subscribing, you agree to get emails from me, Ryan Leavitt. I'll respect your privacy and you can unsubscribe any time.