Are you fond of preparing Nori rolls, Katsuramuki vegetable sheets, and Kappamaki?
Would you wish to have a blade that makes it possible for you to cut paper-thin veggies in splits seconds while still retaining the flavor and color of the vegetables?
If yes, you should shop for the best Nakiri knives.
This elite type of Japanese vegetable knife is cleverly designed for working on seedless vegetables.
The name Nakiri is derived from 'na' which means a leaf and 'kiri' which refers to cutting.
And today, I will show you what the top-rated products are.
The Best Nakiri Knife (Updated List)
We earn a commission if you make a purchase, at no additional cost to you.
* Featured Product *
We earn a commission if you make a purchase, at no additional cost to you.
Related knife collections:
Types of Japanese knives
Gyuto knives
Japanese steak knives
Sushi knives
Utility knives
Deba knives
What is a Nakiri Knife Used For?
This cleaver is designed for use in slicing, dicing, chopping, and mincing fruits, vegetables, and other delicate food ingredients.
Some Nakiris are multi-purpose in that you can use them for slicing meats.
You can also use these blades for transferring ingredients from the chopping board to a cooking pot.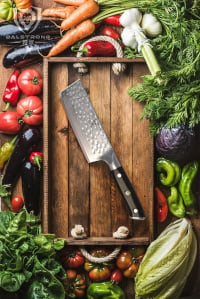 Want FREE Knives?
We give these knives a quick twirl and review, and then we pass them on to a few lucky home chefs!
By subscribing, you agree to get emails from me, Ryan Leavitt. I'll respect your privacy and you can unsubscribe any time.
How to Choose a Good Nakiri Knife?
Buying the best Nakiri knife requires you to undertake detailed research and identify the dos and don'ts when shopping for these knives. This is so that you settle on a blade that features the best performance, reliability, and durability. Some of the considerations worth making include:
Blade material
The best Nakiri knife should be made using high-carbon steel with stainless and anti-rust properties to ensure durability and longevity. Low carbon steel blades wear out fast and get dull easily due to softness. High carbon steel is easy to sharpen and retains its sharpness for a long time.
Price
The price of any knife is a crucial consideration and there should be no exception when it comes to vegetable knives. Have a budget that will guide you on the amount of money you can comfortably spend on a vegetable knife. Quality knives are pricier than substandard ones and hence you should consider this when looking at the price of these knives.
Handle
The handle of a Nakiri knife is one of the aspects that should not be overlooked when shopping for these blades. A premium quality handle offers great comfort and firmness when holding the knife in your hand. Look for a handle that is curved as such handles form a nice grip that is also non-slip hence guaranteeing your safety.
Blade length
The length of the blade is yet another essential consideration when looking for the best Japanese vegetable knife. The ideal blade should be at least 5 inches for practical use of the knife. Short blades may make tasks like chopping and slice nearly impossible.
Quality of finishing on the blade
It is necessary to assess the quality of finishing on the preferred blade. This is because food pieces tend to stick onto low-quality blades. On the hands, blades with high-quality finishing provide clean cuts and ensure that no food pieces stick on the blade.
Other resources:
Reviews of the Best Nakiri Knives for Your Money
Mercer Culinary M22907 Knife 7 Inches (Best Overall)
We earn a commission if you make a purchase, at no additional cost to you.
The Mercer Culinary Millennia 7-inch Nakiri blade is a stylish vegetable knife with a black handle. It features superior quality non-staining Japanese Stainless Steel that resists discoloration, corrosion, and rust. It is specially designed for durability, robustness, and strength. The incredibly sharp blade makes chopping, slicing, and cutting a breeze.
NSF Certified
Being an NSF-certified knife, you can be sure that it will meet and exceed your expectations. From its build quality to its ergonomic handle, the blade is designed for reliable use in the kitchen when working with vegetables and fruits. The firm and secure handle prevent any likelihood of injuries and cuts occurring when using the blade.
One-piece steel construction
For purposes of resilience, reliability, and efficiency, this Mercer Culinary features a one-piece Japanese stainless steel. This high-carbon steel is not only easy to clean but also stain-resistant. Therefore, when using the knife, you need not worry about it being discolored or stained by cutting through acidic foods or those with natural colors. This steel blade is also quite easy to maintain.
Our scores:
Sharpness: 9.5/10
Handling: 9/10
Ease of maintenance: 9.5/10
Pros:
NSF certified
Easy blade maintenance
Excellent edge retention
Stain and corrosion-resistant blade
Easy to sharpen by hands
Textured finger points on the handle for slip resistance
Cons:
Its ultra-sharpness can pose a safety risk when mishandled
Shun Classic Knife (Best Design)
We earn a commission if you make a purchase, at no additional cost to you.
Shun Classic is a brand that is popular for its ultra-premium performance and exquisite beauty. The 6.5" Nakiri knife by the brand is a double-bevel blade designed for slicing fruits and vegetables into thin sheets.
The steel blade in the knife is made from the brand's proprietary VG-Max steel that is clad with 68 Damascus stainless steel layers.
Sharp and easy to clean blade
The cutting edge is impressively sharp just like in other Shun Classic blades. The ultra-sharpness of the blade makes it easy for cooks to make accurate vegetable sheets and slices. The most amazing about the blade is that it cleans easily and does not stain. This makes it perfect for julienning carrots, chopping peppers, dicing onions, and peeling potatoes among other tasks.
Expertly designed handle
Featuring a D-shaped pakkawood handle, this Shun Classic has a comfortable handle that allows a firm and secure grip. The handle transitions well with the double bevel blade thereby bringing about uniformity for streamlining cuts and slices. This, in turn, makes using the blade swift and easy, especially when making precision cuts.
Our scores:
Sharpness: 8.5/10
Handling: 8.5/10
Ease of maintenance: 9/10
Pros:
Easily sharpen-able by hand
Elegantly handcrafted with a contemporary design
High-performance kitchen knife
Easy to clean since it is stain resistant
Resistant to rust and corrosion
Cons:
Not ideal for washing in a dishwasher
Dalstrong Phantom Series Nakiri Knife (Best for User-friendliness)
We earn a commission if you make a purchase, at no additional cost to you.
Any knife by Dalstrong is usually a reflection of masterful elegance, exceptional performance, and reliability. True to this, the 6" Phantom Series by the brand features razor sharpness due to its painstakingly honing by pro bladesmiths with tons of experience in blade making. The blade perfectly combines purity, power, and beauty all in one package for the best user experience.
Definite performance
One of the attributes you can count on when it comes to this Nakiri blade is that it is a powerhouse with its high-end performance. The full tang Japanese AUS-8 steel blade is precision forged for making accurate cuts of paper-thin vegetable sheets. Additionally, the blade prides itself on excellent edge retention, robustness, and strength.
Creatively designed handle
A firm and comfortable grip goes a long way in determining the accuracy and ease with which you will cut vegetable sheets using a Nakiri knife. In line with this, this Phantom Series knife by Dalstrong has an ergonomic handle with a bolster shape that provides a natural and pinch-like grip. The D-shaped handle is expertly designed and engineered to fit perfectly into the chef's hand for the best control.
Our scores:
Sharpness: 8.5/10
Handling: 9.5/10
Ease of maintenance: 8.5/10
Pros:
Hand polished handle with a heaven-like grip
Blade with exceptional durability and reliability
Razor-sharp cutting edge
Enhanced blade hardness, corrosion resistance, and flexibility
The blade is carefully tapered to minimize drag
Cons:
Not too budget-friendly
TradaFor Nakiri Knife (Best Budget)
We earn a commission if you make a purchase, at no additional cost to you.
If you are keen on finding a Nakiri knife that is of superior quality, with a sharp edge and tough blade, then this one is your ultimate choice. This 7" vegetable blade is well balanced thereby allowing the best control and precision especially when slicing sheets from soft vegetables. This easy-to-utilize vegetable blade is lightweight and hence does not cause fatigue to the hands.
High-quality design and build
Featuring German (1.4116) high-carbon steel, it is strong and resistant to corrosion and rust. The edge also holds well against normal wear and tear and retains its sharpness for a long time. The cutting edge is not affected by acidity and hence you can use the knife for slicing acidic vegetables and fruits. Since the blade is a single bevel, it boasts of enough sharpness of cutting through delicate vegetables while ensuring that it does not cause any damages to the vegetable.
Comfortable handle with a firm grip
The handle and the cutting core in it are seamlessly attached thereby proving better control and precision. The pakkawood handle comes with moisture protection and durability for efficient use in any kitchen environment. What is more unique about the handle is that its ergonomic design allows cooks to enjoy a comfortable, firm, and safe grip.
Our scores:
Sharpness: 8/10
Handling: 8/10
Ease of maintenance: 8/10
Pros:
Solid and hard blade hence durable
Easy to hold and control
Rust and corrosion-resistant properties
Ideal for chopping, slicing and dicing vegetables
Razor sharpness and good edge retention
Cons:
Its use is limited to vegetable use only
Paudin Nakiri Knife (Top-rated Material)
We earn a commission if you make a purchase, at no additional cost to you.
For cooks and chefs who are shopping for a multi-purpose vegetable knife that can also be used as a meat cleaver, this Paudin is the best choice for them. This 7-inch kitchen blade is flexible for different heavy-duty tasks like chopping, mincing, dicing, and slicing. This all-round kitchen knife is a must-have blade in the kitchen.
Uniquely sharp edge
The blade in this Paudin cleaver is made using German (5Cr15Mov) stainless steel with HRC 56+ Rockwell Hardness. The cutting edge has excellent edge retention properties which provide razor sharpness that allows you to slice and cut foods effortlessly. This stainless steel is rust-proof and hence the blade is not affected by moisture or wetness.
Ergonomic handle and wave pattern
The ergonomic handle is expertly designed for a perfect balance between the handle and the blade. This provides easy movement around the pinch point which in turn allows you to maneuver easily when slicing food. What is more exciting is that it has a special wave pattern that makes the blade strikingly beautiful and also decreases food friction.
Our scores:
Sharpness: 8.5/10
Handling: 8/10
Ease of maintenance: 8.5/10
Pros:
Multi-purpose for routine kitchen tasks
Rust and corrosion-resistant
Comfortable ergonomic handle
Razor-sharp blade
Easy to wash by hand
Cons:
Not recommendable to wash in a dishwasher
When And Why to Consider Using a Nakiri
Nakiris are efficient when it comes to mincing, slicing, and chopping fruits and vegetables. These knives allow speed and precision when cutting vegetables and fruits to form sheet-like slices.
Nakiri knives feature ground hollow blades that are skinny for cutting vegetables into fine slices and sheets. When cutting with these blades, you use an up-down motion without pulling or pushing the blade horizontally. The flat edge of the blade makes it easy to maintain uniform thinness when slicing vegetables and fruits.
The blades in Nakiri knives are sharper than those in other types. Similarly, vegetable knives are made using high carbon steel that is durable and stronger than that in Asian knives.
The width of these blades is thick thereby contributing to the solidness and strength of the blade when slicing through hard foods like turnips. However, these knives are lightweight to give the user better control and accuracy of the knife when making thin slices.
Nakiri knives feature Granton edges that are sufficiently hollow to allow air pockets to form between the indentations and the slice.
This, in turn, ensures that the fruit or vegetable being cut does not stick onto the blade. Consequently, this guarantees smooth and clean cuts and no damage whatsoever to the food you are cutting. Additionally, since Nakiri knives are designed for use on vegetables and fruits, there is usually no likelihood of cross-contamination of bacteria.
Another key feature of a vegetable knife is its full tang stainless design. This design features a single steel piece stretching from the handle's end to the tip of the blade. Polymer triple-riveted handles in these knives prevent moisture from accumulating between the handle and blade.
In addition to this, the handles also prevent bacteria from building up between the handle and steel. If you are looking for a blade that will provide you with consistent salad pieces as well as vegetable strips, while ensuring less cleanup and utmost precision, a Nakiri knife is the ultimate blade to invest in.
Important Things to Know
The most prevalent difference between a Nakiri and an Usuba is seen in the bevel.
Nakiris come with double-bevel blades that are sharpened on both sides while an Usuba features a single-bevel blade that is sharpened only on one side. A Nakiri has a thin but robust blade while the blade in an Usuba is delicate and special for decorative cutting.
Additionally, Nakiris are perfect for right and left-handed users while Usuba is ideal for either hand and not both. The handle in a Nakiri is considerably shorter and more affordable while in an Usuba, it is costlier and longer.
A Santoku blade, on the other hand, is more of a multi-purpose kind of knife mastering in dicing, mincing, and slicing. The blade is shorter than that of a Nakiri but has a flat edge just like in Nakiris.
However, there is a distinctive difference between these two types of knives in that the sheep's foot blade in a Nakiri curve at 60 degrees and the spine is drawn down towards the front thereby offering a restricted rocking functionality like in a chef's knife and a linear cutting edge. Santokus lack bolsters but mostly come with a Granton edge for ensuring uniform thickness from the spine to the blade.
Ideally, the difference between a Santoku and a Nakiri is mostly personal preference and utility. Chefs and cooks use Santokus as primary knives in the kitchen for basic cutting tasks while Nakiris are more specialized for dealing with fruits and vegetables.
What is more to note about these two types of knives is that for chefs who prefer a rocking cutting style, a Santoku is an ideal blade for them. This is because the blade can be rocked towards the end of the stroke for a perfect rocking motion.
Advantages of Using a Nakiri Knife Over Other Kitchen Knives
It is common for most chefs and cooks to wonder why they should buy a Nakiri while they can still use an ordinary kitchen knife for slicing vegetables. However, after experiencing how impressive and exciting it is to use a Nakiri, you will hardly want to use any other blade for your vegetables.
The greatest advantage of this blade is that its design resembles that of a cleaver. The blade is flat at the tip and on the cutting edge. This allows you to chop fruits and vegetables in a straight motion rather than using a sawing or rocking motion like when using an ordinary kitchen knife. This ensures that you make clean and smooth cuts.
Another advantage of Nakiris is that food pieces do not stick onto the blade or cutting edge. This is because the hollow ground blades ensure that vegetable and fruit pieces are released after the blade cuts through. Ordinary blades, on the other hand, have solid blades and hence it is likely for vegetable and fruit pieces to get stuck on the blade. This makes it hard to have smooth and clean cuts.
Nakiri knives are considerably lightweight compared to most other blades used in the kitchen. This, in turn, makes it effortless to control the blade when making precise and accurate cuts. In addition to this, they do not tire the hands or cause fatigue to the wrist. You can, therefore, use the blade to make tons of salads and vegetable strips.
Nakiris are also beautifully handcrafted and finished for an exceptionally beautiful look. As such, they enhance the décor and appearance of your kitchen. They also have impressive edge retention and hence you do not need to sharpen them after every few uses. Additionally, most Nakiris are easy to sharpen by hand and hence you will not incur any professional blade sharpening costs.
FAQ's About the Nakiri Bōchō
Are Yoshihiro knives good?
Yes, the brand is definitely a trusted name to buy a new Nakiri knife from.
Can I use it to replace my chef knife?
Unfortunately, no.
They're different beasts, and you should use them for their intended purposes.
Can this type of cutter retain its edge in the long run?
No knife lasts forever.
You should always store it properly, and use knife sharpeners to maintain its sharpness.
How do you use a Nakiri knife?
When using a Nakiri knife, you must follow a specific pattern. When using this blade, you should move it in an up-down motion only. You should not push or pull it in a horizontal motion. Keep a firm stance on the handle for precision and accuracy.
How do you sharpen a Nakiri knife?
There are lots of ways on how you can sharpen a Nakiri. However, the top ways of sharpening this blade are by hand using a sharpening steel rod or a whetstone. You can also use an electric sharpener that is specially designed for cleavers and Nakiris.
Is a vegetable knife useful?
Nakiri blades are arguably some of the most useful knives in kitchens, especially for vegetarians. This is because the blades allow you to carefully prepare vegetables and fruits by slicing, dicing, or mincing them in any way you prefer.
Why are Japanese knives so expensive even with vegetable knives?
The main reason why the price of Japanese knives is usually considerably higher than that of other blades is due to the high build quality of Japanese knives. Additionally, these blades use the best quality materials and come with practical designs with excellent functionality.
Conclusion
Investing in a Nakiri knife is arguably one of the best decisions you can make for improving your kitchen.
These blades will come in handy when preparing vegetables and fruits for salads and other meals. There are lots of these blades in the market and hence you should only settle for the brand that suits your style perfectly.
Our choice for the best pick on the market is the Dalstrong Shogun Series Nakiri as it's made with Japanese AUS-10 SuperSteel, sports a Damascus Steel construction, has a very ergonomic handle, and comes with a convenient sheath for safe storage.
But if you aren't too used to the feel of traditional Japanese cutlery yet, then we recommend the Wusthof Classic Hollow Edge Nakiri as it fuses Japanese and Western influences to create a very ergonomic kitchen tool.
And for those of you shopping on a tight budget, you might want to check out the KYOKU Samurai Series Nakiri with a high-carbon steel blade, PakkaWood handle, and mosaic sheath for safe storage.
Further reading:
Japanese Cooking: A Simple Art
[toc]
Ryan Leavitt
Hi my name is Ryan Leavitt a Marine Corps Veteran and currently an over the road trucker (Long Haul). I am no expert chef but am enjoying preparing my own meals on the road and testing all the different knives.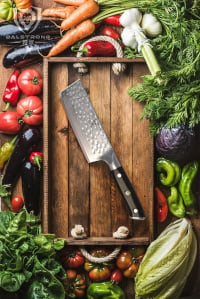 Want FREE Knives?
We give these knives a quick twirl and review, and then we pass them on to a few lucky home chefs!
By subscribing, you agree to get emails from me, Ryan Leavitt. I'll respect your privacy and you can unsubscribe any time.