Are you still searching for the best pocket knife sharpener?
Not sure which model to pick up?
Then you've come to the right place.
Just take a look at my personal favorite list below, and you will soon find what you're looking for.
But first, keep this in mind…
How Often Should You Sharpen?
The frequency depends on how soon it becomes blunt.
This depends on what you are cutting with the blade.
If you use your knife for cutting/slicing/chopping hard meat, you will require to sharpen the blade more often than if you were using the knife to slice fruits.
Additionally, how you store the blade will also have an impact on how regularly you will need to sharpen the pocket knife.
With that said, let's take a look at the following pocket knife sharpeners that I'm sure you will love.
Related: Types of knife sharpeners
Best Pocket Knife Sharpeners (Updated List)
We earn a commission if you make a purchase, at no additional cost to you.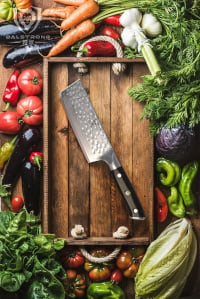 Want FREE Knives?
We give these knives a quick twirl and review, and then we pass them on to a few lucky home chefs!
By subscribing, you agree to get emails from me, Ryan Leavitt. I'll respect your privacy and you can unsubscribe any time.
What to Look for When Buying
Pocket knives come in handy when you want to prepare or cut/chop/slice food when on the move.
It is practically impossible to carry your usual kitchen knife or utility blade when out on the move unless you are going camping or a fishing expedition.
Just like for other knives, pocket blades require regular sharpening so as to retain their edge sharpness.
There is no better way of doing this rather than using the best sharpener.
Here are a few tips on buying these sharpeners:
Size
It goes without saying that size is an important aspect here.
While size does not have any impact whatsoever on the efficiency of the sharpener, it affects how you will store the sharpener.
Since you will most likely need to sharpen your knife when on the move, you should opt for a sharpener that will fit perfectly in your bag or luggage gear.
Honing steel rods are the best sharpeners to tag along when on a trip unless you have sufficient storage to pack an electric sharpener.
Price
The cost of buying and maintaining a pocket knife sharpener is a necessary consideration when shopping for these gadgets.
This is why you need to have a budget and work on buying the best quality sharpener that the budget can afford.
Ideally, these sharpeners range from as little as $10 and can cost as much as $200+.
Buy a high-end sharpener that is designed and built for longevity.
Sharpening time
All knife sharpeners will definitely sharpen the blade to your satisfaction.
The only difference lies in the length of time that the sharpening will take.
There are some sharpeners that will take very little time (at times less than a minute) while others can take up to 5-10 minutes to sharpen a blade.
Manual sharpeners like whetstones and honing steel rods often take longer and more effort to sharpen a blade.
Therefore, if you are not keen on spending a lot of time sharpening, an electric sharpener will work best for you.
Grit
Regardless of the sharpener type you settle for, all sharpeners feature different grit levels.
Most electric and manual sharpeners come with not less than two settings while most stone sharpeners have grits on both sides.
A coarse grit (less than 1000 grit) works perfectly on damaged blades that have chips or nicks.
Medium grit (1000-3000 grit) is ideal for sharpening dull knives whose edges are not damaged.
Fine grit (4000-8000 grit) is suitable for refining a knife's edge.
Brand
Just like knives, sharpeners too come in different brands that feature varying specifications, qualities, and durability.
The only way to guarantee the reliability and suitability of a sharpener is by ensuring that you only invest in a reputable brand.
You can refer to the internet for guidance on the best brand of sharpeners to buy; one that will remain useful throughout its life.
Avoid cheap brands that are seemingly poor in quality and substandard.
Ease of use
Buying a complex sharpener that is too hard, difficult, and complicated to use does you no good at all.
This is because such a sharpener will not only waste your precious time and effort but can potentially damage the knife due to wrong handling and operation.
Basically, the mode of operation for manual sharpeners is similar.
The only difference in operation is seen in electric sharpeners.
Therefore, it is necessary that you familiarize yourself with the brand of choice before buying it.
This will save you the inconvenience of investing in a sharpener that you can barely operate.
Handheld sharpeners are excellent choices due to their ease of operation hence simplifying the process.
Their portability makes them even better to carry around.
Reviews of the Top 5 Products
Smith's PP1 Multi-function (Editor's choice for the best pocket knife sharpener)
We earn a commission if you make a purchase, at no additional cost to you.
For decades now, the Smith company has consistently produced the best quality products that are designed and built to last.
And thanks to that tradition, this pocket knife sharpener is a great option that you should know about.
It features a sleek and slim design that is ideal for multi-functional use in revitalizing standard EDC and serrated edges.
It has tapered round (diamond-coated) rods that are finely finished for providing razor-sharp sharpening surfaces.
The ceramic stones and carbide blades are replaceable and reversible.
That way, it will provide a much longer product life for you when you use this tool.
This model also features V-shaped slots that are strategically set at a right angle (90 degrees) for steady work while at the same time applying minimal pressure and effort.
The best thing about the slots is that they ensure smooth work throughout the blade thereby providing uniform sharpness.
If you're still a beginner, this feature would be of great use!
These multi-functional blades are ideal for use by hunters, hikers, backpackers, and fishermen who require constant sharpness on their knives.
The product is compact and lightweight thereby making it convenient to be carried around when going for outdoor adventures like fishing and hunting.
Other classy features are a lanyard hole for easy carrying, resistance to corrosion, and overall durability.
Our scores:
Ease of use: 9.5/10
Design: 9/10
Ease of maintenance: 9/10
Pros:
High-quality construction
V-slots for securing the knife
Extensive durability and reliability
Sleek and slim design
Cons:
The small size limits its functionality especially when working with big blades
Lansky PS-MED01 BladeMedic Pocket Knife Sharpener (2nd Best Choice)
We earn a commission if you make a purchase, at no additional cost to you.
The PS-MED01 BladeMedic is an all-round pocket knife sharpener kit that is perfect for refreshing serrated and regular, hunting blades, gut hooks, and fishing rods among many others.
This easy-to-use tool is quite simple, as it only requires you to strike the knife several times on it whenever you need it.
It is designed to access even the slightest and smallest serrations, thereby allowing for a smooth process.
The product weight is also considerably light thereby enabling you to comfortably hold it without straining your muscles.
The most fascinating aspect here is that it is designed for a wide range of knives.
As such, there is no limitation or restriction to using it in refreshing any type of knife including outdoor ones.
The ceramic V slots are mounted at a right angle for easily sharpening serrated blades.
Since it does not come with any plastic parts, you can be guaranteed that it will last for long without any inconveniencing breakages.
This incredible tool has a tungsten carbide V slot for restoring the sharpness of serrated blades as well as others.
The slot secures the blade when you're doing the work, thereby ensuring that it does not pose any safety hazard to you.
The diamond-tapered rod is resistant to excessive wear and tear.
As such, the rod allows for fast reconditioning for serrations and gut hooks.
Our scores:
Ease of use: 9/10
Design: 8.5/10
Ease of maintenance: 8.5/10
Pros:
Professionally built and designed
Ceramic finishing for smooth work
Compact size hence easy to carry around
Convenience and ease of using
Cons:
Size limitations for working with large blades
Smith's TRI-6 Arkansas TRI-HONE (Editor's Choice for Sharpening System)
We earn a commission if you make a purchase, at no additional cost to you.
If you are looking for a classy and compact pocket knife sharpener, the Tri-6 Arkansas Stone System is the ideal one to purchase.
Featuring three stones; one coarse (synthetic) stone and two Arkansas stones for fine and medium sharpening.
The stones are mounted on a firm and secure rotating plastic (triangular) for ease of identification and stone rotation.
The best thing about this system is that it comes with an angle guide for correct angling when working with your knives.
And this one doesn't break your bank either.
At a reasonable price, you can purchase this high-quality stone and get good results every time you use it.
With about 1,200 grit, the system is perfect for setting bevels on dull razors.
It works perfectly for old razors that have stayed for ages as well.
This model from Smith is not only easy to use but also safe especially for beginners.
These decent-sized stones are extremely useful when sharpening hard plane iron, wood chisels, and other types of blades in addition to basic types of knives.
Additionally, the stones in this system break well with proper oil, thereby making it possible to use right from the box.
Our scores:
Ease of use: 9/10
Design: 8.5/10
Ease of maintenance: 8/10
Pros:
High-end reliable system
Excellent for daily casual use
Nicely designed and built hence a beautiful appearance
Ideal for all types of blades and cutting surfaces
Cons:
The plastic mounting is susceptible to breaking if not well taken care of
Diamond DMT F707 Mini-Sharp (Budget Choice)
We earn a commission if you make a purchase, at no additional cost to you.
Featuring a great quality, this Diamond DMTF707 pocket knife sharpener is also a good choice for you.
It has a durable construction that provides its users with unlimited and consistent performance throughout the file's lifespan.
The tool does not require any oil to break in and hence easy and convenient to use when in outdoor settings.
The fine diamond material used is perfect for razor-like sharpness.
Additionally, the flat surface design and shape allow for efficient coverage and even sharpening on the surface of the blade.
What is great about this one is that the continuous surface will provide you fast actions on all surface edges.
Our scores:
Ease of use: 8.5/10
Design: 8/10
Ease of maintenance: 8/10
Pros:
Straight and continuous surface for consistency
Ideal for all types of blades including serrated ones
Diamond quality hence extremely resistant to wear and tear
Features guided surfaces for smooth work
Cons:
Users need to be extra careful when using the file as it does not have guided slots
Smith's 50364 (Best for Control)
We earn a commission if you make a purchase, at no additional cost to you.
Among these reviews, this 50364 Pocket Pal stands out with a compass as an additional feature for use in outdoor activities like hunting.
With a tapered diamond rod, it is ideal for reshaping gut hooks and serrations.
Featuring a ceramic finishing slot for carbide and serrated edges, it allows for smooth and uniform work.
This model also has fine and coarse (pull-through) sharpening slots that allow for effortless and safe work with all types of blades and cutting surfaces.
In addition to this, the tool comes with other classy features such as LED light, signal whistle, and a fire starter for convenience when out in the wild for adventurous escapades.
Due to its unique and additional features, it is regarded as a must-have tool for many people.
This lightweight tool not only features a compact design but also has a durable housing that enhances the blade's durability and reliability.
The premium abrasive components are replaceable and reversible hence enhancing the lifespan of the product, especially with proper care and maintenance.
The creativity and professionalism employed in the design and construction of the blade not only impact its appearance but also its functionality.
Our scores:
Ease of use: 8.5/10
Design: 8.5/10
Ease of maintenance: 8.5/10
Pros:
An all-round tool with unique & latest features
Efficient and reliable for different types of blades
Quality construction hence durable
Resistant to corrosion and extensive wear and tear
Cons:
Might be complicated to use for beginners
When shopping for the ideal pocket-knife sharpener to purchase, it is advisable that you only settle on products with additional features.
And this one provides you with all-round functionalities that are useful for outdoor activities like hunting.
How Can You Keep Your Pocket Knife Sharp?
If you want your knife to retain its sharpness for long, then you will need to do more than simply sharpen it.
For starters, you need to ensure that you do not store the blade together with other kitchenware.
This is so as to avoid collision with other tools and hence protect the edge from damage.
Most pocket knives come with folders and hence the blades should always be secured in the folders when storing them.
Additionally, you should not put pocket blades in dishwashers but instead scrub the blade gently using a cotton towel, soap, and hot water.
It is recommendable that you use cutting boards rather than cutting on surfaces such as marble countertops.
This helps in preventing damage to the cutting edge of the blade.
The Types
Knife sharpeners come in different types with each type differing from the other considerations in terms of ease of use, cost, and reliability among other parameters.
Sharpening stone
Whetstones also called oilstones are the most common sharpeners.
They are gritty, rectangular-shaped stones that use oil or water for activating the sharpening surface.
These sharpeners come in two variants; natural and synthetic surface whetstones.
They are easy to use for sharpening pocket knives as you only need to run down the blade along the whetstone surface while holding the blade at an angle.
Electric Sharpeners
Electric sharpeners feature a V-shaped slot that curves a fresh edge into the blade.
There are also electric sharpeners that feature rotating wheels for grinding the new edge.
The best thing about these sharpeners is that they are incredibly efficient, super quick and quite easy to use.
The sharpening angle is already pre-set in the sharpener
Honing Rod
A honing steel is ideally not your usual sharpener.
It is a ceramic-coated rod that sharpens a blade by passing the knife's edge over the rod.
What is more unique about this honing rod is that it helps in straightening bent blades without chipping away metal from the edge.
The rod is compact and lightweight and hence you can comfortably carry it around when traveling.
Serrated Knife Sharpeners
Serrated knives are practically impossible to sharpen using stone sharpeners due to the nature and shape of their blades.
Additionally, most electric and manual sharpeners can easily damage the serrated blades hence the need to buy serrated knife sharpeners.
These are sharpeners whose designs and overall build are done uniquely in a way that makes it possible to sharpen these blades without any damages whatsoever to the serrations.
Manufacturers often state in the product description whether their sharpeners have the capability of sharpening these blades.
FAQ's
Is Spyderco a good choice?
Yes, definitely!
In fact, it has become one of my favorites recently.
How do you sharpen a pocket knife or EDC with a knife sharpener?
Once you have noticed that your knife has become blunt or if it is new, then the next thing you should do is sharpen it.
You can test the sharpness of your knife by cutting a piece of paper with it.
Assess how easy or difficult the knife cuts through the paper.
When you want to sharpen your knife, the first thing you should do is choose the right sharpening stone to use.
If you decide to use a ceramic stone or whetstone, oil or soak the stone using water.
This oiling/soaking in water helps in preventing the pores in the stone from clogging.
The next thing you should do is identifying the sharpening angle.
While keeping your hand steady, maintain the same angle, and gently move the blade consistently over the stone.
Glide the blade on both sides until it achieves your desired sharpness.
What are some reliable knives to choose from?
There are tons of brands in the market with the best ones being Benchmade, Spyderco, Buck Knives, Kershaw, SOG, CRKT, Cold Steel, Zero Tolerance, Victorinox, and KA-BAR among other brands.
These brands are synonymous with superior quality, unique reliability, and durability.
Can you sharpen the blade with sharpening steel or stone? Do they actually work?
A honing rod is ideal for sharpening and straightening knife edges.
So, you can use a rod for sharpening your knife.
All you need to do is hold the knife at an angle (like you would for any other blade) and glide it over the rod until the knife is evenly sharp.
Using a sharpening rod requires you to be extra careful.
This is because if the hands slip while you are gliding the blade against the rod, you can easily get injured severely.
Therefore, always ensure that the rod is stable and that your hands are steady before you commence the sharpening procedure.
How do you use a whetstone for sharpening the edge? Does it actually work?
Most people consider whetstones to be quite easy to use. These sharpeners feature a coarse grit stone.
You need to soak the stone in clean water (preferably cold) for about ten minutes before using it for sharpening your knife.
Once it is soaked, choose your preferred bevel angle and sweep the blade in a back and forth motion on the whetstone.
Always ensure that you sharpen the blade evenly since using a whetstone requires unique sharpening skills.
Glide the blade over the stone about 6-8 times or until it attains a sharp edge.
What is the best angle when using this type of knife sharpener?
The ideal bevel angle to use when sharpening a pocket knife should range 25-30 degrees.
For new blades or those that are excessively blunt, you may opt for a steeper angle so as glide the edge efficiently for excellent sharpness.
However, the angle you opt for is mostly a personal preference and as such, you should settle on an angle that will work well for you.
What is the sharpest pocket knife in the world?
There are manufacturers of pocket knives who put great emphasis on the sharpness of their blades.
The sharpest pocket knives in the market presently are Gerber (EAB) Lite, Smith & Wesson (SWMP4LS), Kershaw Blur Black Daily Carry, and Grand Way Pocket (Folding) 6681 among other brands.
What can I use to sharpen my pocket knife to give it a new sharp edge?
When it comes to sharpening pocket knives, you can choose any sharpener that will be convenient and ideal for you.
You can choose from a whetstone, a honing rod, an electric sharpener, a handheld sharpener, and a manual sharpener.
Whichever sharpener you opt for, ensure that you know how to use it for the best sharpening experience.
What is the most valuable pocket knife?
Pocket knives just like other blades used in the kitchen are valuable investments.
Therefore, you should only choose a pocket knife brand that is worth every penny you spend on it.
Valuable pocket knives are an excellent choice for storing your wealth.
These pricey blades will definitely come in handy whenever you need to use them.
The most valuable pocket blades are Boker Mother-of-Pearl, SOG Arcitech Jigged Bone, Victorinox Work Champ, Zero Tolerance 0850, DPx Gear Hest, and Benchmade TI Monolock Blade.
What is the most durable pocket knife?
The durability of a pocket knife is a crucial consideration when you are shopping for the ideal pocket blade to purchase.
These blades are built using heavy-duty materials that are strong and resistant to extreme wear and tear.
These blades can last a lifetime without breaking or falling apart.
These are everyday blades that you can use to prepare or cut/slice/chop typically any food.
Some of these blades are Benchmade (275BKSN) Sibert Adamas Sand, Rick Hinderer Fulltrack (Spearpoint 20CV) Blue, Cold Steel (Code 4) Clip Point Plain Edge, and Zero Tolerance (0350TS Folder) Plain Edge.
When looking for the best pocket knife, your focus should always be on getting a convenient blade.
This is a knife that is bound to hold well against wear and tear.
The ideal blade should not be excessively big such that it becomes impossible to comfortably carry the blade on you.
Hunters and fishermen will definitely find these knives reliable and ideal for the tasks they are likely to undertake during their daily activities.
Conclusion
Our favorite recommendation is the Smith's Abrasives P11.
It's designed for hunting and outdoor knives, featuring diamond-coated sharpening rods that can handle both straight and serrated edges.
For shoppers in need of a sharpener on a budget, then our recommendation is the Sharpal 101N and it's affordable and comes packed with other features such as fire starters and whistle, making it the ideal camping companion.
But if you're in need of an all-around sharpener that can handle kitchen knives and shears along with your pocket knife, then you can't go wrong with the Sharpal 191H, a multi-purpose sharpener that's fit for kitchen, survival, outdoor, and tactical knives.
Further reading:
Quick tips about pocket knife safety for Cub Scouts
The Right Way to Sharpen Your Pocketknife
[toc]
Ryan Leavitt
Hi my name is Ryan Leavitt a Marine Corps Veteran and currently an over the road trucker (Long Haul). I am no expert chef but am enjoying preparing my own meals on the road and testing all the different knives.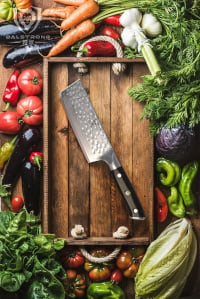 Want FREE Knives?
We give these knives a quick twirl and review, and then we pass them on to a few lucky home chefs!
By subscribing, you agree to get emails from me, Ryan Leavitt. I'll respect your privacy and you can unsubscribe any time.