The popularity of Santoku knives has been growing far and wide since the recent past.
This has mainly been a result of the uniqueness and reliability of the knives. The best Santoku knives are mainly used in preparing Japanese cuisines.
However, since the blades are general purpose knives, they can also be used for tasks like slicing meat & vegetables, chopping, and dicing among other tasks.
It is worth noting that these knives should not be used as cleavers as hitting bones with the sharp edge blunts the edge.
These knives are also ideal for sushi-slicing tasks. Santoku blades are slightly thinner, lighter, and shorter than standard western chef knives.
Some of the best Santoku chef knives in the market currently include the following ones.
Best Santoku Knives for Your Money (Updated List)
We earn a commission if you make a purchase, at no additional cost to you.
* Featured Product *
We earn a commission if you make a purchase, at no additional cost to you.
Related:
Types of Japanese knives
Types of kitchen knives & their uses
Great knives chosen by chefs all over the world
Sharp and reliable carving knives for different kitchen tasks
Top-rated paring knives you should know about
High-quality Japanese chef knives for home cooks
What to Look for When Buying
Shopping for the ideal Santoku knife is not always easy as it is presumed to be.
This is because there are a host of factors worth considering before settling on any particular knife.
For starters, there is a need to ensure that that the blade of choice meets your preferences and is within your budget. Here are a few tips on choosing the best Santoku blade to purchase:
Ease of handling and balancing
The only way to ensure that you get the best from the knife of choice is by assessing its handling properties. While most blades are easy to handle and grasp in the hands, there are some that are extremely complex.
Such blades not only limit how effectively you can use the knife but can also expose you to potential safety risks such as cutting your fingers.
The best knife to buy is one that is easy to handle and does limit the mobility or movement of your hands in any way.
Additionally, balanced knives are easy to control and hence provide for precise cuts.
Ease of sharpening
A knife is only reliable and useful if it is sharp. Otherwise, a dull and blunt blade is not useful in any way.
While most Santoku knives are sharp right from the box, it is worth noting that this sharpness is not permanent. As such, they likely to become blunt at one point and hence require you to sharpen them.
It is advisable to opt for a blade that is easy to sharpen by yourself using a sharpening file.
Edge durability
The durability of the edge determines the lifespan of a Santoku knife.
Ideally, the edge is the only part of a blade that wears out after continuous use of the knife.
This is mostly because once blunt; the edge is sharpened thereby chopping off a few millimeters with every sharpening session.
Due to this, it is necessary to ensure that the edge of the knife of choice is durable. This goes a long way in impacting the overall durability of the blade.
Durable edges do not blunt out fast and hence do not require regular sharpening.
Ease of maintaining the knife
Santoku blades just like other types of knives require consistent maintenance and care. The durability of a blade is greatly influenced by the care and maintenance you accord the knife.
Before making any purchase, it is crucial to read through the manufacturer's guidelines on the care and attention of the blade of choice.
It goes without saying that the better the care you extend to your knife, the better it will be of service to you, and the better its durability will be.
Related: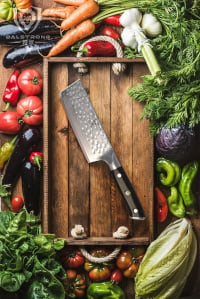 Want FREE Knives?
We give these knives a quick twirl and review, and then we pass them on to a few lucky home chefs!
By subscribing, you agree to get emails from me, Ryan Leavitt. I'll respect your privacy and you can unsubscribe any time.
Reviews of the Best Products
Dalstrong Shogun Series (Best Overall)
We earn a commission if you make a purchase, at no additional cost to you.
Arguably the best Santoku knife for the money in the market presently, the Dalstrong Shogun Series 7 inch blade is a high-performance knife.
For chefs and hobbyist cooks looking for an ideal Santoku blade that highlights its class, uniqueness, and functionality right from the package, this is the blade to purchase.
The bold blade cuts through different foods with little effort while at the same time guaranteeing fine and smooth cuts.
Super-sharp edge
The unique edge of this Dalstrong blade boasts of a scalpel-like sharpness that is artistically finished with an 8/12 degree angle on both sides.
This ensures that the blade cuts through different foods and food materials with ease and utmost precision. The blade of this Shogun knife is cooled using nitrogen for purposes of improved flexibility, rust & corrosion resistance, and hardness.
A combination of these qualities coupled with the blade's reliability makes the knife an exceptionally durable kitchen accessory.
Impressive hardness
The steel blade of this top chef Santoku knife set is sandwiched between 66 layers of ultra-premium high-carbon steel material.
Consequently, this gives the blade exceptional strain resistance, robustness, and durability.
This high-quality hardness guarantee's the knife's extra-ordinary edge performance and retention.
Our scores:
Sharpness: 9.5/10
Handling: 9/10
Ease of maintenance: 9/10
Pros:
Easy to clean
Rust resistant
Triple-riveted for additional agility
Exceptional hardness
Cons:
The blade needs sharpening when new as it comes blunt
Victorinox (2nd Runner-up)
We earn a commission if you make a purchase, at no additional cost to you.
According to many reviews, the ideal blade to invest in should slice, mince, and dice with great ease.
In line with this, the Victorinox Fibrox 7-inch performs all these tasks to perfection with little effort.
With this knife, you can easily cut through different food choices without worrying about the food getting stuck on the blade.
This is because there are long hollow divots on the blade that allow air to flow through the food slices thereby enabling the food to slide off.
Fibrox handle
The handle of a knife determines how easy or difficult it is to hold and cut with the knife. Luckily, this Victorinox Sankuto blade features a fibrox handle that is well textured to prevent slipping.
The handle features an ergonomic design that creates a comfortable surface to grasp when using the knife.
What is more unique about the blade's handle is that its design creates a pivotal feel to the hand thereby allowing you to use minimal effort when using the blade.
Stainless steel blade
The blade in this Victorinox knife is made using superior quality stainless steel material.
Due to the refined hardness and robustness of the steel used, the blade prides itself on maximum sharpness and high performance due to impressive edge retention.
It goes without saying that the blade is durable, rust-resistant, and is not affected by heat variations. The blade is easy to control thereby allowing you to make super-fine cuts and considerably reducing cutting time.
Our scores:
Sharpness: 9/10
Handling: 8.5/10
Ease of maintenance: 8.5/10
Pros:
Lightweight design
High-quality build
Durable
Razor-sharp blade
Cons:
The handle may feel cheap for people accustomed to high-end knives
Other related products:
Strong cleavers to chop meat and vegetables
Steak knives so good your friends will surely be surprised!
Specialized bread knives for easy bread cutting
Global (G48) (Best for Balance)
We earn a commission if you make a purchase, at no additional cost to you.
The G48 Santoku knife by Global is an all-purpose blade that features striking designs, features, and unmatched performance.
Made using high-grade CROMOVA 18 steel from Spain, the blade is hollow, ground, thin and sharp. This makes the knife a perfect choice for dicing, slicing, and chopping.
Additionally, the blade is lightweight thereby making it easy to control and handle in the hands even for the least experienced chefs.
Seamless handle
Unlike in other Santoku knives, the handle in the G48 blade is handcrafted and molded as a solid piece of seamless stainless steel knife that is sturdy, stable, and resistant to water stains and corrosions.
Since the handle does not have any bolsters, the blade has a long cutting edge and a bigger sweet spot. This makes it easy to sharpen the entire blade.
Unparalleled performance
Due to the blade's functional design and a unique blend of stainless steel, the G48 knife weighs only 0.16 ounces thereby making it among the lightest 7-inch professional blades.
When using the blade, you need not worry about tiredness as it is lightweight hence easy to handle. The knife is reliably useful for thin accuracy and chopping especially when accuracy is sought after.
Our scores:
Sharpness: 8.5/10
Handling: 9/10
Ease of maintenance: 8/10
Pros:
Lightweight hence easy to use
Stain and rust-resistant
Sleek and pleasant design '
Single piece construction hence a longer cutting edge
Cons:
Not ideal for heavy-duty dicing and chopping
Zelite Infinity (Best for Design)
We earn a commission if you make a purchase, at no additional cost to you.
The Zelite Infinity Santoku blade is one of the few knives that command admiration and envy in the market presently.
Featuring a decorative finish, the blade is as functional as it is beautiful. In addition to its classic appeal, the blade is popular for its superb performance and reliability.
Some of its outstanding features include:
Razor-sharp Japanese blade
The high-performance blade in this knife comes with perforated hollow points that allow for airflow between the blade and the food.
This, in turn, guarantees that the food does not stick onto the surface of the blade. The 67-layered high carbon steel material used for the blade is stainless and is equally lightweight.
As such, when cutting with the knife, you are not likely to encounter any inconveniencing weight in the hands.
Functional and durable handle
The Zelite Santoku knife comes with a functional handle that is artistically designed with exemplary precision.
The handle's ergonomic design aims at enhancing the comfort of the user while at the same time providing for a firm and secure grip.
This, in turn, provides for precision and accuracy thereby giving you complete control of the knife's movement. The handle is secured by triple rivets to prevent it from becoming loose or detaching.
Our scores:
Sharpness: 8/10
Handling: 8.5/10
Ease of maintenance: 8.5/10
Pros:
Well balanced
High-quality build
Durable and reliable throughout its life
Comfortable to grasp
Cons:
Not ideal for heavy-duty use
PAUDIN Classic (7-inch) (Best for Beginners)
We earn a commission if you make a purchase, at no additional cost to you.
If you are looking for the best Santoku chef knife for the money, this is the most ideal blade to settle for.
The customary Japanese multipurpose blade is professionally designed for use at home and in other domestic environments.
The brand has become iconic in the market due to its high quality and reliability compared to other blades.
Comfortable handle
The comfort of the handle in this PAUDIN knife is on a whole new level. This is because the pakkawood used in designing the handle provides a fine blend of comfort and an excellent grip.
This makes it impossible for the knife to slip from the hands. The wooden hand is heat resistant thereby making it easy to use the knife in all weather conditions.
Additionally, the handle just like the rest of the knife is lightweight hence easy to hold and control.
Uniquely sharp blade
The 7-inch blade in this Santoku knife possesses ultra-sharpness that makes it easy to cut through different food types with ease.
The blade offers unmatched reliability, performance, and functionality. Ideally, the blade is designed to withstand the effects of extensive use in harsh environments such as restaurants.
It is important to note that the blade features a longer edge for a better cutting experience.
Our scores:
Sharpness: 8/10
Handling: 8/10
Ease of maintenance: 8.5/10
Pros:
Razor-sharp blade for effortless use
Comfortable handle with a firm and secure grip
Ideal for precise and accurate slicing
Dishwasher safe
Cons:
Does not come with a guard
Mercer Culinary Millennia (Best Value for the Price)
We earn a commission if you make a purchase, at no additional cost to you.
Chefs looking for a conventional Santoku knife should look no further than at this blade.
The Mercer Culinary blade measures 7 inches and is designed to make food preparation an exciting and intriguing experience. The knife prides itself on outstanding features that include a strong and solid blade that cuts through food easily.
Ergonomic handle
The most easily noticeable feature about this blade is its ergonomic handle which provides for a comfortable and secure grip.
The handle is made from a blend of Santoprene for comfort and polypropylene for durability. Therefore, when you invest in this knife, you not only get a reliably useful blade but also a durable one.
The handle features textured finger points that provide protection against slips.
Superior quality blade
The manufacturers of this knife use fine-quality Japanese steel when making the blade. This steel is tough hence does not bend or break.
Consequently, the superior quality of the steel makes the blade easy and cost-efficient to maintain. What is more unique about the blade is that it is easy to sharpen and retains sharpness for a long time.
As such, you do not need to sharpen the knife often like you would when using a poor-quality blade.
Our scores:
Sharpness: 8.5/10
Handling: 8.5/10
Ease of maintenance: 8/10
Pros:
Lightweight construction
Comfortable and firm grip
Razor-sharp edge
Easy to maintain
Cons:
Not favorable for extensive use in heavy-duty chopping and slicing
Other great knife collections:
Best gyuto knives
Best Japanese steak knives
Best nakiri knives
Best sushi knives
Best utility knives
Best deba knives
Interesting Facts About Santoku Knives
Santoku blades are more comfortable for chefs with small hands
Since Santoku blades are fairly small in size compared to standard chef blades, they offer a firm and comfortable for people with smaller hands.
Moreover, these blades are lightweight thereby requiring little effort to cut through food pieces. A combination of these factors makes the blades a favorite option for female chefs.
Most people with small hands have it that the blades feel good in the hands and often have a stable and secure feel.
The quality of their crafting technique sets them apart from other knives
Most Santoku knives have exceptionally thick blades; some of which are thick by up to 67 layers of stainless steel.
This technique helps in enhancing their strength and improving properties such as rust and corrosion resistance.
These attributes make the knives pricier than standard chef knives.
Santoku blades are lightweight
The most fascinating aspect of Santoku blades is that they are fairly lightweight.
None of these blades are heavy like most basic chef knives. Santoku knives are well balanced and are usually double faceted thereby making it possible to sharpen the blades on both sides.
Related guides:
What Is The Hole In A Knife Blade Used For?
What Is The Proper Way To Sharpen A Knife?
How To Practice Healthy Eating Habits With Family: Top 7 Great Habits
Why Does My Knife Get Dull So Fast?
Why Are Pull-Through Sharpeners Bad?
FAQ's
Are Santoku knives ideal for cutting meat?
Overall, Santoku blades are excellent cutting tools that come in handy in the kitchen. The use of these blades should be limited to chopping and slicing food items.
As such, they can be used for chopping and slicing meat but not for boning.
What is the ideal size of a Santoku blade?
While there is no standard size of a Santoku blade that is recommended for use, knives that measure between 5 and 7 inches are a perfect choice.
This is because these blades are often easy to control and cut through most types of food with great ease.
Smaller or larger knives may seemingly be inconveniencing depending on the task at hand.
Which are better? Santoku blades or chef knives?
There is no direct answer on which knife is better between a santoku and a chef knife. The preference of either of these blades is purely a matter of personal choice and taste.
This is because the blades can supplement each other well in the kitchen as they are used for similar tasks.
Conclusion
The secret to enjoying great service from a Santoku knife is by settling on a blade that is designed and built to last.
This is a blade with unbeatable agility, great finish, a comfortable handle, and solid construction. With the right research on the internet, it is possible to find a good quality blade that is affordably priced.
This is a knife that will serve you diligently for all your domestic slicing, dicing, and chopping needs.
Always settle on low-maintenance blades as they are very economical in the long run.
Currently, our favorite model is the Dalstrong Shogun Series Santoku knife.
With a Damascus steel construction and razor-sharp edge, you can use this knife for a wide variety of kitchen tasks while cutting through different ingredients with ease.
With that said, the Dalstrong model is fairly expensive, and chefs who are on a tighter budget might enjoy the iMarku Professional Santoku.
With a 7" blade and ergonomic PakkaWood handle, chefs will find that this knife is very easy and comfortable to use.
Another great budget option on the market is the Mercer Culinary Genesis Santoku.
It features a classic design, and a blade made out of x50CrMoV15, a very durable material that allows chefs to keep this knife in their collection for many years.
Further reading:
[toc]
Ryan Leavitt
Hi my name is Ryan Leavitt a Marine Corps Veteran and currently an over the road trucker (Long Haul). I am no expert chef but am enjoying preparing my own meals on the road and testing all the different knives.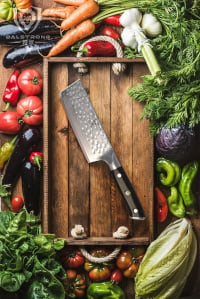 Want FREE Knives?
We give these knives a quick twirl and review, and then we pass them on to a few lucky home chefs!
By subscribing, you agree to get emails from me, Ryan Leavitt. I'll respect your privacy and you can unsubscribe any time.