Do you want the best sharpening stones for your kitchen knives?
The one that can help you make your knives razor-sharp again quickly?
If you're still asking those questions, then you've come to the right place.
I highly recommend you take a look at my favorite list below.
They're currently the most popular choices on the market.
And I'm sure you will soon find what you're looking for.
But first, let's clear the following things up.
The Best Sharpening Stone for Your Kitchen Knives (Updated List)
We earn a commission if you make a purchase, at no additional cost to you.
* A Serious Contender *
We earn a commission if you make a purchase, at no additional cost to you.
Related:
What Is the Best Angle to Hold a Knife While Sharpening?
The best sharpening angle for ordinary kitchen knives and blades is 17-25 degrees.
Japanese blades will sharpen perfectly at about 17 degrees while the western ones at 20 degrees.
Knives sharpened at these angles acquire lasting sharpness and cut well.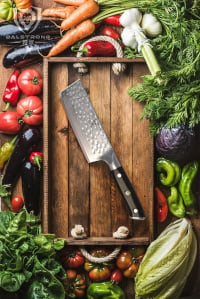 Want FREE Knives?
We give these knives a quick twirl and review, and then we pass them on to a few lucky home chefs!
By subscribing, you agree to get emails from me, Ryan Leavitt. I'll respect your privacy and you can unsubscribe any time.
What Type of Liquid to Use With It?
The choice of whether to use oil or water depends on the type of stone.
For water stones, you should only use water.
However, soapy water can be used interchangeably on oil stones.
Wetting the stones prevents clogging thereby guaranteeing a smooth sharpening experience.
And now, let's take a look at my personal favorites when it comes to this topic.
Important Things You Need to Know
Sharpening stones are undeniably some of the most widely used sharpeners in typical kitchens.
They are easy to use and can be used on a variety of blades and other cutting edges such as razors, scissors, hand scrapers, chisels, and plane blades.
These stones come in different grades, shapes, material compositions, and sizes.
This is why you need to know what to look for when shopping for these sharpeners.
Here are a few pointers worth considering:
Grit
When it comes to this kind of sharpeners, you need to opt for something with at least two grit options.
It should have coarse grit and fine grit.
Usually, coarse grits form the basis of sharpening while fine grits polish and finish the blade.
Stones with two or more grits also give you freedom of choice so that you are able to sharpen your blade according to your preferences.
Stones with only one grit level usually have limited functionality.
Size
The size is determined by the length of your blade.
Generally, 6" stones are considered small while 8" stones are large and 8"-10" stones are referred to as generously sized sharpeners.
Stones that are smaller than 6" are quite common due to their compact sizes that make it easy for them to fit in a pocket and carry around.
Ideally, longer stones make sharpening easy and effortless.
Versatility
When looking for the best sharpening stone, you need to ensure that it is versatile.
This is a sharpener that you can use with different blades and as well as other cutting equipment.
Avoid something that is limited to only one or two types of stones.
Such a model would be a waste since you will need to invest in another sharpener for the other blades.
The goal is to have all-round sharpening stones that you can use on all your blades and knives.
Budget
You will need a sharpener that is within a price range that you can afford.
Have a budget that will guide you on the amount of money you are willing to spend on these sharpeners.
The quality of the sharpener is directly proportional to its cost.
Therefore, if you limit your search to only cheap sharpeners, you may end up settling for a low-quality sharpener.
It is advisable to shop for reasonably priced sharpeners as they are usually affordable and of the best quality.
This will definitely give you value for your money.
Ease of use
Generally, these sharpeners are easy to use since they do not require any complex handling or mode of operation.
Therefore, whichever type you will settle for, there are very high chances that it will be easy to use.
Reviews of the Top 5 Sharpening Stones for Your Money
Sharp Pebble Premium Sharpening Stone Set (Best Overall)
We earn a commission if you make a purchase, at no additional cost to you.
Not the newest & latest choice on the block, for sure.
This superior Sharp Pebble set is a multi-purpose tool that is highly durable and boasts unmatched quality.
It is ideal for all types of blades including cooking, hunting, scissors, chisels, and pocket knives.
It also comes with a bamboo base for stability and ensuring that it does not slip when you're working with your knives.
As such, it enhances safety and minimizes the risk of injury.
This double-sided premium sharpening stone features 1000/6000 grit for different sharpening choices depending on the dullness of the blade.
The dual grit feature also makes it easy to reshape cutting surfaces like chisels and scissors.
Our scores:
Ease of use: 9.5/10
Effectiveness: 9.5/10
Ease of maintenance: 9.5/10
Pros:
Multipurpose use for almost all kinds of knives
Handy non-slip base for greater balance
Strong and reliable materials
Cons:
Might need some practices to get used to using it
Mikarto Premium Sharpening Stone Set (2nd Runner-up)
We earn a commission if you make a purchase, at no additional cost to you.
This dual grit sharpening stone set is a professionally designed model.
It features a dual-functioning model that is not only perfect for kitchen cutters but can also be used for other utility blades like hunting blades and shears.
The 1000 grit side is perfect for excessively dull cutters while the 6000 grit side provides a smooth deluxe polishing effect.
It guarantees optimal performance after you have used it for the first few times.
This high-performing model is made using the finest quality materials for excellent performance, reliability, and durability.
Its unique design features a bamboo base that provides stability when in use.
Our scores:
Ease of use: 9.5/10
Effectiveness: 8.5/10
Ease of maintenance: 8.5/10
Pros:
Professional packaging perfect for gifting away
Can work with many types of knives
Premium materials used
Cons:
The instructions are a bit vague
Knife Sharpening Stone (Best for Professionals)
We earn a commission if you make a purchase, at no additional cost to you.
If you are looking for a complete and detailed sharpening set, you should no further than at this one.
The set is designed to revitalize a wide range of cutleries due to its 4 grits with different grit sizes.
The first grit set 400/1000 grit is perfect for dull blades while the 3000/8000 grit is perfect for refining and polishing knife edges.
The bamboo board ensures that the whole system remains in a stable position thus allowing for ease and safety of use.
This tool set comes with two rubber bases for each of the stones to ensure that they are maintained in a flat position during work.
The economic aspect here is that you do not need to purchase specialized oils or lubricants as you can just simply soak these bad boys in water before using them.
Our scores:
Ease of use: 8.5/10
Effectiveness: 9/10
Ease of maintenance: 8.5/10
Pros:
Can make knives razor-sharp in no time
Slip-resistant base for extra safety
Can work with many types of knives
Cons:
Whetstone Cutlery 20-10960 Sharpening Stone Set (Best Design)
We earn a commission if you make a purchase, at no additional cost to you.
Made using durable silicon carbide material, this set is a double-sided block with 400 and 1000 grits.
The 400-grit side is used for restoring the sharpness of knives and blades while the 1000 grit side smoothens and polishes cutting edges.
Since it is a water stone, you only have to soak it in water for a few minutes before using it.
As such, you don't need to incur additional expenses in buying oils and lubricants.
This multi-use tool is a great match for a variety of cutting items including kitchen cutlery, hunting & pocket knives, scissors, razors, and other types of blades.
Our scores:
Ease of use: 9/10
Effectiveness: 8.5/10
Ease of maintenance: 8.5/10
Pros:
Fast and effective sharpening process
User-friendly water stones
Can work with many types of knives
Cons:
The stones might be shorter compared to other premium stones
DMT WM8FC-WB 8-Inch DuoSharp Kitchen Sharpening Stone (Best for Professionals)
We earn a commission if you make a purchase, at no additional cost to you.
Boasting of great quality, this superior sharpening stone set is extremely efficient for reshaping dull kitchen knives and other cutting edges.
The micro-crystalline diamond surface enables it to sharpen cutters faster and more efficiently than standard options.
When using this, you do not need to purchase lubricants as you can just soak the stone in water for a few minutes before using it.
The durable construction provides for consistent performance throughout the product's lifespan and as such, you are guaranteed to get reliable service.
The 8-inch thickness ensures that it does not wear out fast and as such, you can use this one for a very long time.
Our scores:
Ease of use: 8.5/10
Effectiveness: 9.5/10
Ease of maintenance: 8/10
Pros:
Great system that sharpens knives fast
Can make knives almost factory-sharp
High-quality made in the US product
Cons:
How to Use a Whetstone
This is one of the best types of sharpeners you can use for your blade.
This is because it does not only grind/eat away too much of the blade but also it is quite easy to use.
The first thing you will need to do when using sharpening stones is to secure them on a countertop.
For this, you can place damp paper towels or a rubberized shelf liner under the sharpening stone.
This ensures that it remains in place.
The coarse side should face up.
Once the sharpening stone is secure, you should proceed to sharpen the first side.
While placing the edge at a 15-20 degrees angle, let the edge rest on the stone with one hand holding the handle and the other on the middle of the blade's flat side.
Ensure that you keep your fingers safe from the sharp cutting edge.
Then draw the edge down the sharpening stone while making wide, circular motions and at the same time ensuring that you maintain a constant angle.
Repeat this severally until that side is sharp and change the blades.
Repeat the whole process for the other side.
Check the sharpness of the edge and if you are satisfied, you can polish and finish the blade on the fine side of the whetstone.
When checking the edge's sharpness, you should not run your finger parallel along the blade.
Instead, run the thumb in a perpendicular motion to the edge and when you feel a burr on your finger, then the blade is sharp.
Sharpening Stone Maintenance Tips
If you want your sharpening stone to stay in good condition for long, then you will need to use it as recommended and accord it the best care and maintenance.
For yours to be in perfect condition at all times, you will need to be cautious of the blades you sharpen on the stone.
Avoid working with extremely crude tools that are likely to damage the stone.
Instead, follow the manufacturer's guidelines on the types of blades you should use on the sharpener.
The next thing you need to do is sharpen blades at the correct angles.
Angles that are too steep will not only damage the sharpener but also the edge too.
It is important to note that most kitchen blades are sharpened within a 15-25 degree range.
However, there may be an exception to this angle depending on the type of edge you are working with.
The other aspect worth noting about maintaining whetstones is that you should always level it in a secure and fixed position.
This position makes it easy to sharpen the edge while also ensuring that it is not damaged due to strop movements when working.
This also reduces wear and tear in the stone.
Flip it from one end to the other before use.
Flipping helps in guaranteeing that it does not wear out extremely on one side. Instead, it should wear out evenly on all dimensions.
Wash and dry after every use.
FAQ's
What is the best type of sharpener to sharpen knives?
There are sharpening stones that include diamond stones, oil stones, and whetstones.
Each of these stones has its own features, characteristics and are usually flat, rectangular blocks.
These stones feature either natural or synthetic materials.
Natural stones are rarely used due to a lack of uniformity in grit and quality while synthetic ones are high quality and have consistent grit.
The best thing about these stones is that they are fast in resharpen blades and are quite durable.
What grit wet stone is good for kitchen knives?
Wet stones just like other sharpeners come with different grit levels.
For stones with a grit level of 1000 and below, their primary use is repairing blades with chipped edges.
Those with a grit range of 1000 to 3000 are ideal for revitalizing dull blades.
Sharpeners with 4000-8000 options are perfect for refining the edge since they also double as finishing stones.
You should choose the ideal product in regard to the extent of damage or dullness in your edge.
How do you know your sharpener stone grit?
The easiest way of telling the grit level in a sharpening stone is by running your finger (any finger but the index one works best) over the sharpener's surface.
Stone sharpeners with a level of 1000 and below will feel incredibly rough while those with 6000-8000 grit levels will feel smooth.
For sharpeners with medium ones, their surfaces will feel rough like sandpaper.
How do you flatten a sharpening stone?
Add liquid to the stone while ensuring that it is resting securely on a flat surface.
Place a towel under to soak any moisture that strays away from the stone.
Using a flattening plate (usually comes with sharpening stones) rub it evenly over the stone's entire surface.
You should do this consistently until the grayish residue (evidence of previous work) disappears completely.
Can you sharpen a chef's knife with this?
Yes, of course.
In fact, it's advisable to do so to keep the edge of your best knife in the kitchen sharp in the long run.
Do you have to soak a whetstone?
You do not have to soak a whetstone, but for purposes of convenience, efficiency, and reliability when working, it is advisable to soak the whetstone.
You only need to place the whetstone in a basin with water for about 5-10 minutes.
The easiest way to know that it has reached its absorbing limit is by confirming that there are no bubbles of air in the water.
How can you tell an oil stone from a water stone?
These stones feature soft binders that are clay-like while the binders in oil stones are hard.
They also tend to wear out faster as well.
Do you push or pull when sharpening a knife? What's the best way?
When sharpening your cutters using a sharpening stone, the best strategy to use is pushing in a circular movement on the face of the stone.
Pulling works best when using sharpeners like leather straps.
However, there is no definite right or wrong way when it comes to working with a sharpening stone.
This is because you should use the strategy that works for you while maintaining a constant sharpening angle.
How long does it take to sharpen a knife with a whetstone?
It takes about 10-15 minutes to sufficiently sharpen a knife on a sharpening stone.
The time may, however, be it long or short depending on the extent of dullness in the edge.
For extremely dull blades you may take up to 20 or even more minutes.
How do I know if my knife is sharp?
There are a number of ways through which you can know if your edge is sharp or not.
For starters, you can assess how effortless the knife slices a paper.
If the edge requires you to apply a lot of pressure and effort when slicing the paper, then it is not sharp.
The other method you can use is feeling the edge with your index finger.
Gently run the finger across the edge without applying any pressure.
The knife should be perpendicular to the finger and not parallel so that it does not cut you.
What would a professional chef use to sharpen his/her knives?
Most professional chefs use electric knife sharpeners due to the efficiency, convenience, and reliability of these sharpeners.
Also, since these chefs are usually working on deadlines, they prefer electric sharpeners since they are quick.
The chefs also use honing steels to hone the blades since they require honing after every 2-4 uses.
What do the numbers on a whetstone mean?
The numbers on whetstones are an indication of the grit coarseness of these sharpeners.
These numbers act as a guide for shoppers to identify the ultimate sharpening stone they are looking for.
Which side is which on a sharpening stone?
The best way to identify the sides is by feeling the coarseness of the sides.
The side that is extremely rough is the coarsest while the one that is smooth is the fine side.
Medium grit will feel nearly smooth but not as smooth as the fine one which feels like glass.
What can you substitute for honing oil when using your sharpening stone?
There are several alternatives you can use.
These substitutes are oils from vegetables, minerals, kerosene.
It is advisable not to use ATF liquid as it may contain ingredients that may be harmful to the skin.
Conclusion
Our favorite pick from the list is the Sharp Pebble Premium 1000/6000 Grit Whetstone as it's double-sided and comes with a bamboo base, making it much easier for you to sharpen your knife.
If you're on the hunt for a quality whetstone on a budget, then you can't go wrong with the CuisineBeats 1000/6000 Whetstone, which comes with everything beginners need to start sharpening their blades and even a user handbook to guide first-time users through the process of sharpening with a whetstone.
And for those in need of a whetstone that comes with a knife sharpening angle guide that can handle a variety of different knives, the CWINDY Sharpening Stone Kit is your best pick.
Further reading:
How to Properly Use a Chef's Knife Tutorial
Learn How to Use Different Types of Knives
[toc]
Ryan Leavitt
Hi my name is Ryan Leavitt a Marine Corps Veteran and currently an over the road trucker (Long Haul). I am no expert chef but am enjoying preparing my own meals on the road and testing all the different knives.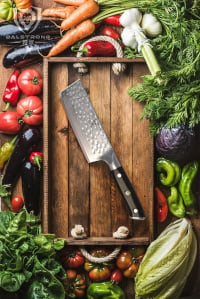 Want FREE Knives?
We give these knives a quick twirl and review, and then we pass them on to a few lucky home chefs!
By subscribing, you agree to get emails from me, Ryan Leavitt. I'll respect your privacy and you can unsubscribe any time.