Did you know?
Most people wonder whether it is a must to have a sashimi or sushi knife at home.
Well, owning these knives is not necessarily a requirement for making your sushi taste better or even smell nice.
However, these blades make the preparation of sushi and sashimi more convenient and fun.
A sharp sushi knife makes all the difference when you are preparing sushi as compared to if you were using a basic kitchen knife.
And if you're still searching for the best sushi knives for your money, take a quick look at my favorite list below.
I'm sure they will be great choices for you as well.
The Best Sushi Knife for Your Money (Updated List)
We earn a commission if you make a purchase, at no additional cost to you.
* Featured Listing *
We earn a commission if you make a purchase, at no additional cost to you.
Related:
How Many Different Japanese Knife Types For Sushi Out There?
Sushi knives come in 3 different types. These include:
Deba-bocho knife
This is a heavy-duty meat cleaver that is ideal for cutting through fish cartilage and bones.
The cleaver has its origin in Kansai, Osaka in Japan. It is designed mostly for commercial use by professional chefs and hence may not be a requirement for preparing sushi at home.
The best thing about this cleaver is that it helps in filleting a large fish wholly without damaging it.
However, you should not slam it down like you would for common cleavers or even use it for chopping meat from large bones.
Usuba-bocho knife
This is a vegetable blade that is ideal for fine peeling, cutting, slicing, and chopping. This one works best with vegetables than with meat.
As such, it is not recommendable to use the blade on meat especially hard meat like beef and pork. The thin blade cuts through fruits and vegetables without damaging or crushing the cells.
Yanagiba knife
Also known as the standard sashimi knife, Yanagiba is used for slicing fish fillets and raw fish blocks.
The most fascinating aspect of this blade is that it is a special knife for preparing sashimi and sushi. This is because it meets specific requirements in Japanese sashimi/sushi cuisine.
The blade is designed for precise and accurate sashimi slicing. The blade is long and thin for easy maneuverability around fish bones.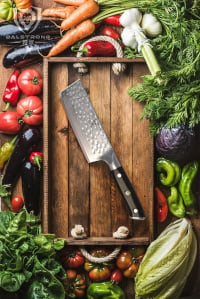 Want FREE Knives?
We give these knives a quick twirl and review, and then we pass them on to a few lucky home chefs!
By subscribing, you agree to get emails from me, Ryan Leavitt. I'll respect your privacy and you can unsubscribe any time.
How to Choose a Good Knife for Sushi
While buying a sushi knife or any other knives may appear to be an easy task, it can be quite complex and overwhelming.
This is because there are several considerations you need to make before you can settle on the best sushi/sashimi knife.
These considerations include:
Blade and handle materials
The most predominant feature of the best sushi knives is that they are extremely sharp and can retain sharpness for a long time.
Therefore, you need to settle on a blade made using a high carbon steel type or a hard steel alloy.
The most common steel in high-end sushi and sashimi knives is VG-10 due to its razor-like sharpness and edge retention.
Handle materials are also important since they give the handle its feel and look.
Therefore, you need to settle on a knife whose handle is made using materials that are resistant to water, heat and scratching.
Additionally, the handle should have a comfortable grip.
Blade length
The length of typical sushi and sashimi knives ranges between 7" and 13" or even longer.
It is worth noting that for sushi knives, the longer the blade is, the easier and effortless it is to use the knife.
This is because the best slicing motion is a single, consistent cut throughout the food item.
Depending on the food types you want to slice with the knife in addition to sushi and sashimi, you should settle for a length that will be easy to control for you.
Budget
Like other specialty knives, sushi knives are priced differently depending on factors like brand, quality, and materials used among other factors.
This is why you must have a budget before you start shopping for the ideal knife.
With a budget, it will become easy for you to buy a knife that you can easily afford without straining yourself financially.
Brands of the knives
The brand is yet another important consideration when buying a sushi knife.
Some brands are synonymous with quality, functionality, performance, and reliability.
However, other brands are poor in quality and tend to fall apart within no time.
You should avoid such brands as they are a waste of your hard-earned cash.
Review of the Top Rated Sushi Knives
Lucky Cook (Best Performance)
We earn a commission if you make a purchase, at no additional cost to you.
For chefs and cooks who prefer all-round sushi knives that are also multi-purpose, the Sashimi Sushi Knife is the perfect choice for them. This is because, in addition to using this blade for cutting sashimi and sushi, you can also use it for other tasks including fish filleting and slicing.
Designed for use with delicate products
This 10-inch Lucky Cook features a special design that makes the cutting-edge ideal for cutting and slicing delicate products including sushi rolls and raw fish. The edge does not crush or tear the structure of these foods. The narrow asymmetric blade allows cooks to fillet a large fish in only two or fewer movements.
Japanese traditions
This one bears all the high-quality Japanese traditions in its design and construction. For starters, it boasts of a good balance, superior quality stainless steel, ultra-sharp blade, and a comfortable non-slip handle. The blade is rust-free, stain-resistant, and does not get discolored by any food. It is also easy to control for beginners and amateurs.
Our scores:
Sharpness: 9.5/10
Handling: 9/10
Ease of maintenance: 9/10
Pros:
Well balanced blade and handle
Moisture-resistant non-slip handle
Ideal for multi-purpose use in the kitchen
A narrow asymmetric blade that is flexible for easy maneuverability
Right-sided bevel for separating slices from the rest of the food
Cons:
The super-sharp blade can inflict injuries if mishandled
Interesting knife comparisons:
Mercer Culinary Yanagi (Best for Beginners)
We earn a commission if you make a purchase, at no additional cost to you.
Mercer Culinary blades are popular for combining beauty and performance in all their knives. True to this, the Yanagi is known for its ease of handling, precision, and accuracy when slicing sushi and sashimi. The blade is also multi-purpose and can be used for filleting fish or even slicing poultry.
High-Carbon German Steel
The blade in this Mercer Culinary sushi knife is made using high-carbon German steel. This steel type is resistant to staining, discoloration, corrosion, and rust. As such, you can use the blade in a typical kitchen for all your cutting tasks without worrying about the blade getting damaged. The blade is razor-sharp for effortless cutting through delicate food items.
Single-edge blade and traditional wood handle
It comes with a single-edge blade that is taper ground using a fine stone polish and finishes for straightness and sharpness. The blade cuts smooth and clean slices thereby enhancing your sushi preparation experience. What is more unique about the knife is that it comes with an NSF traditional wood handle. The handle is not only easy to hold but equally comfortable due to its non-grip properties.
Our scores:
Sharpness: 9/10
Handling: 8.5/10
Ease of maintenance: 8.5/10
Pros:
Razor-sharp cutting edge
Comfortable non-slip handle
Made using high-carbon German steel with excellent properties
Allows for smooth and precise cuts
A practical knife for beginners
Cons:
It is not dishwasher recommended
Dalstrong Yanagiba Sushi Knife (Best Design)
We earn a commission if you make a purchase, at no additional cost to you.
Dalstrong blades are arguably the most sought-after blades in the market due to their uniqueness, peak performance, reliability, and durability. The 9.5" Yanagi Phantom Series knife by Dalstrong is one of the best sushi and sashimi knives on the market. This perfectly balanced blade with exceptional performance is ideal for home and commercial kitchens.
The Dalstrong Touch
The blade in this knife is full tang and forged from an ice-tempered Japanese AUS-8 steel with a 58+ Rockwell hardness. This high-carbon steel is easy to sharpen and prides itself on exceptional sharpness, strength, edge retention, and durability. The blade is beautifully engraved and features a perfectly hand-polished spine with an ergonomic bolster that provides a naturally smooth grip.
Classy design
The narrow blade in the knife allows for nimble movement and maneuverability when cutting delicate food items. The velvet rich black Pakkawood handle features a D-shape that is expertly designed for perfect tucking into the palm for ultimate precision and control. The distinct mosaic brass and copper pin on the handle adds subtle luxury and refinement. The blade is hollow ground for less drag hence complementing the highly efficient handle.
Our scores:
Sharpness: 8.5/10
Handling: 8/10
Ease of maintenance: 8.5/10
Pros:
Practical knife for sushi chefs
Perfect style and functionality combination
Highly decorated and comfortable handle
Strong and solid blade
Flexible and maneuverable blade for best slicing experience
Cons:
Beginners may find the knife hard to use
Related:
PAUDIN (Best for Beginners)
We earn a commission if you make a purchase, at no additional cost to you.
This PAUDIN one comes with a unique blade design that has a waved pattern that not only reduces drag and prevents food from getting stuck on the blade but also enhances the appearance of the knife. This non-stick blade is flexible for use on different foods including sushi, sashimi, and even fish. It is suitable for use in a home kitchen or even in a commercial setting by a professional chef or cook.
Sharp and precise cuts
The German stainless steel used in making this blade has a Rockwell hardness of 56+ and a 15-degree edge for long-lasting sharpness. This 0.2mm blade is resistant to rusting, discoloring, and staining. As such, its use in the kitchen is not limited to any ingredients as it can also be used on acidic and colored foods. The edge retention in the blade is excellent and hence it does not need to be sharpened now and then.
Well balanced with an ergonomic handle
It boasts of a balanced weight distribution that in turn enhances perfect control, precision, and accuracy when cutting. The ergonomic handle is completely safe since its non-slip and has a comfortable grip. Therefore, with this blade, you will not strain your wrist even when using the knife for long sessions. In addition to slicing sushi and sashimi, the blade is also perfect for slicing smoked salmon, pork loins, fish, turkey, ham, and roast.
Our scores:
Sharpness: 8/10
Handling: 8/10
Ease of maintenance: 8.5/10
Pros:
Ultra-sharp and durable blade
Effortless and easy cutting
Excellent edge retention
Comfortable non-slip grip
Perfect for multi-purpose use around the kitchen
Cons:
Not recommended to wash in a dishwasher
Happy Sales (Budget Choice)
We earn a commission if you make a purchase, at no additional cost to you.
For right-handed chefs and cooks who prefer using sushi blades that are specially designed for their predominant hands, the Happy Sales Japanese Long Sashimi Sushi knife is the ideal choice for them. Featuring a slip-free handle and a non-stick blade, it is engineered for daily use in the kitchen. With this knife, you need not worry about corrosion, rusting, or even discoloration as it is cushioned against these effects.
Long slender blade
The stainless-steel blade is long and slender for easy flexibility and maneuvering through rice rolls, sushi slices, and fish fillet. The design of the blade also makes it ideal for making long and thin sheets of steak. However, you should not use the blade with tough and hard foods such as massive meat carcasses to prevent dulling.
Comfortable handle with non-slip properties
The handle in this product is designed and built for classic handling in the kitchen. The wooden handle has excellent moisture resistance and hence you need not get worried about the handle getting damaged by splashes of water in the kitchen. Additionally, it has a smooth round surface that is easy to grasp and grip securely for fine cutting and control of the blade.
Our scores:
Sharpness: 8/10
Handling: 8/10
Ease of maintenance: 8/10
Pros:
Superior design and construction
Multi-purpose blade
Ergonomic handle with superb water resistance properties
Lightweight and well-balanced
Easy to care for and maintain
Cons:
The blade is not full tang
Kai Wasabi (Best for Control)
We earn a commission if you make a purchase, at no additional cost to you.
The Kai Wasabi Yanagiba is a professional chef's sushi and sashimi knife. The blade is perfect for slicing thin sushi and sashimi slices. The most intriguing aspect that sets this blade apart from other knives is the fact that it is dishwasher safe. Even so, hand washing is recommended so that the edge does not collide with other utensils in the dishwasher thereby damaging the edge.
Bead-blasted blade
The design and construction of this Kai Wasabi knife compare to no other blade in the market. For starters, the blade in this sushi knife is bead-blasted for an elegant and attractive finish while still retaining performance and functionality. The single-sided blade is embellished with Wasabi-a Japanese character. Overall, the design of the blade minimizes drag and friction thereby giving clean and smooth slices.
Sturdy handle and edge retention
The handle in this Kai Wasabi knife is sturdy and stable for a firm and secure grip. The handle has a fine polypropylene finish that is not only scratch resistant but is also not affected by moisture. The Daido 1K6 high-carbon steel is stainless and boasts superior edge retention. The steel blade also sharpens easily using standard sharpeners.
Our scores:
Sharpness: 8/10
Handling: 9/10
Ease of maintenance: 8/10
Pros:
Dishwasher safe
Sturdy and firm handle
Attractively finished blade
Superb edge retention
Stain-resistant and corrosion-free blade
Cons:
The single-sided blade limits the use of the blade on massive meat carcasses
Dalstrong Shogun Series S Yanagiba (Best Materials)
We earn a commission if you make a purchase, at no additional cost to you.
This is the ultimate Yanagiba knife as it combines outstanding craftsmanship and cutting-edge technology to give rise to an all-round sushi and sashimi knife. With this blade, you can be assured of peak performance, reliability, and durability. This is the product that you will use for years when preparing sushi or sashimi and even other foods such as fish fillets.
High-performance blade
The single-bevel blade in this knife is ruthlessly sharp and has a scalpel-like edge that is hand finished at 15 degrees using the ancient 3-step Honbazuke process. In addition to this, the blade is nitrogen cooled for purposes of enhanced hardness, corrosion resistance, and flexibility. The Metal storm pattern that is hot-forged on the blade minimizes drag.
Traditional Octagon handle
The octagon-shaped wood handle in this Dalstrong knife is meticulously constructed using a combination of a military-grade G-10 Garolite, non-porous fiberglass, and Red Rosewood. This combination not only enhances the decorativeness of the handle but also allows for superior control and a comfortable grip. The finish on the handle provides scratch-resistant and waterproofing properties.
Our scores:
Sharpness: 9/10
Handling: 8.5/10
Ease of maintenance: 8.5/10
Pros:
Extraordinary blade performance and edge retention
Flexible blade for multi-purpose use
Metal Storm pattern that minimizes drag while slicing through food
Outstanding craftsmanship
Awe-inspiring blade design
Cons:
Not dishwasher friendly
How Much Does a Sashimi Knife Usually Cost?
The cost of sashimi/sushi knives varies from one knife to the other. This is because these knives are not designed or constructed equally.
Some knives feature unique craftsmanship, superior quality materials, and award-winning designs. Others are simply designed and feature lower-quality materials. The brand of the knife also affects its price. Some brands are popular and well-established in the market and hence tend to be more expensive.
The starting price of these knives is usually about $20 (some brands are slightly cheaper). Some sushi knives cost several hundred dollars especially those that come with gift boxes. The secret to finding an affordable knife for you is by having a budget.
How to Maintain and Take Care of It
Maintaining and taking care of your sushi knives are some of the best ways of guaranteeing the reliability and durability of the knives. This is because, with poor care and attention, the blades fall apart quickly and wear out at a faster rate. As such, the life of the knife may be limited to a great extent. Tips for caring for your sushi knife are such as:
Use it for sushi and other soft foods only
A sushi knife should only be used for slicing soft foods. Always read the manufacturer's instructions on the foods that you can cut with it and those that you should avoid. Using a blade for any task other than those that it is designed for will damage the cutting edge.
Do not wash it in a dishwasher
Even though a dishwasher may seem convenient for washing your sushi knife, you should not be tempted to use it for cleaning the knife. During the washing cycle, there is usually a high likelihood that the knife will collide with other utensils thereby damaging the cutting edge.
Hone and sharpen it often
Irrespective of how sharp your knife is, it is worth noting that it will get blunt and dull with time. Due to this, consider honing the knife after a few uses and sharpening it whenever you notice that the cutting edge is becoming dull.
Avoid frozen food and hard fruits/vegetables
A sushi knife should slide easily into the food you are slicing or chopping. For frozen foods and hard fruits, you will require to exert great pressure and effort for the blade to cut through. This will in turn damage the blade and can even pose a safety hazard in case the knife slips from the hands.
How to Hold and Slice Sushi With Your Yanagiba Sushi Knife
Holding your sushi knife wrong will not only make it hard for you to make smooth slices but can also pose a safety hazard for you. The long and sharp blade in these knives can cause serious cuts on your fingers.
When holding it, ensure that the thumb and index finger hold onto the blade's base. Then, you should wrap the rest of the fingers (three) around the knife's handle. At first, this may seem odd but with time, it becomes easy to get used to this holding technique.
By holding your knife using this strategy, you can improve your accuracy and consistency when making sushi slices. The holding technique works for both hands but you may have to re-align your fingers if you are slicing or chopping hard foods. This is because you will need to apply more pressure than you would if you were slicing soft vegetables and fruits.
When holding yours in the right stance, it becomes possible for you to have precise angle control of your slices and cuts. Always ensure that you have full control of the blade so that you can make your desirable slices and cuts.
Do You Need a Left-Handed Yanagiba Sushi Knife?
Sushi knives with single bevels are designed for specific hand orientations.
Since most people are right-handed, the default hand orientation in the majority of the sushi knives in the market is right-hand orientation. For left-handed chefs and cooks, it goes without saying that they will need left-hand oriented single bevel sushi knives. Despite these types of knives being less common, it is not hard to find them when shopping for the best sashimi knives.
For high-end sushi knives, you may need to place a special order for left-handed sushi knives. This is because these blades are not mass-produced and hence finding the blades may be quite hard. For double-edged knives, you need not worry about hand orientation since these blades accommodate everyone.
It is worth north noting that for lefties, buying a right-handed sushi knife is a waste of your hard-earned cash. This is because you will hardly make any smooth sushi slice with the knife.
Should I Buy a Knife For Sushi From Dalstrong?
A firm "yes" from me!
The brand is one of my favorites since they have a lot of great knives that almost everyone would fall in love with.
So, definitely give them a try.
Yanagiba Vs. Sujihiki
Most people especially those from across the globe in countries other than Japan use these terms interchangeably. Ideally, these types of knives are quite different from each other in terms of design and construction. Ideally, a Yanagiba blade is a single bevel blade that is specifically made for slicing sashimi and sushi. This knife is can only be sharpened on one side. In addition to this, these blades are specific in that a right hand Yanagiba can only be used by a right-handed chef/cook.
Sujihiki knives on the other hand feature double-edged blades and their designs are similar to those of Western knives. These blades can be sharpened on both edge sides. Besides, these blades do not have any limitations in terms of use and functionality. This is because of everyone; whether right or left-handed.
Sujihiki blades are thicker, heavier, and more robust in comparison to Yanagiba knives. The Yaganiba blade is made from high carbon steel and is thin and lightweight. These knives (Yaganiba) are complex to use and hence require better skills and practice to handle and use. They are also more susceptible to oxidation and hence need better care, attention, and maintenance.
Conclusion
If you plan on making sushi or slicing sashimi in your kitchen, getting the right knife for the job is integral.
While using a sashimi knife to slice sushi & sashimi won't make it taste better, it will definitely make it much easier for you to get the job done.
Our #1 pick is the Dalstrong Phantom Series Yanagiba knife, as it's specifically designed to slice raw fish and sushi in a Japanese kitchen.
These blades are used by professional chefs and boast superior craftsmanship, which is why it would be a worthwhile investment for any sushi enthusiast out there.
Another great option for chefs is the Mercer Culinary Asian Collection Yanagi Knife.
This blade is also designed for sushi and sashimi and it's also single-beveled, sticking to traditional Japanese knife-making techniques.
But if you're an average home cook who needs a nice and sharp sushi knife on a budget, we recommend the Lucky Cook Sashimi Sushi Knife.
While it doesn't have the premium features the other two options have, it's one of the sharpest and most precise blades in its price range.
Further reading:
What Is "Sushi-Grade," Anyway? A Guide to Eating Raw Fish
Eat It Raw: How to Prepare Sushi and Sashimi
Ryan Leavitt
Hi my name is Ryan Leavitt a Marine Corps Veteran and currently an over the road trucker (Long Haul). I am no expert chef but am enjoying preparing my own meals on the road and testing all the different knives.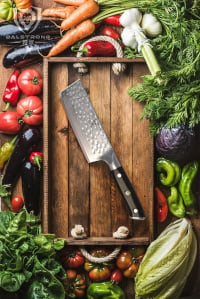 Want FREE Knives?
We give these knives a quick twirl and review, and then we pass them on to a few lucky home chefs!
By subscribing, you agree to get emails from me, Ryan Leavitt. I'll respect your privacy and you can unsubscribe any time.