Sellers can post used or new kitchen knives for sale on eBay. Certain types of knives are allowed on the site, but there is a long list of knives that aren't allowed. Before posting knives for sale on eBay, make sure to read the site's Knives Policy to ensure you're following the guidelines.
Selling old kitchen knives on eBay is a great way to make space in the kitchen.
eBay's knife policy allows kitchen knives, which is what makes it a great choice for many different sellers out there.
Since eBay is overflowing with different models from different manufacturers, it will be relatively easy for you to find someone ready to buy your knives.
As such, you are certain to get a ready market for your products on this platform.
However, with all the people trying to sell old blades on eBay, the market can also get crowded.
So, to help you figure out if eBay is the best place for you to sell your blades, check out this guide to selling old kitchen knives on eBay.
Which blades are you allowed to sell on eBay?
While the site allows you to sell your knives through the platform, there are a few provisions on they you can sell and those that you can't.
Before you post any advert on the brand and model of your product that you want to sell through the site, make sure that it is not one of the forbidden types. Otherwise, the site will flag and remove your listing.
Here are the types that you can sell on eBay:
Tactical daggers
Kitchen knives
Throwing knives
Butterfly knives that cannot be sharpened
Spring-assisted knives
Training/throwing knives that are not sufficiently sharp for piercing the body
Types that are forbidden from being sold on the platform include:
Automatic knives
Butterfly knives that can be sharpened
Dual-action knives
Gravity knives
Hidden/disguised knives
Push knives
Sword canes
Switchblades
eBay's policy on selling knives
Knives, are considered to be weapons in most parts of the globe and hence there are strict state, federal, and international laws and regulations that ban/restrict the sale of these products. For the permitted blades and related accessories, sellers require to follow these provisions fully.
eBay has it that sellers of blades whether kitchen blades or otherwise need to follow these policies. Any violation of the policies can result in the listing being removed as well as limits on the user's selling and buying privileges. It can also result in your account's suspension.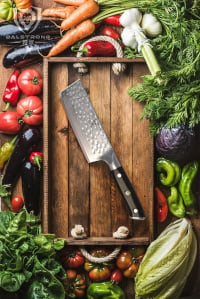 Want FREE Knives?
We give these knives a quick twirl and review, and then we pass them on to a few lucky home chefs!
By subscribing, you agree to get emails from me, Ryan Leavitt. I'll respect your privacy and you can unsubscribe any time.
How do you sell?
After you have reviewed the site's policies on selling kitchen knives on the platform and are certain that you will not violate any of the provisions, the next thing you should do is list them for sale.
Since you are probably selling used kitchen blades, it is advisable to prepare your products for sale. If they require a few repairs to reinforce the handles or straighten them, have these repairs done before taking photos of them.
If you are not certain of the exact amount of money that you should list them for, you can search on the site for the average cost of similar blades. This makes it easy for you to list a reasonable and competitive price for your products.
When listing your kitchen blades it is advisable that you upload as many photos as you like. This will make it easy for the listing to look attractive and persuasive to prospective buyers.
After you have found a buyer for your blade, the next thing you should do is package the knife for shipping. Pack them securely in a container that will provide ultimate protection and safety against cuts and other forms of harm.
Use two protection layers when packing the knife and use packing filler like packing peanuts or any appropriate material. The packing filler prevents the blade from moving around during handling or transit.
Your kitchen blade should only be shipped in its safest position and packing possible. This goes a long way in ensuring that you enhance the safety of the handlers as well as that of your customer.
Tips on getting the best value for your listings
Ideally, selling your knives this way will not fetch you a fortune. Even so, you should strive to get the best value of your products.
The first thing you should do when you want to fetch the best amount for your kitchen blades is to condition the cutters before you sell. Most people are likely to pay a good amount of money for well-kept knives that still got life in them.
Secondly, do not overprice. The easiest way of scaring potential buyers is by overpricing your products. Instead, list them within the market price range.
If possible, you can add accessories such as a knife block or a sharpening steel rod for your products to stand out from the other blades on the platform.
Conclusion
eBay and other online platforms allow you to market your products to millions of people across the globe. As such, when you are planning on offloading your kitchen blades, it is an excellent idea that you list them on this platform to earn a good amount of cash.
Ryan Leavitt
Hi my name is Ryan Leavitt a Marine Corps Veteran and currently an over the road trucker (Long Haul). I am no expert chef but am enjoying preparing my own meals on the road and testing all the different knives.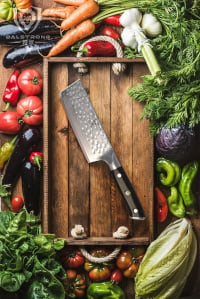 Want FREE Knives?
We give these knives a quick twirl and review, and then we pass them on to a few lucky home chefs!
By subscribing, you agree to get emails from me, Ryan Leavitt. I'll respect your privacy and you can unsubscribe any time.