One of the most awaited weapons clashes in history is between a sword and a bullet.
No one can deny the star (or fire) power of guns.
Although these aren't that advantageous in close-range fights, it has been proven throughout history that the side that carried this armament had more chances of winning than that which carried blades.
However, one question still lingers: can a slug be sliced with sharpened steel?
The easy answer is yes! A bullet can be sliced using a sword. In fact, any sharp enough object can cut a bullet in half because the latter which is made of lead is softer than the former which is made of steel.
Believe it or not, an experiment was done to see if a bread knife can split a pellet in two and it did!
The Beauty and Elegance of an Ancient Weapon
One of the first tools ever invented by man is a sharpened item that can be used for creating, harvesting, building, and eating.
Dating back over two million years ago, this has evolved into one of the most important instruments of survival – the sword.
Longer, heavier, and scarier than a knife, this is said to have evolved from a dagger during the Bronze and Iron Ages.
It wasn't until the Middle Ages when the longswords became more popular.
Designs vary from one continent to the other.
• Europeans had a long, narrow blade tapered to sharp tip and a wide cross guard dividing the blade and the handle.
• Indian Khandas is like a long, narrow rectangle and is double-edged.
• Scimitars in the African and Persian regions are curved almost like the letter C.
• The predecessor of the Japanese Katana is also curved, but only very slightly. This has a small cross guard – just enough to protect one's fingers from slipping towards the extremely sharp and hard steel.
These are just a few. Other regions in the world had their own, unique designs.
What this section of the article is trying to point out is that the sword has been the must-have weapon for millions of years.
It was only fully replaced by firearms during the First World War.
The Lethal Power of the Pistol
Gunpowder was invented in China in the 9th Century.
Thanks to the Silk Road, this technology started spreading worldwide.
The rest of Asia knew about it in the 12th Century. Europe got the news in the 13th Century.
Soon, different countries started developing a weapon that makes use of this explosive black powder.
And with that, many figured out ways on how to improve the first handguns made. Three main features were similar among most of these:
• The barrel must be made of metal,
• The gunpowder must be high in nitrate, and
• A projectile must be jammed tight inside the muzzle so it can be propelled out with more force.
All these upgrades led them to one important weapon: the cannon.
But soon, they have made more improvements which led to a smaller weapon that can be held by one person: the musket.
The ensuing developments to this invention were just so amazingly: people can shoot several rounds in one cartridge!
By WWI, soldiers stopped carrying the sword. And it wasn't just because it didn't work that well anymore against rifles.
Officers stopped strapping this around their belts because it was a sure-fire way to get shot.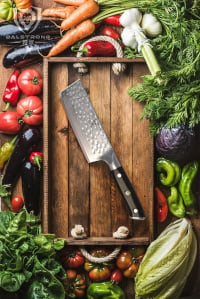 Want FREE Knives?
We give these knives a quick twirl and review, and then we pass them on to a few lucky home chefs!
By subscribing, you agree to get emails from me, Ryan Leavitt. I'll respect your privacy and you can unsubscribe any time.
The Need for Both Armament
However, they still rely on a sharpened tool just in case things go awfully wrong.
The bayonet became part of a soldier's equipment.
This is attached to the end of a rifle in case one's ammo is depleted and hand-to-hand combat is the final option.
Once the blade is fixed, the firearm is practically a sword.
Up to this day, many armies all over the world still give this to their servicemen.
Also, modern assault rifles still have the lug for securing the blade.
The Tale of the 20th Century Samurai
We know that a bullet can be sliced in half by a dull butter spreader that is mounted several feet away from a sharpshooter.
But can this be done by an actual person holding a sword and cutting a bullet to prevent it from hitting him?
Many will be surprised to know that the answer here is, very possibly.
In 2011, Isao Machii tried that with a pellet measuring a few millimeters wide.
If he was able to nick something so small, something that is very hard to see flying in the air, then he'd probably have better chances with something bigger.
But Which Will Conquer in Combat?
A sword can slice a bullet.
There are other factors to be considered, of course.
What is the casing made of? How large is it? What steel was used for the blade? How thick is it? How sharp?
But generally speaking, it can.
Then again, when it comes to actual combat, the gun will still prevail.
Ryan Leavitt
Hi my name is Ryan Leavitt a Marine Corps Veteran and currently an over the road trucker (Long Haul). I am no expert chef but am enjoying preparing my own meals on the road and testing all the different knives.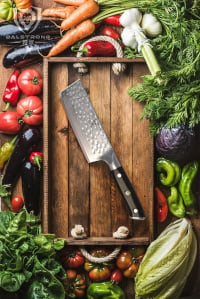 Want FREE Knives?
We give these knives a quick twirl and review, and then we pass them on to a few lucky home chefs!
By subscribing, you agree to get emails from me, Ryan Leavitt. I'll respect your privacy and you can unsubscribe any time.