Did you know?
Cangshan A Series ranks as one of the high-regarded and sought after knife sets currently in the market.
The best word to describe this knife series is simply amazing.
The set reflects the exceptional craftsmanship and expertise employed by Cangshan in designing and developing their products. This 16-piece knife set gives you the best value for your hard-earned cash.
The series offers a blend of balance between Eastern and Western-style blades and a performance that is comparable to that of none other.
Pros:
Ultra-sharp cutting edges
Superb craftsmanship and handling
Excellent weight and perfect balance
A clean and decorative overall design
Durable and reliable knives
Cons:
The set does not come with a pair of scissors
We earn a commission if you make a purchase, at no additional cost to you.
Other Cangshan products:
Superior steel construction
What sets apart the A-Series knife set by Cangshan from other knife sets in the market in the superior steel construction in the set.
The full-tang blades in the set are made using a high-end Swedish Sandvik 12C27 steel. This stainless steel is not only hard but also quite resilient.
As such, it makes it possible for the blades to exhibit excellent resistance against wear and tear, dents, chipping, and even breaking. Therefore, dropping the blade accidentally in the kitchen is not likely to damage or break the blade.
This premier Swedish steel is not only stainless but also dos not get discolored, rust, or even corrode even after years of consistent use in the kitchen. The protective fine coating on the steel blade protects the knives from any acidic reactions on the blades after cutting through acidic foods.
What is more amazing about this steel is that it does not transfer scents, odors, or tastes from one piece of food to the other.
Expertly designed handle
Cangshan pays keen attention to the design of all their blades.
This is because they aim at making blades that are not only functional and have high performance but also those that chefs and cooks will fancy using. In line with this, the African Blackwood handle in the A-Series blades is ergonomically designed and shaped for easy and comfortable handling.
The handles boast of flexible designs that make it comfortable to have a firm and secure grip regardless of the hand size.
The streamlined shape of the handles provides or a non-slip effect when holding the knives even if the hands are wet. As such, you can use the knives for food preparation as you undertake other tasks in the kitchen such as rinsing vegetables.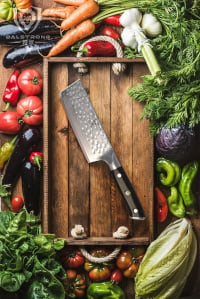 Want FREE Knives?
We give these knives a quick twirl and review, and then we pass them on to a few lucky home chefs!
By subscribing, you agree to get emails from me, Ryan Leavitt. I'll respect your privacy and you can unsubscribe any time.
Versatile blade collection
The A-Series knife set by Cangshan is specially designed for all-round use in the kitchen.
From peeling fruits to quartering chicken, slicing steak, chopping vegetables, and dicing as well as mincing a variety of food items, this knife set has got you covered.
Additionally, these blades are multi-purpose and hence you can use one blade for more than one task. If you are a budding chef who is keen on preparing new recipes, these blades will be of great help to you.
The blades in this collection are well-balanced and hence easy to control for precision and accuracy. In addition to this, the blades are wide and hence you can use them or transferring ingredients to your cooking pot.
Sturdy walnut woodblock
Storing 16 knives can prove to be quite hectic and complicated.
However, with the Cangshan A Series, storage needs not to concern you as the set comes with a solid, sturdy, and beautiful walnut wood block. The block matches the blades tastefully with the handles having the same color shade as the woodblock. Just like the knives, every block is handcrafted and features a unique grain.
Overall customer feedback
The Cangshan A Series is a beautiful and elegant knife collection according to most chefs and cooks who own and use the set.
The dense African wood on the handles holds on well against any impacts and wear and tear they may be exposed to in a busy kitchen. This is why most restaurant chefs love relying on the blades for all their kitchen knife needs and requirements.
Another key aspect that owners of this knife series love is how easy it is to clean. This comes in handy when the chefs are busy and have little time to spare for washing the blades.
The extra-ordinary sharp edges have an excellent and comfortable feel in the hands. Chefs note that the blade feels like magic in the hands due to their comfortable handles and high-performance blades.
However, some chefs are disappointed that the blades are not safe to wash in a dishwasher.
Conclusion
The Cangshan A-Series is the ultimate knife collection for you if you are focused on bettering and improving your skills. The set will not only get the job done but will also become a durable piece of cutlery in your kitchen for years to come.
You will enjoy using this knife series.
Further reading
7 Healthy Cooking Tips For Beginners
Ryan Leavitt
Hi my name is Ryan Leavitt a Marine Corps Veteran and currently an over the road trucker (Long Haul). I am no expert chef but am enjoying preparing my own meals on the road and testing all the different knives.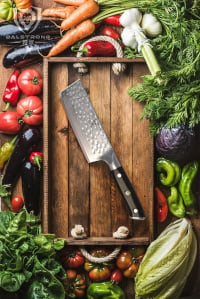 Want FREE Knives?
We give these knives a quick twirl and review, and then we pass them on to a few lucky home chefs!
By subscribing, you agree to get emails from me, Ryan Leavitt. I'll respect your privacy and you can unsubscribe any time.