Did you know?
The Cangshan N1 Series is similar to most other Cangshan Series blades but it features unique styling and design that sets it apart from the other collections from the same brand.
This knife set promises to provide you with a powerful and reliable set of knives that you can count on whether you are a professional chef or an ordinary cook at home.
And in this Cangshan N1 series review, we will take a look at some of the sought-after features of the knife set.
Pros:
Classic design styling
Compact knife set with all basic kitchen knives
Premier quality materials
Affordable to purchase and maintain
Great balance and weight distribution
Cons:
The knives are not safe to wash in a dishwasher
We earn a commission if you make a purchase, at no additional cost to you.
Other Cangshan products:
Expertly designed handle
The Cangshan N1 Series is arguably the most beautiful knife series from the iconic Cangshan brand. The all-metal handles in the series are a key selling factor of the set.
This is because the handles feature shiny metal construction with a ring-like hollow space. The handles are uniquely easy to grip and are gentle on the hands due to the smooth edges.
What is more amazing about the handles is that they feature a streamlined design with the base of the handle being wider than the bolster. This in turn provides for a non-slip grip.
The patent-pending design of the handle focuses on the ergonomics of the handle thereby providing firm and secure grips for all hand sizes.
The simplicity of the handle makes it ideal for all types of chefs including those working in busy restaurants as well as amateur chefs and cooks.
Amazing 6-piece knife set
While it does not come with a wide variety of blades like other Cangshan Series knives do, the N1 set has the basic knives that you will need for all your food preparation needs.
The set comes with a 7-inch Santoku, 8-inch chef's, 8-inch bread, 3.5-inch paring, and 5-inch serrated blades. These knives feature a striking similarity in that they are not only durable and solidly constructed but are also sufficiently long for their intended tasks.
The blades in the Cangshan N1 Series are made from German (X50Cr15MoV) steel with a Rockwell Hardness of 58 +/- thereby making it hard and strong. As such, you can use the knives to cut through a variety of food items including those with hard and tough shells.
Additionally, these blades are not affected by acidity in food and neither do they rust nor corrode.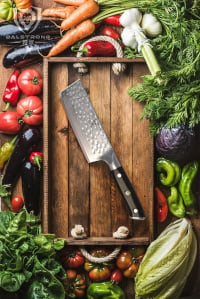 Want FREE Knives?
We give these knives a quick twirl and review, and then we pass them on to a few lucky home chefs!
By subscribing, you agree to get emails from me, Ryan Leavitt. I'll respect your privacy and you can unsubscribe any time.
Excellent edge retention
Cangshan ensures that all its knives come with the best quality steel with exceptional edge retention.
True to this, the German steel used boasts of excellent edge retention such that you do not need to sharpen the blades often. These stain-resistant edges do not experience any brittleness and hence you sharpen them, you need not worry about the edges chipping or denting.
You do not need to invest in any special sharpeners here. This is because these blades are easy to sharpen using standard sharpeners including whetstones, sharpening steel rods, and electric sharpeners.
Also, there is no complex sharpening process involved when sharpening N1 Series knives in the usual way that you sharpen ordinary blades.
Heat treatment and handcrafted
The Ultra6 heat treatment process that the N1 Series knives are taken through ensures that the blades are hard enough so that they can accommodate a precisely sharp 16-degree cutting edge for heavy-duty use in the kitchen.
Since the blades are handcrafted; a process that aims at ensuring that there are no flaws or imperfections on the overall design and construction of the knives.
Customer feedback
Reviews on Amazon.com alone reveal that the N1 Series by Cangshan is one of the most popular and favorite knives set for most chefs across the globe.
The chefs seem to like the knife set for its unique durability, reliability, and performance. Chefs and cooks who work in restaurants and eateries have it that the blades hold their edges well thereby guaranteeing that they always have reliable and dependable cutting tools by their side at all times.
The majority of the people who own the knife series love the fact that it comes with a compact woodblock that makes it effortless to store the blades in pristine conditions.
The stylish design of the handle seems to be yet another factor that most people fancy about the knives.
The handles not only make the knives look beautiful but also add excitement and fun when using the blades for all your cutting, slicing, and portioning tasks.
Conclusion
If you are shopping for a reliable and efficient knife set that you can use to polish and hone your kitchen skills, the Cangshan N1 Series is your ultimate choice.
With this knife set, you will get the best value for your money! And you will also own a knife collection that you can easily personalize to meet your needs.
Further reading
7 Healthy Cooking Tips For Beginners
Ryan Leavitt
Hi my name is Ryan Leavitt a Marine Corps Veteran and currently an over the road trucker (Long Haul). I am no expert chef but am enjoying preparing my own meals on the road and testing all the different knives.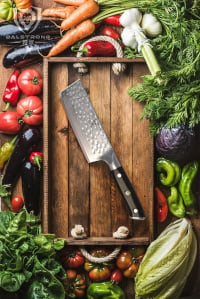 Want FREE Knives?
We give these knives a quick twirl and review, and then we pass them on to a few lucky home chefs!
By subscribing, you agree to get emails from me, Ryan Leavitt. I'll respect your privacy and you can unsubscribe any time.