The S Series by Cangshan is slim and sleek with perfectly contrasting angled lines, smooth curves, and a perfectly balanced design.
Like other collections from the brand, the S series blades feature superior quality steel that is solid and strong to withstand the impacts of daily wear and tear. The knife series comes with a walnut block for easy and safe storage of the knives.
The block is easy to customize for purposes of adding a personal feel and touch to the block.
And in this Canshan S series review, we will take a look at why people recommend this knife set to their friends.
Pros:
The knife set comes with a pair of shears or slicing soft food items
Comfortable ergonomic handles
The knife block allows your kitchen to well-organized
Durable steel
Ultra-sharp
Cons:
Prone to damage when washed in a dishwasher
We earn a commission if you make a purchase, at no additional cost to you.
Other Cangshan products:
Dynamic balance
The blades in the Cangshan S Series boast of a dynamic balance in that the weight of the blade is evenly distributed throughout the entire length of the blade.
Consequently, this not only makes the blades easy to hold but also effortless to control. The unique balance of these blades also guarantees that you do not need to apply excessive pressure when cutting through hard and tough foods.
The excellent craftsmanship adopted in the construction and design in this collection provides for their reliable performance. For starters, the knives are lightweight and have thick blades with pointed tips or tearing into foods with hard exteriors.
Overall, the crafting is done seamlessly so that the knives are reliably useful for a variety of cutting tasks.
Premier materials
This Cangshan S Series knife collection features German X50CrMoV15 Steel which is a high alloy with an exceptional blend of durability and hardness.
A great blade is defined by its materials.
With the Cangshan S Series knife collection, you need not be concerned about the quality as the German steel boasts of superior quality. As such, the blades do not corrode, rust, and are not affected by acidity in foods.
These cutting edges in these steel blades are exceptionally sharp, resistant to denting, and has superior edge retention.
This means that you can use the blades for a long time without requiring you to sharpen the edges regularly.
However, you should hone them often to restore the straightness in the cutting edges. With this knife series by Cangshan, you will always have sharp blades at your disposal.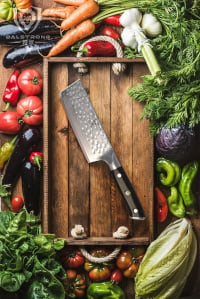 Want FREE Knives?
We give these knives a quick twirl and review, and then we pass them on to a few lucky home chefs!
By subscribing, you agree to get emails from me, Ryan Leavitt. I'll respect your privacy and you can unsubscribe any time.
Handcrafted and heat treatment
Every blade in this Cangshan S Series is specially handcrafted by passionate artisans who possess valuable skills in designing and making the best quality blades.
The handcrafting of these blades ensures that there are no imperfections whatsoever on the blades. What is more amazing is that they are hand sharpened thereby giving the blades ruthlessly sharp cutting edges.
A combination of handcrafting and sharpening yields beautiful and functional cutting tools.
Every Cangshan S Series knife is undertaken through an expressly precise 6-stage heat treatment. This treatment aims at ensuring that the blades are sufficiently hard and solid to accommodate a 16-degree sharp edge.
Additionally, the heat treatment makes the blade ideal for withstanding the wear and tear associated with daily use.
Unique design
The aesthetics of this knife set are done expertly to push the blades into function.
For starters, the blades feature ergonomic handles that are styled to perfectly tuck into the chef's palms for a comfortable and secure grip. The black wood handles are triple-riveted for stability and resistance to breaking or loosening due to falls and other impacts.
Customer feedback
The S Series blades by Cangshan enjoy a good reputation among professional chefs and even amateur cooks.
Most people love the fact that the knife set is versatile and comes with a wide collection of knives including 8" chef knife, 7" Santoku, 6" boning knife, and 6×5" steak knives among other blades.
The S Series saves you the trouble of storing the knives when not in use as it comes with a classy walnut wood block with each knife having its compartment.
Each blade in this knife collection is multi-purpose and can be used for more than one cutting purposes in the kitchen.
The blades boast of excellent quality and have a nice and comfortable feeling in the hands. The balance of the knives makes them easy to control for precise and smooth cuts for all chefs including beginners and amateurs.
This is a knife set that you can be assured to use for a long time without breaking apart or declining its performance.
Conclusion
People who are keen on investing in the best quality knife set for all their cutting needs and uses in the kitchen should consider buying the Cangshan S Series knife set.
This knife set will diligently be at your service at all times while ensuring that it is affordable and effortless to maintain.
Further reading
The Best (and Safest!) Way to Clean Your Hard-Working Knives
Ryan Leavitt
Hi my name is Ryan Leavitt a Marine Corps Veteran and currently an over the road trucker (Long Haul). I am no expert chef but am enjoying preparing my own meals on the road and testing all the different knives.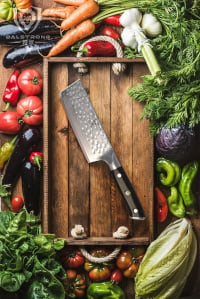 Want FREE Knives?
We give these knives a quick twirl and review, and then we pass them on to a few lucky home chefs!
By subscribing, you agree to get emails from me, Ryan Leavitt. I'll respect your privacy and you can unsubscribe any time.