Cangshan is reputable for making high-end cutlery and kitchen equipment.
The brand focuses heavily on the material choices, design, user experience, reliability, and convenience of its products.
Among the top products from the brand is the Cangshan S1 Knife Set.
The German steel used in the construction of these knives has a 56 Rockwell Hardness.
And in this review, we will take a look at some of its best features.
Cangshan S1 Series Review (Pros & Cons)
Pros:
Unique design and look with ivory-colored handles
A wide collection of knives for all your cutting needs
Comfortable handles
Durable and reliable blades
Practically functional knife collection
Cons:
Large knife block that may not fit well in a small kitchen setting
We earn a commission if you make a purchase, at no additional cost to you.
Related:
Detailed Review
Patented Cangshan knife block set design
One of the things you can be assured of when investing in the Cangshan S1 block set is that the knives will be of excellent use and help you. As such, these are blades that you will use comfortably in your home kitchen or even as a professional chef in a restaurant. The knives feature a patented design that enhances the suitability and ease of use of the blades.
The design of the knives puts great emphasis on the handle's ergonomics. This, in turn, helps in bringing about a comfortable grip that is equally firm and secure for all hand sizes. The best thing about the handles is that you can hold the knife in your hand for long durations without straining your muscles.
Solid and strong German steel forged Cangshan blades
Cangshan uses German steel in all their S1 series knife sets. This steel is popular among other things for its unique hardness (HRC 56) and solidness. As such, the blades cut through food items with great ease and consistency. This comes in handy for knives like the 6" boning, 8" honing, and the 7" santoku blades in the knife set.
The full tang forged steel blades are durable due to their classic solidness and edge retention. Consequently, this saves you the trouble of having to sharpen the blades now and then. Since every blade in the knife set is designed for a specific task, it is nearly impossible for the blade to get damaged by cutting through the wrong food items.
Solid Cangshan series knife set & block
When you buy the Cangshan S1 knife set, you will not need to worry about how to store the blades. This is because the knife set comes with a walnut wood block that is uniquely designed and boasts excellent compactness. The most outstanding aspect of the block is that each block is specially handcrafted. As such, no block comes with a grain that is similar to that of any other block.
The walnut wood block goes a long way in keeping your working area in the kitchen neatly organized. Additionally, you can customize the block with your initials to add a personal touch to it. Each knife has its own slot on the block and hence guaranteeing the security and safety of the knives.
A wide collection of knives from Cangshan
If you are in the market for a knife set that has all the blades that you will need in a typical kitchen, you should no further than the Cangshan S1 knife set. This is because there is not a single blade type that you will not find in the set. From paring knives to boning, chef knife, and honing blades, all the knives you need for preparing meals in the kitchen are in the set.
This knife collection in this knife set includes 8" bread, 8" chefs, 6*5" steak, 9" forged shears, 8" honing steel, 7" santoku, 5" utility, and 6" boning knives among other types of blades. Each of the blades is designed to handle their specific tasks. Ideally, this set is a good choice for a person looking to buy all kitchen knives from scratch.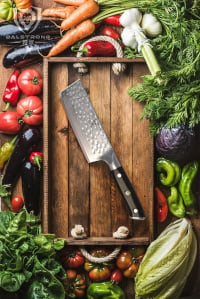 Want FREE Knives?
We give these knives a quick twirl and review, and then we pass them on to a few lucky home chefs!
By subscribing, you agree to get emails from me, Ryan Leavitt. I'll respect your privacy and you can unsubscribe any time.
Overall customer reviews
The reviews and feedback of people who have bought and used the knife set are full of praise for the knife collection. They have noted that the blades come in handy due to their ease of use, comfortable handling, resistance to corrosion, and edge retention. The users have also noted that the blades are easy to clean by hand and hence affordable to maintain. There are people who have expressed that the knives are easy to cut right from the box.
There are people who say that the white handles are nothing short of unique and classy. They add that the blades liven up the moods in their kitchens as well as their food preparation and cooking experience.
What is more unique about the knives is their ease of sharpening using standard knife sharpeners. The knives feel sharp and bring about a nice feeling of using them for your daily cutting needs in the kitchen.
Review Conclusion
There are lots of knife sets in the market presently, but there is none that come close to the Cangshan S1 Knife Set. From its convenience, compactness, elegant design, ease of handling, and durability, the knife set gives you the best value for your money.
Therefore, you should consider investing in the knife set if you are looking for knives that will remain efficient and useful throughout their life.
Further reading:
Types of Knife Blade Materials – Knife Depot
Ryan Leavitt
Hi my name is Ryan Leavitt a Marine Corps Veteran and currently an over the road trucker (Long Haul). I am no expert chef but am enjoying preparing my own meals on the road and testing all the different knives.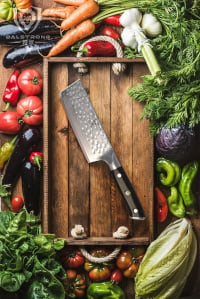 Want FREE Knives?
We give these knives a quick twirl and review, and then we pass them on to a few lucky home chefs!
By subscribing, you agree to get emails from me, Ryan Leavitt. I'll respect your privacy and you can unsubscribe any time.