The Cangshan TS knife series is a sleek and stylish blade collection with perfectly contrasting smooth curves and boldly angled lines.
The standard designs of these blades are expertly finished so that the blades are easy to hold and control for precision cutting.
These are blades that any chef can trust; whether an amateur cook or a professional chef. Cangshan knives boast of superior qualities, sophisticated designs, and unique solidness. As such, the blades are built to last.
And in this detailed Cangshan TS series review, we will take a look at why people recommended this knife set to their friends.
Pros:
Comes with a walnut block for easy and convenient storage
Ergonomic handle with a comfortable grip
Versatile blade collection for routine cutting tasks in the kitchen
NSF certified hence performance guaranteed
Rust and corrosion-resistant blades
Cons:
The ultra-sharpness of the blades poses a great safety hazard
We earn a commission if you make a purchase, at no additional cost to you.
Other Cangshan products:
Patented designs and solid construction
The TS series knives stand out from other brands and models in the market due to their classy patented designs.
This amazing knife set reflects the exceptional craftsmanship of the brand especially in terms of designing solid blades that stand out from the others in the market.
The smooth curves in the blade combined with boldly angled lines provide the blades with extreme cutting power. With these blades, you only need to apply minimal pressure and force for smooth and fine cuts.
Cangshan uses premier materials in designing and making all their blades. True to this, the blades in the TS Series knife collection features premium quality Swedish Sandvik (14C28N) steel.
This type of steel is popular for its incredible Rockwell hardness rating of HRC 59+2. As such, the blades pride themselves in excellent hardness, durability, and solidness.
Therefore, you can rely on the blades for cutting through different food items and ingredients.
Razor sharpness and edge retention
Cangshan prides itself on a unique heat treatment process that aims at reinforcing the blades for sharpness and longevity.
This process makes it possible for the blade to sustain 16-degree sharp edges. These edges come in handy for heavy kitchen use such as slicing, dicing, smashing, quartering chicken, and boning meat.
The ULTRA6 heat treatment brings about unique qualities of the steel thereby allowing the blade to have remarkably sharp edges.
The steel type in the TS Series blades by Cangshan has excellent edge retention properties. As such, you do not need to sharpen the knives after every few uses.
What is more amazing about the blades is that they are extremely new when sharp. Therefore, you will only need to hone the blades to straighten the cutting edge for excellent results.
These knives are handcrafted and hence are polished to perfection for resilience and functionality.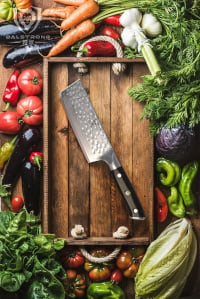 Want FREE Knives?
We give these knives a quick twirl and review, and then we pass them on to a few lucky home chefs!
By subscribing, you agree to get emails from me, Ryan Leavitt. I'll respect your privacy and you can unsubscribe any time.
Versatile knife collection
The knife series comes with a variety of blades including a chef's knife, bread knife, Santoku, a serrated utility knife, boning knife, tomato knife, paring knife, six steak knives, and a peeling knife.
This makes the knife set a perfect choice for a chef looking for a blade set with all the must-have knives for professional food preparation and cooking.
All these knives come with striking similarity in their qualities and cutting resilience. They are perfectly styled and designed for their respective specific tasks.
When you invest in this knife collection, you also get a few extras for enhancing fun and convenience when using the blades.
These extras include sharpening steel, several kitchen shears, and a beautiful walnut knife block. This block works tastefully with the knives and also enhance a décor effect in the kitchen.
The block and the handles in the knives are waterproof and thus ideal for use in the kitchen without any damage due to water or moisture.
Customer feedback
Chefs love this knife collection since it comes with a variety of blades that any chef needs for preparing a variety of recipes in the kitchen.
Most cooks like how comfortable the blades feel in the hands as well as the texturing on the handles for non-slip grips. These decent knives are sharp and most cooks appreciate the fact that the blades can stay for a few weeks without the need for sharpening.
The walnut block is yet another aspect that most people like about the knife series. They say that the block is nice looking and well made to spice up the feeling in your kitchen.
What is more amazing about this knife series according to chefs is that the handles and blades are scratch-resistant. Therefore, the knives do not lose their uniqueness and decorativeness over the years.
Most people advise that the knives should not be washed in dishwashers.
Those who have done so note that the cutting edges seem to get dented and dull due to collision with other utensils. They advise that the blades should be hand-washed and dried with a soft towel.
Conclusion
For any chef or cook, investing in this Cangshan TS Series knife collection is the first step towards refining your food preparation and cooking skills.
The knife set is designed for anyone who wishes to get the best services for a strong and solid blade collection.
Further reading
7 Healthy Cooking Tips For Beginners
Ryan Leavitt
Hi my name is Ryan Leavitt a Marine Corps Veteran and currently an over the road trucker (Long Haul). I am no expert chef but am enjoying preparing my own meals on the road and testing all the different knives.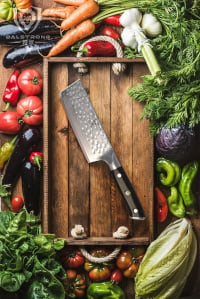 Want FREE Knives?
We give these knives a quick twirl and review, and then we pass them on to a few lucky home chefs!
By subscribing, you agree to get emails from me, Ryan Leavitt. I'll respect your privacy and you can unsubscribe any time.