Did you know?
The V2 Knife Series by Cangshan is a high-quality and beautiful knife set.
The knife set is professionally designed and built to highlight the beauty and elegance of classic knife blades.
This is done while elevating the practical functionality of the knives.
It is worth noting that these knives feature high performance thereby making them uniquely reliable.
Pros:
Easy to clean steel blades
Ice-hardened blades for excellent sharpness
Premier quality materials
Nicely designed handles that are comfortable to hold
A wide collection of versatile blades
Cons:
The finish on the handles is not the best; may appear cheap
We earn a commission if you make a purchase, at no additional cost to you.
Related reviews:
Professional Caliber Knife Set
Cangshan is a popular brand with a solid reputation for designing and constructing professional-level knives. The V2 series knife set by this brand boasts of professionally designed blades that are ideal for both domestic and commercial use. These knives pride themselves in the best qualities, strengths, and a combination of both Eastern and Western knife styles.
The craft in these blades is distinctive to give the knives a practical and functional appeal. Consequently, this ensures that with appropriate care and maintenance, the knives in this set last for a long time without requiring replacement. These are blades that you will be excited about and feel proud to use.
Premier quality steel
The most important part of a knife is its blade. This is because the blade determines how efficient the knife will be in cutting, slicing, or smashing food items. Cangshan uses high-alloy X50CrMoV15 German steel in constructing blades in the V2 series. This steel grade has a perfect blend of durability and hardness. The steel allows for precise sharpness and accuracy when cutting without any edge brittleness.
With a hardness of HRC 58 (+/-2) and hence can cut through tough and hard food items such as meat and fruits with great ease. It is also worth noting that steel is also stain resistant. This provides for easy hand washing while at the same time ensuring that it does not get stained by food items.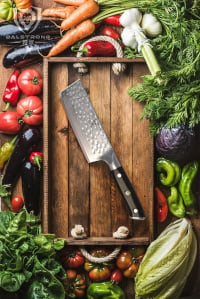 Want FREE Knives?
We give these knives a quick twirl and review, and then we pass them on to a few lucky home chefs!
By subscribing, you agree to get emails from me, Ryan Leavitt. I'll respect your privacy and you can unsubscribe any time.
Handcrafted for best performance
One of the most compelling reasons why you should invest in a V2 knife set or any Cangshan knife type thereof, is because the knives are handcrafted. Passionate artisans with tons of experience and knowledge in knife making create these beautiful and functional blades by their hands. This ensures that every aspect of the knife exceeds the market standards and also addresses the preferences of chefs and cooks.
The knives are also hand sharpened in the best sharpening conditions and techniques to guarantee that they are ultra-sharp right from when they are new. The main goal of handcrafting and sharpening the blades is so that their designs can enhance and refine the food preparation and cooking skills of chefs.
Flexible handle design
Cangshan pays great attention to the design of the handles in their blades. For starters, these handles are designed with a functional approach while still maintaining a good look and appearance. The ergonomic design of the handles enhances their holding flexibility. This is why the handles feel comfortable in the hands for long sessions. This favors professional chefs who are constantly preparing meals in the kitchen. The classic black wood handle is triple-riveted for firmness.
Knife collection and woodblock
When you invest in this V2 knife series set by Cangshan, you get these knives: 8" chef's knife, 5" serrated utility blade, 7" Santoku, 5" paring, and 8" bread knives. All of these blades feature the best quality and design concept. In addition to the knives, the set also includes a 5-slot acacia knife block that is handcrafted for best beauty. It is important to note that since the block is handcrafted, each block is unique and different from the others.
Overall Customer Feedback
Most chefs who have used the knife set have nicknamed it 'the sharpest knife set'. This is because the blades are sharp right from when they are new and do not require any pre-sharpening. Additionally, the chefs like the fact that the blades are not intimidatingly hard to control like most other brands. Most cooks cite that the set is a recommendable choice for people with little or no cooking experience.
Chefs who have owned the set for a while noting that there is nothing undesirable at all about the knives even after consistent use over several months. This is because of the high-end build quality and premium materials used in the construction of the knives.
The knife block is yet another favorite aspect that most people like about the knife set. Chefs and cooks no longer need to worry about where to store their knives as they can comfortably do so in the knife block.
Conclusion
Investing in a knife set requires extensive research to identify the best knife set for you. Cangshan knives and blades are designed for a typical busy kitchen where they will be exposed to heavy consistent use. Therefore, the blades come with a guarantee of assured performance throughout their life. This is the set to settle for if you are looking for a superior knife set that will be useful to you for a long time.
Ryan Leavitt
Hi my name is Ryan Leavitt a Marine Corps Veteran and currently an over the road trucker (Long Haul). I am no expert chef but am enjoying preparing my own meals on the road and testing all the different knives.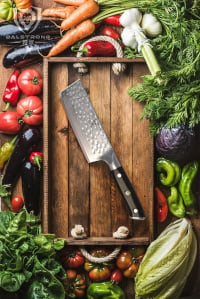 Want FREE Knives?
We give these knives a quick twirl and review, and then we pass them on to a few lucky home chefs!
By subscribing, you agree to get emails from me, Ryan Leavitt. I'll respect your privacy and you can unsubscribe any time.