Cangshan is a brand that's taken the market by storm since its launch.
On the other hand, Cutco dominates the home-cook market as one of the best American knife brands out there.
And when looking for a knife, people are often left choosing between these two brands for their kitchen.
If you're looking for superior sharpness and incredible construction, you're better off choosing Cangshan as they make higher-quality blades.
However, Cutco also offers some benefits that many cooks will find very useful in the kitchen.
In this Cangshan vs Cutco comparison, we dive into the benefits of both brands to see which one suits your tastes better.
Read on to learn more.
| | | |
| --- | --- | --- |
| | Cangshan | Cutco |
| Best features | Superior sharpness and performance | Forever Guarantee and Lifetime Free sharpening |
| Price | $$$ | $$$$ |
| Do professionals use it? | Yes | No |
| Construction | Forged | Stamped |
| Are block sets available? | Yes | Yes |
| Knife steel | X50CrMoV15 German Steel | High-carbon stainless steel |
A Brief Overview Of Cangshan Knives
This brand came into the market in 2015 and was founded by Henry Liu.
Liu left China for the United States in search of the right knifemakers to turn his dream of a high-quality and innovative kitchen knife brand into a reality.
And after searching Switzerland, the USA, and Germany, Liu found that the best manufacturer for him was already in his homeland of China and had experience in the knifemaking craft for over a thousand years.
That partnership created the Cangshan brand, which presently has over 25 different collections to choose from.
They have premium options as well as cheaper options, but all their products are high-quality and would perform well in any kitchen.
The brand has even won a couple of awards for its innovation such as the Red Dot Design Award for their Thomas Keller signature collection.
A Brief Overview Of Cutco Knives
Cutco began in 1949, in Olean, New York, and unlike a lot of other knife companies, you can only buy their products through their exclusive sales channels.
This brand is the largest manufacturer of cutlery in the United States and Canada and is one of the only brands from the country respected by chefs around the world.
One of their signature features is that all their products come with a Forever Guarantee.
This means that if you aren't satisfied with their blades, you can always contact Cutco and they will send a representative to either correct the issue or give you a replacement product.
And since this is a forever guarantee, you can avail of this service even if the blades were handed down to you or given as a gift.
This is one of the reasons customers find it worth it to pay the price for Cutco blades.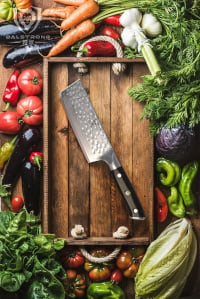 Want FREE Knives?
We give these knives a quick twirl and review, and then we pass them on to a few lucky home chefs!
By subscribing, you agree to get emails from me, Ryan Leavitt. I'll respect your privacy and you can unsubscribe any time.
Who Are Cangshan Knives For?
Since this brand has such a wide collection and catalog of knives, you can find products for just about anyone.
There are more than 20 different lines to choose from with this brand, and all of them provide high-quality blades.
This is a great option for students, home cooks, or even professional chefs.
Who Are Cutco Knives For?
Since Cutco knives are fairly expensive and aren't the most durable products out there, they aren't recommended for those starting out their culinary journey.
However, if you're an experienced chef looking for a set of knives that you can replace whenever it gets chipped or you find anything unsatisfactory, then this could be the brand for you.
One of the main reasons the price tag for these knives is justifiable is because of their Forever Guarantee that has kept all of their customers 100% satisfied since the company began.
Notable Cangshan Collections
The Cangshan N1
This is one of the brand's signature collections.
It is one of the more expensive options but is very well worth your money.
One of the first things you'll notice is the unique design of these knives.
They boast an all stainless steel design, that simply exudes class and gives it a very professional look.
It has hollowed-out handles, which allows you to grip it more comfortably making for a smoother slicing experience.
The blades are made of high-quality German stainless steel with the great edge retention and a Rockwell Hardness rating of 58.
Notable Cutco Collections
Double D-Edge
Cutco knives will generally come in three styles, but this is by far their most popular and unique one amongst the three.
At first glance, you might think it has a serrated edge, but it's a bit more complicated than that.
The blade of this knife is recessed as opposed to serrated.
This will give it three sharp surfaces that cut and come into contact with the ingredients.
Having these recessions also allow the central part of the knife to be protected when in use.
This knife will cut at almost any angle, giving chefs a lot of control when prepping ingredients.
The blade is made of high-carbon stainless steel and won't need too much sharpening.
However, when you do have to have it sharpened, it's recommended to send it back to Cutco for it to be done professionally for you.
This model comes in a variety of colors, which is one of the reasons the design has stayed in the heads of many different knife enthusiasts.
Cangshan Pros & Cons
Pros:
The brand has a varied collection
Cheap and premium options are available
Unique and functional designs
Lifetime Warranty included
High-quality knives
Cons:
These aren't the most durable blades out there
Cutco Pros & Cons
Pros:
Comes with a Forever Guarantee
High-quality. sharp blades
Ergonomic handles
Dishwasher safe
You can send dull blades to Cutco to be professionally sharpened
Cons:
The Bottom Line – Which Knife Should You Buy?
While a lifetime warranty is great and all, having to send the knives back to a company and dealing with customer service can be a drag.
If you're willing to spend the money on a Cutco knife because of the warranty, you might actually be better off investing in a premiere knife from a brand like Cangshan.
Cangshan is a great option for anyone because of the variety that exists within the brand.
They have budget-friendly lines such as the S1 and they have signature lines such as the Thomas Keller collection.
But at the end of the day, the decision is all up to you.
And what's most important is to make sure you're using cutlery that you feel comfortable with.
Once you do, no one can tell you that you haven't found the right brand for you!
Ryan Leavitt
Hi my name is Ryan Leavitt a Marine Corps Veteran and currently an over the road trucker (Long Haul). I am no expert chef but am enjoying preparing my own meals on the road and testing all the different knives.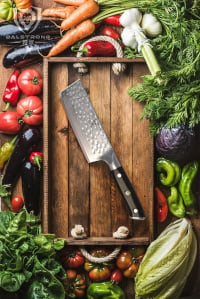 Want FREE Knives?
We give these knives a quick twirl and review, and then we pass them on to a few lucky home chefs!
By subscribing, you agree to get emails from me, Ryan Leavitt. I'll respect your privacy and you can unsubscribe any time.