If you've been looking for high-quality blades for your kitchen, there's a high chance you've stumbled across the Cangshan and Dalstrong brands.
These are two relatively young brands taking the market by storm.
But which brand is the right one for you?
Both brands make very high-quality knives, but Cangshan offers more variety when it comes to their collections, which gives you more flexibility when shopping.
With that said, Dalstrong offers many benefits for chefs and home cooks alike if you're willing to invest in one of their models.
In this Cangshan vs Dalstrong comparison, we dive deep into the benefits of each of these knives.
And by the end, you'll have a clear idea of which brand fits your kitchen the best.
| | | |
| --- | --- | --- |
| | Cangshan | Dalstrong |
| Do professionals use it? | Yes | Yes |
| Price | $$$ | $$$$ |
| Are there box sets available? | Yes | Yes |
| Main features | Incredibly sharp edge and durable construction | Damascus steel knives |
| Sharpness | 16-degrees per side | 10-degrees per side |
| Construction | Forged steel | Forged & Damascus steel |
Cangshan: A Quick History
Cangshan is a relatively young brand, only being launched in 2015.
The brand was founded by Henry Liu, who started the company in China and named the brand after his hometown where he also met his wife.
Liu soon moved to the United States in search of a quality knife manufacturer who could turn his vision into a reality.
And after searching the United States, Germany, Sweden, and Japan, he found that the best manufacturer was all the way back home, in China.
After finding the right partner, the brand quickly launched its first collection of knives in 2015 and has seen immense growth since then.
Cangshan has released a wide collection of kitchen knives over the years, and they've even racked up a couple of Red Dot Design Awards for their innovations.
And today, it is considered one of the top knife brands in the market.
Dalstrong: A Quick History
Dalstrong is another young Chinese cutlery brand that has made huge waves in the market since its inception.
The company was founded in 2012, and since then, it has constantly come up with innovative and exciting ideas that have changed the knife world altogether.
Their knives are manufactured in Yangjian, China, which is a city with a very rich history in knife making, which is partly the reason the brand makes such great products.
Innovation is the main goal of the brand, which is why their collections feature fairly unique designs and one-of-a-kind knives.
The brand has a very wide collection of knives, ranging from affordable models for home cooks, all the way to expensive premium models designed for professionals.
All in all, Dalstrong is a very high-quality brand that any kitchen enthusiast would enjoy using at home or even in a professional culinary setting.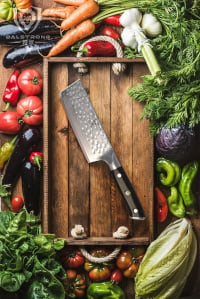 Want FREE Knives?
We give these knives a quick twirl and review, and then we pass them on to a few lucky home chefs!
By subscribing, you agree to get emails from me, Ryan Leavitt. I'll respect your privacy and you can unsubscribe any time.
Cangshan Vs Dalstrong – A Head To Head Comparison
Materials Used
Cangshan knives use two different types of steel depending on the collection you're shopping from.
Their products will either be made of Swedish or German high-carbon stainless steel.
These are two materials that result in a very sharp edge and great edge retention.
Dalstrong, on the other hand, has a more variegated choice of materials in their products.
For example, the Shogun Series is made with Japanese AUS-10V SuperSteel, while their Gladiator Series utilizes high-carbon German stainless steel in their construction.
That being said, all the steels used by the brand are of the highest quality, which is what makes Dalstrong a very reliable brand.
Construction
One of the main selling points of the Dalstrong brand is that all of their blades are forged from a single piece of stainless steel.
Using this technique requires a lot of skill and knowledge on the craft, which is why the company only employs expert craftspeople who really know how to do the job.
That being said, there are a couple of differences in the construction depending on the series or collection.
Some of their knives will simply be forged from a single block of steel, while others will be forged in the Damascus tradition, which results in a very intricate and detailed pattern on the face of the blade.
While some of the Cangshan's knives are forged, they also offer collections that feature stamped blades.
Stamping is a process wherein the blade will be laser cut or "stamped" out of a large piece of stainless steel before it gets treated, buffed, and ground into a functional blade.
This process is much cheaper than forging, which allows the brand to sell knives that are more affordable.
However, stamped blades tend to not be of the highest quality, especially when compared to their forged counterparts.
So if you are looking for top-quality kitchen cutlery, we recommend you go for models and products that are forged in construction.
Conclusion – Which Is The Better Brand?
And that concludes our quick comparison.
Cangshan has a more varied collection of blades, which allows you to find both cheap and expensive options in their catalog.
That's why the brand is recommended for both professionals and home cooks.
On the other hand, Dalstrong knives aren't as varied, and since all their blades are forged, they tend to be more expensive.
So if you're looking for high-quality professional kitchen tools and are willing to spend a couple of extra bucks, then Dalstrong might be the brand for you.
Regardless of which brand ends up in your kitchen, the most important thing to remember is that the best knife for you is one that you enjoy using and feel comfortable with, so make sure to test the blades out before making the investment!
Ryan Leavitt
Hi my name is Ryan Leavitt a Marine Corps Veteran and currently an over the road trucker (Long Haul). I am no expert chef but am enjoying preparing my own meals on the road and testing all the different knives.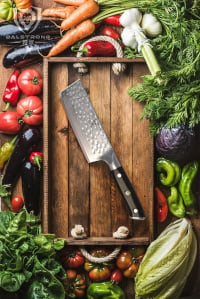 Want FREE Knives?
We give these knives a quick twirl and review, and then we pass them on to a few lucky home chefs!
By subscribing, you agree to get emails from me, Ryan Leavitt. I'll respect your privacy and you can unsubscribe any time.