Anyone looking for the best kitchen knife brands has probably stumbled across the Cangshan or Henckels name once or twice.
Cangshan knives are relatively new to the market but are known worldwide for their razor-sharp edges and ergonomic designs.
Henckels, on the other hand, is one of the most popular knife brands out there, tracing its roots back over 250 years back.
If you're wondering which one is the better option for your kitchen, you've come to the right place.
Henckels knives are the best choice for chefs willing to invest in a top-quality set of Western knives.
But if you want more variety or are on the hunt for Japanese-style knives, then Cangshan is the right choice for you.
In this Cangshan vs Henckels comparison, we dive deep into the pros and cons of both brands to make it easier for you to choose the right one for your kitchen.
| | | |
| --- | --- | --- |
| | Cangshan | Henckels |
| Cost | $$$ | $$$$ |
| Sharpness | 16 degrees on each side | 15 degrees on each side |
| Construction | Forged | Forged |
| Materials | X50CrMoV15 German Steel | German high-carbon stainless steel |
| Self-sharpening knife blocks | No | Yes |
| Are there box sets available? | Yes | Yes |
Cangshan vs Henckels: A Head To Head Comparison
We'll be diving deep into the details of these brands in this article, taking a look at some of their signature models, as well as checking the pros and cons of each company.
But before that, we first have to take a quick look at the history of these two companies and how they each made their way to the top of the knife market in very different ways.
A Brief History Of Cangshan
This brand is fairly new to the game, which is why some customers have been wary and skeptical about getting blades with the Cangshan tag.
The company was founded in 2015 by Henry Liu, but while they are a very young company from China, their knifemaking roots can be traced back thousands of years.
This is because the founder spent years traveling the world trying to find the perfect knife manufacturer to help turn his dream of creating innovative kitchen knives to fruition, and after looking in the USA, Switzerland, and Germany, he found that the best place to get his knives made is back in China, where he originally came from.
The manufacturer he found has blade-making roots that can be traced back a very long time, which is why the company instantly made a name for itself.
Since their inception in 2015, they have won many awards for their innovative and very high-quality products.
The brand is known for its seamless fusion of both Western and Japanese knife styles that are sharp, highly functional, and very ergonomic.
A Brief History Of Henckels
Henckels, on the other hand, is one of the oldest knife companies on the market today.
It was founded by Zwilling J.A. Henckels in 1731, and it has been one of the top brands for kitchen knives since then.
Their blades are known to have a classy, elegant, and premium finish because they are made of stainless steel blended with chromium.
This also results in a very sharp blade with great edge retention.
Over the years, the brand has made quite the name for itself, being used by the best chefs from all over the world.
Almost any professional chef out there can vouch for the Henckels brand, and it would come as no surprise if they had a couple of Henckels models in their knife roll.
Related: best Henckels knife sets
Notable Cangshan Lines
Cangshan V2
One of the main selling points of this brand is its wide collection of knife lines.
They have more than 20 collections, which makes it very easy to find the right one for you.
The V2 collection is considered their most "classic" line.
It features designs that are very reminiscent of old-school knife sets, with black triple-riveted handles and very sharp stainless steel blades.
These models are very easy to use and feature a very Asian approach to knifemaking, which gives them a very sharp edge that can be used to make incredibly precise cuts.
This is usually the collection people point to when talking about the best Cangshan line.
Cangshan Thomas Keller Signature Collection
This collection is the set that put Cangshan on the map.
They partnered with internationally renowned chef Thomas Keller to make one of the best collections on the market today.
This is the line that won the Red Dot Design Award in 2019 that features Swedish Damasteel Powdered Steel, which is one of the best and most innovative blade materials on the market today.
They also have very ergonomic and functional handles that are very comfortable to use.
If you're looking for a durable and precise set of blades for your kitchen, this is a line that you'd definitely want to take a look at.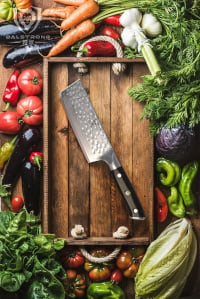 Want FREE Knives?
We give these knives a quick twirl and review, and then we pass them on to a few lucky home chefs!
By subscribing, you agree to get emails from me, Ryan Leavitt. I'll respect your privacy and you can unsubscribe any time.
Notable Henckels Lines
J.A. Henckels International Forged Premio 18-Piece Set
This collection commonly finds itself on the list of "best knife sets".
This is because all the knives in the collection are forged with some of the best steel you can find, which makes them very sharp and durable.
They also feature a classic, triple-riveted black handle that is not only aesthetically pleasing but is also very ergonomic and comfortable to grip.
One of the signature features of a Henckels blade is that they are surgically sharp right out of the box, and when combined with the great edge retention of the Premio collection, you'll find that this set is one of the best ones you can get your hands on today.
J.A. Henckels International Classic
This is one of the most popular collections from the brand, and the sheer quality of the blades and the great design should instantly show you why.
The knives have black, triple-riveted handles, and they are made in Spain, unlike the other models of the brand that come from China.
All the blades on these knives are incredibly sharp and are known worldwide for delivering on every occasion.
They also have one of the classiest looks on the market today. which is why they are so popular with professional chefs and home cooks alike.
These knives are classic German kitchen knives, which are durable, sharp, and great for a lot of different cooking styles.
That being said, you might have a hard time getting the precision cuts needed for Asian cuisine because of the design, but it can still be done if you put enough work into it.
Cangshan Pros & Cons
Pros:
The brand has a lot of different lines you can choose from
You can find premium and budget-friendly options
Lifetime Warranty included
Their blades are very high-quality
The knives are functional and aesthetically pleasing
Cons:
Henckels Pros & Cons
Pros:
The brand has been around for a very long time
Tried & tested
Functional and durable knives
Their knives have a very classic look
Better for cooks with small hands
Cons:
Their products tend to be on the pricier side
Our Verdict
At the end of the day, the right brand for you will depend on your tastes and needs in the kitchen.
Cangshan knives tend to be a bit larger than Henckels models, which is why they are more suitable for large hands.
The brand also has a lot of different lines and collections to choose from, so whether you have a small budget or a big budget, you'll be able to find the right models for you.
On the other hand, Henckels models are more premium, but they are also a bit smaller, so they aren't recommended for those with large hands.
But if you find a brand that suits all your tastes and accomplishes whatever tasks you have to do in the kitchen, then you surely have the best brand for you and no one can tell you otherwise.
Ryan Leavitt
Hi my name is Ryan Leavitt a Marine Corps Veteran and currently an over the road trucker (Long Haul). I am no expert chef but am enjoying preparing my own meals on the road and testing all the different knives.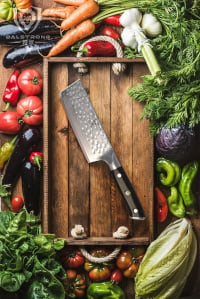 Want FREE Knives?
We give these knives a quick twirl and review, and then we pass them on to a few lucky home chefs!
By subscribing, you agree to get emails from me, Ryan Leavitt. I'll respect your privacy and you can unsubscribe any time.