There aren't too many Asian knife brands out there that can compete with Cangshan and Shun.
Both are great choices for any chef, but which is the better pick?
Cangshan has a wide knife selection, which makes it ideal for those who want a lot of choices.
However, if you're looking to buy a high-quality set of Japanese-style knives, Shun is one of the best brands available.
In this article, we have a Cangshan vs Shun match-up where take a look at the history of the brands and take a deep dive into each brand's features.
And by the end, you might figure out which one is the right brand for you.
| | | |
| --- | --- | --- |
| | Cangshan | Shun |
| Design | Western-style | Japanese-style |
| Sharpness | 16-degrees per side | 15-degrees per side |
| Construction | Forged | Forged (Sometimes Damascus steel) |
| Materials | X50CrMoV15 German Steel | VS-MAX |
| Price | $$ | $$$ |
| Are there box sets available? | Yes | No |
| Does it have a self-sharpening block? | No | No |
A Brief History Of Cangshan
The brand's name comes from a mountain in China where its founder, Henry Liu grew up and married his high school sweetheart.
Liu wanted to pursue excellence, and this drove him to put up a small kitchenware company in his hometown.
It started out pretty small, but in the span of 11 years, it grew to become a large company that had a lot of respect within the region.
And while business was good, Liu wasn't satisfied.
He flew to the United States and left the day-to-day operations in China.
It was there where he tried to look for the best bladesmiths to make his vision come to life.
He checked out elite manufacturers in the United States, Germany, Japan, and Sweden.
None of those satisfied him, however.
And after a long and arduous search, he finally found the right manufacturer for him, which happened to be located in Yangjian, China, a district with a rich history of making knives that span over 1500 years.
Nowadays, Cangshan is one of the biggest kitchen cutlery brands out there.
They have great selections of both Japanese and Western-style chef knives that any home cook or budding professional would find really useful.
A Brief History Of Shun
Shun was launched in the Western market in 2002, but the brand's history dates back a bit further than that.
The Shun brand is owned by the KAI Group, which was founded all the way back in 1908 by a man named Saijiro Endo.
The company was one of the premier manufacturers of knives in Japan and other areas for almost a century before being made available to the Western market.
But in 2002, the company launched what we now know as the Shun brand, and it took the knife world by storm.
The Shun brand is widely respected in the world of kitchen knives and is used by professional chefs and home cooks alike.
They have a wide selection of products that will be able to suit a lot of people's needs, and since all their knives are made with close attention to detail and expert craftsmanship, it's a great brand for just about any culinary enthusiast out there.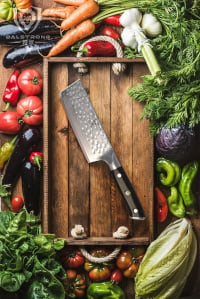 Want FREE Knives?
We give these knives a quick twirl and review, and then we pass them on to a few lucky home chefs!
By subscribing, you agree to get emails from me, Ryan Leavitt. I'll respect your privacy and you can unsubscribe any time.
Cangshan Versus Shun – A Head To Head Comparison
Notable Collections
Cangshan Thomas Keller Signature Collection
This is by far one of the brand's most successful collections, winning the Red Dot Design Award in 2019.
It was a collaboration between Cangshan and the world-renowned chef, Thomas Keller.
The knives from this collection are all forged from Swedish Damasteel Powdered Steel, which makes the blades sharp, durable, and with great edge-retention.
On top of that, it gives the blades a beautiful finish.
This is one of the brand's best, and you've been thinking of getting a set of Cangshan knives, you can't go wrong with this award-winning collection.
Shun Premier
This is Shun's most premium collection in their catalog.
It is made of high-quality VG-Max steel at the core, which is by far one of the best materials being used on the market today.
This collection also features PakkaWood handles, which are a combination of real wood and resin.
This makes for a very comfortable grip and holds on the knife, while also adding a bit of strength to its construction.
The main attraction of this collection is the incredible finish on the blade.
It has a hammered tsuchime finish towards the top, which gives it a rustic texture keeping food from sticking to the blade while slicing.
On top of that, since it is made in the Damascus tradition, you'll find a swirly Damascus pattern towards the edge of the blade.
This a true premium collection that would be great for any professional chef out there.
Construction
Cangshan offers a variety of knives with different construction.
They have both forged and stamped collections.
Their TG Series, P Series, and P2 Series are stamped while the rest are forged.
Shun, on the other hand, prides itself in forging all of its knives.
A forged knife is constructed with a single piece of stainless steel, giving it more toughness and allows you to have better edge retention.
Stamped knives are made by "stamping" or cutting out the blade from a large sheet of stainless steel.
Blades that are stamped tend to be a bit weaker than forged ones, but the difference is hardly noticeable.
Price
Generally, Shun knives are more expensive than Cangshan ones, but that will also depend on which line you're shopping from.
Cangshan has better variety with its products, so they have cheaper options aimed towards home cooks and more premium and expensive collections that are ideal for professional chefs.
Shun, while they do have one relatively affordable collection, the Kanso, are generally geared towards professional chefs.
Their products are as premium as it gets, especially for Japanese-style kitchen cutlery, which is why professional chefs from all over use the brand.
Cangshan Pros & Cons
Pros:
A wide selection of knives
Has both cheap and expensive options
Razor-sharp
More choices when it comes to materials and design
Lifetime warranty
Cons:
Tends to chip when used vigorously
Shun Pros & Cons
Pros:
Premium knives
All their products are forged
Razor-sharp
Great edge retention
Well-balanced and very functional products
Cons:
The brand is relatively expensive
Conclusion – Which Is The Better Brand For You?
And that concludes our rundown of both brands.
There isn't an objective answer to which one is better since everyone has different needs and preferences in the kitchen.
However, if you're a professional looking for top-tier kitchen cutlery, then we recommend you either go for Cangshan's signature collections or just about any collection from the Shun brand.
And if you're looking to save some money and still get a good quality product, then we recommend shopping from Cangshan's cheaper lines.
Either way, as long as you're happy and satisfied with the knives in your kitchen and you feel comfortable using them, then you already have the best brand for you!
Ryan Leavitt
Hi my name is Ryan Leavitt a Marine Corps Veteran and currently an over the road trucker (Long Haul). I am no expert chef but am enjoying preparing my own meals on the road and testing all the different knives.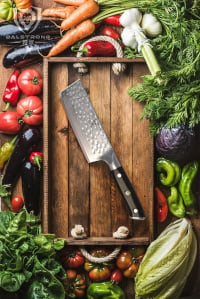 Want FREE Knives?
We give these knives a quick twirl and review, and then we pass them on to a few lucky home chefs!
By subscribing, you agree to get emails from me, Ryan Leavitt. I'll respect your privacy and you can unsubscribe any time.