A quality chef knife is required for any functional kitchen.
And many cooks and chefs find themselves choosing between the Cangshan and Wusthof knife brands.
Both are great knife makers with incredible selections, but which one is better?
Wusthof has a long history in the knife game and has satisfied some of the best chefs in the world, making Wusthof the overall better pick.
However, Cangshan knives offer a wide range of benefits that are still worth checking out.
In this Cangshan vs Wusthof comparison, we'll be checking the pros and cons of each brand so you can easily decide which one is right for you.
| | | |
| --- | --- | --- |
| | Cangshan | Wusthof |
| Price | $$$ | $$$$ |
| Main features | Incredible cutting edge and design | Designed for superior comfort and control |
| Construction | Forged | Forged |
| Materials | X50CrMoV15 German Steel | X50CrMoV15 German Steel |
| Are there block sets available? | Yes | Yes |
| Sharpness | 16-degrees per side | 14-degrees per side |
Cangshan: A Brief History
As mentioned earlier, this is a fairly young company that launched in 2015.
It was founded by Henry Liu, who named the brand after a mountain in the southern regions of China, which is also where he was born.
Liu spent years traveling the world looking for the best bladesmiths after leaving China for the United States.
But after traveling through the USA, Sweden, Germany, and Japan, he found that the best craftsmen that could turn his dream of creating innovative knives into reality were in China.
Together with the China-based knife manufacturer, they created the Cangshan brand.
Since then, the company has won the Red Dot Design Award in 2019and the Gourmet Retailers Editor's Pick Award twice in 2016 and 2017.
They are known for their immense collection of high-quality, well-made, and expertly crafted kitchen knives.
Wusthof: A Brief History
Wusthof is one of the most popular brands in the market today, and one of the reasons is that they have been at the forefront of the game since 1814.
It was founded by Johann Abraham Wusthof and is still a family-owned business today, seven generations later.
The blades from this brand use a 40-step process that has been tried and tested over the years, making them a favorite choice for professionals all over.
As the brand is one of the oldest and most popular, they are constantly on the top of multiple "best knives" lists and is one of the most reliable on the market today.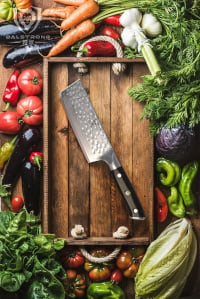 Want FREE Knives?
We give these knives a quick twirl and review, and then we pass them on to a few lucky home chefs!
By subscribing, you agree to get emails from me, Ryan Leavitt. I'll respect your privacy and you can unsubscribe any time.
Notable Lines From Cangshan
Cangshan Y2
This Y2 series is one of the most popular collections of the brand.
It features knives that are both very durable and precise.
The sliced edge on the blade and the ergonomic handle makes using these knives very smooth and easy.
They have a beautiful design reminiscent of classic Japanese chef knives which also makes them great for precise slicing.
On top of that, they are made with high-alloy German Stainless Steel that is very tough and will last a long time.
Cangshan Thomas Keller Signature Collection
This collection is a collaboration between the brand and the famous Michelin-starred chef, Thomas Keller.
All the blades are forged with Swedish Damasteel Powdered Steel, which is one of the most premium materials you can use for a blade.
These knives have won multiple awards from the brand, are renowned for their durability and precision.
They are also beautifully designed so they will make a great addition to any kitchen.
Notable Lines From Wusthof
Wusthof Classic
This collection is one of the most popular in the culinary world today.
It is the signature collection of the brand, and is very famous for its triple-riveted handles and exposed full-tang, giving it a very professional and classy look.
Aside from that, it also gives you a lot of balance when slicing.
The collection features a whopping 70 different knives, so regardless of what you plan on slicing, you'll find the right model for you with the Classic line.
All the blades are sharpened to a very sharp and precise edge, and since they use high-carbon stainless steel, the edge will surely stay sharp for a long time.
Wusthof Grand Prix 2
If you want a bit more of an ergonomic knife, this is the collection that will suit you better,
The Grand Prix 2 features the same blade materials and handle materials as the Classic collection.
The main difference, however, lies with the handle design.
It has a more modern and ergonomic shape to it, which could be much lighter on the wrist, depending on your cutting style.
On top of that, these knives are dishwasher safe, which makes them a much more practical choice.
This collection is a favorite of home chefs as the blades are affordable, well-made, and easy to maintain.
Cangshan Knife Construction
This brand has a lot of different collections, and the construction of their knives will vary from line to line.
However, most of their knives use a Japanese-style design which gives you a bit more control when slicing, making them ideal for precision cuts.
The brand offers triple-riveted knives with a visible full-tang, which is a big part of their premium and professional look.
The materials used in constructing their products vary just as much as their designs.
But typically, the brand will either use Japanese VG10, German X50CrMov15, or Swedish Sandvik steel in their blades, which are all known for being very sharp and having great edge retention.
All this variety is just one of the reasons the brand has risen so high up in the game in such a short span of time.
Wusthof Knife Construction
These blades use a more traditional, German0-style design.
This will give you more durability and a sturdier feel when slicing.
The blades use a specific German X50CrMov15 steel, which is a specific formula designed to get very sharp and durable edges that will last you a long time.
The handles, while they have the same general design will be made of different materials depending on which collection you buy from.
The models that come from this brand have been at the top of the knife game for more than a century at this point, so you can rest assured that you can rely on the Wuhstof brand to deliver consistently.
Cangshan Pros & Cons
Pros:
A lot of collections to choose from
Has both premium and budget-friendly options
More choices
Affordable
Lifetime Warranty included
Cons:
These knives tend to chip easily
The brand is young
Wusthof Pros & Cons
Pros:
A tried and tested brand that has stood the test of time
Most of their models are forged
All their products are full-tang
Traditional German design
Lifetime warranty included
Cons:
Not as many collections as Cangshan
More expensive
Our Verdict: Which Is The Better Option?
The answer to this question will largely depend on who's buying the knives.
If you're looking for reliability, sharp blades, and durable construction, then Wusthof might be the best option for you.
Their knives have been used by professionals all around the world and constantly seem to top the lists of the "best knives" while also reaping in a bunch of awards.
That being said, they can be expensive, but they are worth every penny.
If you're looking to save money, on the other hand, then Cangshan is the way to go.
While their products may be on the cheaper side, they are still very well-made, arrive very sharp right out of the box, and they feel great to use in the kitchen.
Just be wary, since they are not as durable as their German counterparts.
But whatever brand you choose, as long as their products serve your needs well and you feel good using them, then you definitely have chosen the best brand for you!
Ryan Leavitt
Hi my name is Ryan Leavitt a Marine Corps Veteran and currently an over the road trucker (Long Haul). I am no expert chef but am enjoying preparing my own meals on the road and testing all the different knives.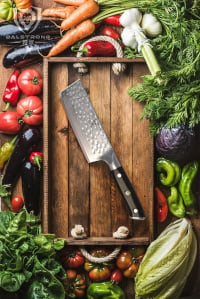 Want FREE Knives?
We give these knives a quick twirl and review, and then we pass them on to a few lucky home chefs!
By subscribing, you agree to get emails from me, Ryan Leavitt. I'll respect your privacy and you can unsubscribe any time.