Cangshan Cutlery is arguably the best manufacturer of the most beautiful kitchen knives currently in the market.
The brand invests heavily in the design and development of its blades such that it can meet the needs and requirements of its target clientele.
The Y2 Series by Cangshan not only looks amazing but is also quite solid and boasts o incredible strength. The blades in this collection are fun and exciting to use in food preparation.
And in this detailed Cangshan Y2 series review, we will take a look at the highlights of this special knife set.
Pros:
Patent-pending ergonomic handle design
Comes with a wooden block or easy and convenient storage
NSF certified for strength, build quality and uniqueness
Versatile knife set with all the crucial blades you will need or your kitchen
Easy to clean by hands
Cons:
Black handles are not everyone's favorite option
We earn a commission if you make a purchase, at no additional cost to you.
Other Cangshan products
Easy to hold
All Cangshan knives come with striking similarity in that the blades come with ergonomically designed handles that are not only easy to hold but equally comfortable.
The Y2 Series is not different from other Cangshan collections.
The wooden handle in this series is waterproof and impervious to heat.
Therefore, you can comfortably use these knives in the kitchen without worrying that the handle may get damaged due to exposure to water and heat.
The handles in this collection feature a silver steel metallic reinforcement on both ends of the handles.
This reinforcement highlights the décor and attractiveness of the knife while at the same time adding strength and solidness to the handles.
The streamlined shape of the handles provides for easy holding of the knife in a stable and firm grip.
The solid Acacia wooden block contrasts well with the knives and also allows or safe blade storage when not in use.
Excellent design
Cangshan Y2 Series knives are expertly balanced or easy control and distribution.
The weight of the knives is evenly distributed throughout the entire length of the knife.
This makes the knives perfect and ideal or specialty tasks that require utmost cutting precision and accuracy.
For instance, you can use the 8-inch bread knife in this series to make nice and smooth bread slices with great ease.
This 6-piece knife set comprises an 8-inch chef blade, 3.5-inch paring blade, 7-inch Santoku, 5-inch serrated utility, 8-inch bread knives, and a storage block.
These blades are professionally designed for a seamless performance.
What is more amazing about this knife series is that it is NSF Certified and hence all knives in the collection meet the set standards and requirements in their categories.
As such, they are expressly reliable and are also multi-purpose.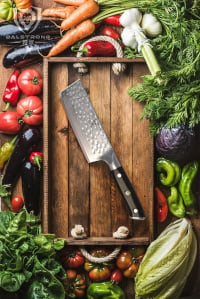 Want FREE Knives?
We give these knives a quick twirl and review, and then we pass them on to a few lucky home chefs!
By subscribing, you agree to get emails from me, Ryan Leavitt. I'll respect your privacy and you can unsubscribe any time.
Carefully handcrafted
All Cangshan knives are handcrafted by experienced craftsmen and bladesmiths so that they can perform beyond the chef's expectations.
The handcrafting of the Y2 Series is done expertly such that the functionality is not inhibited in any way.
They are hand sharpened at 16 degrees for every side and hence are ultra-sharp when new.
Additionally, the cutting edge in these blades retains its sharpness for a long time and hence you do not need to sharpen the blade regularly.
The X50Cr15MoV German Steel used in making the Y2 Series blades has a 58+/-2 Rockwell Hardness.
This steel is incredibly strong and solid; a combination that makes the blades ideal for cutting through hard and tough food items without bending or breaking.
This steel type is not affected by acidity in foods neither does it rust, corrode, or get discolored.
Therefore, you can use it on a wide variety of food items in the kitchen.
Customer feedback
The Cangshan Y2 Series knife collection has in the recent past become a favorite choice or all chefs and cooks.
Most people who have used these blades for food preparation and cooking note that the blades are impeccably sharp.
The blades pierce and tear through food easily in a single stroke while providing clean, consistent, and fine cuts.
Professional chefs are fond of how the blades are easy to control and have a nice balanced feel.
The expertly designed handles are also a crucial selling point for the knife collection.
Chefs and cooks have it that the handles are comfortable and provide a non-slip grip that allows the chefs to apply as much pressure as they wish when cutting through different foods.
The woodblock ranks as another crucial aspect that people love most about the knife collection.
This block not only provides or the safe storage of blades but also makes the working platform in the kitchen look neat and organized.
Conclusion
If you are looking for a classy and unique knife collection for daily use in the kitchen, this Cangshan Y2 Series is the perfect bet for you.
The blades are designed for use by adventurous and creative chefs who are keen on owning knives that they can use for a variety of cutting tasks in the kitchen.
Further reading
How to Properly Use a Chef's Knife Tutorial
Ryan Leavitt
Hi my name is Ryan Leavitt a Marine Corps Veteran and currently an over the road trucker (Long Haul). I am no expert chef but am enjoying preparing my own meals on the road and testing all the different knives.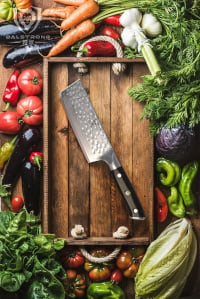 Want FREE Knives?
We give these knives a quick twirl and review, and then we pass them on to a few lucky home chefs!
By subscribing, you agree to get emails from me, Ryan Leavitt. I'll respect your privacy and you can unsubscribe any time.