It is undoubtedly true that Cangshan makes beautiful knives and blades.
The brand invests heavily in materials, designs, user experience, and décor when making their products.
True to this, the Z Series knife set by Cangshan boasts of exclusive designs, premium quality materials, and superior build quality. These are blades that you can rely on for daily use in the kitchen while enjoying excellent reliability and convenience.
And in this Cangshan Z series review, we will take a look at the highlights of this unique knife set.
Pros:
Versatile blades
Functional and stylish pattern
Comfortable handle
Comes with a walnut sheath
Solid and durable steel blades
Cons:
The knife set does not come with size options
We earn a commission if you make a purchase, at no additional cost to you.
Other Cangshan products
Forged German steel construction
This knife set defines excellence, reliability, and performance in form, design, and function.
The high-alloy X50CrMoV15 German steel gives the blade an exceptional combination of durability and hardness. Consequently, this gives the cutting-edge unique robustness that makes it easy to sharpen and care for the edge.
What is more amazing about the stainless-steel used in making the Z Series blades allows for precise sharp edges without brittleness.
The German steel blades boast of an HRC 58+/- 2 Rockwell hardness rating.
As such, the blades are incredibly strong and sharp for cutting, slicing, and tearing through a variety of food items. Additionally, the steel is stain resistant and does not corrode even when exposed to moisture.
Needless to say, the blade is not affected by acid and hence can be used in cutting acidic foods.
Excellent design
Cangshan pays keen attention to the aesthetics of the blades and knives they build.
In line with this fact, this knife set is designed with an exclusive design that highlights all the curves and angles in the blades.
This makes the blades well balanced for a comfortable user experience. Every seam and back 7 forth motion when using the blade is easy to control thereby providing unique control for precision cutting.
The handles in the knife series are ergonomically designed for firm and secure grips when using the blades.
Like the rest of the Cangshan knives, the Z series is handcrafted using superior craftmanship that ensures that all the blades in the series come with flexible handles that are comfortable for all hand sizes.
The wooden handle is triple-riveted for stability and durability. As such, the handles just like the rest of the blades can withstand the impacts daily use without falling apart.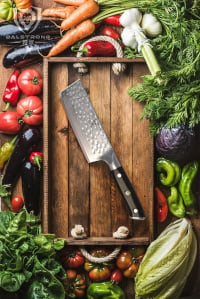 Want FREE Knives?
We give these knives a quick twirl and review, and then we pass them on to a few lucky home chefs!
By subscribing, you agree to get emails from me, Ryan Leavitt. I'll respect your privacy and you can unsubscribe any time.
Variety of knives and a knife block
This knife set is an all-round knife collection with all the necessary blades you need for use in a typical home and commercial kitchen setup.
The knives in this set include 5" tomato, 8" chef's, 7" Santoku, 8" bread, 6" boning, 3.5" paring, 5" serrated utility, 6×5" steak, 2.75" peeling knives, forged 9" shears, and 8" honing steel.
All these knives feature solid and strong blades that are uniquely designed for resilience and cutting reliability. What is more exclusive about the blades is that the cutting edges are razor-sharp when new and hence can be used right from the box.
For purposes of easy and convenient storage, the Cangshan Z Series comes with a customized knife block that features a unique grain.
The block is nicely designed with each of the knives having its slot for a neat arrangement. The block is compact and hence does not take up too much space in the kitchen.
You can customize the Walnut block with your initials for a more personalized feel and touch.
Customer feedback
The Z Series by Cangshan is one of the few knife brands that command a lot of respect and recognition across the globe.
According to chefs and cooks who use these blades regularly, the unique designs, strong and solid construction, and ergonomic handles are some of the fancy features in the knives.
Professional chefs who use the knife set have it that the knives make it easy to juggle between one recipe and the other.
According to chefs, the knives are also quite easy to clean by hand and hence are time-efficient in a busy kitchen.
The convenient knife block is also another aspect of the knife series that a majority of users like. This is because the block allows them to keep their countertops organized and also provides for safe storage of the knives when not in use.
Other chefs and cooks have it that the Walnut block brightens the mood in their kitchens, thereby giving the kitchen an appealing and attractive feeling.
Chefs and cooks who own the knife set say that it provides value for money.
Conclusion
The Cangshan Z Series is specially designed for chefs and cooks with progressive and adventurous minds. The knives require little maintenance and care since they are quite durable and their edges hold well for long sessions.
Invest in the knife set today if you are keen on owning knives that you can comfortably use in the kitchen for all your kitchen cutting needs.
Further reading
How to Properly Use a Chef's Knife Tutorial
Ryan Leavitt
Hi my name is Ryan Leavitt a Marine Corps Veteran and currently an over the road trucker (Long Haul). I am no expert chef but am enjoying preparing my own meals on the road and testing all the different knives.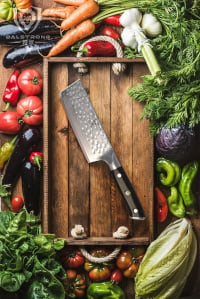 Want FREE Knives?
We give these knives a quick twirl and review, and then we pass them on to a few lucky home chefs!
By subscribing, you agree to get emails from me, Ryan Leavitt. I'll respect your privacy and you can unsubscribe any time.