Chicago Cutlery which is headquartered in Illinois, USA, and Victorinox of Switzerland are two of the most affordable cutlery brands that you will ever come across.
Some presume that the Swiss brand, backed with its 137-year old history, is a better option all in all.
But as many connoisseurs will tell you, the best knife is the one that fits well and feels good in your hand. One thing is for sure: if you're looking for great value for money, any of these two will serve you well.
Below is a concise comparison of these two fair-priced brands.
Chicago Cutlery
Victorinox
Headquarters
Illinois, USA
Ibach, Switzerland
Factory Location
China
Ibach, Switzerland
Steel Used
High-Carbon stainless steel
German steel: X50CrMoV15
Knife Construction
Both stamped and forged
Mostly stamped, one series forged
Premier Series
Fusion
Grand Maitre (forged)

Fibrox (stamped)

Best Asset
Price
Type of steel used

Industry reputation

Price Point
Incredibly cheap

16-piece Malden set is less than $100

Good value for money

15-Piece Swiss Classic is $200 or so
Chicago Cutlery – Overview
Chicago Cutlery is hailed as one of the few reputable American knife brands.
They started out as a simple knife conditioning service for butchers and packing plants in Chicago.
However, from these humble beginnings grew one of the most respected American knife brands in the culinary world.
They began manufacturing after gaining popularity, and have since been known as a great blade manufacturer.
The knives from the brand are known for being affordable and high-quality, which is what makes them a great choice among home cooks.
Chicago Cutlery offers a wide variety of kitchen knives, all with modern designs built for modern kitchens.
However, in recent years, some people have claimed that the brand's new knives simply weren't as good as their old ones.
This may be because they moved their manufacturing to China, or for other reasons.
Regardless, a lot of different people still trust Chicago Cutlery for their kitchen, and for the right cook, it could be the perfect knife set.
Related: Best Chicago Cutlery knives
Victorinox – Overview
Victorinox is a large global company with five different product categories.
These are kitchen cutlery, Swiss-army knives, watches, travel gear, and fragrances.
They trace their roots way back to 1884 when Karl Elsner opened a knife cutler's workshop in Ibach-Schwyz.
Back then, the brand was more known for their Swiss-army knives more than anything else.
In fact, this is one of the first products that the brand patented.
Victorinox did this in 1891, but they weren't even known as Victorinox until 1901 when Elsner decided to combine his mother's name (Victoria) with Inox.
In 2011, Victorinox began releasing quality kitchen cutlery under their name.
However, they were already doing this for a long time but they used the Forschner brand name for these products.
It was only in 2011 that they decided to sell them under the Victorinox name.
And nowadays, they are known as a great knife set for home cooks as they are very high-quality and affordable.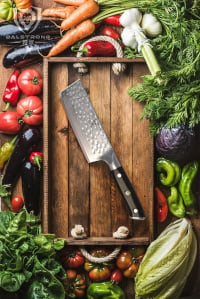 Want FREE Knives?
We give these knives a quick twirl and review, and then we pass them on to a few lucky home chefs!
By subscribing, you agree to get emails from me, Ryan Leavitt. I'll respect your privacy and you can unsubscribe any time.
Chicago Cutlery Vs. Victorinox – Which Is The Better Option?
In this section, we compare the key features of these brand's knives.
Construction
Since both of these brands have a lot of different models and products under their names, you can find various construction techniques used for their knives.
With Chicago Cutlery and Victorinox, you can find a variety of collections that include forged or stamped blades.
That being said, the majority of their products are stamped blades.
These knives are made by laser-cutting or "stamping" the shape of the blade out of a large sheet of steel.
Forged knives, on the other hand, are hammered out of a single piece of stainless steel.
For a long time, forged knives were considered the superior choice for chefs as they had harder edges and were more durable overall.
However, with various advancements in technology, there are a lot of stamped blades out there that can hold their own when compared to stamped ones.
In fact, you might even find some stamped knives that can perform even better than forged ones.
Regardless of your preference, both brands offer forged and stamped blades.
Notable Collections
The most popular collection from Victorinox would have to be the Fibrox line.
The Fibrox collection is known in the culinary community as one of the best collections on a budget.
It consists of full-tang blades, which offer great balance and comfort when slicing.
The knives in the line have stamped blades, which offer decent edge-retention and a sharp slicing-edge on a budget.
Most people who use these blades for the first time get surprised by their amazing functionality and feel, especially considering the price.
Chicago Cutlery has a very wide variety of knives in its catalog.
However, two of the most notable ones have to be the Malden and Fusion collection.
The Malden line offers sleek, forged knives with a modern look that is fit for home and a professional kitchen.
One unique characteristic of this line is the cushion grip handle, which offers a lot of comfort and control.
The Fusion collection also has forged blades, but sport a more classic design with a sleek black handle.
Price
As we mentioned earlier, both of these brands are great budget options for cooks and chefs out there.
Victorinox knives are the more expensive option, however.
With that said, it should be noted that Victorinox is known to make higher-quality blades than Chicago Cutlery.
And even if they are more expensive, you can still get your hands on a Victorinox knife for less than $100.
If you are on a very tight budget, however, then Chicago Cutlery is the right brand for you.
Their knives have sharp edges, decent construction, and feel fairly natural in the hand.
You can get all of these benefits for less than $75, which is why it is such a popular brand among home cooks.
If you work in a professional kitchen, Victorinox might be the better pick since their blades are higher-quality.
Either way, choosing any of these brands would allow you to get a great kitchen knife on a tighter budget, which is why they are ideal picks for culinary students, starting chefs, and home cooks alike.
Conclusion
And with that, our comparison comes to an end.
Regardless of which brand you're shopping from, you'll be getting very sharp knives that would fit your kitchen very well.
However, if you're looking for a more professional set of knives, then we recommend Victorinox.
And if you're looking for a home kitchen cutlery set on a budget, then Chicago Cutlery would be your best bet.
Everyone has different needs in the kitchen, so it's always best to analyze what you need in your kitchen.
Because from there, choosing the right brand will be much easier for you!
And before you know it, you'll be ready to buy your next knife or set for your collection.
Ryan Leavitt
Hi my name is Ryan Leavitt a Marine Corps Veteran and currently an over the road trucker (Long Haul). I am no expert chef but am enjoying preparing my own meals on the road and testing all the different knives.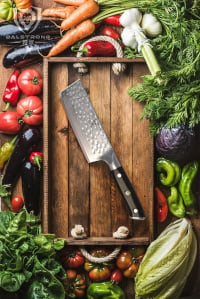 Want FREE Knives?
We give these knives a quick twirl and review, and then we pass them on to a few lucky home chefs!
By subscribing, you agree to get emails from me, Ryan Leavitt. I'll respect your privacy and you can unsubscribe any time.