One of the first things you need to know about a knife before buying is the steel used in the blade.
It's a key feature for any knife, whether you're handling a utility knife or a piece of kitchen cutlery.
And if you've been reading up on the different steel recipes used for knives, you've probably come across CPM 154.
This is a variation on the popular 154CM steel recipe, so make sure not to confuse the two.
CPM 154 is great for knives because of its high carbon and chromium content.
These two elements give the steel great edge retention, wear resistance, and corrosion resistance.
As it's high-end steel, CPM 154 can be found in many premium knives.
It's a very common material for hunting, skinning, and even kitchen knives.
Learn more about this recipe in our CPM 154 review, where we take a deep dive into the features and properties of this material.
Related: The ultimate guide to knife steel
Overview
Having long been the top option for making knives, CPM (standing for Crucible Particle Metallurgy) is well known for stand-out edge holding.
To make this steel, the manufacturer used a small nozzle to shape the molten metal. In these nozzles, the high-pressure from gas presses the liquid of metal into many little droplets.
After being cooled down, these solidified droplets turn into a stronger form. Then the press of hot isostatically comes down to bond and compact the power. These processes result in a more homogenous metal with an excellent item.
For CPM 154, with a high level and intensive processing, it has no steel grain and can stand at a heat higher than 440C. Now the question is, what elements make this steel so strong? Here are they!
Chemical Composition
Carbon at 1.05%: Enough to enhance the hardness and the Corrosion or wear resistance.
Chromium at 14%: Target the hard and The maintenance.
Molybdenum of 4%: Improve The Machinability.
Manganese of 0.5%: Mostly to limit The brittleness
Silicon of 0.8%: for the softness of the steel.
Phosphorous at 0.03%: Improve strength.
Sulfur at 0.03%: Effective for developing machinability.
Vanadium of 0.4%: Also work for hardenability as well as the wear resistance.
Tungsten at 4%: Improve the hardness of the material.
With all the detailed composition above, you might now know that as a combination of high chromium, Molybdenum, and carbon, it is good wear-resistant and corrosion-resistant steel. Now, let's find out some features of this stainless steel!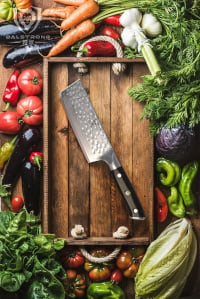 Want FREE Knives?
We give these knives a quick twirl and review, and then we pass them on to a few lucky home chefs!
By subscribing, you agree to get emails from me, Ryan Leavitt. I'll respect your privacy and you can unsubscribe any time.
Features
Retention of Edge: thanks to the high rate of carbon and chromium, it has quite an impressive Retention for Edge When compared with other stainless steel.
Resistance to Corrosion: containing a large amount of chromium (14%), it undoubtedly has impressive resistance for Corrosion.
Resistance to Wear: just a small amount of carbon is more than enough for an excellent wear resistance performance.
Sharpness: The harder your steel items are, the tougher you can sharpen them. And for this material, sharpening items from this material must be a challenging task.
Toughness: It impresses you with its resistance to Corrosion and its hardness, which is surely a decent and tough material.
From the above features, you must wonder whether or not you should buy this item? Or is this material good enough for you? Let's continue reading and find out your answer.
Pros & Cons
Pros
Long-lasting
Tough material
Friendly materials
Cons
Hard for sharpening
Might be not sharp as iron when making the knife
How Does It Compare?
If you are a fan of Crucible metal, you must know about CPM 154 precursor -154 CM. These two types of steels are quite similar in properties, but for the Metallurgy of CPM 154 being Particle.
Even though the two materials have the same ingredients, their amount of metal is different. CPM 154 contains less nickel and chromium than the 154CM version. With that, this material is better at corrosion resistance and easier to polish when compared with 154CM.
FAQ's
Can It Be Used To Make Knives?
Well, the answer is yes. With good retention, balance in the toughness, hardness, and resistance from Corrosion, CPM 154 is a great choice for any knives like EDC, hunting, or household use.
Please remember that stainless knives still face corrosion, so you need to keep your blades clean after any time of use.
What Are The Best Knives Made From This Steel?
It is not hard for you to find a knife made from CPM 154 with the right brand name. The famous top brand includes Bark River, Kershaw, or Hogue. Choosing the best option must be a challenging task. However, Launch 6 from Kershaw must be a great option.
First, Kershaw is one of the most famous knife-making brands with a long history and high-quality items.
Specifically, Launch 6 has a great designation with various uses and a nice appearance. This item is also automatically tactical, bringing you the best convenience to bring everywhere.
The blade from this material has 3.75-inch at the largest point and 0.12-inches for the thickest place for this item. Coated by DLC, this knife even has better corrosion resistance.
Besides, the locking systems feature a plunge lock to make sure there is no play once extending the blade. At the weight of just 3.8 ounces, you can easily manage your knives.
In general, Launch 6 must be the best choice for a CPM 154 knife that you can have, which has quite a great design and might last for a lifetime.
Conclusion
You can now try visiting a store, finding items from this steel, and make your own experience. Even though this material has its drawback, it is the top choice for stable steel materials.
Ryan Leavitt
Hi my name is Ryan Leavitt a Marine Corps Veteran and currently an over the road trucker (Long Haul). I am no expert chef but am enjoying preparing my own meals on the road and testing all the different knives.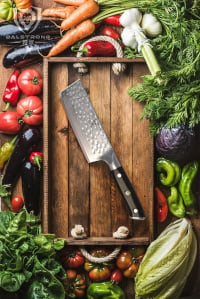 Want FREE Knives?
We give these knives a quick twirl and review, and then we pass them on to a few lucky home chefs!
By subscribing, you agree to get emails from me, Ryan Leavitt. I'll respect your privacy and you can unsubscribe any time.