The topic today is the Cuisinart 8 inch chef knife – one of the most affordable chef knives on the market!
So, you might know that Cuisinart has been one of the leading companies in producing excellent kitchen appliances, then are curious about the quality of this Cuisinart chef knife?
Keep reading this review and see whether this product makes it on your buying list.
Pros
High-carbon stainless steel blades for accurate cuts
Durable, wide safety bolster to enhance stability
Handle with ergonomic design, attached to the blade by stainless steel rivets
Lifetime warranty
Cons
Multiple reviews reporting rust situations.
Some have complained about the knife being dull
We earn a commission if you make a purchase, at no additional cost to you.
Design
The blade is said to be made from high-carbon stainless steel, and according to the brand, it's built to last for a long time.
The material is sure to score some points, but it is not the only selling point of the design.
The blade's length is just as worthy of attention as well.
With the length of 8" – the standard length for most chef knives now on the market.
This can be considered to be the perfect length for you to do most kitchen tasks from cutting, mincing, dicing raw vegetables to even butchering a whole chicken.
In contrast, knives with a shorter length may not be sufficient enough to cut large ingredients such as the butternut squash and a longer blade would make novice users feel uncomfortable to use.
Besides the ideal blade's length, this knife also comes with a handle made of plastic to it makes the knife feel lighter to use (at only 0.60 lb), compared to a metal handle, which is heavier and can sometimes too heavy to hold onto while doing basic cutting tasks.
Also, this second-to-none handle features a grip with a contoured shape, which fits nicely in the palm of both novice and professional chefs.
Performance
So, how does this one perform under basic and intensive kitchen tasks?
Allow us to give you a glimpse.
As long as this blade is at your service, simple work such as mincing piles of parsley, dicing dozens of onions does not pose an obstacle at all, since the sharp blade can easily cut through such ingredients without much force.
Even for tasks that require precision like cutting carrot sticks and thinly slicing meat across the grain, the knife can do just fine.
Personally, when it comes to this, I feel that the knife does the best job out of all the cutting utensils in my kitchen drawer.
However, when it comes to breaking down a whole chicken, the knife struggles a bit as you may find it a little difficult to maneuver around and find the exact joint of the chicken to separate the parts.
In addition, when facing one of the most intimidating tasks – cutting thick vegetables, the butter squash to be more specific, it needs so much more force from the user.
Otherwise, it might not be able to get through the thick texture of the ingredient and ends up stuck halfway due to the slightly broader blade's spine.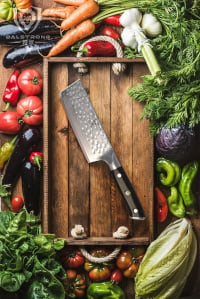 Want FREE Knives?
We give these knives a quick twirl and review, and then we pass them on to a few lucky home chefs!
By subscribing, you agree to get emails from me, Ryan Leavitt. I'll respect your privacy and you can unsubscribe any time.
Overall customer feedback
This blade has received a broad spectrum of reviews from customers.
The majority of them claimed that the knife is somewhat sharp and quite sturdy, has a nice weight and feel to it, which is absolutely a plus when looking for a chef's knife.
Nevertheless, there's still some negative review about the knife being dull after numerous cuts in a short amount of time, and even some reported that this knife got some stain spots after going through a cycle in the washing machine.
This proves inconsistency in the build quality.
Conclusion
This Cuisinart chef knife may not be a fitting choice in handling heavy-handed tasks like butchering a whole bird as well as slicing through tough vegetables (there's already a cleaver to do this, actually).
Even so, at this very reasonable price point, the knife with great ergonomic design and excels in pretty much every daily cutting job, this one is truly a bargain.
Further reading:
How To Care For Kitchen Knives: 6 Common Mistakes
Ryan Leavitt
Hi my name is Ryan Leavitt a Marine Corps Veteran and currently an over the road trucker (Long Haul). I am no expert chef but am enjoying preparing my own meals on the road and testing all the different knives.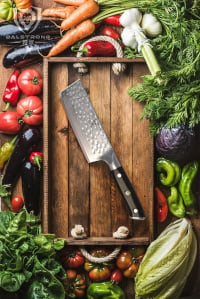 Want FREE Knives?
We give these knives a quick twirl and review, and then we pass them on to a few lucky home chefs!
By subscribing, you agree to get emails from me, Ryan Leavitt. I'll respect your privacy and you can unsubscribe any time.