Every knife serves each professional purpose.
There are no two sets that can be exactly similar to each other.
When it comes to knife block sets, the design, quality, and versatility are common things to consider.
Cuisinart has to step into the kitchen manufacturing sector and has its name in history as a trustworthy brand.
The classic knife set, one of the most well-known products under this brand name, is guaranteed with a modern look, stainless steel hollow structure, and user-friendly toward every cutting technique.
Here we provide you with the unbiased Cuisinart classic knife set review to break down this set's main characters.
Pros
Lightweight
Sharp and consistent blade
Modern design
Cons
We earn a commission if you make a purchase, at no additional cost to you.
Carbon Stainless Steel
A set of Cuisinart Classic includes 15 essential pieces:
7" santoku knife, 8" slicing knife, 8" chef knife, bird's beak paring knife, 5 ½" serrated utility knife, 3 ½" paring knife, six steak knives, plus sharpening steel, kitchen shears in a wooden block.
High carbon stainless craftsmanship is the feature that Cuisinart keeps as a tradition throughout its manufacturing history.
The high-quality stainless steel construction makes a significance in the sharpness.
This basic set also follows Cuisinart's tradition, and it is what the cook needs to complete most kitchen tasks from slicing blueberries for a quick snack to prepare steak and bagels.
With this basic forged knife set, you can see how much precision the set can offer when applying the knife to the meat or cutting tomatoes from your garden backyard.
Lightweight
As one of the not-hefty knives in the market, the Cuisinart set is very easy to use.
As we've said, each forged piece in the Cuisinart collection performs its function, it's the specialization that makes the set deal with a specific dish and gets the job done impressively.
You still can use one knife for everything theoretically, but with a set, you'll find it easier to work with as the knives offer comfort and control in our hands due to its extra-wide safety bolster.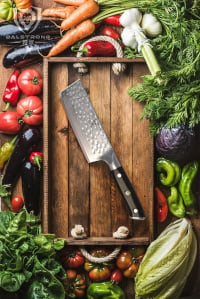 Want FREE Knives?
We give these knives a quick twirl and review, and then we pass them on to a few lucky home chefs!
By subscribing, you agree to get emails from me, Ryan Leavitt. I'll respect your privacy and you can unsubscribe any time.
Modern Design
Along with stainless steel and versability, the set collection's aesthetic design is another feature that sets Cuisinart apart when it brings a scent of contemporary befitting your kitchen.
The whole knife parts are in carbon stainless steel construction and full-tang, eliminating all the excess things that build up the weights and making them long-lasting.
The steel design is also a breeze to clean up and maintain the edge.
Overall Customer Feedback
Since its inception, Cuisinart's classic knife set has received many compliments for its versatility, supporting different intended purposes of the cut such as slicing, chopping, carving, and paring.
The good part of this knife set is that it brings out quality, light-weight, modern look features.
The light-weight is the result of stained steel material and a hollow handle that makes the knife easy to grip.
The Cuisinart set is high-quality craftsmanship that makes the edge sharp and does the accurate cut as the users expect.
The easy-to-grip and light-weight construction is the main thing Cuisinart aims for when they want the customer to feel more flexibility with the hollow handle.
Normally, home cooks may expect to hide the knife set in a corner that doesn't draw much attention, but it's the modern aesthetic design that makes us change our mind and portray the set as a sleek, stylish decoration in our cooking zone.
In addition to the comfortable experience when using the set, the modern look is something users appreciate because it gives them more motivation and inspiration to go home cooking on a regular basis.
On some occasions, the appearance of metal fragments may occur in the handle, mostly resulting from improper care, so the users recommend cleaning it to prolong the brushed handle's usage time.
Conclusion
In this Cuisinart Classic knife set review, we've covered the main features, benefits plus defects in brief, and what those who purchased the set feel true about their purchases.
Hopefully, this can help you summarize everything you need to know before deciding on a new block knife set investment.
Overall, whatever level you're in, the Cuisinart knife collection is the one that will give you the ultimate support.
These ergonomically designed tools are easy to use and offer professional functions to experiment with different meals.
Further reading:
How to Sharpen Kitchen Knives – Cook's Illustrated
How to Keep a Knife Sharp | Epicurious
Ryan Leavitt
Hi my name is Ryan Leavitt a Marine Corps Veteran and currently an over the road trucker (Long Haul). I am no expert chef but am enjoying preparing my own meals on the road and testing all the different knives.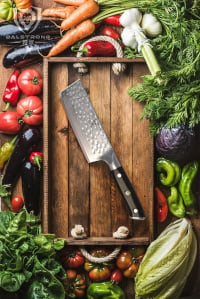 Want FREE Knives?
We give these knives a quick twirl and review, and then we pass them on to a few lucky home chefs!
By subscribing, you agree to get emails from me, Ryan Leavitt. I'll respect your privacy and you can unsubscribe any time.