So, you're thinking about buying the Cuisinart 7-inch Santoku knife?
According to many people, it's one of the most affordable ones on the market.
This type of knife has been all the rage since the early 2000s, and knife makers have been scrambling to add them to their product line.
And Cuisinart has finally stepped in and had their take on this Japanese traditional type of knife.
But will it be a good match for you?
Keep reading this review and see whether this product makes it next on your shopping list.
Pros
Stainless steel blades for superior precision
Forged safety bolster with extra width for stability
Stainless steel rivets securing the blade to the ergonomic handle
Lifetime warranty
Cons
Shorter blade's length compared to Western's style chef's knife.
Some have complained about the knife being dull
We earn a commission if you make a purchase, at no additional cost to you.
Design
The blade according to the manufacturer, is made of high-carbon stainless steel, which guarantees longevity.
Another thing to notice is the blade's shape.
This blade has the distinctive rounded down tip while a traditional Western chef's knife has a pointed tip.
One special thing about the knife is that the side of it has several hollows along the side, which are called "grantons", and they are said to reduce friction when cutting.
Therefore, this may make us – buyers, feel safer to use, especially, beginners.
The material is sure to have a plus point, but the blade's length is worth mentioning as well.
With a blade length of 7," it is moderately shorter than a typical chef's knife.
This can put the knife at a disadvantage when it comes to demanding kitchen tasks like cutting through hard, thick vegetables or even butchering a whole bird.
Apart from the aforementioned features, this Cuisinart Santoku also comes with a plastic handle, making the whole knife weigh at only 9.6 ounces, thus, feeling so much comfortable when holding.
Finally, this top-notch handle features a tight grip that has a contoured shape, which snugs nicely in the hand of both experienced and inexperienced cooks.
Performance
So, does it live up to its expectation when tackling day-to-day kitchen work?
Allow us to give you an insight.
The sharpness of the blade shines through the testing.
What wowed me is the fact that the knife cuts with precision as it slices through ingredients easily instead of crushing them.
Tasks from mincing herbs to slicing, chopping, and dicing onions and vegetables alike did not make our knife stumble at all.
And because of the knife's narrow-angle, slicing semi-frozen meat across the grain is a no brainer.
However, the blade's thicker, turned down tip may look less intimidating but it is also less nimble.
This is a little disappointing as it's a bit harder to judge its position when making delicate, vertical cuts, for example, separating pieces of chicken.
Also, cutting through hard and big vegetables like the butter squash is a struggle, it takes a lot more force to push the squash, and you're unlucky, the knife would stuck halfway due to its thicker spine.
Remember about the "grantons" I was taking earlier, well, they're supposed to reduce friction and sticking when cutting.
Yet, when using side by side with a chef's knife with no "grantons", there is no visible difference between the two knives.
So, I would consider that this feature is unnecessary.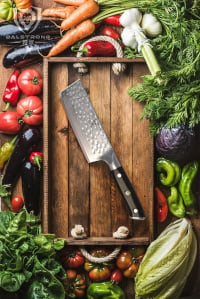 Want FREE Knives?
We give these knives a quick twirl and review, and then we pass them on to a few lucky home chefs!
By subscribing, you agree to get emails from me, Ryan Leavitt. I'll respect your privacy and you can unsubscribe any time.
Overall customer feedback
The blade received some mixed reviews from customers.
Many of them claimed that the knife is somewhat sharp and cut through soft veggies with ease and very friendly to novice users, which is absolutely a plus.
Nonetheless, some are complaining about the knife not being an all-purpose knife since they still have to switch to others for dealing with tougher and harder ingredients, where this Santoku knife lacks.
Moreover, there is also some negative review claiming that the knife got dull during use in a short amount of time.
Final thoughts
Buyers using this Santoku knife find it difficult to handle intensive cutting work like butchering chickens and slicing through thick, dense vegetables.
Other than that, for the remaining task, the knife performs really well for such a reasonable price.
Again, with the unique design, and acceptable functionality, I would say our review has pointed you to a kitchen must-have.
Further reading:
25 Skills Every Cook Should Know
16 Kitchen Skills Every Home Chef Must Know
Ryan Leavitt
Hi my name is Ryan Leavitt a Marine Corps Veteran and currently an over the road trucker (Long Haul). I am no expert chef but am enjoying preparing my own meals on the road and testing all the different knives.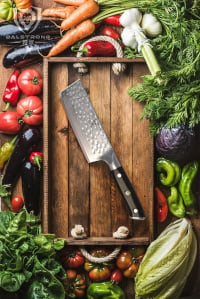 Want FREE Knives?
We give these knives a quick twirl and review, and then we pass them on to a few lucky home chefs!
By subscribing, you agree to get emails from me, Ryan Leavitt. I'll respect your privacy and you can unsubscribe any time.