Cutco is a brand with a great collection of knives for the home.
While they may be fairly expensive, their knives come with a Forever Guarantee that will ensure your satisfaction with their products for however long you have them.
But when shopping Cutco, finding out which models are right for you can get pretty tough.
A common question customers have when shopping for Cutco products is whether to get table knives or steak knives.
Steak knives will stay sharper than table knives because of their serrated edge, and since they are designed to cut through cooked meat they are also sharper and more durable.
Steak knives are the better option between the two, but it's still very beneficial to have both in your kitchen.
In this Cutco Table Knives vs Steak knives comparison, we take a look at the benefits of each model and which one belongs in your kitchen.
Read on to learn more.
| | | |
| --- | --- | --- |
| | Cutco Table Knives | Cutco Steak Knives |
| Size | 8" with a 3 and 3/8" blade | 8" with a 7" blade |
| Construction | Stamped | Stamped |
| Materials | High-carbon steel | High-carbon steel |
| Forever Guarantee | Yes | Yes |
| Lifetime Free Sharpening | Yes | Yes |
A Brief History Of Cutco
Cutco found its beginnings in 1949 in New York.
Back then, however, the brand was still known as Alcas, which was a combination of its parent company's names: Alcoa and Case Cutlery.
They began as one of the only reliable North American cutlery brands, and slowly gained popularity by only selling their products through door-to-door sales reps.
It was only in 2009 when the brand changed its name to Cutco, which is what most people know them as today.
By only selling through the company's own sales representatives, they grew in popularity because of their personal touch when it comes to selling knives.
On top of that, the company also offers a warranty that is hard to refuse (but more on that later).
Now, it's time to take a look at their table and steak knives to help you figure out which is a better fit for your kitchen.
Cutco Table Knife Vs Steak Knife – Which Is Better?
Size
The biggest difference that these two knives have when compared against each other is their size.
Cutco table knives are fairly small, only having blades that measure in at around 3 and 3/8 inches, making the entire knife around 8 inches in length.
This is a great size to allow for multiple uses on the dinner table.
They could be used to spread butter onto dinner rolls, slice through meat, and be used as an all-around utensil that you can use while dining.
That being said, you might have a tough time getting through thicker ingredients with this knife.
And that's where the Cutco steak knife comes in.
This is a blade specifically designed to cut and slice through thick and heavy pieces of meat.
That means that it's fairly large, and while the entire thing will measure in at around the same length as the table knife, the blade of this model will be much longer.
Having a blade that long allows the knife to easily glide through the fibers of the meat, making for a smooth and easy cutting experience.
Materials & Construction
Both of these products share the same materials and construction techniques.
These products are made with high-carbon stainless steel and utilize a stamped construction.
This means that the blades are "stamped" or laser cut out of a large sheet of stainless steel when in production.
This process helps keep the cost down while also making for durable and sharp edges that will last you years.
Both products have serrated edges, which allows them to cut through ingredients more smoothly and easily.
On top of that, the knives also utilize Cutco's "Double-D Edge".
This is one of the signature qualities of the brand, is one that has gotten a lot of praise from reviewers and enthusiasts online.
The recessed edge design gives you three razor-sharp edges that will come in contact with the food.
It allows you to easily cut through ingredients in a variety of directions with the same effort.
On top of that, it also reduces the tendency that the knife will have to get dull over time, which makes the blades last much longer.
Warranty
This is the brand's signature feature.
All Cutco products come with a Forever Guarantee.
That means that if ever you find anything with their products that doesn't satisfy you, you can contact the company.
From there they will send a representative your way to correct the issue or send you a replacement product.
This also covers regular wear and tear, so if you find that your blades have gotten dull over time, you can send them back to the company for free sharpening.
However, you will have to pay the shipping fee, which will vary depending on your location.
And when they say Forever, they mean it, so even if you inherited your Cutco knives from your grandmother or got a set as a wedding gift a decade ago, you can still send the products back and get a replacement if you aren't satisfied.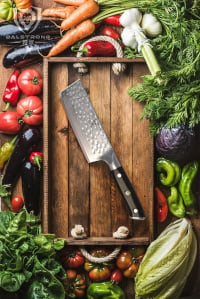 Want FREE Knives?
We give these knives a quick twirl and review, and then we pass them on to a few lucky home chefs!
By subscribing, you agree to get emails from me, Ryan Leavitt. I'll respect your privacy and you can unsubscribe any time.
Conclusion – Which One Should You Get?
If you're looking for a highly functional and multiple-use knife for dining, then we recommend you settle for table knives.
This is because their size will allow you to do a whole lot of cutting and slicing tasks on the dining table.
However, if you need something to cut and slice through the tougher ingredients, we recommend the steak knives as they are larger, more durable, and can handle the tougher ingredients.
Regardless of which collection you decide to get, you can rest assured that you'll be getting sharp and durable knives with an irresistible warranty.
Ryan Leavitt
Hi my name is Ryan Leavitt a Marine Corps Veteran and currently an over the road trucker (Long Haul). I am no expert chef but am enjoying preparing my own meals on the road and testing all the different knives.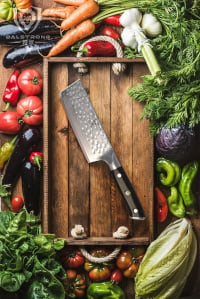 Want FREE Knives?
We give these knives a quick twirl and review, and then we pass them on to a few lucky home chefs!
By subscribing, you agree to get emails from me, Ryan Leavitt. I'll respect your privacy and you can unsubscribe any time.