Cutco is arguably the most popular American kitchen cutlery brand out there.
And it really should come as no surprise as they're one of the only American knife brands out there that professionals vouch for.
Henckels, on the other hand, has been one of the go-to brands for professional chefs all around the world for over a century.
So, which brand is better?
Most chefs will point to Henckels as the better choice for most chefs as these are professional-grade knives fit for any chef.
On top of that, you get more value for the money by investing in Henckels knives over Cutco.
With that said, Cutco blades still have some benefits that make them enticing for many home cooks.
In this Cutco vs Henckels comparison, we dive deep into the features, benefits, and downsides of each brand so you can decide which one is better for you!
| | | |
| --- | --- | --- |
| | Cutco | Henckels |
| Price | $$$ | $$$ |
| Main Features | Forever Guarantee and Lifetime Sharpening | Superior sharpness and performance |
| Construction | Stamped | Forged |
| Knife Steel | High-carbon stainless steel | German high-carbon stainless steel |
| Edge | 15-degrees per side | 15-degrees per side |
| Are there box sets available? | Yes | Yes |
A Brief History Of Cutco
While a lot of knife brands out there have been around for over a century, Cutco is fairly new to the game.
The company was founded in 1949 in New York and has gained popularity since then for its quality products and incredible warranty.
Another reason the brand grew so quickly in popularity is that you can only buy your knives from Cutco's own sales representatives, giving things a more personal touch.
Currently, Cutco, which is short for the Cooking UTensil COmpany, is one of the go-to brands for home cooks and professionals all over the world and is also one of the most recognizable knife brands on the market today.
A Brief History Of Henckels
Henckels is one of the mainstay brands in today's market that have been providing professionals and hobbyists alike with high-quality and premium knives for over a century.
It was founded in 1731 and remains a family-owned brand today.
The company is based in the "City of Blades" in Germany, which is also where their biggest competition, Wusthof is based.
The region their in has a long history of making blades, which is very evident in the types of knives and products that the company has to offer.
The brand is now renowned as one of the best in the market, and if you invest in one of their products you'll know that you'll be getting a premium and high-quality piece of kitchen cutlery in return.
This is a very popular brand amongst world-class chefs, and most chefs out there would have at least one Henckels blade in their knife role.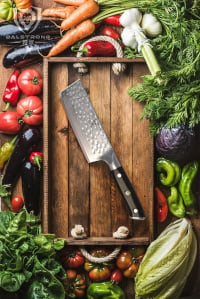 Want FREE Knives?
We give these knives a quick twirl and review, and then we pass them on to a few lucky home chefs!
By subscribing, you agree to get emails from me, Ryan Leavitt. I'll respect your privacy and you can unsubscribe any time.
Who Are Cutco Knives For?
While they are considered fairly expensive, you are definitely getting your money's worth with Cutco.
This is a brand recommended for the serious home cook, or even people just starting their culinary journey who need reliable equipment.
The blades of Cutco knives are stamped, which means that they are laser cut from a large sheet of stainless steel.
This process allows the brand to keep costs down and still offer their Forever Guarantee.
This Guarantee will allow you to replace your Cutco products at any time for free if you find something unsatisfactory.
In fact, if you need to get your Cutco products sharpened, you can send them back to the company and have them restored for free, all you have to pay for is the shipping.
So if you're willing to shell out some extra money for a quality knife and a great warranty deal, then this is the right brand for you.
Who Are Henckels Knives For?
Knives from this brand are pricey, but rest assured that you'll definitely be getting your money's worth with the brand.
These knives are more designed for professionals or home cooks looking for the best kitchen cutlery set they can find.
The knives from this brand are made out of the highest quality stainless steel that will be incredibly sharp, have a beautiful finish, and have great edge retention.
On top of that, they will also have a very classy and professional design that will look great on a knife block or neatly tucked away in a knife roll.
Again, these knives can be on the pricier side of things, but it's a price well worth paying for some of the best knives on the market today.
Cutco Versus Henckels – A Head To Head Comparison
Construction
As mentioned earlier, Cutco blades are stamped.
Stamped blades are very sharp and durable, and they are a bit cheaper to produce.
This is how the company is able to keep its prices down.
Cutco knives will usually have a thermo-resin handle that is looking very ergonomic and feels great in the hand.
Models from Henckels on the other hand will have a full-tang blade forged from a single piece of stainless steel.
This results in a sharper, more durable knife with better edge retention.
Depending on the type of Henckels knife you're getting, you can either have a wooden handle or one made of synthetic material.
Either way, you'll still be getting a very comfortable and ergonomic knife with three classy silver rivets holding everything in place.
Sharpness
Because they are a more premium brand, Henckels blades will probably be sharper and more durable than Cutco ones.
These German-style knives are usually ground up to a sharp 28-degree angle (14 degrees on each side) that will slice through anything like butter.
That being said, Cutco blades are still very sharp and the one advantage they have over Henckels is that you can send them back to Cutco for free professional sharpening once they get dull.
Maintenance for Henckels knives will also be a bit tougher since they are not dishwasher safe.
Warranty
Lastly, we are going to have to talk about the warranty for these two brands.
With Henckels, you don't get much.
If your blade arrives without defects that were caused by manufacturing or faulty craftsmanship, then your warranty will end there.
The company will not cover any damage caused by regular or abnormal wear and tear.
Cutco knives have a better warranty deal.
They have a Forever Guarantee, so if ever you find anything unsatisfactory with your Cutco product, you can always send it back and either get a replacement or a sales rep will help you correct whatever error there is with the knife.
And when they say Forever, they mean it.
Even if the blades were handed down to you by your grandmother or given as a wedding gift, you can still send them back whenever it's deemed necessary.
So if a great and reliable warranty is important to you, Cutco might be the way to go.
Our Verdict – Which Is The Better Brand
At the end of the day, this will all depend on what YOU need in YOUR kitchen.
If you're looking for a reliable and high-quality professional knife to put in your roll, it would be best to go for a Henckels model.
But be ready, as that will come with a pretty steep price tag since their products are as premium as it gets.
If you're a home cook looking for a set of knives that you can send back for sharpening or ask for a replacement if a dent or chip happens (and it will with this brand), then we recommend Cutco knives.
Regardless of the brand, you choose though, as long as you feel comfortable with the choice, then nobody can tell you that you don't have the right brand for you!
Ryan Leavitt
Hi my name is Ryan Leavitt a Marine Corps Veteran and currently an over the road trucker (Long Haul). I am no expert chef but am enjoying preparing my own meals on the road and testing all the different knives.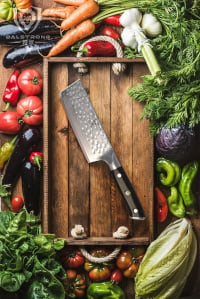 Want FREE Knives?
We give these knives a quick twirl and review, and then we pass them on to a few lucky home chefs!
By subscribing, you agree to get emails from me, Ryan Leavitt. I'll respect your privacy and you can unsubscribe any time.