When talking about quality knives for home use, the Cutco and Chicago Cutlery brands are usually mentioned in the same breath.
These two brands are some of the best American knife brands out there, with both being great for home use.
Most chefs will choose Chicago Cutlery over Cutco, mostly because they are Cutco blades tend to be too expensive for their price while.
But because of the Lifetime Guarantee and Forever Sharpening Program of Cutco products, it is still a pretty worthwhile investment for some people.
And we'll be taking a look at all of that in this Cutco vs Chicago Cutlery comparison.
Keep reading to learn more.
| | | |
| --- | --- | --- |
| | Cutco | Chicago Cutlery |
| Main Features | Lifetime Free Sharpening and Forever Guarantee | Sharp, functional, and affordable knives |
| Construction | Stamped | Stamped |
| Materials | High-carbon stainless steel | High-carbon stainless steel |
| Sharpness | 15-degrees per side | Approximately 15-degree per side |
| Lifetime Guarantee | Yes | No |
| Is a box set available? | Yes | Yes |
A Brief History Of Chicago Cutlery
Chicago Cutlery has a fairly unique history.
They began in 1930, but not as a knife manufacturer.
In fact, the company began by offering sharpening services for butchers, chefs, and other professionals.
From there, they began making their own blades in response to the demand for high-quality and affordable American-made knives.
However, these knives were only available to people in the meat and poultry industries.
It was only in 1969 that these blades were finally made available to the public.
And now, they are more well-known as great knives for the house that any home cook would greatly enjoy.
The company now sells knives all over the world, with its products being found in Canada, Europe, Asia, as well as the United States.
A Brief History Of Cutco
This brand had its beginnings back in 1949, in New York.
They made a name for themselves as one of the rare American brands that made quality kitchen cutlery.
Aside from that, they also had their signature Forever Guarantee which ensured that every customer is satisfied with their product.
By marketing their products having Cutco sales representatives sell them as opposed to stocking them up in stores, Cutco has become a household name.
Nowadays, the company employs more than 600 employees in their factory in New York.
It took a while, but the brand slowly rose up in the game, providing households and some professionals all around with high-quality kitchen knives with an irresistible warranty.
And they are currently one of the top brands in the market today.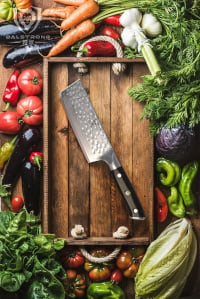 Want FREE Knives?
We give these knives a quick twirl and review, and then we pass them on to a few lucky home chefs!
By subscribing, you agree to get emails from me, Ryan Leavitt. I'll respect your privacy and you can unsubscribe any time.
Who Are These Brands For?
It should be mentioned before comparing the two companies, that they aren't the best for professional use.
While their products are great for use in the home kitchen, they might not be able to stand the regular wear and tear of a professional kitchen.
Instead, these knives are designed to be workhorses in the home kitchen, functioning as your go-to set of knives for just about any dish.
Cutco and Chicago Cutlery are very well-known for being mainstays in a lot of households as their products are relatively affordable, perform great, and are easy to maintain.
If you're a professional looking for high-quality blades to add to your knife roll, then it might be better to look at the more expensive brands.
But if you are a home cook looking for an affordable, reliable, and quality set of blades for your own kitchen, then these brands can serve you very well.
Cutco Vs Chicago Cutlery – A Direct Comparison
Construction
The first thing we'll be looking at is the way these two brands make their products.
First, we'll be taking a look at Cutco.
Knives from this brand are stamped.
This means that the blade is cut from a large sheet of stainless steel with a laser, and from there the steel is treated, sharpened, honed, and buffed to give it its finished.
From there, they attach the blade to the thermo-resin handle which results in a very sharp blade with great edge retention.
With Chicago Cutlery, the type of construction you'll get will highly depend on the collection you're buying.
But aside from regular stamped knives, they also have forged blades.
These are constructed from a single piece of stainless steel.
The result of this is a blade that is more durable and has more edge retention than stamped models.
Durability
Now, let's talk about how durable the knives of these brands are.
But before we carry on, it should be noted that these blades will not be as tough as the high-quality brands usually used by professionals.
These knives, while durable, still have a tendency to chip, which is to be expected from mid-grade knives like these.
Luckily, if you only plan to use these models for simple home meals, then there should be no worry.
From customer reports, Chicago Cutlery seems to take the take when it comes to how durable their products are.
The common complaint that a lot of people have with Cutco is that their knives aren't as durable and you'd expect blades in that price range to be.
That doesn't mean the company doesn't have a solution, though.
But we'll touch upon that in the next section.
Warranty Policy
As mentioned in the previous section, these aren't the most durable knives out there.
And while Chicago Cutlery beats out Cutco when it comes to that, the latter has a solution.
Cutco is famous for its Forever Guarantee.
This is similar to a 100% satisfaction guarantee wherein if you find anything unsatisfactory with your knife, you can simply send it back to them or contact the company.
From there, they will send a sales rep to either correct the issue you're dealing with, or they'll simply replace the product.
And they mean it when they say forever.
For example, if your grandmother handed you down a set of Cutco knives that have gone dull over the years, you can easily send them back for sharpening and all you have to pay is the shipping fee!
Or if you find that your wedding gift of these blades wasn't satisfactory and you want a replacement, you can call the company and they'll do just that.
Chicago Cutlery, on the other hand, has a standard warranty that covers all defects caused by normal usage and manufacturing.
This does NOT cover damage caused by abnormal usage or wear and tear.
Pros & Cons Of Cutco
Pros:
Forever Guarantee
Highly functional knives
The knives can be sent back to the company for free sharpening
Easy to use
Full-tang blades
Cons:
Pros & Cons Of Chicago Cutlery
Pros:
Varied collection to choose from
Both forged and stamped blades are available
Affordable
Very sharp right out of the box
Well-balanced
Cons:
Not the most durable blades out there
Our Verdict – Which Brand Is Worth Your Money?
If the warranty is enticing enough, then we recommend you go for Cutco.
Their knives are fairly durable, sharp, and would be great to have in the kitchen.
However, if you prefer having a varied set of choices with your blades, then we recommend that you choose to go for Chicago Cutlery models.
This is because their blades are sharp, well-balanced, durable, and well-designed.
They would look great in just about any home kitchen out there and would also make a big difference when you're doing a lot of prep.
But at the end of the day, if you're satisfied with the knives you have, regardless of the brand, then no one can say that you don't have the ideal set of blades for your kitchen.
Because after all, choosing a knife is a very personal decision.
Ryan Leavitt
Hi my name is Ryan Leavitt a Marine Corps Veteran and currently an over the road trucker (Long Haul). I am no expert chef but am enjoying preparing my own meals on the road and testing all the different knives.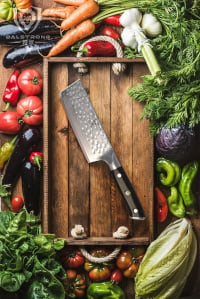 Want FREE Knives?
We give these knives a quick twirl and review, and then we pass them on to a few lucky home chefs!
By subscribing, you agree to get emails from me, Ryan Leavitt. I'll respect your privacy and you can unsubscribe any time.